Raven Zachary and Chris Messina join Urban Airship Board of Advisors
We're excited to announce that Raven Zachary and Chris Messina are both joining our board of advisors here at Urban Airship.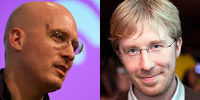 Raven is a Portlander (like us) and he's been really active in the iPhone space since it hit the scene just 2 years ago. He has already been invaluable in providing guidance and advice to us as we bring the Urban Airship suite of products to market. His bio couldn't say it better:
"Raven Zachary is President of Small Society, working with big brands, established companies, investors, and startups on iPhone strategy and product development. Raven directed the Obama '08 for iPhone application for the Obama Campaign, and has worked with companies such as Whole Foods Market, Zipcar, Clif Bar, and Air New Zealand on iPhone application initiatives. He is the founder of iPhoneDevCamp, a not-for-profit iPhone developer conference."
Chris joined our Board of Advisors a few weeks ago and has been instrumental on the business development and UI side of the house. We have a lot of changes coming in the next few weeks and we couldn't be happier to have Chris helping guide the interface for our website and products. As an added benefit, he has an excellent inflatable mattress in downtown San Francisco that we crash on when visiting.
Thanks Raven and Chris, we're so happy to have you aboard the Urban Airship.
Subscribe for updates
Categories