Explainer
iOS Live Activities Explained

What are Live Activities?
Live Activities are a new way for brands to share the most up-to-date app information right from the iPhone Lock Screen and in the Dynamic Island. App customers can now see live information at a glance without ever having to unlock their device. Live Activities make it easier to keep tabs on things happening in real time. Rather than customers receiving multiple notifications from the same app for things like the game's latest score, food delivery orders or ride-share arrivals, this information can now be pinned to the Lock Screen, keeping the customer up to date without them having to unlock their phone. Starting with iOS 16.1, developers can use Live Activities API to create these compact and glanceable experiences.
How does Live Activities work?
Live Activities display real-time content from your app onto the iPhone Lock Screen. Additionally, newer iPhone models utilize Live Activities with the Always-On Display, and with what Apple calls the Dynamic Island when the phone is unlocked. Brands can utilize Live Activities to ensure customers never miss critical information at critical moments – even when they're not in the app.
What functionality of your app can be integrated with Live Activities?
Push notifications play an important role in Live Activities but also add to their complexity, as each Live Activity has its own pushToken to manage. A Live Activity is active for up to 8 hours unless your app or the user explicitly ends it. Your app can update the content of a Live Activity from your app if it is active and can use push notifications to update it whether it is active or suspended. Each update to your Live Activity can include up to 4KB of data. Here is a very simple example of a push notification that updates the driver name and estimated delivery time of a Live Activity: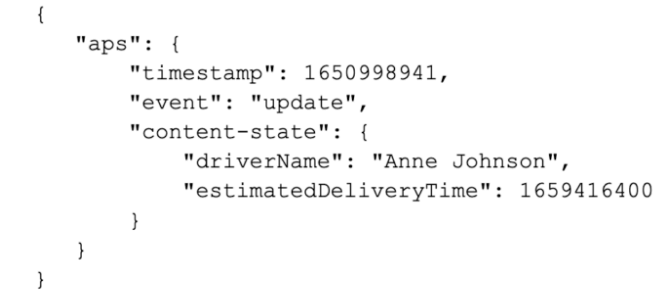 As a concept, Live Activities are a lot like Widgets, except for its focus on hyper-personalized, discrete activities customers want to track in real-time with simple-to-no setup. This glanceability is likely to become a much bigger part of the Apple iPhone experience. The new iPhone 14 Pro line-up includes an Always-On Display and Dynamic Island, which take visibility and interactivity to new levels. As a result, apps get more surface area for compelling experiences with active state controls, even if another app is in the foreground.
How can Live Activities increase app engagement with my users?
Live Activities give brands another app experience they can deliver to their audience directly on the Lock Screen. Here are some Live Activities use cases we have thought of so far:
Day-of-Travel app – your itinerary updates throughout the day
Sports News app – game summary, player stats, real time scores and key metrics
Fitness tracker app – health and overall stats on your walk, run, etc.
News app – election results, real time projections, opinion poll results
Package delivery app – Track your order, time sensitive updates on delivery status
Restaurant app – Track wait time for when your table is ready, or the status of your order for delivery or pickup
Retail – creative offers, flash sales, delivery updates for curbside or BOPIS, etc.
How can I improve mobile app experiences with Live Activities?
Display real-time updates from your app on the iPhone Lock Screen and in the Dynamic Island, as follows:
Real-Time Mobile Moments – Provide app customers with live updates for the mobile moments that mean the most to them.
Expand Your App Experience – Put your brand front-and-center for customers' important moments for an always-on experience.
Target Relevant Audiences – Leverage Airship's robust segmentation tool to share different Live Activities with the customers that will find them most captivating.
Treat live activities as an extension of the mobile app by providing in-the-moment updates on the Lock Screen and linking directly to the most relevant pages of the app when a Live Activity is interacted with.
Apple recently released the Live Activities Human Interface Design Guide, which includes the following best practices:
Avoid using a Live Activity to display ads or promotions – How will this play out and what line will Apple draw on what is promotional or too promotional? Even more important, how will brands ensure customers get rewarding and valuable experiences from this new front-and-center experience.
Give people control over beginning and ending Live Activities – before this guide came out, we were under the impression that Live Activities had to be launched explicitly via a button, but that is not precisely the case as referenced in the guide "There are some situations in which people are likely to expect a Live Activity to start automatically."
Support Dark Mode and Always On – it will be really interesting how Always-On display changes user behavior and how Apple adjusts it over time.
How can you get started using Live Activities with Airship today?
With the speed of mobile always top of mind, Airship makes Live Activities easy to manage and update, providing brands yet another great way to engage with customers without ever needing them to unlock their iPhone.
Airship Live Activities functionality allows brands to initialize and manage the Live Activities lifecycle, segment customers to receive Live Activities, and report on Live Activities performance.
Airship manages the complexity of Live Activity token management so your team can focus on creating compelling, in-the-moment customer experiences on the iPhone Lock Screen and everywhere else. We utilize our existing push API to make it as easy as possible for you to update valuable content, such as sports scores, flight updates and order status instantly.