Explainer
In-App Messaging Explained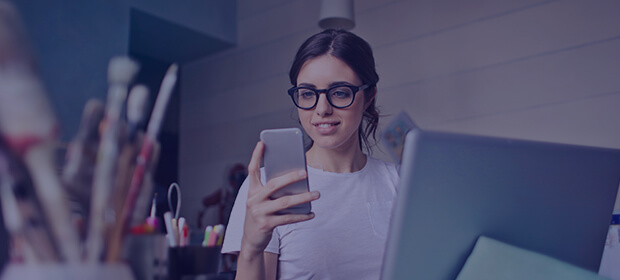 What Are In-App Messages?
In-app messages are messages delivered to your users while they are directly active in your mobile app. They can go by a number of names: in-app messages, in-app notifications, in-app messaging and Message Center messages. They are a vital component of an overall mobile customer engagement strategy, which includes other messaging types such as push notifications, mobile wallet, email and SMS.
Effectiveness
As a mobile messaging channel, in-app messages are highly effective. In our latest Mobile Engagement Benchmark Survey, we found that in-app messaging typically receives 8x the direct response rates of push notifications.
In combination with push notifications, in-app messages receive an average engagement rate of 26% for medium-performing apps. High-performing apps (those in the 90th percentile) receive a read rate of 44%, so the opportunity for engagement through in-app messages is high.
People have an immense amount of control over their mobile experience; it's the most personal communication channel available. They actively give you the privilege of placement on their phone. As a result, they expect information tailored to them. In-app messages are an ideal way to communicate with them on the latest relevant points of interest when they open your app. Good app messaging techniques are important to success, so you send the right message to the right person at the right time.
Benefits of In-App Messages
Reach your whole app audience. Push notifications are vital to a messaging strategy that gets users back into the app. However, according to our latest research, they reach 45% of your audience on average. (Read our Push Notification Opt-In Rate Benchmark Report for rates specific to your industry.) However, since in-app messages are part of your app experience, they don't require an opt-in and can reach most — if not all — of your audience depending upon implementation.

Built into the app experience. In-app messages are best when they are integrated into the look and feel of your app. If you are sending promotional messages, it's important to use targeting to make sure your message is relevant. For best success, promotional messages shouldn't feel like marketing, they should feel like service. Even in promotionally-driven apps, the promotions should be highly-targeted and personalized.

Easy to author. Similar to push notifications, in-app messages can be very simple to author. Whether they are straightforward text-focused banner messages or rich HTML5 full-page displays, they provide marketing and content teams an easy to way to communicate key news without making a code update.

Highly personalized. Depending on the provider you use, in-app messages can be highly targeted. Airship provides numerous capabilities to make sure your messages are delivered to the right person at the right time based on their latest context. In addition to personalizing content, you can also customize the link destination with deep-linking technology that allows you to assign a destination anywhere in your app or mobile website.

In-App Message Types
There are numerous types of in-app messages. The simplest is the "banner style notification" — a ribbon-like notification that is placed at the top or the bottom of the screen of your application. These are typically invoked on the first screen of your user's session. In addition to displaying the message, they can also contain up to two action buttons allowing you to dictate a user path based on their interests.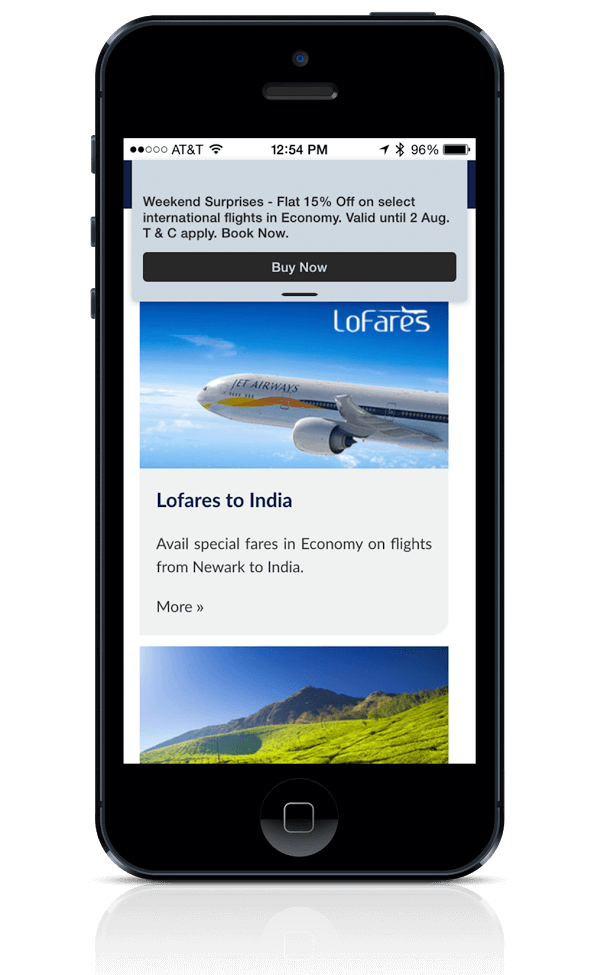 In-app messages can also be full-page displays that provide more screen real estate to convey your message. In addition to text, these messages can display rich content like videos and images to make a bigger impact with your users.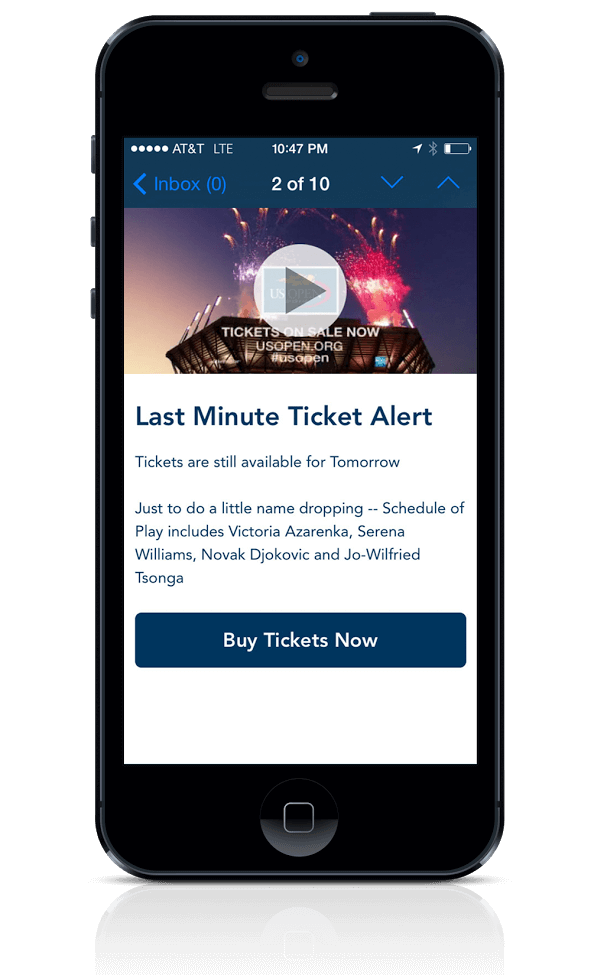 Deep-linking and social sharing are powerful features in these message types that allow you to direct a user to a specific conversion event like buying tickets. You can also embed social sharing capabilities in these messages to activate your user's network.
In-App Messaging for Content Marketing
Like push notifications, in-app messages are temporary in nature by default — unless you add a message center. A message center gives in-app messages a destination in your app for storage and organization. In addition to making it easy for users to find content, it also provides a dedicated content marketing channel that allows you to prioritize your most valuable content to your most loyal user base.
Think about all the content you are already generating in other digital channels like your website, e-mail campaigns or social feeds that could be easily repurposed. Nike does a great job of showcasing their latest products and content to soccer fans, creating a virtual content stream of their brand to their users.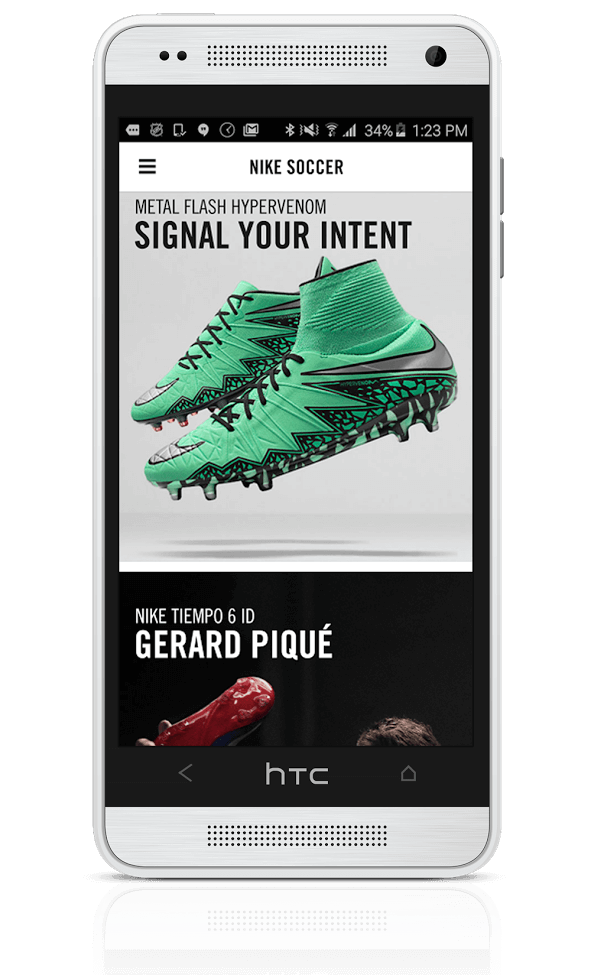 Common Use Cases & ROI
Some of the most common and powerful uses of in-app messaging are for:
Onboarding: Welcoming a new user is an essential component to a successful app strategy. Onboarding is highlighting the things they need to do to get started. Approximately 80% of your users are likely to defect after 30 days if you don't communicate with them. By adding a welcome message or series you can reduce that trend by up to 50%.

Feature introduction: When new features are introduced or important features are underused, use in-app messaging to call attention and explain how it should be used and the benefits.
Promotional messaging: The US Open and Nike examples above are great representations of this common approach to using in-app messaging. The key to success is using segmentation to make sure the message is going to be valued. In the US Open example, they used location targeting and previous in-app behavior to identify users near the event that showed recent purchase intent and received a 32% conversion rate!
Customer service / transactional messaging: Providing users with service updates on their account or recent purchases is another great, highly-relevant way to use in-app messages.
Want to learn more about how In-App Messaging can help you connect with customers at each stage of the customer lifecycle? Contact us today and let's talk!