Accuweather and Zillow Share How They Work with Airship at the Customer Engagement Forum in New York
What an event! We wrapped up our North American tour for the Customer Engagement Forum in New York City. Even though it was pouring rain, we had a packed house full of people eager to learn more about improving customer experience.
We had AccuWeather and Zillow and members of the Airship team give great presentations on how brands can use Airship's Customer Engagement Platform to be there for their customers at the right time with the right message.
Here are some of my highlights from the event.

Brands Need to Be Flexible as Customer Behavior Changes
Mike Stone, SVP of Marketing at Airship, made a great point about how brands don't drive the roadmap for messaging channels, consumers do, and you can't always predict where their preferences will go. A few years ago wearables were being hailed as the next big thing, but adoption hasn't taken off as predicted. Meanwhile, companies are looking into car screens and voice technology, but it's difficult to determine which channels users are going to want to use. So the best strategy for brands is to be flexible and prepared to change as customer behavior changes (that's why our Customer Engagement Platform makes it easy to add new channels. Learn more about Channels).

Zillow Views Products as "Jobs to Be Done"
Zillow is a great real estate product and a client for Airship so we were fortunate to have Chris Bettin, Senior Group Manager of Mobile Engagement, speak at our San Francisco (catch the recap here) and New York events!
Chris shared how Zillow views their product and services as "Job to Be Done," focusing on what they can do for customers. For instance, a coffee shop can see "enjoying a beverage" or "escaping a noisy office" as a job to be done, while a real estate app can see "understanding the value of a home" or "buying a home" as its jobs to be done. This view allows brands to be customer experience-centric, rather than product-centric.
When asked about how Zillow manages their data and analytics, Chris shared how even though they have their own in-house team they partner with Airship on using data to understand when to deliver their messages. This kind of partnership allows Zillow to offer the best product by knowing when to send their messages.
Learn more about our Optimal Send Time AI solution.

How AccuWeather Gets the Opt-in for Location-Sharing and Messages
I had the pleasure and privilege of moderating the fireside chat with Matt Vitebsky, Director of Flagship Products at AccuWeather. AccuWeather may be best known as a weather app, but it is much bigger than that! It has one of the most popular APIs in the world serving over 65 billion requests per day.
Most users have more than one weather app, so being the first to send an important notification matters, a lot. Speed was very important in determining which messaging partner to work with and after using an independent study to compare send time, they found that Airship beat the competition. With Airship, AccuWeather's app is faster than 93% of its competitors on iOS and 100% on Android. As Matt said, when there's a tornado coming your way, those extra twenty seconds can mean life or death.
Obviously, location is very important and AccuWeather uses geolocation in two main ways: to give users the most accurate weather data and to create contextual messages. Taking GDPR very seriously and applying it to their global services, AccuWeather put together an opt-in strategy with a transparent approach on how they use the permitted location data. Matt shared how they found that by explaining to their users how and why they use location data with an educational prompt even before the opt-in request, users feel more comfortable opting into other things.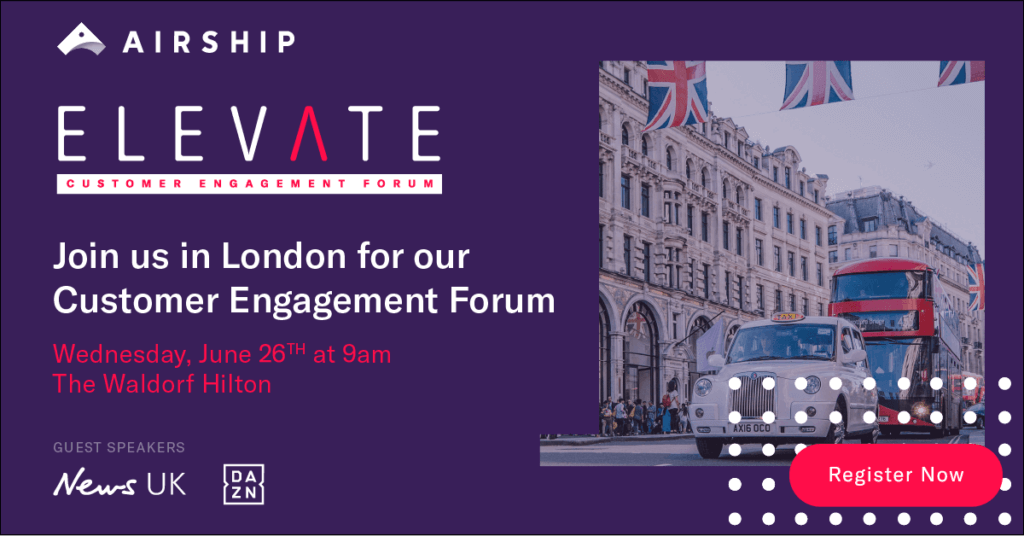 The next Customer Engagement Forum will be in London on June 26. Get more information and register here.
Subscribe for updates
If the form doesn't render correctly, kindly disable the ad blocker on your browser and refresh the page.
Related Posts
Categories