Why Aren't More Brands Building Mobile Loyalty With "Surprise & Delight" Experiences?
In this guest post, Mark McKinney, VP, Client Development and Michael Griffith, VP, User Experience with Bottle Rocket share the big opportunity brands have to leverage mobile to create deeper relationships with their customers.
Their new white paper, Mobile Loyalty: Surprise! delves even further into the topic, sharing practical steps brands can take to make surprise and delight a regular part of their customer interactions. Download the white paper any time to learn more.
---
Surprise and delight is such a powerful tactic for creating memorable experiences for customers. So why aren't more brands using it to build loyalty and brand love?
Simple. They don't interact with their customers regularly, and when they do, they focus on transacting.
Also, they are unsure what action might have even a small bit of delight for any individual customer. They are far more likely to use a predictable system (like email communication) and a generic offer (10% off in your birthday month!).
These approaches are neither surprising— customers have come to expect quid pro quo rewards for transacting with a brand—nor delightful (it's probably a hassle to even get the discount, and it expires after 30 days).
Rewards delivered through mobile can be surprising and delightful like no other channel. Why?
Because mobile has the advantages of both customer context and unparalleled access.
Consider:
A brand can surprise and delight a customer with free products at the day spa, because it knows she is there.

How surprising (and delightful) would it be if your phone not only knew you were at the grocery store, but knew it was early morning and provided a free cup of coffee from the local kiosk?

The mobile device might know a potential customer is standing in line at the DMV (by checking your calendar and observing your lack of motion) and surprise you with an offer of inserts for your shoes.
>> Related Resource: See how Urban Airship customers are using mobile wallet passes to drive mobile loyalty
Now consider all the additional forms of context that could be used to trigger a moment. How might you use the context of weather, or heart rate, or the number of steps taken today to invent a surprise and delight moment? The possibilities are limitless when you are with a person 24/7 and know what they are doing.
Mobile technology also continues to improve in the way the moments of surprise and delight can be delivered. Notifications are quickly growing beyond the simple one-way messaging we are all too familiar with to become needed answers to a question or opportunities for taking specific actions within the notification. No switching to the app needed.
By reducing the friction and upping the ease, which is also surprising, the rewards are much more likely to be recognized and credited. This, in turn, builds up the brand love.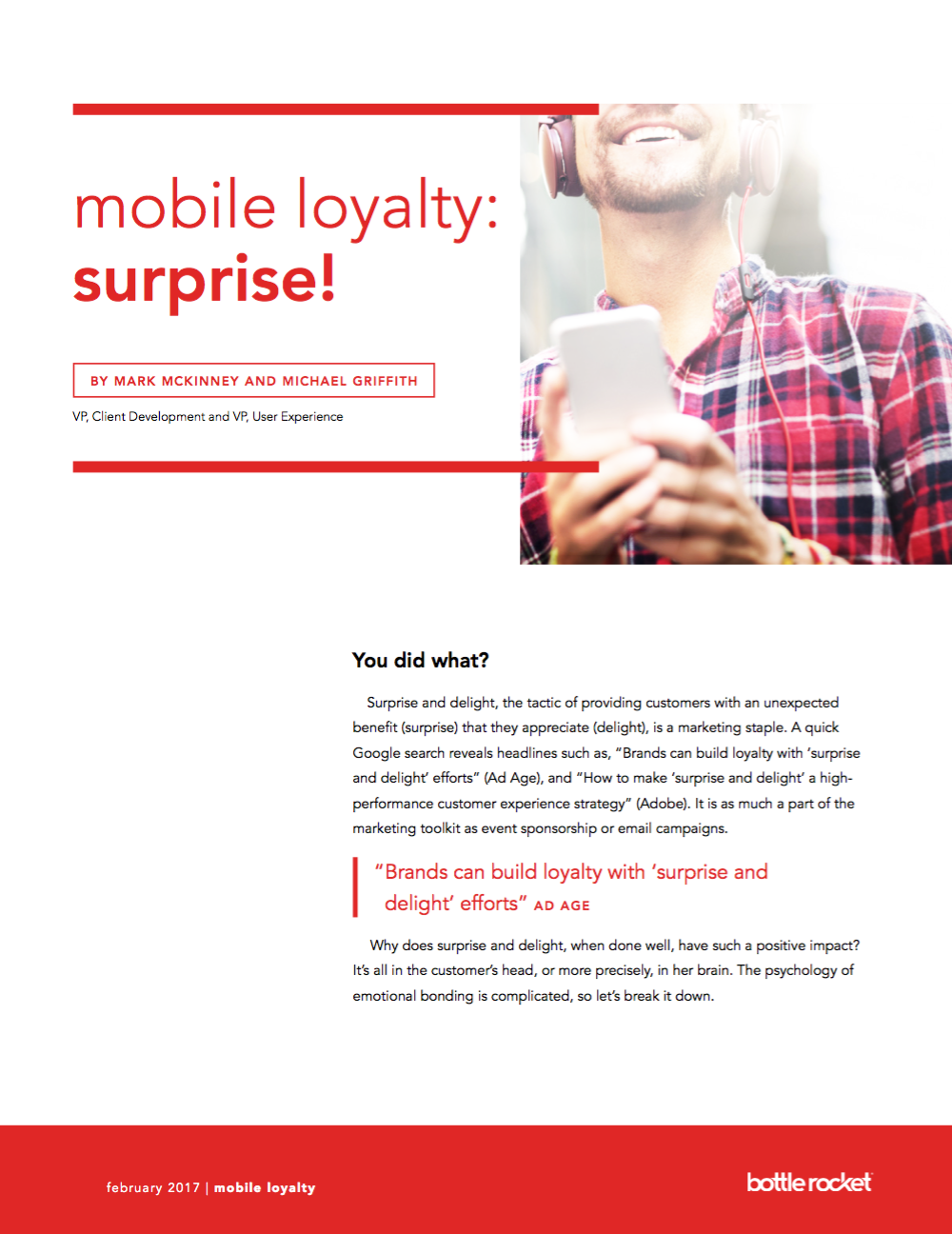 For more ideas and strategies for building mobile loyalty with "surprise and delight" experiences, get your free copy of Bottle Rocket's white paper Mobile Loyalty: Surprise!, which includes:
Four keys to creating a surprising, delightful customer experience

Additional use cases to spark ideas for your brand

How to amplify delightful experiences (hint – part of the answer is making those experiences easy for customers to share)
Want to talk to an Urban Airship expert about creating mobile messaging so personalized, timely and relevant it feels magical? We offer free consultations to help you make the most of your mobile moments. Get in touch any time!
Subscribe for updates
If the form doesn't render correctly, kindly disable the ad blocker on your browser and refresh the page.
Related Posts
Categories