Next Level Loyalty Comes to Apple Pay
Guest author Amelia Arata Powell, Senior Director of Marketing, Strategic Partnerships at USA Technologies (USAT) believes that built-in loyalty programs will be key in accelerating mobile wallet adoption and usage overall — and that the latest collaboration between USA Technologies, Apple and Urban Airship is a significant step in the right direction.
---
In the years since the launch of mobile payments, merchants have seen a significant and steady growth in popularity. But they have yet to witness the ubiquitous use that was imagined early on.
When you do a deep dive into the trends, it becomes clear that the missing element, the keystone if you will, to driving mobile wallet usage is something credit card companies have applied and consumers have embraced: loyalty.
Surveys show that more and more consumers (particularly Millennials, who are driving a majority of the mobile payments adoption: see more in stats Urban Airship's State of Mobile Wallet Marketing report) prefer the idea of mobile wallets due to enhanced convenience and secure transactions. And yet, making the official leap to mobile payments hasn't happened as quickly as anticipated by the market.
However, we at USA Technologies (USAT) and many in the industry expect that the shift in mobile wallet adoption and usage overall to increase with the addition of loyalty and reward programs built in.
New Partnership with Urban Airship & Apple Creates New Loyalty Program Opportunities — and a Better Customer Experience
That's why we are excited to partner with Urban Airship and Apple to unveil the MORE. loyalty and rewards program available for self-serve retail operators and consumers who use Apple Pay.
Urban Airship has integrated value-added-service (VAS) protocols for USAT, allowing USAT's MORE. loyalty card to automatically reflect updates to point balances and rewards whenever a payment is made via Apple Pay at its 300,000 self serve retail machines nationwide.
For more on updating mobile wallet passes, see the blog post "How to Update a Mobile Wallet Pass — and Engage 100% of Your Mobile Audience"
Additionally, through Urban Airship Reach's mobile wallet solution, users who do not have a MORE. loyalty card will have the opportunity to instantly enroll at the time of payment, seamlessly adding a digital loyalty card right into Apple Wallet.
Here's what the experience looks like on a smartphone. After making a purchase, the customer is prompted to add their new loyalty card to their mobile wallet.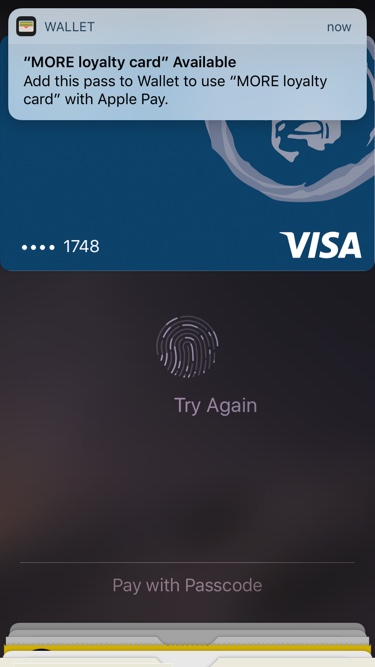 The card is then added to the customer's mobile wallet.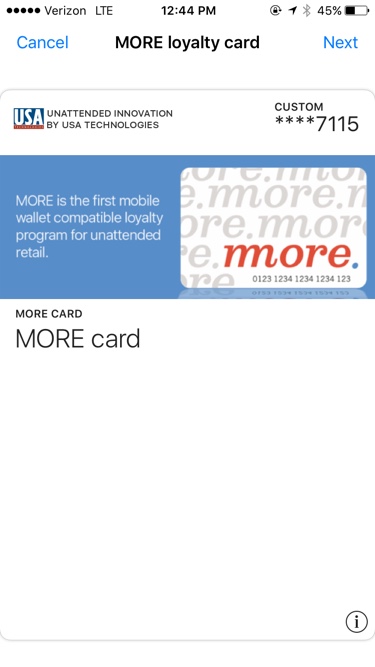 Our Research Indicates Simply Reminding Customers That Mobile Payment is an Option Boosts Sales
In addition to adding loyalty programs, data shows that simple reminders that mobile payments are accepted forms of payment will show a dramatic impact on participation.
Our research shows a 135 percent increase in Apple Pay participation when displaying "Apple Pay is accepted here."
Our research also showed that in addition to mobile wallet participation, operations also saw dramatic gains in overall sales, to be specific, participants saw a 36.5 percent increase in sales and a 44.6 percent increase in total transactions. And in the unattended business, where the average sale is only a dollar or two — this means big bucks.
Option to Use Apple Pay A Win / Win for Consumers and Merchants
By integrating loyalty into the equation, it's not just consumers who are excited about the MORE / Urban Airship / Apple Pay integration. Merchants are thrilled to integrate more progressive payment types into their portfolio.
"My generation doesn't carry cash. But we don't go anywhere without our phones. It's just easier to grab my phone, put it up to the machine, and walk away with a product," said Jennifer Skidmore, a second-generation vending operator who, with her father Joel Skidmore, runs J&J Vending in Union City, Calif.
"Consumers are getting more accustomed to paying with their phones, and with all of the digital noise coming at us 24/7, loyalty and rewards programs that easily integrate into popular payment methods like Apple Pay are a win/win," said Maeve McKenna Duska, senior vice president of sales and marketing, USA Technologies.
"By offering MORE. with Apple Pay, we are giving consumers a loyalty program that seamlessly integrates with their lifestyle, rewarding them for using the one thing they always have on hand, their iPhone or Apple Watch. We expect the MORE. integration will not only fuel participation in the unattended loyalty program, but also underscore the ease, security and simplicity of Apple Pay transactions for everyday purchases like those made at vending machines, laundromats, self-serve kiosks, parking and more."
It's Time to Get On Board With Mobile Wallet Opportunities & Benefits
Apple Pay is accepted at more than three million locations for retailers of all sizes. If customers are informed, reminded and rewarded for using Apple Pay, we can expect to see a significant number will happily put away their wallet and reach for their iPhone — making the sale something that retailers and consumers alike can benefit from.
Want to learn more about mobile wallet? Check out our mobile wallet FAQs – or get started with Reach for free today.
Subscribe for updates
If the form doesn't render correctly, kindly disable the ad blocker on your browser and refresh the page.
Related Posts
Categories