Top 10 FAQs About Mobile Wallet Marketing
Mobile wallet continues to be a major opportunity for marketers to connect with customers on mobile during critical micro-moments, particularly around transactions. More and more brands are discovering how easy it is to turn loyalty cards, coupons, tickets, boarding passes into living, breathing, digitized, mobilized communiation tools with mobile wallet – and creating a (way) better customer experience. 
As mobile wallet continues to grow and evolve as a key mobile engagement tool, here are the top 10 questions we hear about mobile wallet from marketing pros.
1) What exactly is mobile wallet?
A mobile wallet is the digital equivalent of a physical wallet: a place to store digital versions of loyalty cards, coupons, tickets, boarding passes and more.
Your digital wallet is an app that comes pre-installed (native) on most mobile devices. On iPhones it's called Apple Wallet, on Android it's Android Pay and on Samsung devices, it's Samsung Pay. All of these brand names refer to the same core functionality: a place to put the digital version of things you used to have to deal with in paper or plastic.
For an even more in-depth explanation of mobile wallet, visit our "Mobile Wallet Explained" cheat sheet.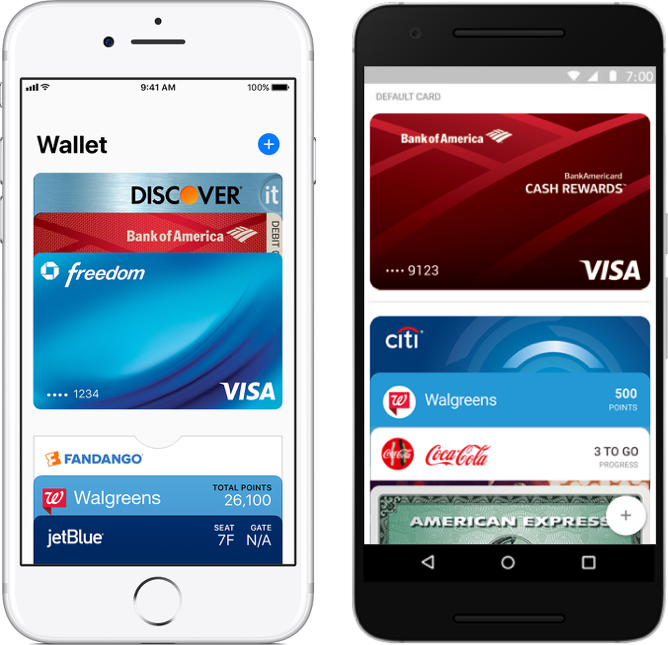 Left: Apple Wallet on iOS 11; Right: Android Pay
2) What can be a mobile wallet "pass"?
A mobile wallet "pass" is the name for any item that's stored in a mobile wallet. (Mobile wallet passes are sometimes also referred to as "wallet cards" or "wallet items." At Airship, we call any item that goes into a mobile wallet a pass.)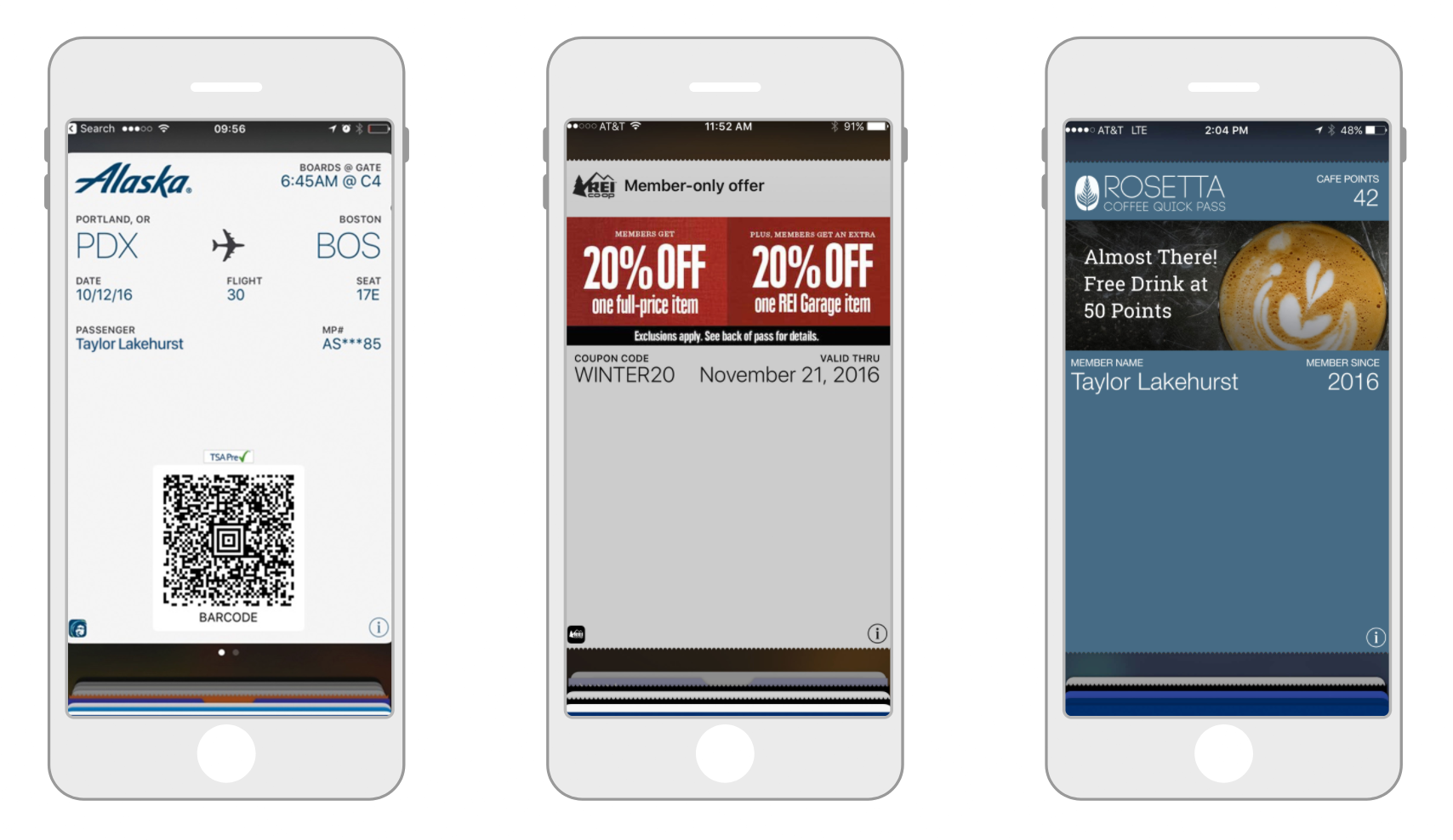 What can live in a mobile wallet? Credit cards, sure, but also boarding passes, coupons, loyalty cards that can dynamically update, send notification reminders (iOS only), and pop up on a user's lockscreen at exactly the right time and place.
Mobile marketers are still exploring the wide range of mobile wallet marketing options for mobile passes. As noted above, aside from credit cards, some of the most common kinds of passes are loyalty cards, coupons, and event tickets. These "non-payment" types of wallet passes passes are the area where mobile marketers have the greatest opportunity to explore and experiment.
Unlike their paper or plastic equivalents, mobile wallet passes can be easily updated on the very same pass. For example, if you provide a digital coupon, you can update the mobile wallet pass with a new offer when the old one expires.
Related Content: How to Update a Mobile Wallet Pass
3) Do I need to have an app to offer a mobile wallet pass?
In a word: nope!
In fact, mobile wallet passes are a fantastic opportunity for companies who don't yet have a mobile presence to create a mobile footprint — and at a much (much) lower cost than building out an app.
Since mobile wallet apps are pre-installed on mobile devices, this presents a much lower barrier to entry. Marketers can essentially use the mobile payment ecosystem to execute mobile wallet marketing that delivers a variety of value-added passes consumers want.
4) How would I create a mobile wallet pass?
Our mobile wallet solution allows you to quickly create a mobile wallet pass that you can distribute to your customers.
Depending on how you want to use the pass, you may or may not need to involve your dev or IT team. We do have some clients whose marketing lead or graphic designer has created and distributed a pass without using additional resources.
If you want to use advanced features (like personalization or location-based triggers, for example) then you may need to pull in your dev or IT team. But there's a lot you can do with a more basic pass to test the waters.
Related Content: A Step-By Step Guide to Creating a Mobile Wallet Pass
5) How would I send my customer a mobile wallet pass to use?
Sending a mobile wallet pass is as easy as sending a URL link.
You can send a link to download a wallet pass in email, SMS text, in-app messaging, through social media, or any other channel you'd typically use to communicate with an audience.
6) Will my customer know what to do when they receive a mobile wallet pass?
Our research shows that 54% of the 2,000 consumers we surveyed have already used mobile wallet — and they indicated that they'd like to use them more.
For those customers who aren't already familiar with wallet passes, you can also offer instructional text. Here's a real-life example of the set of instructions we recently saw on Facebook.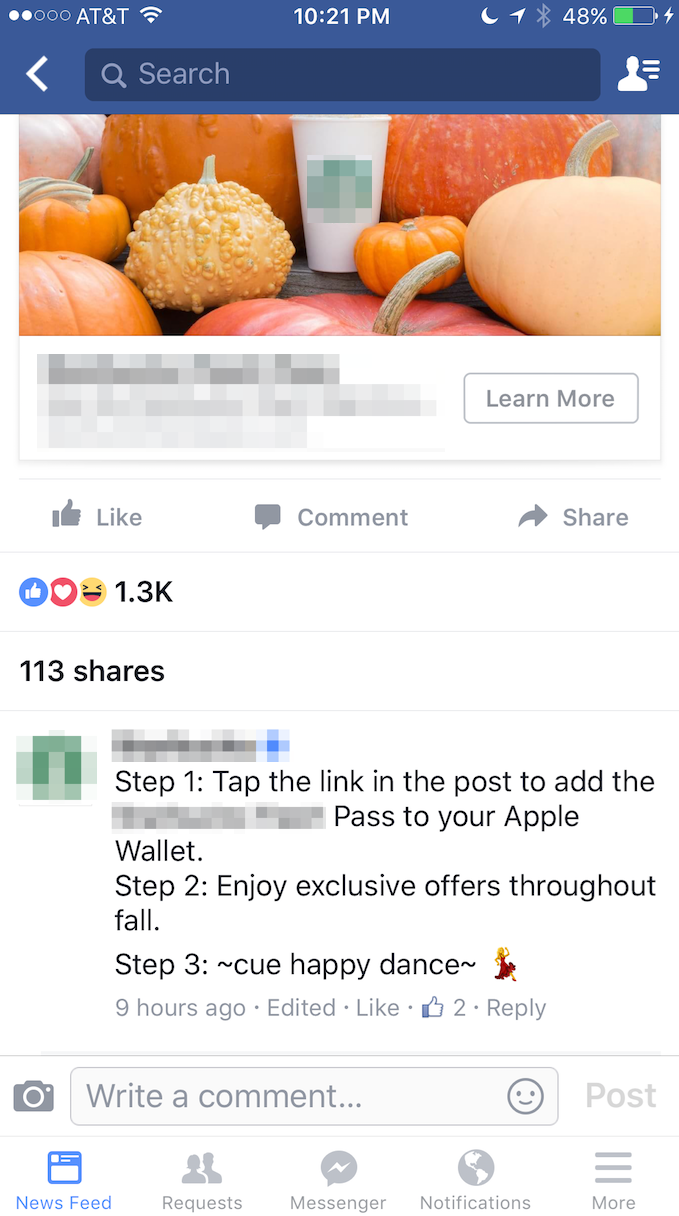 7) What happens after I send a customer a mobile wallet pass?
A mobile wallet pass stays in a consumer's mobile wallet until they delete it. Our aggregate data shows that up to 85% of passes are rarely deleted, with retention rates up to 95% for some brands.
Even better, our data shows that customers are highly like to share wallet passes: we found that more than 75% of retail passes in Apple Wallet are the result of peer sharing, with each pass being chared on average with more than 3 other mobile devices.
Even better, once someone has your mobile pass in their mobile wallet, you've essentially created a communication channel with them. Why? Because mobile wallet passes can be updated.
Not only can the pass itself be updated, you can also send out notifications from mobile wallet that can appear on the user's lock-screen, similar to push notifications coming from apps. (Customizeable notifications are only available on iOS at this time.)
This ongoing communication channel enabled by mobile wallet marketing is a massive opportunity for brands.
Related Content: Three of the Best Kept Mobile Wallet Secrets: Retention, Updates & Default Opt-In
8) Why should I try out mobile wallet marketing?
Because mobile wallet does not require any opt-in, it can act as a "lightweight app." That allows you to message your customer without them ever having to install your branded app.
That's good news if you don't have an app — it's also good news if you do. Because let's face it: not everyone wants to install your app.
Beyond that, here are the top three reasons you should get started today:
You're Not Where Your Customers Want To Be.

Our research shows that

companies are behind consumer demand for mobile wallet passes. Millennials in particular wince every time you ask them to use a paper or plastic anything. The companies who catch up first will earn more customer engagement and loyalty.


Increasing Your Footprint On Your Customer's Mobile Device is a Chance You Don't Want to Miss.

Mobile wallet use is growing, not shrinking.

"Most customers will not download their brands' mobile apps," says senior Forrester analyst Xiaofeng Wang in Forbes, "so marketers need to smartly leverage the mobile ecosystem to borrow mobile moments from the popular apps that their customers already use every day. Mobile wallets are such apps." You have the chance to take advantage of this new channel for engaging and communicating with your customers: take it.


It Will Make Your Customers Love You Even More.

For non-payment wallet pass items like coupons and loyalty cards, mobile wallet is easier to use and way more convenient. How often do you forget to bring along a coupon you'd intended to use? How often do you forget to bring your phone with you? Case closed. Mobile wallets mean your coupons, loyalty cards and other passes get used — and stay top of mind.
9) How long does it take to get up and running with a mobile wallet pass?
It all depends on what type of pass you want to create, but a basic mobile wallet pass can be up and running within 2-3 weeks.
Related Content: 4 Mobile Wallet Marketing Campaign Ideas You Can Execute in 2 Weeks or Less
We typically recommend first time clients to start with a non-personalized campaign. This could be something as easy as creating a mobile wallet coupon with a generic discount code, and then distributing the pass (via a URL link) via social media such as Facebook.
Here's an example of a real-life generic coupon: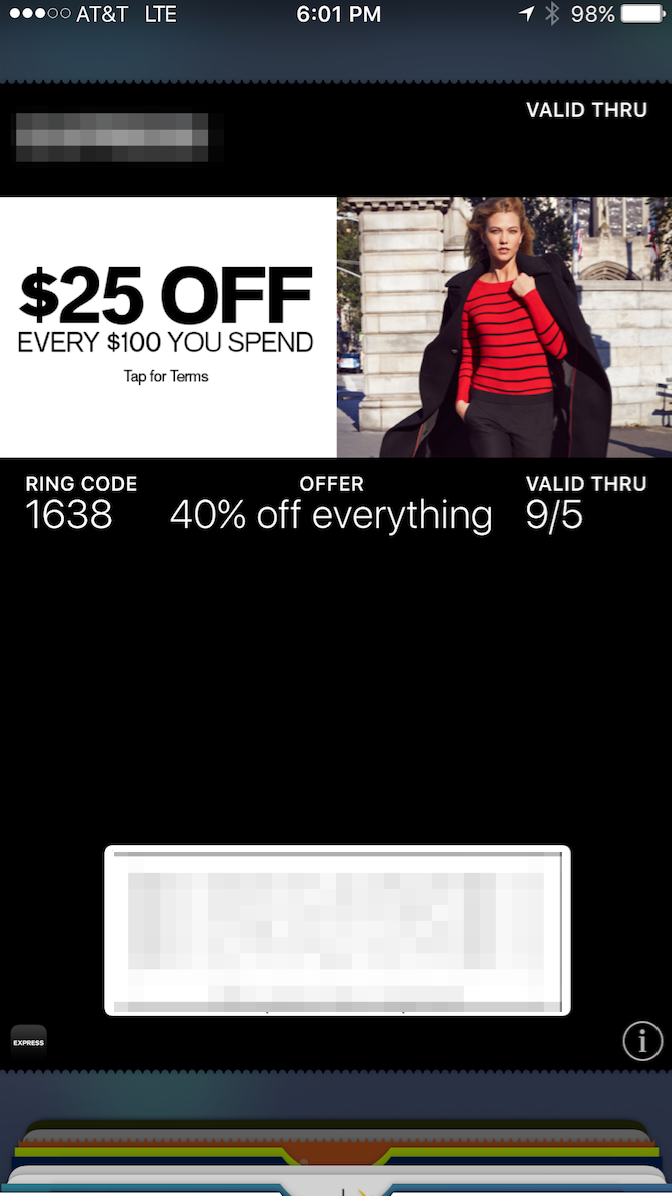 Once you've gotten your feet wet, then you can take your learnings, iterate and create more and more personalized passes (essentially starting to build out a mobile wallet marketing strategy through your new mobile channel).
10) Do you have any examples of how companies have used mobile wallet?
Our Mobile Wallet Inspiration Guide is packed with ideas for using mobile wallet in your business.
You can also get more ideas from these case studies:
Want to talk through mobile wallet with a solutions expert? Contact us and let's think together about how you could put the power of mobile wallet marketing to work for you today!
Subscribe for updates
If the form doesn't render correctly, kindly disable the ad blocker on your browser and refresh the page.
Related Posts
Categories