Mobile Loyalty: The Power of Mobile Wallet
Did you know that more than half of consumers have used a mobile wallet pass? Millennials are at the top of the list, yes, but Generation X and higher-income mobile users are not far behind.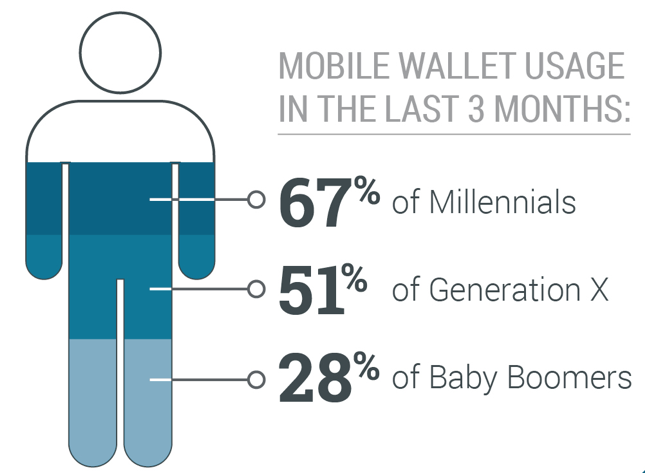 That's just one of the many fascinating stats from our latest report, "The State of Mobile Wallet Marketing." This week, two of our mobile wallet experts provided a tour through the highlights of the report (you can watch the webinar here).
(New to mobile wallets? Get up to speed with our handy "Mobile Wallets Explained" web page.)
In this post, I wanted to highlight one of the major opportunities with mobile wallet: creating mobile loyalty.
How Mobile Wallet Helps Boost Mobile Loyalty
Mobile wallet adds another persistent messaging channel on your customer's smartphone. That's huge, as you look for more and better ways to earn attention and engagement on mobile.
Wallet passes — which can include loyalty cards, coupons, membership cards and more — can be updated in real-time, are location-aware and can message customers on their smartphone lock screens.
69% of consumers are more likely to use a mobile loyalty card when it is on their phone.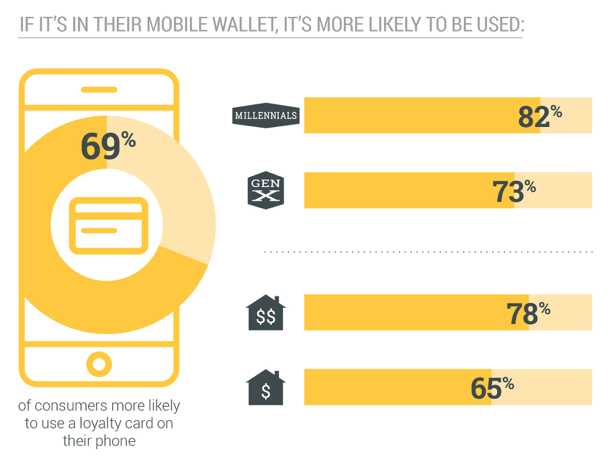 73% of consumers are more likely to join loyalty programs if points and rewards are automatically updated and visible on mobile loyalty cards.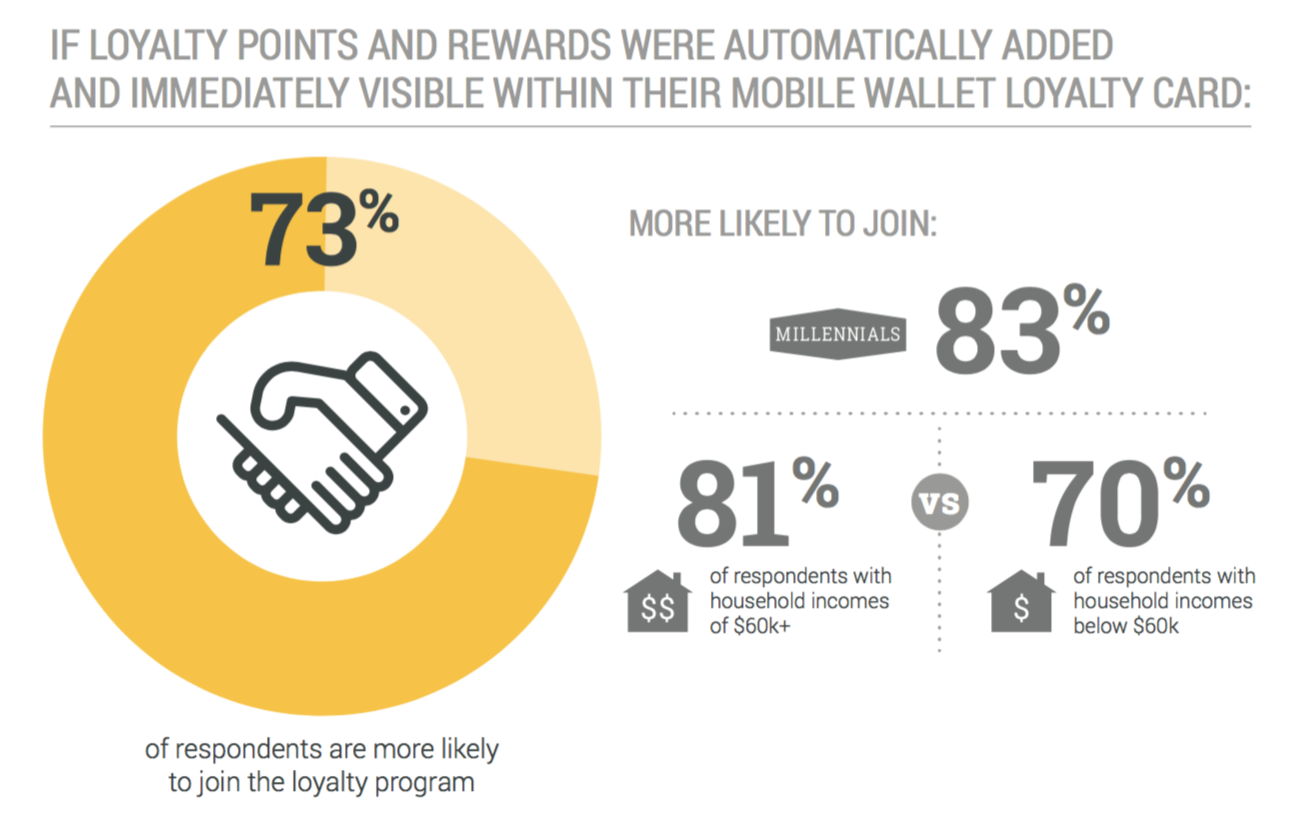 Interestingly, the biggest problems with loyalty program participation — a user forgetting they're members (40%) or forgetting the card (43%) — can be solved by using mobile wallet passes for loyalty membership.
In her blog post 2016 Predictions: Key Trends Will Transform Mobile Engagement, Forrester's Julie Ask, vice president, principal analyst serving eBusiness and Channel Strategy Professionals said: "…companies that do embrace mobile as a means to transform customer experiences will accelerate the business benefits they reap in the form of new revenue, cost savings and consumer loyalty derived from higher satisfaction and delight."
She also wrote, "CMOs and CIOs at companies that do incorporate mobile into their overall strategy will cooperate to execute cross channel integration of mobile across the customer life-cycle…This will allow them to evolve their culture, organizations and process to leapfrog competition."
Optimizing mobile loyalty through mobile wallets is simply another way to position your business to get ahead and stay ahead in fostering customer loyalty by creating mobile moments that matter.
Explore Mobile Marketing Opportunities With Mobile Wallet: 5 Mobile Loyalty Use Cases
1) Next Level Rewards
Notify users when they make it to the next level of your loyalty or rewards program. With updatable fields on your mobile wallet pass, you can change a user's tier or status as they move up the ranks in your loyalty program. And when they hit a new status level, you can easily update their pass and issue a change notification, which can occur on a lock screen, in the Notification Center, or as an alert.
2) Offer Extra Perks
Mobile wallet passes allow you to cross-promote your marketing programs, all while recognizing and rewarding your customers. Showcase special events or promotions, such as early access to your big annual sale on customers' mobile loyalty cards.
3) Showcase Special Promotions
Create a customized, branded strip image on your wallet pass, highlighting your latest promotion, such as "VIP Members ONLY: pre-sale event starts tomorrow" to drive traffic in-store or online. Link to your website on the back of the pass to take your customers to the desired destination.
4) Always-On Rewards
With a mobile wallet pass, customers can quickly access and monitor their loyalty rewards. Notify a user when they have a new rewards gift available by updating their pass.
5) Maximize Redemption
Remind customers to use points when nearby. You can even use location awareness to trigger a user's pass at their nearest store.
The Extraordinary Potential of Mobile Wallet Marketing
With smartphones always at our sides, and the ability for mobile wallet passes to send notifications (expiration reminders, loyalty updates, location-aware information, etc.), there is tremendous potential to change long-standing consumer behaviors.
Consumers already see the benefit of using mobile wallet passes. Combine that interest with even greater benefits such as integrated loyalty updates.
Mobile wallets go beyond campaigns to form a sustainable messaging channel to customers with lock screen notifications and passes that update dynamically. There's never been an easier way for businesses to gain a persistent, personalized and proactive mobile connection to customers.
Ready to Get Started?
Our mobile wallet marketing solution Urban Airship Reach makes it easy for marketers at any size or type of business to quickly launch wallet campaigns without writing any code. Learn more about our mobile loyalty solutions, and start your free trial today.
To learn more about how you can leverage this new mobile marketing channel:
Subscribe for updates
If the form doesn't render correctly, kindly disable the ad blocker on your browser and refresh the page.
Related Posts
Categories