How to Personalize SMS and Email Messages with Dynamic Content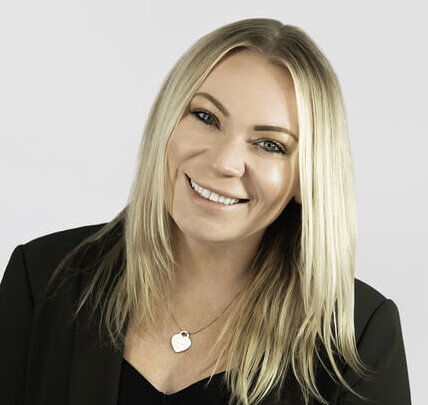 Personalization is instrumental in driving user interaction (88% of marketers have reported seeing data-backed improvements with personalization). But we've seen a major shift in how consumers respond to content. Personalizing content with a subscriber name was once considered sufficient, but not so much anymore. What consumers want now is content that is relevant and tailored specifically towards their individual needs. That kind of personalization requires understanding your customer's personas and behavior, and then incorporating those actions into your content to create a content marketing strategy that works.
The challenge for brands is finding the best way to deliver personalized content efficiently (without exhausting marketing resources everytime a campaign needs to be sent) and at scale. The best way to do both is to leverage Dynamic Content.
Dynamic Content is a tool for adapting content based on user preferences in the two channels customers with the highest engagement rates: email and SMS.
Benefits of Using Dynamic Content for Personalization
Dynamic content has gained popularity among marketers for personalization because it:
Saves Time: Rather than having to create a customized version of a message or campaign for each audience segment, marketers save time by having one version with automated customizations that can be sent to all subscribers. This reduces the time spent building the various required templates.
Drives Higher Conversions: Dynamic content means users are getting personalized, highly-relevant content, which results in more conversions.
How to Create Dynamic Content Campaigns
Creating Dynamic Content for your SMS and email campaigns is simpler than you might think, especially using our personalization solutions. Just follow these steps:
1) Identify Audience Segments: Group together audiences with similar traits or characteristics (i.e. those in a specific loyalty tier) and then align content to those segments.
2) Determine Layout: Once you know how many variations you'll need you can begin determining where content blocks will go and what will be displayed to each group.
3) Add Values via CSV: Include logic (conditional comparison operators) in the content that will dictate the message users will receive based on the values uploaded through CSV. This CSV will include the channel ID, MSISDN, or email address, opt-in date and display data.
4) A/B Test: Understanding how you'll gauge the success of each campaign and how you'll measure user interaction with the content is critical to creating effective messages. Using Airship's Performance Analytics you'll be able to track user engagement across multiple campaigns.
Dynamic Content in SMS
Using Dynamic Content in SMS helps marketers make the best use of characters by providing real-time relevant content.
In SMS, dynamic content can go from simply adding your customer's name to a message all the way to adding customized flight numbers, departure times and links.
Dynamic Content in Email
Adding Dynamic Content to your emails helps you reach your customer, not just their inbox. This added value increases open and click-through rates resulting in higher revenue yielding campaigns.
Once you understand your customer persona and you've determined what dynamic elements will be displayed, you can begin creating an email using the dynamic content syntax.
Since dynamic content is dependent on using persona variable data, you'll need to add code to your email to command which content is displayed. This code tells the Airship platform which action to take and what content to display to each of your end users. In the examples below, the images are based on the shopping preferences of audiences in different segments: men's styles, accessories and women's styles.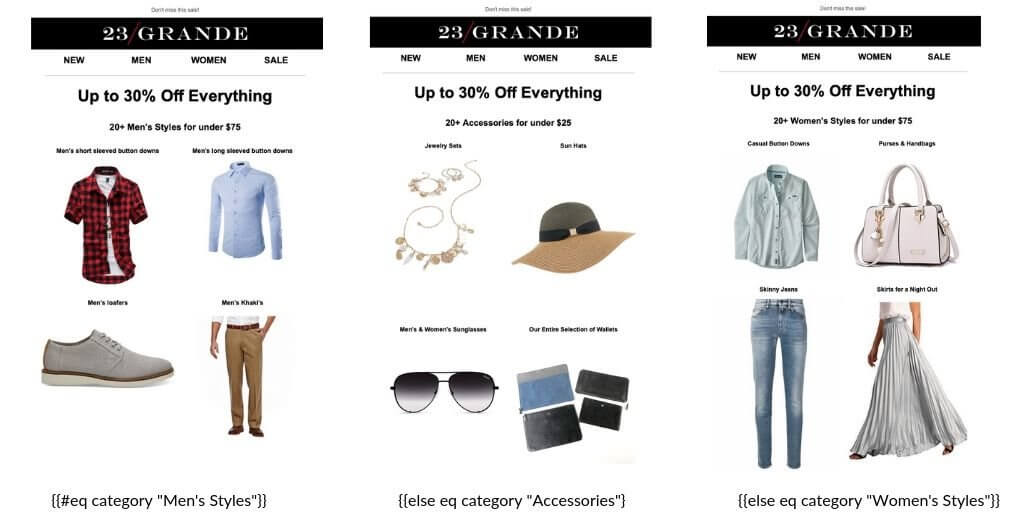 Ready to dive in? Contact us and let us know how we can help! And if you'd like to go deeper on the ins and outs of coding of Dynamic Content, you can learn more on our related docs pages.
Subscribe for updates
If the form doesn't render correctly, kindly disable the ad blocker on your browser and refresh the page.
Related Posts
Categories