Urban Airship App for Salesforce Marketing Cloud Journey Builder: At Your Service
By integrating Urban Airship's mobile messaging platform with Salesforce Marketing Cloud Journey Builder you can easily add push notifications and in app messages to your marketing mix at all the right places in the customer journey. Learn how.
---
Being able to coordinate cross-channel campaigns aligned to a user journey is critical to reaching users in-the-moment.
For marketing teams who use Salesforce Marketing Cloud, we've got great news: you can now integrate push notifications and in-app messages into the Salesforce Marketing Cloud Journey Builder through the new Urban Airship Engage app — now available in the Salesforce AppExchange!
This integration will make it easy to create and deliver targeted push notifications, web push notifications and in-app messages to app users based on user behavior in and out of your app.
Get Started Quickly and Easily
To use this integration, you'll need to have a license to the Salesforce Marketing Cloud, including the Journey Builder add-on, as well as a license for Urban Airship Engage. Once those are in place, it's very simple to configure the integration: no development required. Here's how:
Step 1: Map Unique IDs Between Salesforce and Urban Airship
To make sure your user-level data stays synced across Salesforce and Urban Airship, you'll need to configure your integration to use a unique identifier. A unique identifier is simply a piece of data about a customer that's wholly unique to them.
The unique identifier we use at Urban Airship is "Named User." In your Salesforce instance, you'll map "Named User" with any identifier that's unique to a user — email address, member ID, etc.
To do this (after you've logged in with your Urban Airship app credentials in Salesforce) navigate to the data extension with the field that correlates with Named User used in the app. In your mobile app, when a user authenticates, there is typically a way to identify the record. It can be named anything — often, hashed email is used, or customer_id.
To configure this integration, map Named User to the data extension used in the app in your Salesforce instance. This is a configuration screen that you'll have to visit only once.
Step 2: Create A Compelling Campaign In Minutes
Once you've configured the integration, you can begin to create customer journeys directly from Journey Builder that include personalized push notifications and in-app messages.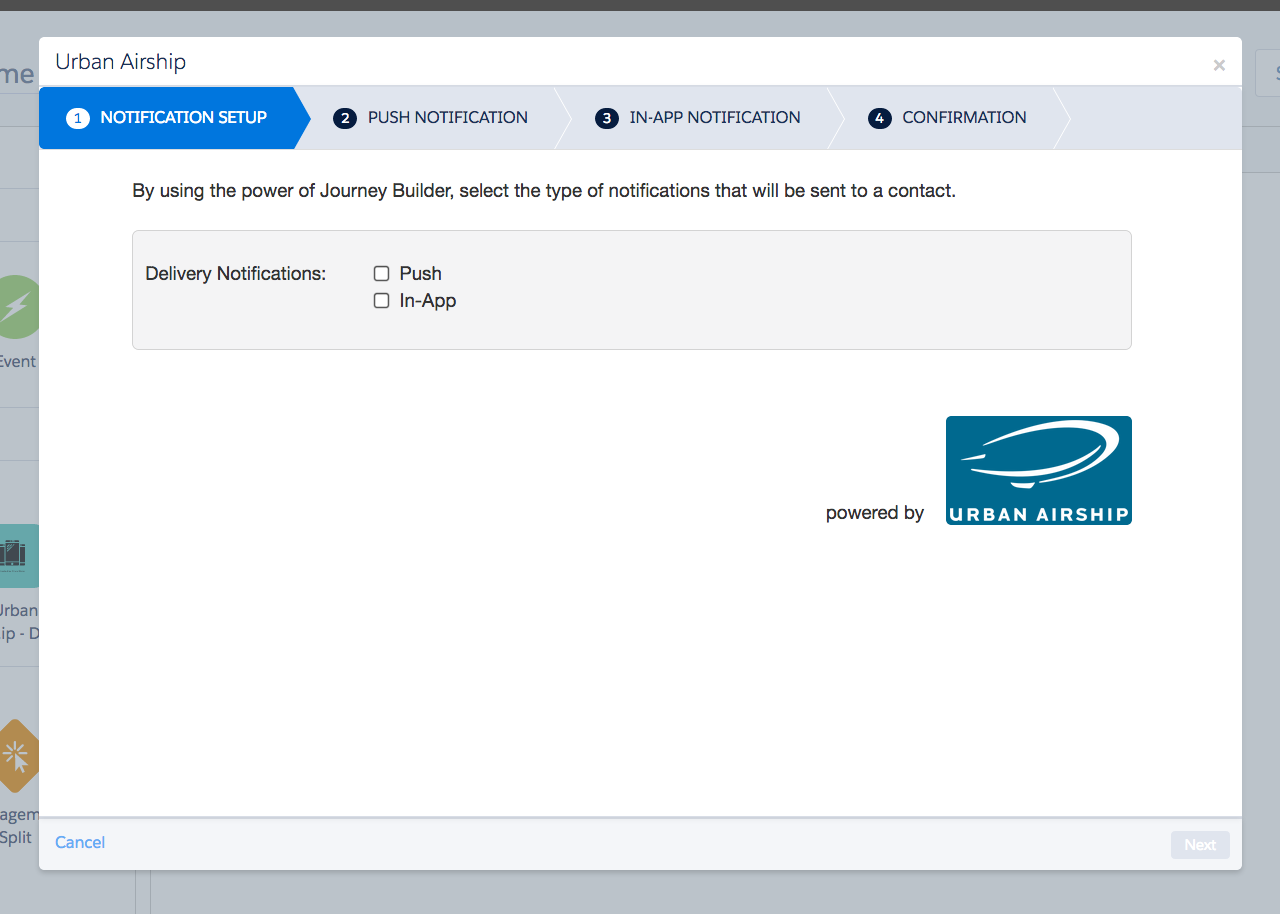 After adding a push notification or in-app message to a customized journey, enter the targeted message copy for the push or in-app message.
You also have the option to personalize the message with Ampscript notation. Using a tokened variable to map to a data extension field—like First Name — to customize the message.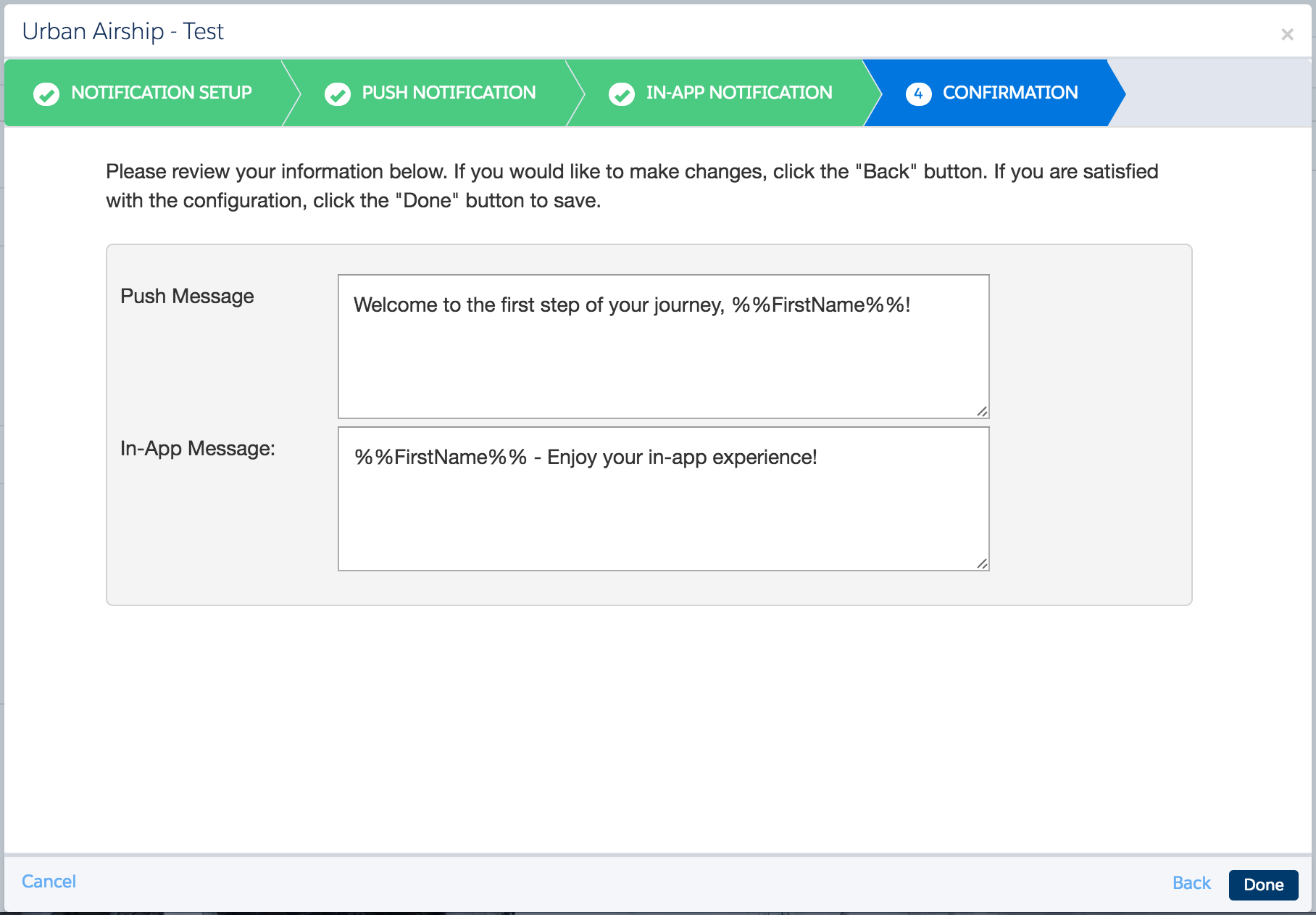 Review and confirm personalized push notifications and in-app messages.
Take it To the Next Level: Create Automated Journeys Triggered by Cross-Channel Events
One of the biggest challenges facing marketers today is delivering the right message to the right person, at the right time — in real time.
To do this well requires the ability to coordinate delivery of messages based on user behavior.

Send mobile notifications in-the-moment of greatest need, when there is the greatest chance of response.
Journey Builder allows you to create personalized messages for specific user archetypes and deliver them at the time and place that makes the most sense for the user.
For instance, you may want to send a service update to owners of a specific model of product, or alert subscribers to update account or payment info nearing the end of a license.
By integrating Urban Airship's mobile messaging platform with Salesforce Marketing Cloud, you can leverage all the insights derived from your mobile analytics to send targeted and personalized messages that inspire action and drive connection to your brand.
Download the Urban Airship Engage app for Salesforce Marketing Cloud today to get started creating automated, personalized mobile messaging in Salesforce Journey Builder. And contact us anytime to learn how you can add Urban Airship's real-time mobile messaging to a cross-channel marketing strategy to reach mobile users in the moments that matter.
Subscribe for updates
If the form doesn't render correctly, kindly disable the ad blocker on your browser and refresh the page.
Related Posts
Categories