5 Things the Best Notifications Have in Common
Whether you're sending an app push notification, a web notification, an in app message or a voice notification, your goal is the same: to connect more deeply with your customers and grow your business.
But not all notifications are equally effective. To really connect with customers — and increase customer engagement — your notifications need to have these five things in common.
1) They Find the Sweet Spot Between Meeting Brand Goals and User Goals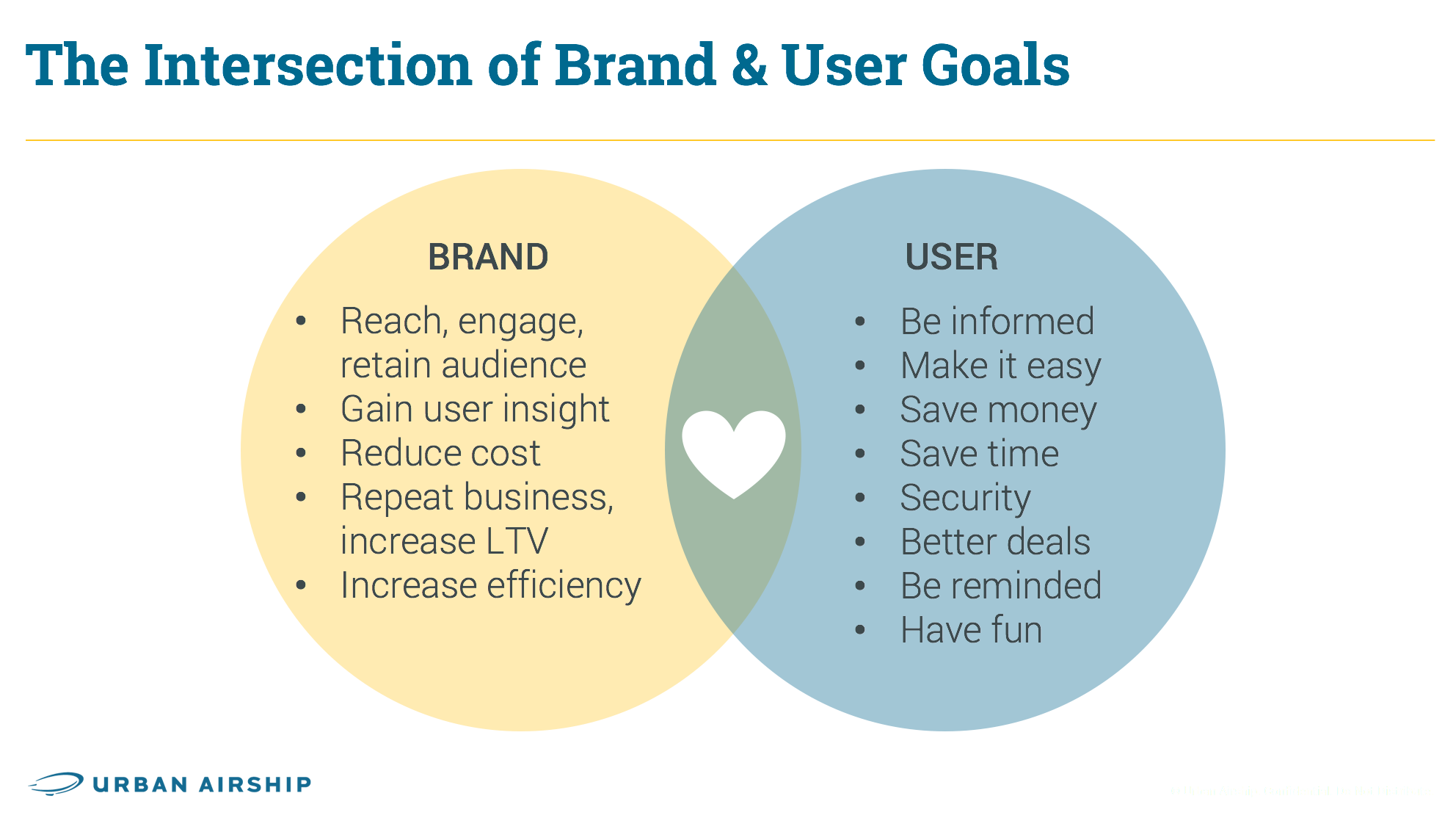 In all aspects of your mobile messaging and mobile engagement efforts — where, when, what and how you send your mobile notifications — your mission is to find the sweet spot between user needs and your brand's goals. And then stay in the zone.
To do this, it helps to have a clear sense of your mobile strategy — especially your app's value proposition.
Want even more ideas for notifications that get results? Download our eBook 14 Types of Push Notifications You Should Almost Certainly Be Sending
2) They Make it Easy for Mobile Users to Take Action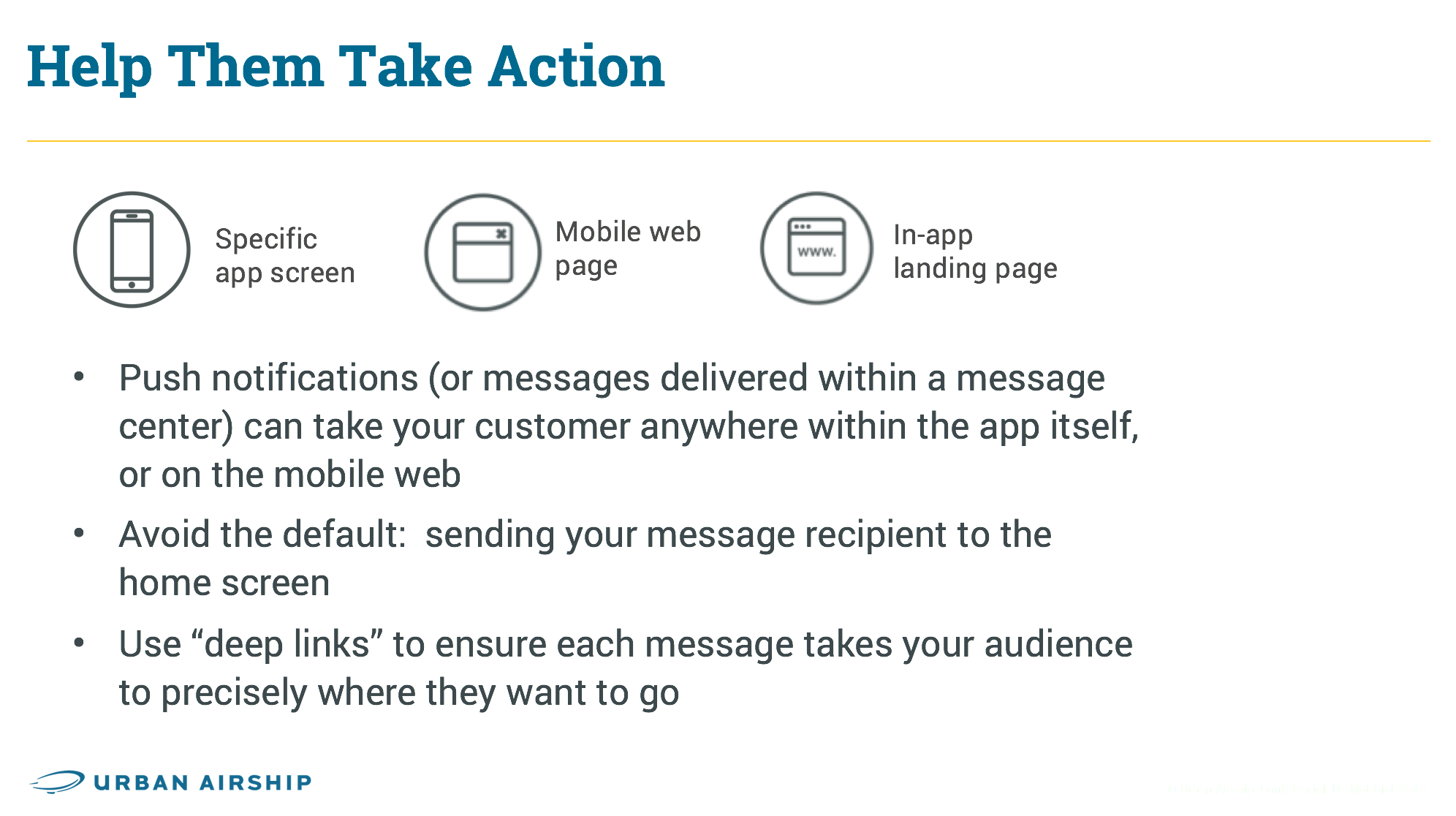 Identify clearly and specifically what the action is you want them to take — and make it easy for them to take that action. Use deep links that take them precisely where they would expect to land to complete the action.
3) They Meet a Need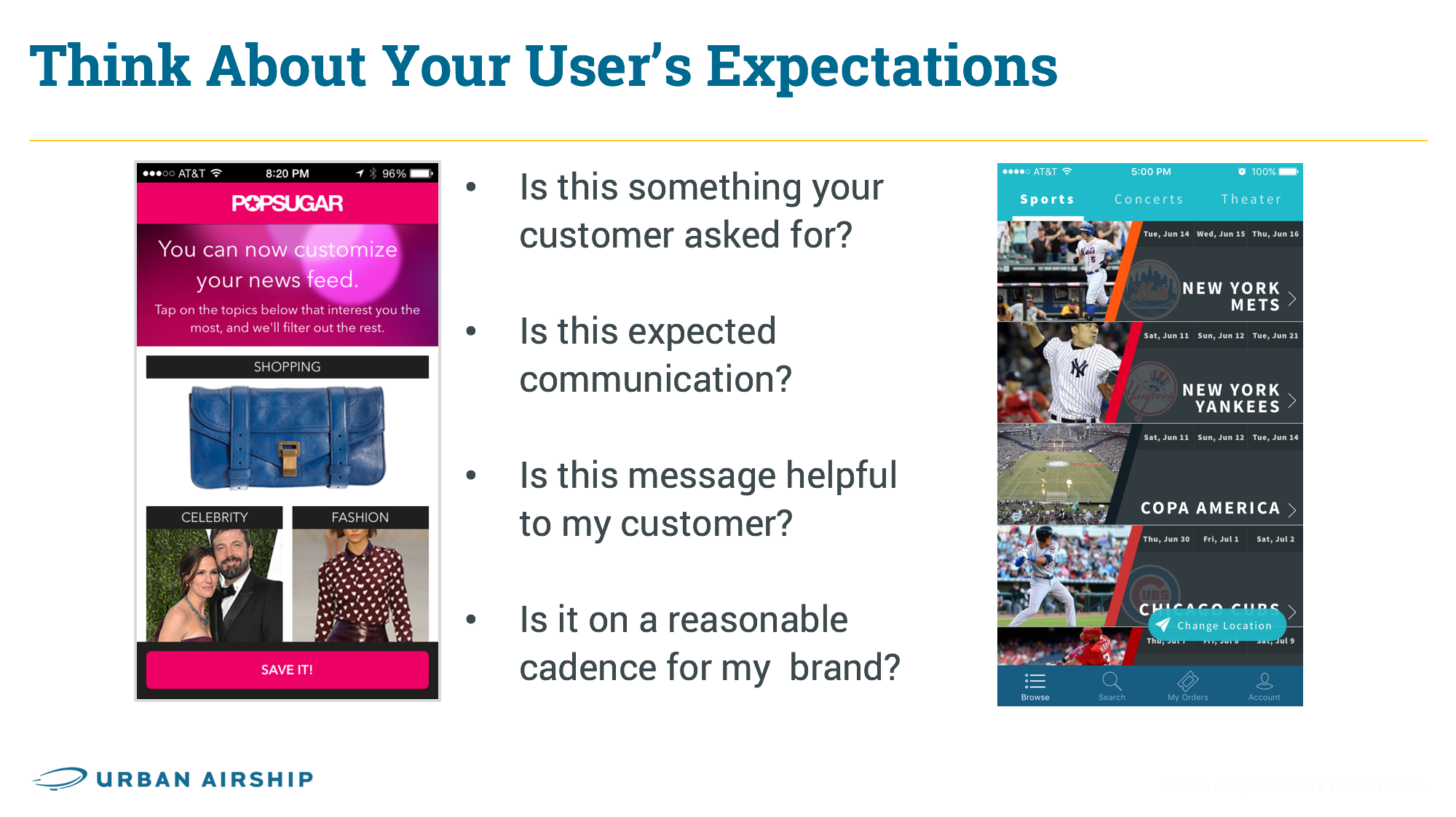 Make sure you're not overdoing it across all your messaging channels. Think about your user's expectations: Is this notification something your they asked for? Is it an expected communication? Is it useful? (See our blog post How Often Should I Send Push Notifications? for more tips.)
4) They're Relevant and Useful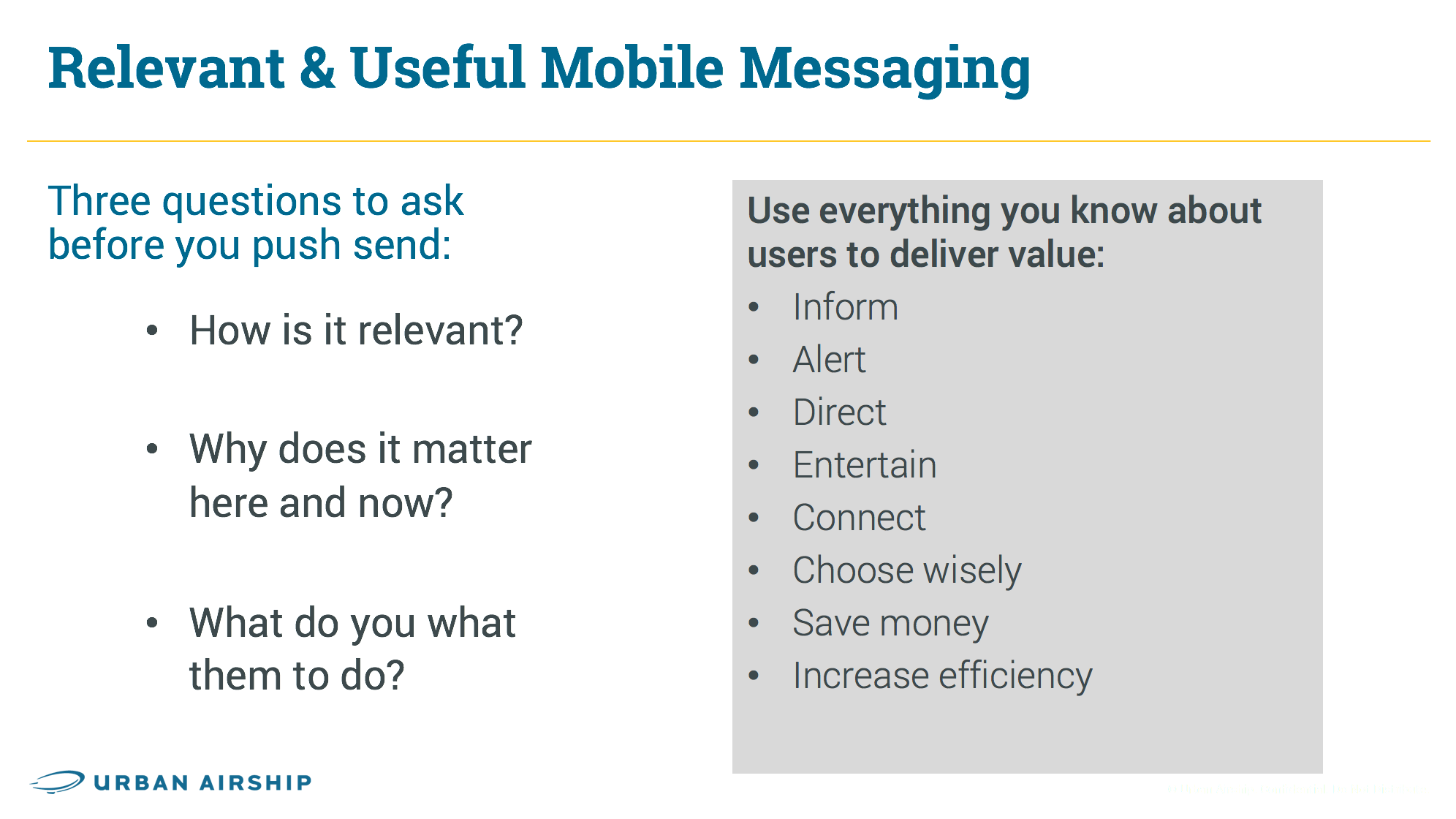 Use our mobile messaging cheat sheet to consider all your message channel options, and determine which channels are the best fit for the different kinds of messages you have to send.
5) They're Targeted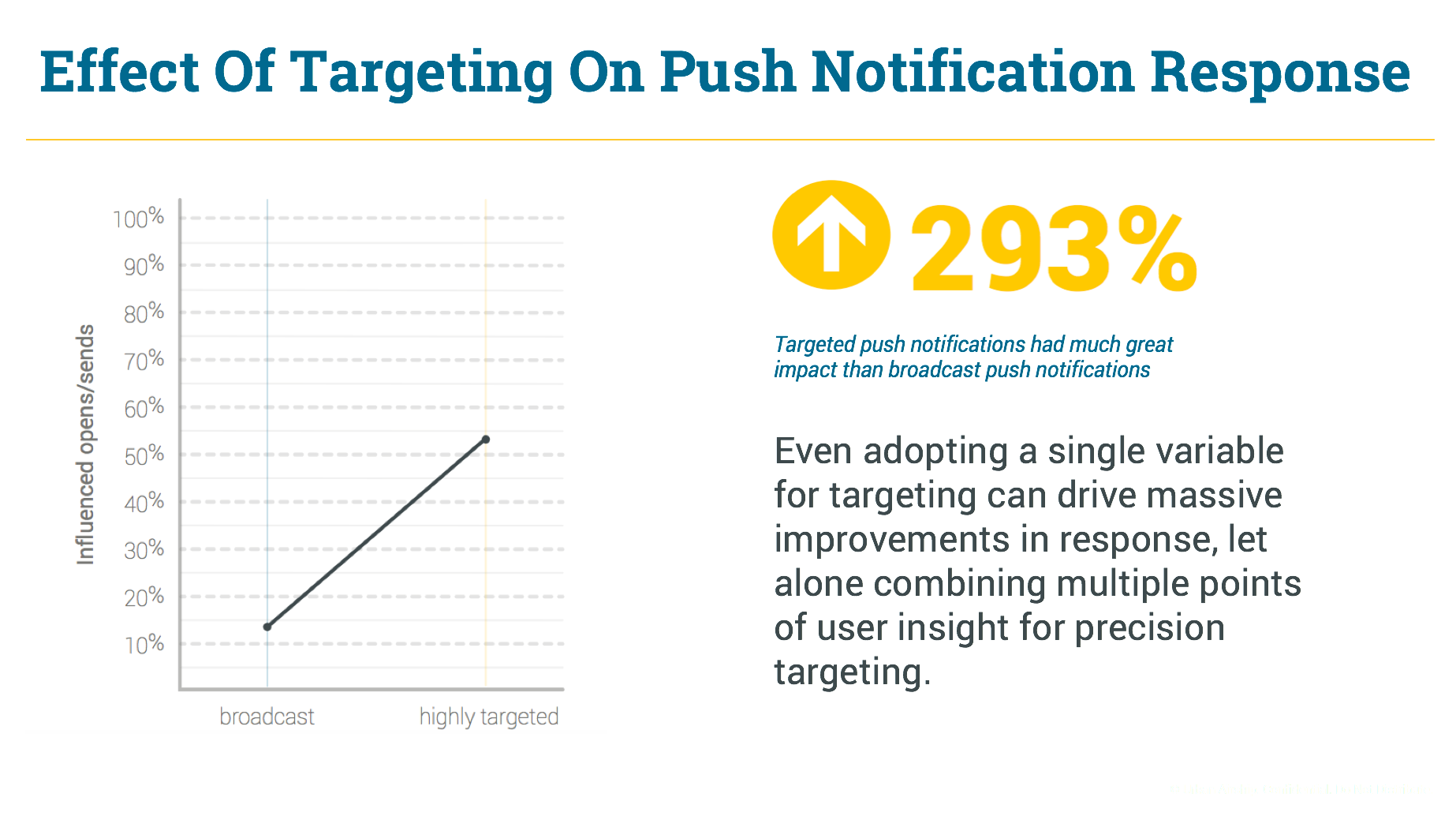 Stat source: Urban Airship's "Good Push Index" Study
There are dozens of ways to segment messages — from more sophisticated segmentation that needs to be set up on the back end of your app with tags, to time-based automated triggers that are relatively easy to implement. (See number 8 on our list of 10 fundamentals for a successful app for more on this.)
Time-based rules can also help make mobile notifications feel very personalized. For example, a triggered confirmation notification that comes immediately after a user makes an in-app purchase, or a flight-check-in reminder.
Whatever your approach, our data shows that personalizing your notifications in any way you can results in a major improvement in engagement.
---
Want to learn even more about best practices? Click through our Mobile Notification Best Practices webinar slides below, or view the on-demand webinar here — and get in touch anytime to learn more about how we're helping brands create mobile moments that matter.
P.S. Share your mobile notification tips and tricks in the comments below, or over on Twitter!
Subscribe for updates
If the form doesn't render correctly, kindly disable the ad blocker on your browser and refresh the page.
Related Posts
Categories