Building Your First Mobile Marketing Strategy
For companies looking to deepen their customer loyalty and their bottom line, the potential mobile holds is too big to ignore. Consumers expect to be able to engage with brands on their mobile devices. While not every business needs a mobile app to meet consumer demand for mobile interactions with brands, every business does need a mobile marketing strategy.
So What is a Mobile Marketing Strategy?
A mobile marketing strategy is not so much different from any other marketing strategy — it requires an understanding of the business objectives you're trying to achieve, determining which marketing tactics you'll use to achieve those objectives, and measuring those tactics to see what works.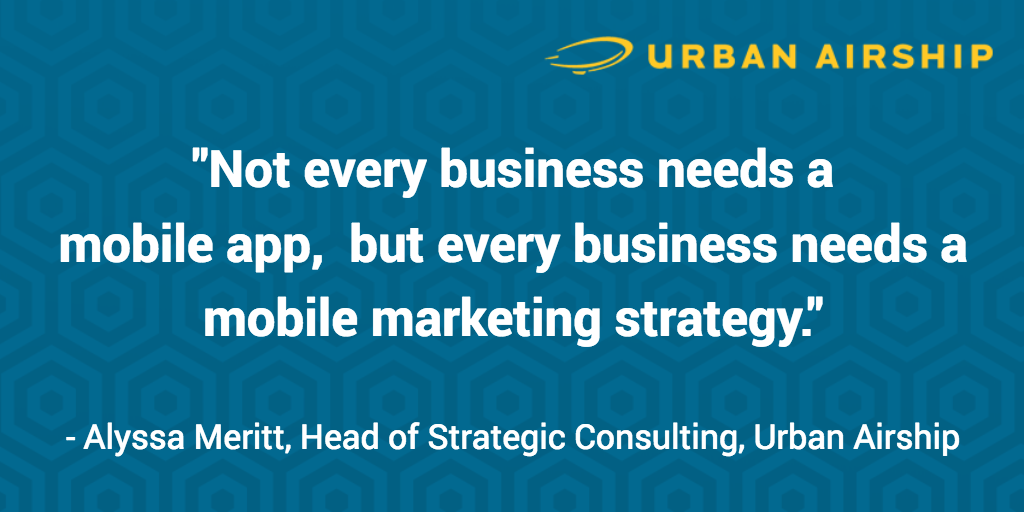 A mobile marketing strategy takes advantage of the unique opportunities mobile has to offer — the channels it provides, as well as the in-the-moment, hyper-personalized experiences and interactions it enables.
Three fundamentals for building strong mobile marketing strategies are: 1) understanding your audience, 2) defining the business objectives you're trying to achieve, and 3) choosing the best mobile marketing channels to reach your audience.
Let's tackle each of these.
1) Understanding Your Audience: Base Your Mobile Marketing Strategy on a Commitment to Serve User Needs
To understand what your audience would respond to best on mobile, consider what you know about how they interact with your brand today — and what you know about how they use mobile. Think through the customer experience with your brand, and find opportunities to provide value.
Needless to say, users increasingly expect mobile-optimized, easy-to-use experiences with brands on mobile. And the always-on and on-the-go nature of mobile gives marketers the opportunity to deliver entertaining, informative and transactional messages and real-time experiences that are hyper-relevant for their audiences.
Browse our case studies to get more ideas and examples of brands that are going deep to understand their audiences, and surprise and delight with mobile experiences.
2) Define How Your Mobile Marketing Strategies Will Help You Meet Your Business Objectives
Which of your business objectives can mobile help you meet? How deep will your mobile marketing strategy go at this time, given your available resources? Will it be an add-on, or are you moving to a mobile-first approach? Your answers to these kinds of questions will help you identify the best approach for getting started.
Regardless of which mobile marketing tactics become part of your strategy, the key is to align your businesses needs with how your audience engages and interacts with mobile.
For example:
A company that sells industrial tools to contractors might benefit most from an easily searchable, responsive website supported by mobile search and display.
A fashion retailer may want to create an engaging mobile app to serve their most loyal customers, while reaching a wider audience with mobile advertising, mobile-friendly emails, mobile wallet coupons and digital loyalty cards for promoting exclusive offers.
Each of these examples aligns with business needs as well as how the brand's audience engages with mobile. The most successful mobile initiatives serve both business objectives and user needs.
You'll also need to determine how you'll measure these business goals using mobile KPIs.
For more on the business goals mobile marketers might want to tackle, take a look our resources on the business value of mobile.
You can also explore the kinds of mobile KPIs you can leverage with a mobile analytics tool.
3) Explore Your Mobile Marketing Channel Options
Mobile marketing strategies should leverage a number of different mobile marketing channels — using these channels in concert with each other, employing each one in service to both the user and your business goals.
Here are some things to consider with several core mobile marketing channels:
• Mobile-Friendly or Responsive Website: Having a mobile-friendly website is expected. Mobile web offers a consistent brand experience accessible to all smartphone users. Mobile search and display can help support discovery of your mobile site.
• Mobile App: No other mobile channel allows for personalization, branding and data insights like a mobile app. Users who download your app are your most loyal customers. They have significant brand affinity and are opening doors to a deeper level of engagement. Apps best serve personalized interactions, delivering in-app content and notifications tailored to users interests and context such as location.
• Mobile Wallet: Mobile wallet is an especially fantastic entry point for mobile, as it doesn't require an app. A mobile wallet campaign can be up and running quickly, and can help brands determine how responsive their audiences are to mobile offers. (Need to get up to speed on the mobile wallet opportunity? Check out our mobile wallet cheat sheet.
With mobile wallet, brands can create personalized, location-aware boarding passes, tickets, loyalty cards, coupons, and payment cards. Passes can be sent to any smartphone user, offering broad reach for brands, and ease of adoption and utility for the user.
• SMS/MMS: SMS reaches all opted-in mobile users and offers immediacy in the form of a text alert. The potential for user insight and branding is more limited on SMS than other mobile channels. These alerts are most often used to drive discount strategies.
• Mobile Advertising: Mobile search and mobile display advertising can support your acquisition efforts regardless of what other channels you choose to use. Targeting options continue to make advertising an important complement to other more engagement-oriented channels. Try to avoid relying solely on this channel, as this can potentially create a cycle of constantly paying for one-and-done transactions.
For more on exploring mobile messaging channels, check out these cheat sheets:
Bottom Line
Mobile marketing strategies will look different for every brand. The key is to take the time to understand your audience, your business goals and how you'll measure them, and the opportunities available on mobile to get started.
Our Strategic Services Team has worked with hundreds of brands to maximize their app investment with proven strategies that get results. Schedule a free consultation today to get your team on the same page, create a mobile marketing strategy that will help you meet your goals, and boost mobile growth.
Subscribe for updates
If the form doesn't render correctly, kindly disable the ad blocker on your browser and refresh the page.
Related Posts
Categories