6 Must-Do Mobile Strategies for Q4 2016 Holiday Campaigns
Mobile came into its own over the 2015 Thanksgiving/Cyber Monday weekend. For the very first time, the number of people shopping online surpassed the number venturing into traditional stores.
Mobile devices accounted for 57% of all online shopping traffic, up 15% year-over-year, according to IBM. On Thanksgiving, mobile accounted for 60% of online traffic and 40% of online sales. This mobile-driven tipping point in online shopping was plain for all to see, as shoppers experienced thinner crowds and less frenzied doorbuster store openings.
The prevalence of mobile-driven online shopping means consumers no longer need to wait until Black Friday to get great deals. Retailers are offering compelling reasons to shop all season long. More than half of consumers say they rely less on Black Friday than they used to according to Deloitte's holiday survey, and consultancy Conlumino found nearly 40% of consumers began buying Christmas presents before November.
With mobile devices in-hand or never far from their side, consumers are adopting new pre-shopping behaviors that demonstrate why retailers need to be thinking about Cyber Month or the Cyber Season not just Cyber Monday or Cyber Week.
So what are you going to do differently in 2016?
Six Retail Mobile Messaging Strategies to Consider
Here are six mobile options we've pulled together, based on real-world data and year-over-year trends from hundreds of retailers:
#1. Use push notifications to drive early engagement
Consumers are researching their wish lists before buying, and making last-minute purchase decisions leading up to key shopping days. So what does that mean for you? Promote holiday deals earlier and more often. Ramp up activity two to three weeks in advance of the big holiday shopping weekend. Start your holiday notifications in October for promotions beginning in November.
In 2015, days with the highest notification engagement rates were Nov. 1 and Nov. 3, when initial promotions were just beginning, as well as the week before Thanksgiving and the Sunday before Cyber Monday – all of which highlight mobile's role in pre-shopping activities.
#2. Get creative with your messaging
Make your messages more engaging by asking users to take action, such as "swipe right to see details and shop" or "tap to show now" or "swipe left for button actions." Use emojis to add a colorful, playful visual element that helps your notifications standout from others queued up on the lockscreen or notification center. Or, change your app icon to add some festive flair like Walmart did last year to show off your brand personality.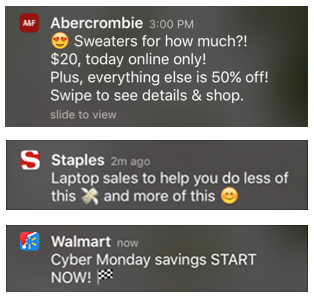 Examples of push notifications that included instructions, calls to action or emojis.
#3. Use interactive notifications to connect with customers and drive immediate action
Last year, Shop Direct's MyVery app used interactive notifications, instructing users to swipe left if they'd like to receive daily deals during Black Friday. Shoppers who tapped "yes" were added to a Black Friday segment to drive engagement throughout the campaign.
Alex Baldock, CEO of Shop Direct, said the e-commerce giant saw a "record week" leading up to Black Friday with overall growth up 64% year-over-year across platforms such as Very.co.uk and Littlewoods.
According to Forrester Research, Inc.'s March 2016 report, "The State of Mobile Marketer Tactics: 2016," 24% of marketers and digital business executives surveyed are either already using or testing interactive push notifications and 48% are planning to test or use them this year. Don't miss out on this high-performing opportunity to give customers multiples paths for immediate action with interactive notification buttons. You'll reap the rewards of better customer insight collected outside of your app on device lockscreens and notification centers.
#4. Move beyond one-size-fits all broadcast messages and get personal
Broadcast messaging is still a common practice across industry verticals, including retail. Next-level results are in easy grasp with more targeted messages that achieve 4-7x greater response rates than messages sent to all app users according to our research. Tailor your messages to any combination of user preferences, locations, in-app behaviors or prior message responses.
#5. Reach all app users with in-app messages and message centers
Four times as many retail apps used message centers over the 2015 holiday season compared to the year before, and the volume of these messages increased 152% with an overall average 22% read rate.
GameStop took it up a notch last year with vivid imagery and holiday colors for its in-app message center. Another standout for a different type of in-app message was Nordstrom, which used interactive buttons to convey the value of registering, as well as making it incredibly easy.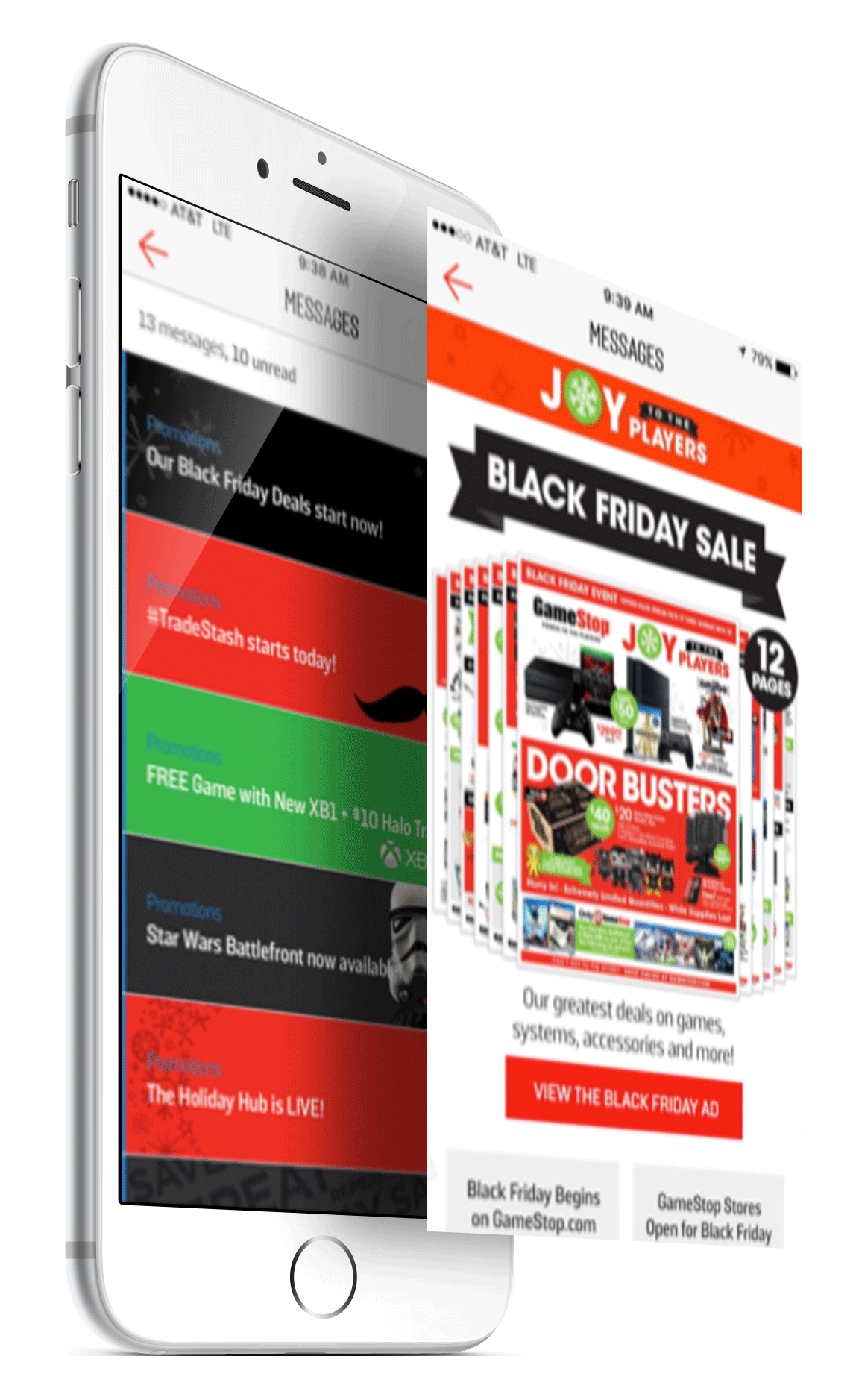 GameStop deep linked notifications to a festively themed message center.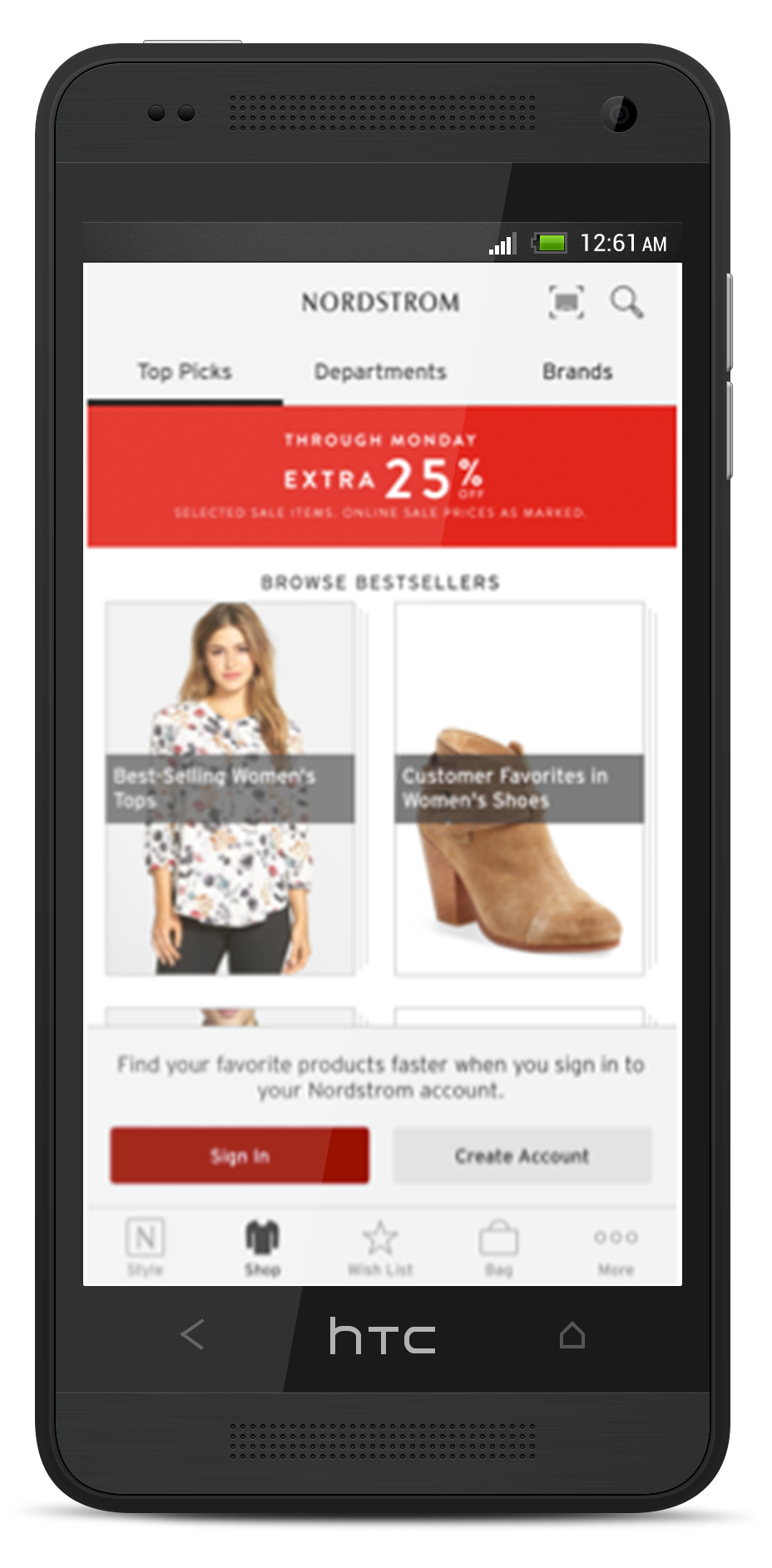 Nordstrom used new in-app messages with buttons to reach all app users without a message center.
#6. Accelerate your sales to millennials with mobile wallet gift cards
Increase your in-store foot traffic and holiday sales at a lower cost by moving plastic gift cards to mobile wallet gift cards. 40% of young adults lose gift cards and 47% leave balances unspent. By having your gift card in their mobile wallet, it is with them all the time, and they can be automatically reminded of it as they walk in your store. Not to mention, mobile wallet gift cards are 10-25x less expensive than physical cards.
Retailers: Seize the Mobile Engagement Opportunity
Consumer motivation and energy are at their highest during the holidays. The key for retailers is to seize this opportunity to both optimize their mobile businesses and mobilize their entire business.
---
In our own holiday tradition, we gathered mobile data from more than 200 retail apps throughout November and saw some strong trends emerge. From earlier holiday promotions, to retailers ramping up messaging volumes and seeing improvements in customer response (less an important exception), one thing is clear: mobile's role in driving happier holidays continues to grow.
How mobile's role in holiday shopping is evolving

Retailer strategies and messaging tactic that are advancing the state of mobile engagement

Trends in consumer response rates that highlight the path forward
Subscribe for updates
If the form doesn't render correctly, kindly disable the ad blocker on your browser and refresh the page.
Related Posts
Categories