Urban Airship Anticipates Google Wallet Driving Mass Adoption of Mobile Loyalty Solutions
A new version of the Google Wallet Android app launched to consumers today, and we believe it will be a transformative force in driving global adoption of digital wallets among brands and consumers. As a Google Wallet partner, we've worked closely with brands to enable new capabilities it will support, including demonstrating its first loyalty program integration with Alaska Airlines. Today brands across the world can revitalize their loyalty programs by gaining a dynamic presence on the one thing consumers never leave home without—their smartphones—and through time- and location-based alerts offered by wallet platforms (as well as push notifications) make the 34% of plastic-based reward points that go unredeemed and expire a thing of the past.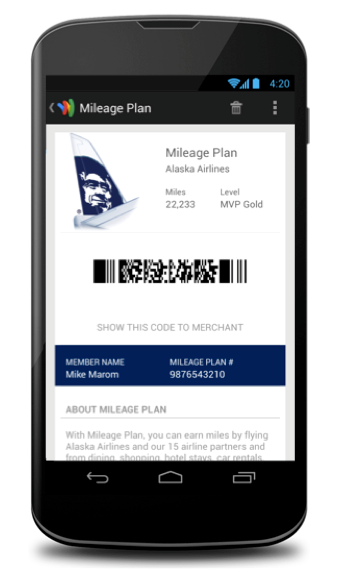 The broad distribution, advanced discoverability and streamlined sign-up processes offered by Google Wallet will deliver a tremendous boost to loyalty program enrollment, and cross-platform digital wallet management solutions like Urban Airship Wallet Studio make it easier than ever to create tangible experiences that reward your very best customers.
Nothing since the advent of apps for smartphones, has something had such profound capability to transform everyday behavior as digital wallets. In the near future, people will only need to remember one thing while on the go—their mobile device—leaving other forms of identification, payment and rewards cards at home, probably along with physical keys. In this new world of mobile-empowered consumers, the stakes just got much higher for brands taking a wait-and-see approach to mobile loyalty.
With the new version of Google Wallet, loyalty programs and cards can be added to Google Wallet via the Android app and web sites. Consumers can also scan physical cards to add them to Google Wallet and use its "Search for Merchant" feature to easily discover available cards and programs from their favorite brands. Google Wallet's integration with other Google channels—Google+, Google Search, Google Maps, Google Offers, Google Ads and more—offers broad distribution for brands to promote digital wallet programs reaching the vast majority of smartphone owners worldwide. This ease of discovery is taken a step further by Google Wallet enabling instant sign-up to brands' loyalty programs using information in existing Google Accounts.
Urban Airship Wallet Studio makes the process of designing and launching large-scale digital wallet programs more cost-effective and manageable with an enterprise-class API that delivers targeted 1:1 program updates, sophisticated cross-platform templates for Google Wallet and Apple Passbook and a simple drag-and-drop interface to design and preview loyalty cards and offers. Urban Airship also leverages its industry-leading push notification infrastructure to light up smartphone home screens with location-targeted program updates, offers, expiration alerts, and personalized information such as member point totals or flight gate changes associated with digital wallet programs.
Let us know if we can help you gain a leadership position in what will soon be a very competitive landscape.
Subscribe for updates
If the form doesn't render correctly, kindly disable the ad blocker on your browser and refresh the page.
Categories