Forrester Report: Martech Evolves to Support Customer Journeys
It's a fact: happy customers are good for business. That's a simple idea, but today's consumers are highly empowered and their expectations are on the rise. So, how can B2C enterprises succeed in an era where their customers demand a consistent, personalized, always-on experience across a multitude of devices and touchpoints?
According to a June, 2019 Forrester report, meeting this challenge requires brands to reassess their approach to marketing technology (martech) and customer engagement. The report, The Future of Marketing Enterprise Technology, highlights an essential shift from a channel-based capability to an approach serving the full customer journey – one that enables marketers to win with customers at moments throughout the customer lifecycle.
Check out our four key takeaways below and download the report here (available for a limited time).
Always-On Engagement Is Replacing Marketing Campaigns
Traditional marketing campaigns no longer play a leading role in how consumers learn about products, engage with brands or make buying decisions. In fact, the majority of consumers avoid advertising and prefer to interact with brands outside of marketing programs.
These forces compel marketers to completely rethink the role of campaigns. While campaigns remain relevant for specific situations, such as new product launches, marketers must put them in the context of the full customer journey. That means supporting always-on, contextual, moments-based engagement on any channel – from push notifications and in-app messaging to email and SMS.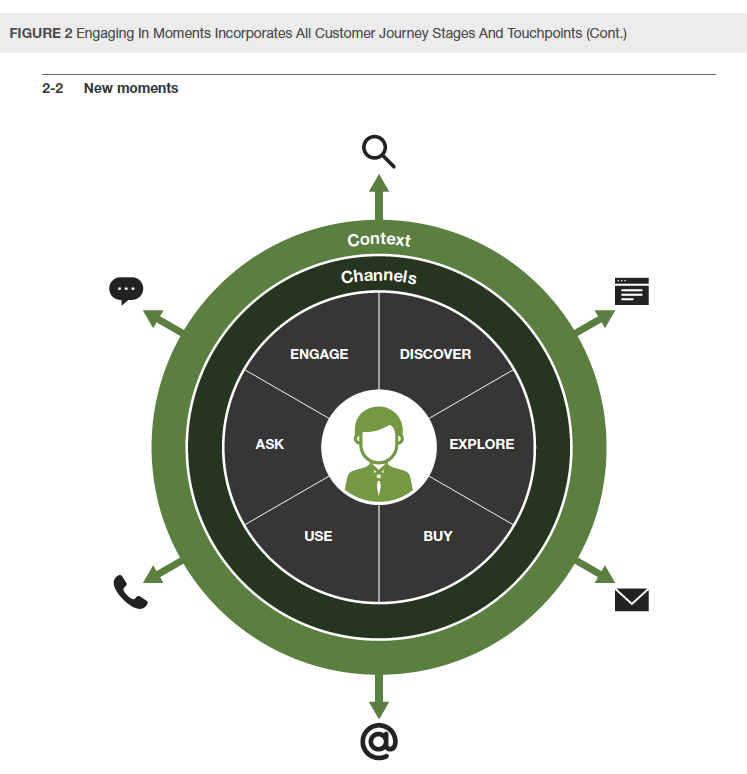 Brands Need a Tech Upgrade for Moments-Based Marketing
According to Forrester, martech capabilities are the key to breaking free of traditional channel-based campaign thinking and engaging customers at key moments throughout the customer lifecycle.
The next generation of martech makes this possible by powering customer data management, identity resolution, continuous engagement, contextually relevant content, advanced analytics and orchestration across channels. At the core of these solutions will be enabling technologies like predictive artificial intelligence (AI), cloud infrastructure services and IoT connectivity.
Marketing Must Align with Customer Experience (CX)
Positive customer experiences yield major dividends. Forrester's research found that CX quality impacts customer enrichment, advocacy and trust. Yet despite a growing consensus that CX can no longer be viewed as independent from marketing, many organizations still put these functions in siloes.
To deliver next-level customer experiences, organizations must align marketing and CX, while also addressing disconnects between customer insights and engagement. The report shares insights from several forward-thinking brands that leverage customer understanding and personalization to delight and build loyalty with their customers.
Martech Is Evolving to Support CX Competencies
As marketers' responsibilities expand to influence and support CX, they'll need upgraded tools, processes and structures to align with their organizations' customer engagement framework.A modern martech stack acts as a hub to coordinate marketing and CX. This helps marketers understand their customers and deliver engaging experiences at the right moments throughout the customer journey.
Forrester also acknowledges that martech will continue advancing to deliver on the promise of moments-based engagement. Marketing organizations and technology vendors must develop partnerships and evolve together to succeed in this changing landscape.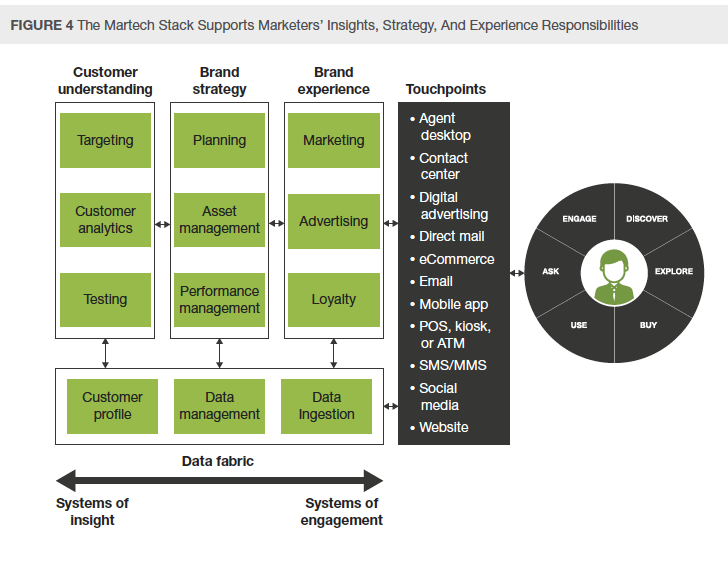 Check out Forrester's Report for More Valuable Insights
Adapting your martech to support customer journeys in the mobile era may seem daunting. However, by taking the right steps, brands can deliver stellar CX and the increased revenue and loyalty that comes with it.
Download the Forrester's report for a deeper dive into key areas, including:
The evolution of Martech and key features that power moment-based marketing
How customer understanding empowers marketers to engage in moments
Real-world examples of forward-thinking brands that deliver next level CX
Download your complimentary copy of the Forrester report (available for a limited time).
Subscribe for updates
If the form doesn't render correctly, kindly disable the ad blocker on your browser and refresh the page.
Related Posts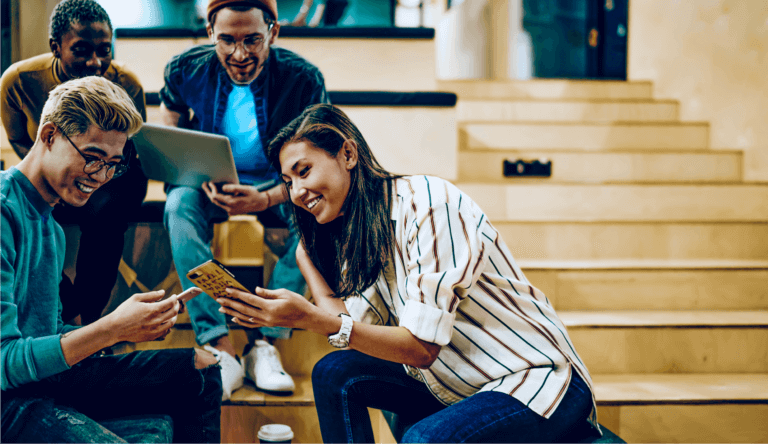 Everybody Benefits: The ROI of Improved CX from Forrester's "How Customer Experience Drives Business Growth, 2018" Report
Categories