7 Mobile Engagement Stats that Show How Push Notifications Boost ROI
Mobile app audiences grew 31% year-over-year in 2020 and 10 of 12 the verticals we looked at in our analysis saw increased app engagement. Clearly, the opportunities for mobile marketers are massive as more consumers embrace apps as part of their daily lives. Yet the hard truth remains: the vast majority of your users (around 90%) will churn within 30 days of downloading your app. The good news? A savvy push notification strategy can help.
To help you increase app retention and engagement — and of course, ROI — we've pulled together 7 mobile engagement statistics from Airship's benchmark reports and various studies. Use these stats to enhance your mobile marketing strategy and watch as your app engagement and KPIs improve!
1. If you're not already sending push notifications, starting now could increase app retention by 190%.
According to our app retention study, brands that aren't currently sending push notifications can increase their 90-day app retention by 190% by using push messages today! Stay top of mind, increase conversions and drive customers back to your app with timely and relevant messages. Airship's automation and AI make it easier than ever to keep your mobile app users engaged and prevent churn.
2. Send push notifications to new app users within 90 days — or risk wasting 95 cents of every dollar you spent acquiring them.
If you're not sending push notifications to your opted-in users you could be wasting 95% of your acquisition spend. Yet in a benchmark study of more than 200 apps, we found that 30% of Android users and 15% of iOS users didn't receive any push notifications in the 90 days after their first open. Of those users, only 5% continued to use the app in the 90 days after the first open. That's a huge missed opportunity that brands simply cannot ignore!
3. Work to get the opt-in: users opted in to push notifications are retained at nearly 2x the rate of those who aren't.
Getting app users opted-in to receive push notifications gives you a leg up on retention, with app retention rates for iOS that are nearly double those of users who have opted out. To see how your opt-in rates against your competitors, check out our 2021 Push Notifications and Mobile Engagement Benchmark Report and don't miss this blog post with 10 tips for getting the opt-in.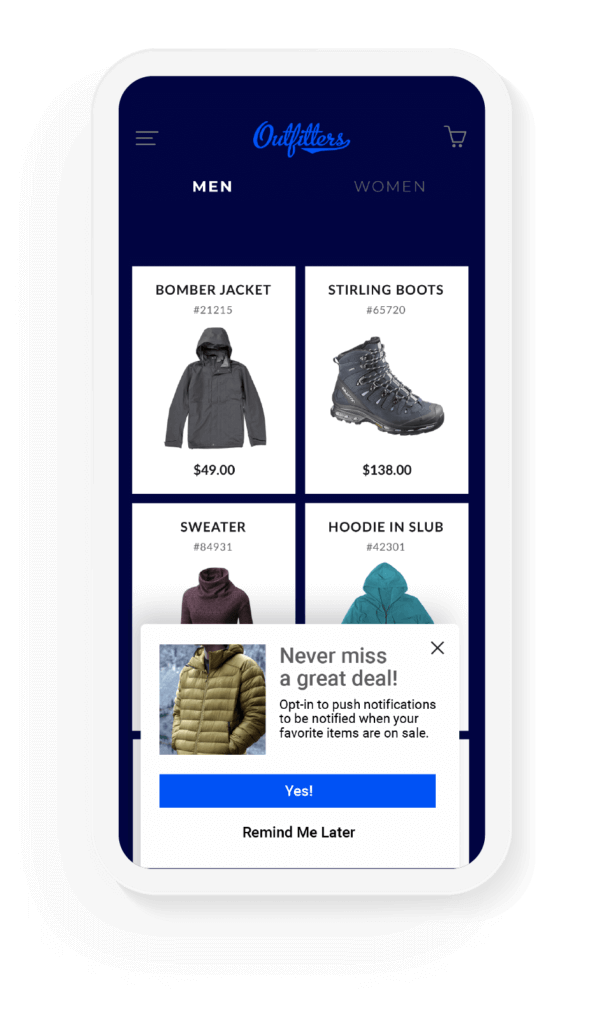 4. Sending high value notifications can increase app retention rates by 3-10x.
Sending some push notifications is better than sending none, according to our analysis. The key is to avoid over-messaging your customers, while also identifying which high value notifications will keep them engaged. Use our Push Notifications and Mobile Engagement 2021 Benchmark Report to see how your message frequency stacks up against the competition. For some inspiration to shape your next high value messages, check out our guide to the types of push notifications that you almost certainly should be sending.
5. Try rich push notifications — your direct open rates could increase by up to 56%!
Rich push notifications leverage the power of pictures, GIFs, videos and audio to engage app users. Airship data reveals that rich notifications with images have a 56% higher direct open rate. And brands like USA Today, NCAA and Dinda all use rich notifications to generate higher performance over their regular push notifications. Download our Rich Notifications Inspiration Guide for ideas on how you can use rich media in your next push notification.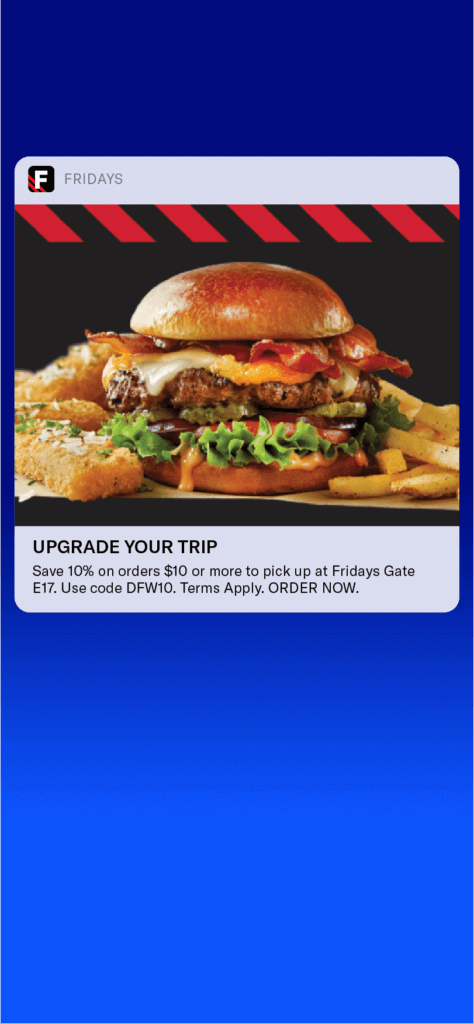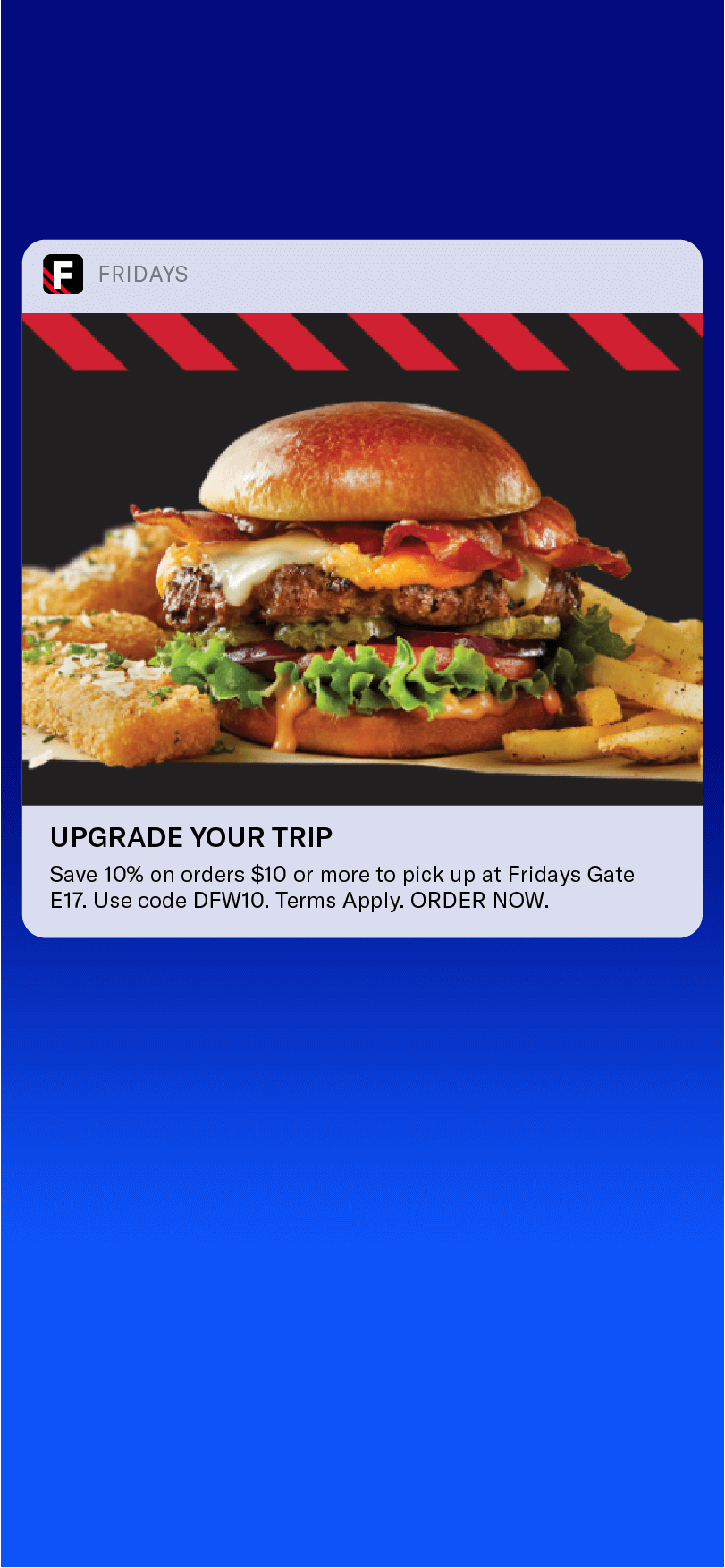 6. If you're not delivering a personalized experience, 52% of consumers would consider switching brands.
Personalized mobile messages are crucial to customer experience in 2021 and push notifications are no exception. Consumers demand personalized and contextual messages because they provide more value. In fact, 77% have chosen, recommended or paid more for a brand that provides a personalized service or experience. And more than half of consumers say they'd switch brands if they didn't feel they were receiving a personalized experience.
7. Combine push notifications with a Message Center message to increase read rates up to 2x.
Message Center is your BFF when it comes to engaging your most valuable customers, with unparalleled ability to reach app users. By combining a push notification with a message in Message Center, you're doubling the chances that users will read it. Get our Message Center Inspiration Guide to explore some of the ways your brand could use Message Center to improve app engagement. 
Want to get started with personalized, contextual mobile messaging for your app users? Or see what types of messaging can increase mobile engagement outside your app? Contact us anytime — we'd love to help!
Subscribe for updates
If the form doesn't render correctly, kindly disable the ad blocker on your browser and refresh the page.
Related Posts
Categories