New Urban Airship Study Reveals App Publishers that Don't Message Users Waste 95 Percent of their Acquisition Spend
Analysis of 63 million app users' first 90-days reveals more frequent messaging increases mobile app retention rates by 3X to 10X
Urban Airship delivers new Predictive Churn analytics, making it easy to identify app users likely to churn and drive preemptive action
PORTLAND, Ore. — February 16, 2017 — New data shows that when marketers don't message new opt-in app users, they are wasting 95 cents of every dollar spent acquiring them as only five percent continue to use those apps 90 days after first open. Considering the high cost of mobile app user acquisition, not only does this become expensive very quickly, it's an inefficient and unsustainable way to achieve mobile growth. To help, mobile growth company Urban Airship today announced the general availability of Predictive Churn analytics and revealed initial findings gleaned by analyzing the first 90-days of app usage for more than 63 million new users, exposing popular misconceptions about the impact that notification volume and frequency have on mobile app retention rates.
Overall, more than one-quarter of opt-in users receive exactly zero notifications
Examining the number of push notifications opt-in users received in their first 90-days shows startling evidence that many apps lack any type of engagement strategy. Android's two largest volume bands include 30 percent of users who received zero push notifications and 13 percent who got one. On iOS, zero push notifications was the second most common volume band at 15 percent of users, preceded by 17 percent of users who received one.
Not only is sending zero push notifications a massive waste of user acquisition investments, it ignores an important and direct channel to engage users who have opted in, as well as the future customer value that could be generated if they were actively engaged.
Within reason, concerns about sending too many notifications are unfounded
The general trend shows a very strong correlation between notification frequency and greater mobile app retention rates. App users who receive any amount of notifications in their first 90-days have 190 percent higher retention rates than those who do not, while more frequent messaging increases mobile app retention rates by 3X to 10X. In fact, moving from zero notifications sent to weekly notifications doubles 90-day app retention on iOS and is a 6X multiplier on Android. Moving from zero notifications to a greater than daily frequency triples iOS 90-day app retention rates and produces a ten-fold improvement on Android. Surprisingly, this greater than daily frequency was the third most common send volume for iOS apps at 13 percent of users, while four percent of Android users (1,781,667) were messaged at this frequency.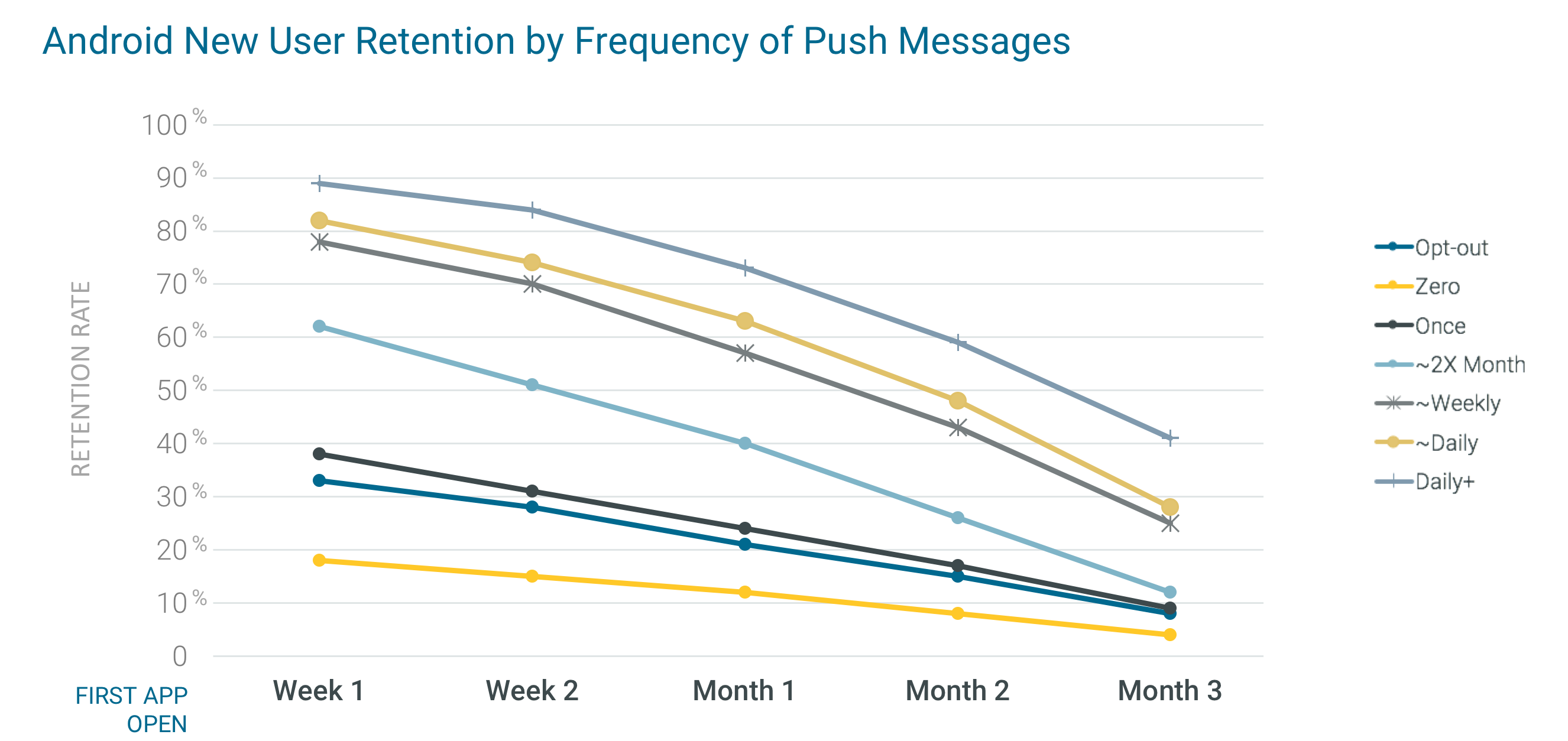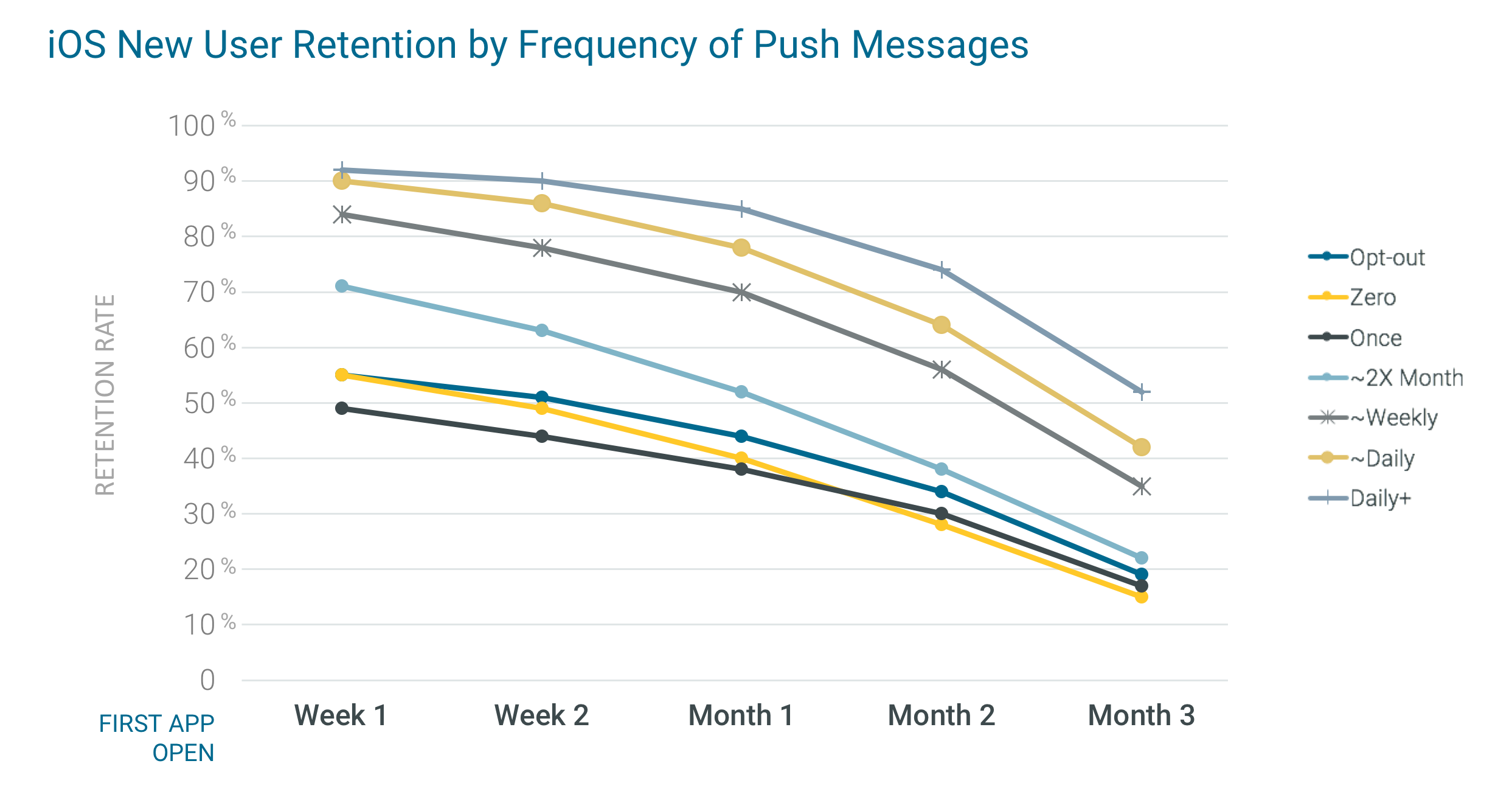 Mapping new user retention rates by the frequency of notifications received displays clear trends that apps can use in formulating messaging strategies. The Android and iOS charts show two strong groupings for 90-day retention levels that point to the need to move to more frequent messaging. Apps should focus on sending push notifications that are more responsive to individuals' in-app or cross-channel behaviors to grow frequency and the value users receive. To do this successfully, apps must improve their ability to listen for user signals wherever they may take place, and respond relevantly in their moment of need through real-time automation.
In addition, Urban Airship today announced the general availability of its Predictive Churn analytics, which analyzes user patterns for each app in order to assess a user's likelihood to churn before they do. Based on a proprietary machine-learning model trained with more than 10 billion data points, Predictive Churn classifies users into three risk profiles—Low, Medium and High—and makes it easy to take action in Urban Airship or any other business system by making these risk assessments available within:
Predictive Churn Dashboards to benchmark performance and make it easy to see if efforts are impacting results over time
User profiles to meld with other user attributes for highly relevant messaging including pre-built automation triggers
Adhoc drill down analysis with any other data point to determine content and offers that are most likely to generate action
Real-time data streaming to an external data warehouse or business system for cross-channel analysis and re-marketing, or low-churn-risk lookalike targeting
"The data is clear. App publishers that spend the time and energy to have a thoughtful customer-centric engagement strategy are rewarded with retention rates that are 3-10X times higher than those who don't. But that's only the beginning," said Brett Caine, CEO and president of Urban Airship. "Even apps with high retention rates have room to improve and small gains can have big impacts, which is why we are excited to offer a new end-to-end solution that makes it easier than ever to determine which users are prone to churn and take action while there's time to retain them."
Availability
Predictive Churn is available now as an add-on for Urban Airship Insight or Connect.
Additional 90-day mobile app retention rate insights
Visit our blog, where results and key takeaways are detailed. For an in-depth analysis of complete study results, including differences across industry verticals, register for a March 22 webinar. All registrants will receive a copy of a forthcoming benchmark report outlining results ahead of the live session.
Methodology
Urban Airship analyzed customer data in aggregate to identify apps with at least 5,000 downloads that had sent at least 1,000 cumulative push notifications in one month. Analysis focused on app users that first opened an app in September 2016, tracking their notification opt-in status, app open behavior and volume of notifications received through December 2016.
About Urban Airship
Urban Airship is trusted by thousands of businesses looking to grow with mobile. Every day, marketers and developers depend on Urban Airship to deliver one billion mobile moments that inspire interest and drive action. Urban Airship's mobile growth platform is used by many of the world's most admired companies, including Adidas, Alaska Airlines, The Home Depot, NBC Universal, Sky Media, and Zillow.
For more information, visit www.urbanairship.com, read our blog and follow us on Twitter or LinkedIn.
Media Contact
Media Kit
Follow Us