Top 10 Tips to Get the Opt-In
Yesterday we released our first Mobile Benchmarks report on notification opt-in rates using a dataset including nearly 3,000 apps and 100 billion push notifications sent to more than 500 million users through all of 2014. To offer actionable benchmarks, apps were categorized into 15 vertical industries with findings presented as high, medium and low values using the performance of apps in the 90th, 50th and 10th percentiles.
The core finding: across every industry, high performers have opt-in rates above 50% with multiple industries above 70%. On average, high-performers' opt-in rates are 45% greater than the rates medium-performers see. That's a massive difference and one that really matters; mobile strategies must extend beyond app acquisition or risk leaving 70 percent of users behind within 30 days after the download.
Our previous Good Push Index studies have found that users opted in to notifications are four times more engaged with apps and are retained at the double the rate of opt-out users. Push notifications light up device home screens of opted-in users to garner immediate attention, and that interruptive nature demands additional best practices to keep the opt-in once you've got it.
Check out the full report to see how your app stacks up to your industry peers, and then use these top 10 tips to maximize your opt-in rate.
1) Make sure your app's value is clear and encourage opt-in in your app store description
It's never too early to convey your app's unique value proposition. As early as the app store preview, you can be positioning not only your app's value, but the value of opting in to push notifications. One retailer includes the following in their app store description: "Get exclusive access to app user only sales. (Note: Make sure you have push notifications enabled so you don't miss a beat.)
2) Manage expectations: let them know how you'll use alerts
iOS requires apps serve up a default dialogue box to request permission to send push notifications. It has become common practice for this rather generic message to be the first thing a users sees the very first time they open the app.
A better approach is to guide the user through key app functionality and explain why users should consider opting in, before you make the ask. After adding a customized screen before the default dialogue box, NHL grew its opt-in rate nearly 10%.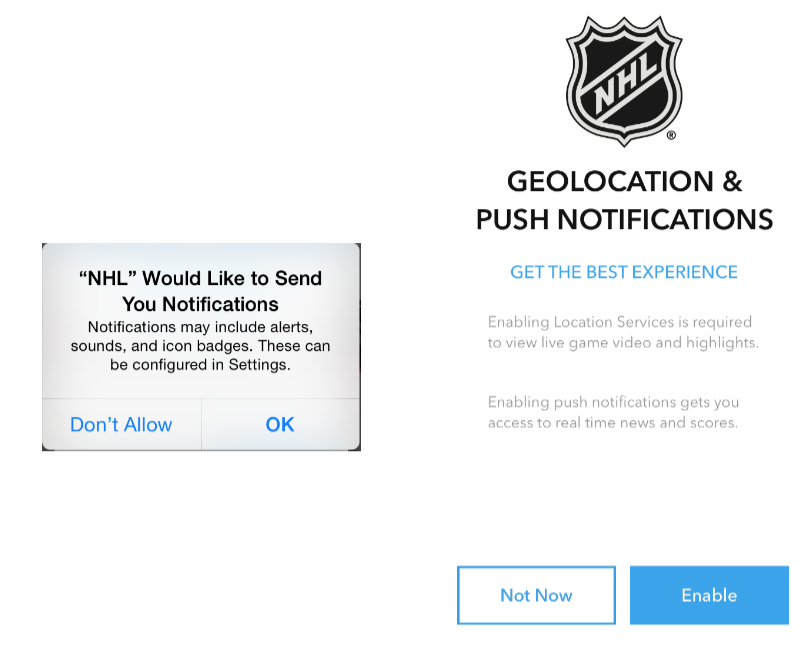 3) Make it easy to turn push notifications on and off
Rather than relying on users to navigate system settings in Android and iOS, consider adding an on/off button within your app. Doing so, allows users to turn notifications off during busy or inopportune times; for example, not wanting to receive spoiler alerts for the big game they are DVR'ing. More importantly, this enables users to more easily turn notifications back on. It may also save your app from deletion for people that simply don't want to receive notifications no matter how tailored they are to their interests.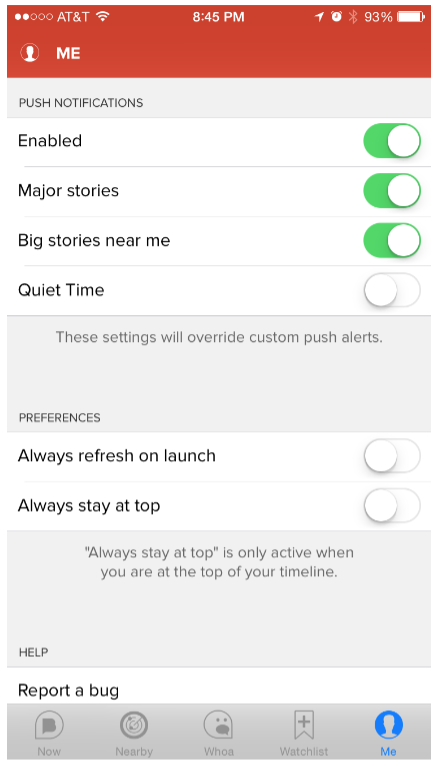 4) Prioritize preference: let users know how they can set preferences as part of your welcome series
Helping users understand upfront that they can customize their notification settings to receive only what they want, when they want it, can be a critical nuance to securing the opt-in.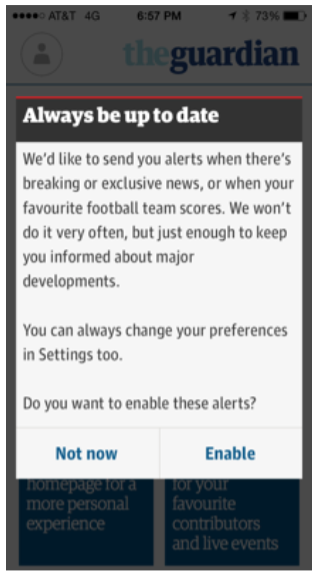 5) Market your app in offline settings to increase your possible opted-in user base
Businesses with physical presences should promote their apps' unique value proposition with in-store signage and at the point of sale. Help people understand how it will enrich their experiences, as well as any exclusive offers that will be unlocked by getting the app.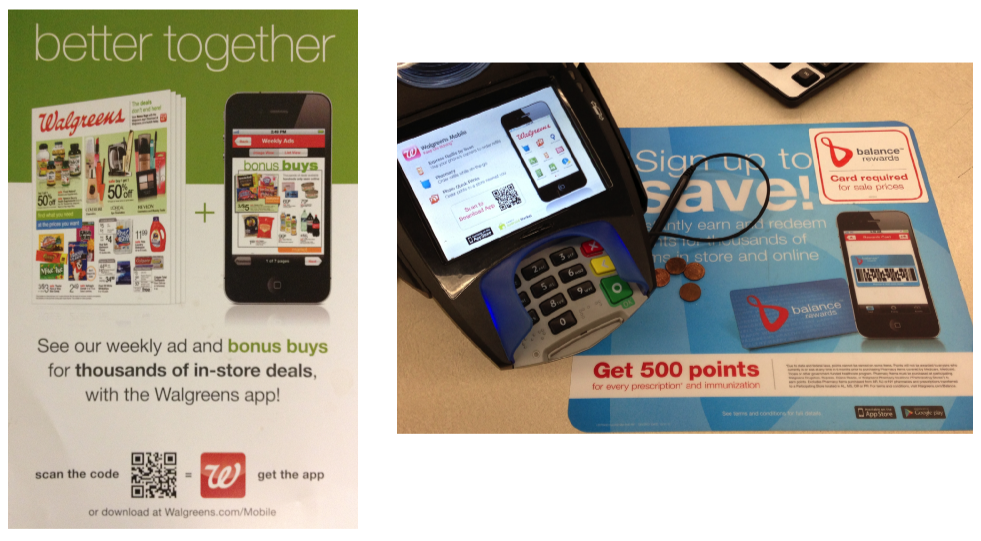 6) Use email to persuade users to download, install and launch your app, and why they should opt in to push notifications
Already have customer emails? Use them to drive customers to engage with your brand on mobile, and usher in new levels of immediacy and contextual understanding.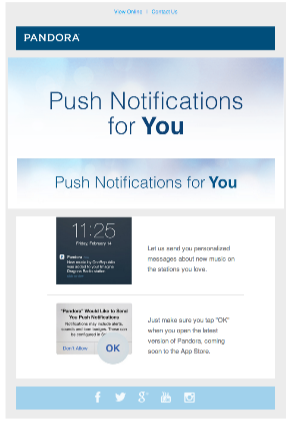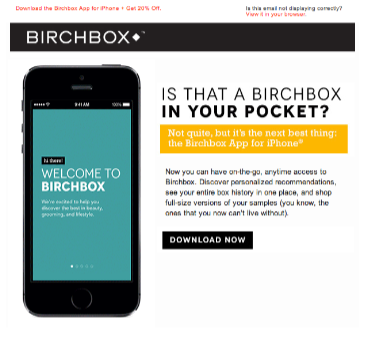 7) Sweeten the deal
Consumers frequently share email addresses in exchange for coupons. Consider what mobile exclusive benefit you might offer.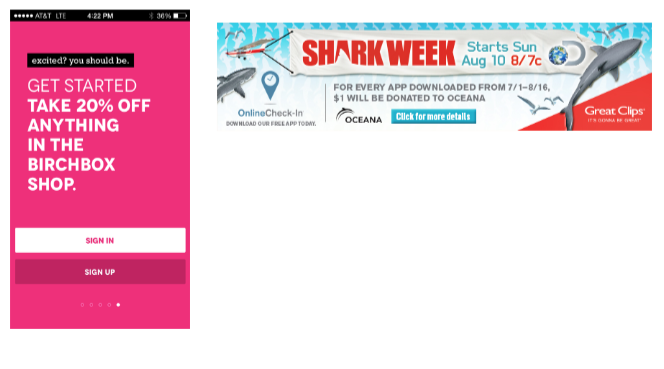 8) Prompt mobile web users to download your app
Every digital property you have should support your app recruitment effort. It can be the difference between being where consumers can find you, to being able to effortlessly reach out and engage them.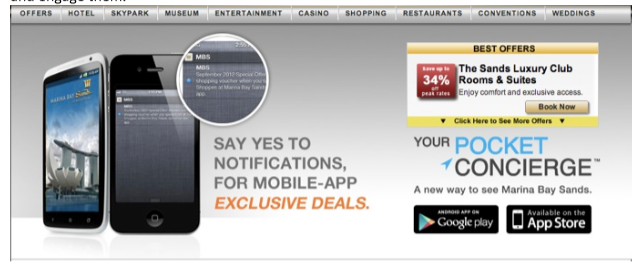 Leading up to 2014 election day, ABC News replicated app preference buttons displayed on election-related stories to also appear on ABCNEWS.com. When people find a link to ABCNEWS.com in their Facebook feed, or on Google, Yahoo or Drudge, they are taken to its mobile web site. With this new technology, ABC News was able to offer all of these users an onramp to get the ABC News app and sign up for election alerts.
"For us, it was a really unique use case and opened a new way to gain and engage users. It helped draw in and convert new users who may not have downloaded the app previously," said Peter Roybal, Head of Mobile at ABC News. "New app downloads were triple the volume we normally see."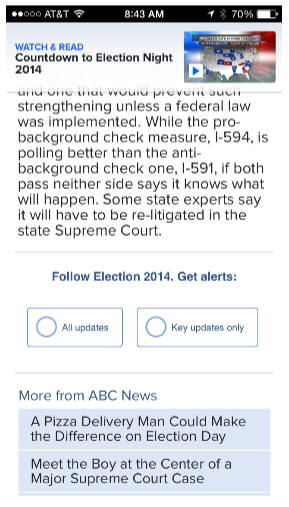 9) Know when to ask for the opt-in – and set the stage to ask again
The opt-in ask should never be once and done. Consider pre-asking users, and give them time to evaluate the app before asking again through in-app welcome messages or customized screens.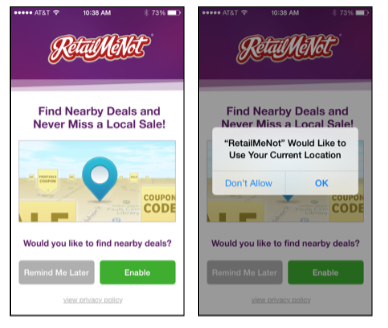 10) Track users that opt out to re-solicit with highly contextual in-app messaging
If opted-out users view specific products, visit the "Deals" page, or perform some other in-app activity that signals strong intent, use the insight to tailor in-app messages offering single tap sign-up to related notifications. If users understand the additional and targeted value they'd receive through the immediacy of notifications, they'll be more likely to reconsider their initial opt-out decision.

Subscribe for updates
Categories