Brevity = Wit: The Ideal Push Notification Length
What is the ideal push notification message length? Get guidelines and resources from Airship.
In Shakespeare's Hamlet, wordy Polonius stated, "brevity is the soul of wit." Paraphrasing for mobile, the essence of an engaging message lies in its concise wording and delivery. Or, brevity = wit.
So, what is the ideal mobile app push notification length for capturing customer attention while driving engagement and conversions? This post provides guidelines and best practices for mobile marketers.
Read on for more info, and be sure to download our Push Notifications & Mobile Engagement Benchmark Report for additional insights to help elevate your mobile engagement strategy.
The Ideal Length
Push notifications offer big benefits for brands and consumers, driving app engagement and keeping customers in the loop with information they care about. However, wordy messages without clear value rarely perform well. That's why it's imperative to get straight to the point with a succinct message that offers real value to customers.
While the maximum allowed message length varies on iOS and Android devices, as a general rule we recommend trying to get the most important, actionable part of your message across in the first 40 characters. This ensures it's optimally displayed across most devices and operating systems, without truncating essential information.
Of course, there are caveats. Some brands and verticals may find that customers respond better to even shorter, or in some cases, somewhat longer messages. When in doubt, try A/B testing your messages to see what works best for your customers.
Benefit + Action in <40 Characters
Creating succinct, impactful notifications that provide useful information sounds like common sense. But it can be challenging to pull off.
Here's what concise messages around 40 characters look like:
Retail: "Members only: 20% off shoes. Shop now!"
News: "BREAKING: DC homicide suspect in custody."
Travel: "CHANGE: Flt 39 departing from gate C2."
As you can see, those 40 characters add up fast! But with a little practice, and wit, you can craft short messages that mean more to customers.
Another way to drive action in this limited real estate is through action buttons. With Airship, you can add up to two action buttons to App notifications to help users engage. App notifications support one or two buttons, such as a single Watch Now button or a Yes/No pair.
Furthermore, don't overlook the impact of media rich push notifications. An Airship analysis found that rich push notifications can increase direct open rates by up to 56%!
How Operating Systems Impact Your Mobile Message
There are several key differences in how iOS and Android operating systems handle push notification length, opt-ins, media and appearance.
Opt-Ins
Our analysis of more than 600 billion push notifications confirmed that average Android opt-in rates remain significantly higher than iOS. That's because on iOS, people must explicitly opt into receiving app notifications — they're asked to do so the first time they use an app. Whereas on Android, users by default are not asked to opt-in explicitly, so they'll be automatically opted-in when you enable app notifications.
Length
Both Android and iOS have guidelines that can truncate notifications so that they fit in each notification delivery style.
iOS For both iOS lock screen and Notification Center, the iOS byte limit provides space for roughly 4 lines of text.
Android push notifications are restricted to 1 line of approximately 50 characters max displayed on the lock screen. However, with an expandable message you can include around 8 lines of text.
These guidelines are a great reference for crafting your message. But you should always test, test, test! With so many different device sizes and OS updates, it's important to test to ensure your content will fit the devices you're targeting.
Key Elements & Display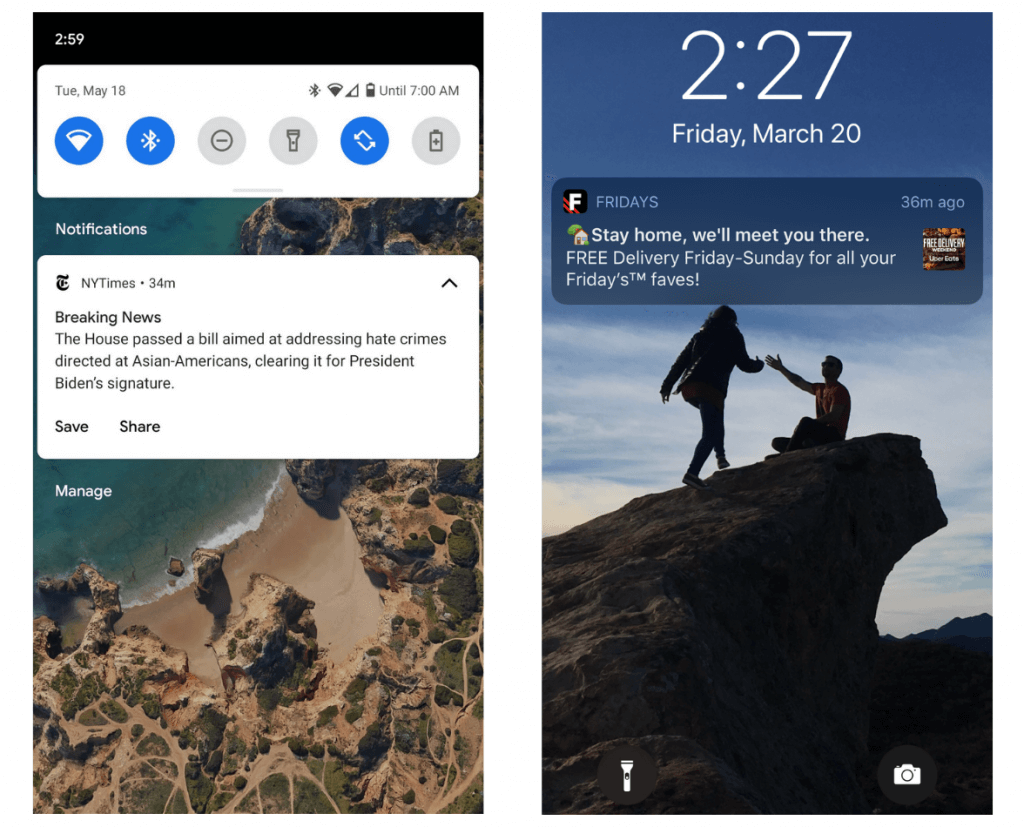 Android mobile app push notifications include icons, app name, timestamp, title, text and action buttons. Notifications appear to users in different locations and formats, such as an icon in the status bar, a more detailed entry in the notification drawer, a notification dot on the app's icon, and on paired wearables automatically. Users can also turn sound or vibration on/off for notifications or for categories of notifications related to an app directly from the Notification Center.
iOS mobile app push notifications include the app's default icon and app name, a title, text, an image, GIF, sound or video, and action buttons. On iOS, people see notifications on the lock screen, at the top of the screen while using the device, and in Notification Center. users manage notification behavior on an app-by-app basis. For example, turning an app's notifications on or off, allow notifications to be visible in Notification Center and on the lock screen, enable app icon badging, and choose from the banner or alert notification styles.
Taken as a whole, it's somewhat complicated, which is why we recommend focusing on brevity, clarity and actionable content that delivers value to your customers.
Mobile Messaging Best Practices
To ensure your message is optimally communicated across all of your customers' devices follow these best practices:
Make your messages short
Frontload what's important
A/B test your messages
Test on the devices that the majority of your audience use
Hot tip! Consider using emojis, which are a great way to save space and get users' attention
Maybe, in our modern day context, brevity = successful mobile messaging instead … which is still under 40 characters. We wonder what Polonius would think of that!
---
Elevate Your Mobile Push Notification Engagement Strategy with Airship
Download the 2021 benchmark report: Push Notifications & Mobile Engagement for essential benchmarks to help you assess and refine your approach, and answer questions like:
How do my app's mobile engagement rates compare to those of my industry peers?
What's the delta between medium and top performers?
How does message response vary by mobile Operating System?
Subscribe for updates
If the form doesn't render correctly, kindly disable the ad blocker on your browser and refresh the page.
Related Posts
Categories