10 Tips For Successful Text Campaigns
SMS campaigns offer incredible potential to drive action, adoption and loyalty. Because when it comes to engagement, text messages are in a class of their own. Average SMS open rates exceed 98% and 90% of texts are read within three minutes, making it one of the most effective channels for reaching your customers. Clearly, you can't afford to ignore the power of text marketing.
Here are 10 tips to help make your next text campaign a massive success.
1) Get Permission
Before texting customers, you need their permission. Not only is it a legal requirement, it's an opportunity to earn trust and distinguish your messages from unwanted spam. Start by making opt ins and opt outs easy, and be sure you have the right partners and guardrails in place to ensure compliance.
2) Time it Right
Timing is everything, and with today's martech solutions you can deliver perfectly timed messages to your audience in the moments they are most receptive. For example, send a welcome coupon after a customer's first interaction with your brand, or a loyalty card immediately after sign up. And be sure to consider your audience's habits, time zones and other local factors.
3) Orchestrate Across Channels
Many marketers still treat SMS as an entirely separate channel. But to get the most out of text campaigns, they should be orchestrated seamlessly across all of your channels. Thoughtful, data-informed orchestration of SMS, email, push notifications, and mobile wallet can increase the reach and effectiveness of any campaign or promotion.
4) Personalize It
SMS is a very personal channel on which overly generic text campaigns run the risk of coming off as spam. The key is to personalize the experience. Use segmentation and tagging to organize and target your audience so you can deliver messages that are timely and relevant to users and their preferences.
5) Finesse the Frequency
Over messaging erodes trust and leads to churn. To earn customer trust on SMS, you need to respect their personal space and ensure that you're providing value in every message. Avoid blasting them with texts by testing for the best frequency. And make sure your martech is up to the task of coordinating messages across all of your engagement channels.
6) Use SMS Keywords
SMS Keywords make it super simple to engage with your text campaigns. Empower customers to text back a keyword like DEAL to take advantage of a special offer, or HELP to request support. Not only does this improve CX, it provides valuable customer data that enables you to provide an even more tailored experience!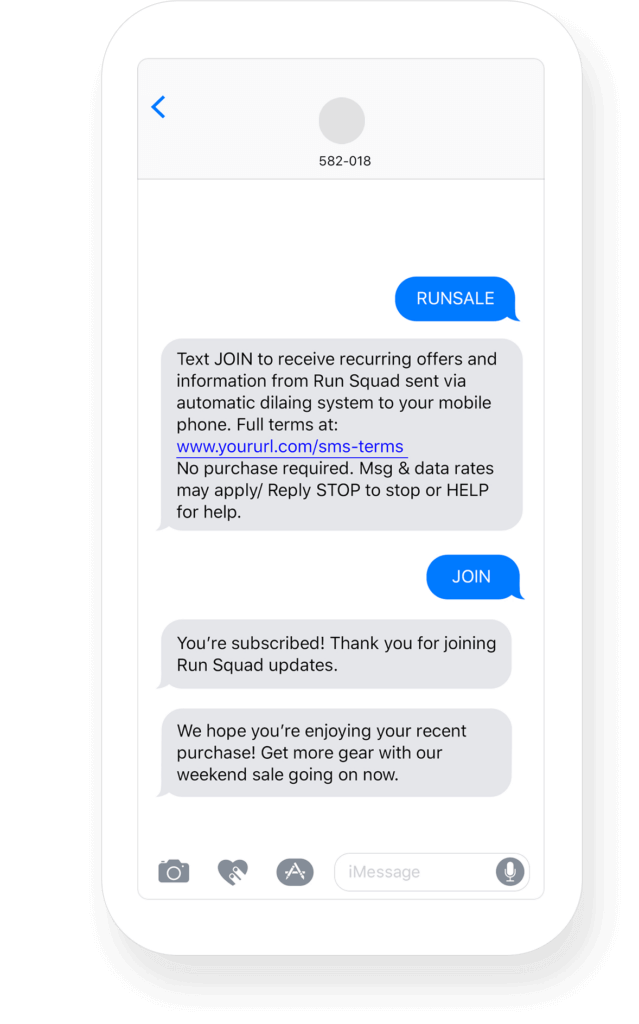 7) Leverage Location
Location-based text campaigns are a highly effective way to incite action and engagement. Leverage location and SMS to drive traffic with tailored offers at the customer's favorite brick and mortar location, offer locally relevant news and alerts, or encourage them to sign up for a local service.
8) Make Every Character Count
Text messages work best when they're short and sweet. Use link shortening to open up valuable message real estate so you can make every character count, while also tracking performance and controlling costs.
9) Retarget for Results
Pairing text campaigns with retargeting is a great way to tackle a variety of marketing challenges, from abandoned carts to churn. Once you've established branded links and unique link tracking, use click retargeting and segmentation to create even more contextual experiences by tracking engagement and personalizing future messages based on that engagement.
10) Go Multimedia
Take customer engagement to the next level with MMS messages. These multimedia messages include pictures and animated GIFs. Plus, they aren't limited to 160 characters like their SMS counterparts. Adding that visual touch to your text messages can make a big difference. Industry stats indicate an increased click-through rate of 15% when using an MMS message.
About Airship's SMS Solutions
Airship's customer engagement platform provides everything you need to connect with your audience. Orchestrate your text campaigns as part of a multi-channel engagement strategy, segment your audiences, manage opt-ins/outs, schedule personalized messages, monitor performance, and more—all in one convenient package.
A great SMS marketing strategy opens up a world of possibilities for creating better, deeper and more valuable connections with your customers.
For more insights and ideas, check out our SMS playbook. And if you'd like to learn more, get in touch to discuss how Airship can help!
Subscribe for updates
If the form doesn't render correctly, kindly disable the ad blocker on your browser and refresh the page.
Related Posts
Categories