8 Stats That Reveal COVID-Driven Changes in Customer Engagement
In the face of stay-at-home orders and shifting consumer behavior, marketers across the world have had to adapt to quickly changing circumstances—how you spend your time and energy matters more now than ever.
Here are eight key benchmarks, statistics and changes in customer engagement along with resources to help you take action.
1. A recent survey shows that COVID-19 has shifted the mobile phone usage habits of American consumers — with texting (up 37%) and online shopping (up 23%) seeing significant spikes. 
The chance to build and maintain digital ties with customers via mobile-first channels and more personalized customer journeys has never been greater. Here's a blog post with pandemic customer engagement strategies you can start using right now.
2. People are opening more emails in the last few months than ever before.
Along with the jump in send volume, both March and April saw open rates increase more than 20% year over year. Make the most of this surge in attention by leveraging customer context and data to send more compelling messages. 
3. People spent 20% more time using apps in the first quarter of 2020 compared to 2019.
Just because a user downloads and opens your app doesn't mean that they'll stick around. The reality is that most user relationships fizzle without getting off the ground. Preempt this problem by learning how to maximize your customer retention moments.
4. Direct open rates for push notifications from apps increased 22%, their highest average rate in more than four years.
Our analysis of nearly two billion app installs shows that notifications have become even more vital with the global pandemic. While open rates are up, ensuring that your messaging strikes the right tone and adds real value is absolutely critical. Here's a good rule of thumb for customer messaging that you can apply to your brand.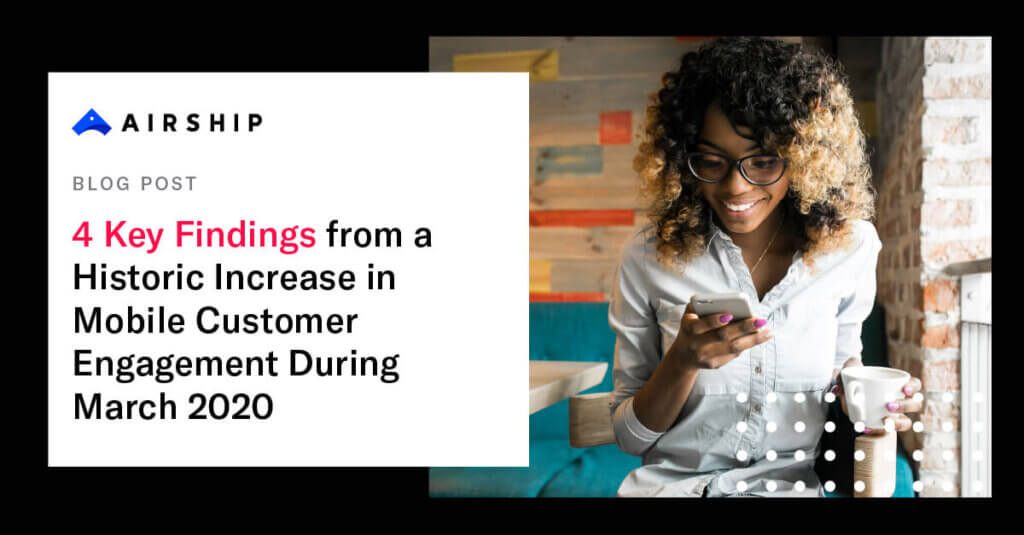 5. In March 2020, average monthly website traffic increased 13%, and web notification open rates increased by 119%.
The surge in website traffic and open rates further illustrates the uptick in customers' desire to engage. This is a significant opportunity; check out this case study to learn how the OPB grew its retention rate for web notification subscribers by 78%. 
Major increases in engagements per day occurred for consumer goods, health care, and media and entertainment. While some industries have obvious reasons for becoming top of mind, here are three 3 actionable messaging strategies that can help all brands be more connected. 
7. Research has shown that in the current moment, 45% of consumers find rewarding loyalty important.
As a new normal sets in and consumer confidence recovers, loyalty will continue to be a great benefit to companies that treat the best customers best. Learn more about what you can do to inspire loyalty here. 
8. More than 70% of SMBs have expanded their digital capabilities during the past ten weeks. 
In these uncertain times, enhancing your online and mobile presence is one of the only ways to continue engaging customers. Whether it's bolstering online ordering features, building an e-commerce portal or creating an app, businesses are taking action. Learn how you can make your app invaluable to users in our helpful guide. 
The bottom line: audiences are engaging like never before. Make sure you are letting your customers know you're there for them, without being overbearing. You can learn more about how to refine your Covid-19 messaging strategies in our comprehensive eBook.
Subscribe for updates
If the form doesn't render correctly, kindly disable the ad blocker on your browser and refresh the page.
Related Posts
Categories