eHarmony's Multi-Channel Marketing Strategy: A Case Study
Incorporating location-targeted push notifications into their multi-channel marketing strategy created big returns for eHarmony's Leap Day campaign. Read on to learn more —or download the full eHarmony case study to learn more.
---
Dating companies rely on customers connecting and communicating with each other through their service, whether that's online or via app. Without engaged users, they have no business.
Sound familiar?
Whether you're a retailer or media brand (really, any type of brand) engaging customers on mobile is crucial to your bottom line.
Let's take a look at how eHarmony uses mobile messaging as part of its omni-channel marketing campaigns — and what other brands can learn.
Building a

Multi-Channel Marketing Strategy for eHarmony's "Leap Day" Campaign

eHarmony is a relationship site (and app) known for its effective questionnaire and compatibility matching system, which results in 4% of all U.S. marriages (according to a 2012 U.S. survey conducted for eHarmony by Harris Interactive).

For Leap Day in 2016, eHarmony launched a multi-channel marketing campaign to share a real-life success story of a couple, Caroline and Neal, who met through the service.

Following Irish tradition that women could ask men for their hand in marriage on Leap Day, Caroline worked with eHarmony to plan a surprise proposal — all caught on camera. (Of course he said yes.)

"We thought a multi-channel Leap Day campaign featuring a real life story would be a fun way to showcase one of our successful couples and our point of difference," said Tracy Kobzeff, senior director of acquisition and product marketing at eHarmony.

The campaign consisted of multiple channels including:
Push notifications

TV spots (a televised proposal and teaser prior)

Public relations outreach

SEO optimization strategies

Social media
Adding push notifications as part of a marketing campaign was a new — and highly successful — tactic for eHarmony. How they integrated it as part of their multi-channel marketing strategy holds some ideas for any brand. Here are three of the key strategies they used, and how they performed:
1) Leverage Deep Linking in Push Notifications
The push notifications for the Leap Day campaign included a call-to-action to watch Caroline popping the question, which deep-linked to a page within the app where a user could watch the live video.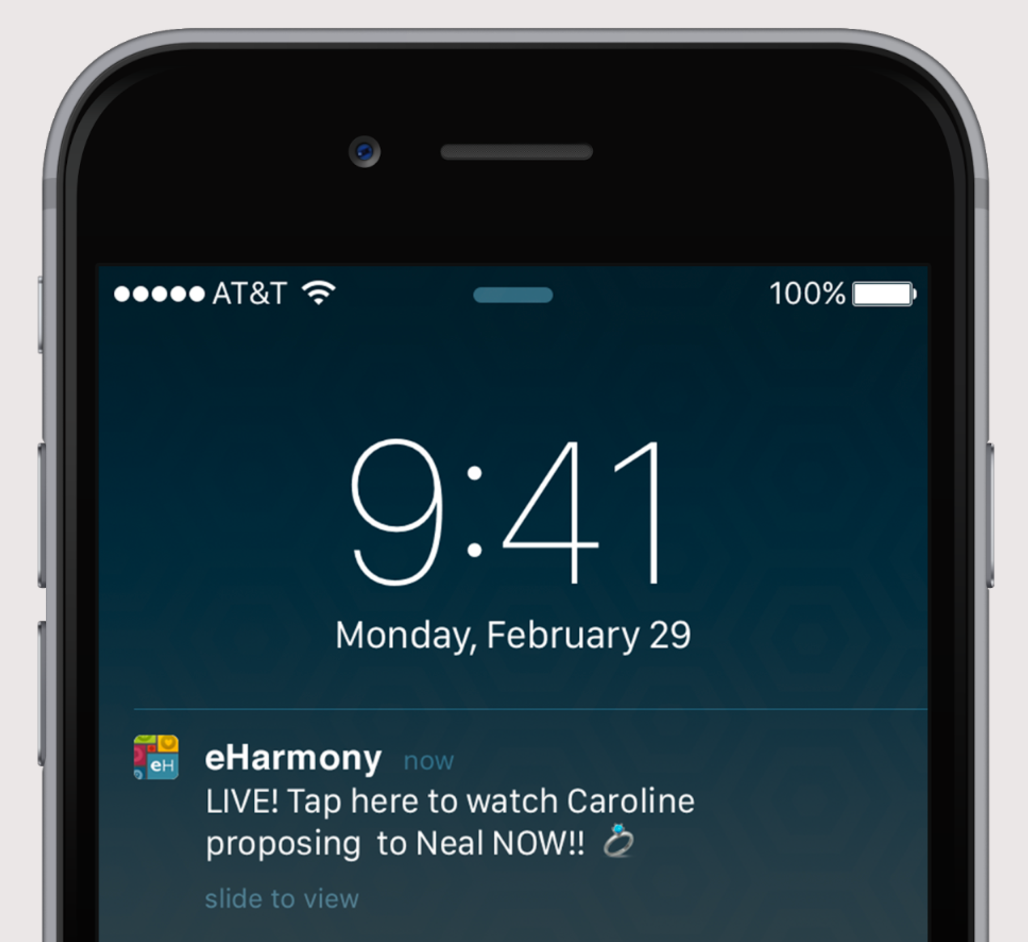 One of the push notifications eHarmony used as part of their multi-channel marketing strategy to promote the Leap Day campaign.
Deep linking push notifications to a page within your app is a proven way to improve customer experience, and help you meet your mobile campaign goals.
2) Use Location-Targeted Push Notifications

To Increase Relevancy

In the U.S., Leap Day does not hold the same significance (and lore) as it does in the U.K. As a result, eHarmony focused in on the most relevant subset of its user base: 20,000 U.K.-based paid subscribers — as well as active and expired users in the U.K. who had free accounts, and who had logged into the app within the past 30 days.

Using location-targeted push notifications led to higher-than-average user engagement, with more than 17% of recipients directly opening the push notification to tune in to the proposal. This was a 72% higher engagement rate than eHarmony's average campaigns.

"When we saw the results the push notification had garnered, it instantly validated using this channel as part of our marketing mix," said Kobzeff. "By using Urban Airship Engage, we were able to segment our audience and deliver the message flawlessly. In doing so, users took decisive steps toward connecting with matches."
"When we saw the results the push notification had garnered, it instantly validated using this channel as part of our marketing mix."

– Tracy Kobzeff, senior director of acquisition and product marketing, eHarmony
Beyond Leap Day, eHarmony uses location-targeted push notifications delivered to specific audiences about special events or promotions in hopes of helping users find the perfect match.
By using location, e-Harmony hit the audience the message would resonate most with rather than going after a large swath of its users. (To learn more about this topic, check out the location-based marketing topic section of our blog.)
3) Take Advantage of Timely Events to Encourage Action
While this was a seasonally focused campaign, it proved effective to drive towards eHarmony's end goal: helping people find their hopeful lifelong partner.
eHarmony's Leap Day campaign approach resulted in one-third of users who received the push message communicating with a match within 12 hours, with some further engaging with the app by uploading a photo — indicating renewed interest in meeting their potential match.
"By using segmented, location-targeted push notifications, we're able to provide updates to our users and encourage them to stay active in the app," Kobzeff said. "It's a great way to feed our ultimate goal of helping our users find lifelong companions."
Whether or not your company is in the dating scene, eHarmony's campaign presents a learning opportunity for all.
To get the full story, download the eHarmony case study.
Want to incorporate push notifications into your next multi-channel marketing campaign? Or see what it would take to set up location-based push notifications? Contact us anytime – we'd love to talk through your goals, and share use use cases, strategies and how-tos that can help you grow your business with mobile.
Subscribe for updates
If the form doesn't render correctly, kindly disable the ad blocker on your browser and refresh the page.
Related Posts
Categories