3 Push Notification Best Practices to Get the Best Results
Since powering the very first App Store app to use push notifications, we've tried to illuminate the path from Good Push to Great Engagement. Each year, we analyze billions of messages to show marketers how they can get 4-7X the response rate from push notifications that are highly targeted and personalized versus notifications that are broadcast to most, or all, of their users.
Push messaging is a deeply personal connection. It is the customer saying: "You may interrupt my life anytime, anywhere to deliver messages that are useful to me." What an amazing privilege. It's a marketer's dream — yet it can disappear in a heartbeat if the privilege isn't used wisely.
When customers opt in for your push notifications, they are allowing you to send messages directly to them on their device. Your messages should focus on delivering value, which leads to customer engagement, conversion and loyalty.
Through our extensive interactions with brands, agencies, app publishers, app developers, marketes and consumers, we've seen and recommend three key best practices for push notifications. The recommendations are captured below. Feel free to contact us any time to talk through use cases for your brand — and what's working best for apps like yours.
1) Make it Easy for the User to Personalize Their Experience
Give your app users a preference center to customize content and they will love you for it. Let them tell you what they want, how much of it they want and when they want to get it.The user will gladly create the customizations. Your job is to provide an easy-to-use control panel, and then let them select the options they like.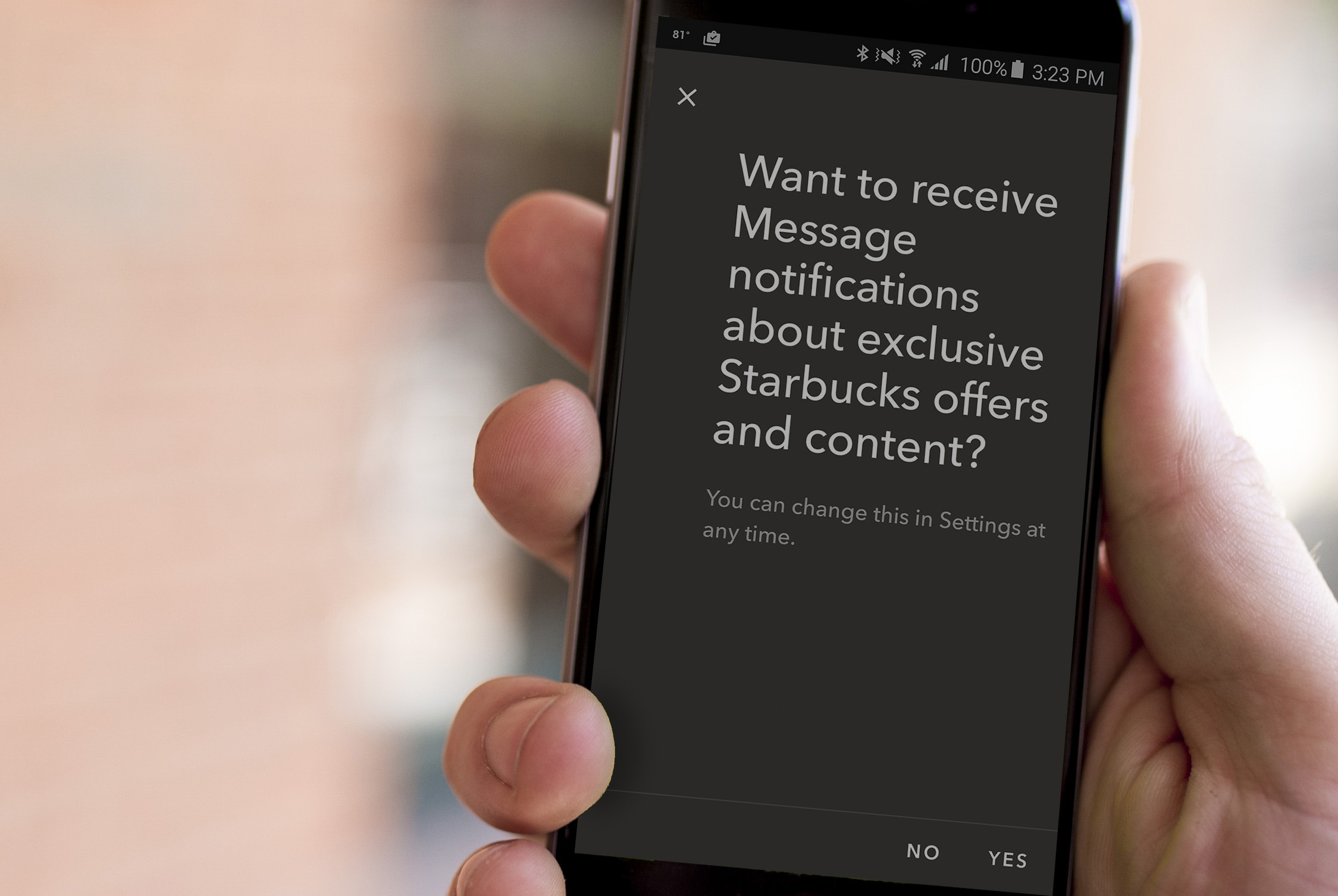 Starbucks lets users choose when and how to receive notifications in their preference center.
In addition to specifying the types of information they want to receive, they should be able to specify which days of the week they want to receive messages, or block out days when they don't want to be bothered. They will feel a sense of ownership over the results: a flow of push notifications designed by them in the context of your app.
2) Deliver an Engaging Experience that Stands Out
The goal is for users to look forward to your push messages — and respond to them by taking an action or engaging in your app. Upon opening a message, the user should have a fresh and entertaining experience with rich media such as videos, surveys and pictures related to the content of the message.
For example, when a theater chain sends a push notification about a new movie, they can link directly to the ready-to-play movie trailer — or embed that trailer right into the message with a rich push notification (see how to make one here).
You can also make your messages more engaging with interactive push notifications. Ask users to take action, such as "swipe right to see details and shop," or "tap to show now" or "swipe left for more options." And combining rich push notifications with interactive buttons is a push that can pack a powerful engagement punch.
Emojis add a colorful, playful visual element that helps your notifications stand out from others queued up on their lock screen or notification center.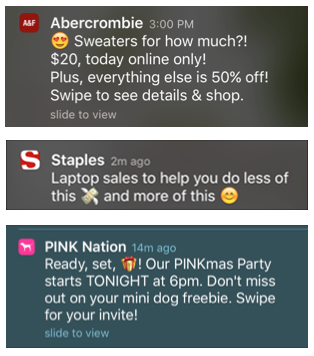 Use emojis to engage users and make your notifications stand out from the crowd.
3) Use Location for Greater Relevance
Mobile devices, by definition, are on the move, so a person's location changes frequently. With a change in location comes a change in context, and an opportunity to deliver something fresh and engaging through push messaging.
For instance, a customer might receive breaking news alerts from a national media company located thousands of miles away. The only content that makes sense to send are national stories. But if the app is smart enough to sense that the customer has landed in their home market, they could send a push notification about a breaking story in the area, or a local guide to restaurants and entertainment.
The same type of location-based information can be used on a smaller scale. For instance, when a user attends a sporting event at a local venue, send rich expanded coverage of the team, the game or a survey for feedback. Or when a user enters the parking lot of your retail store, send the weekly sales flyer and special offers.
These are examples of effortless service that can provide utility and help your customers as they travel through their day.
Want to Learn More?
If you're ready to try our push notifications in your app, you can get started for free. Or, if you'd like to talk with one of our experts about how to make your push campaigns even better, contact us anytime. We'd love to brainstorm with you!
Check out Push Notifications Explained for a deeper exploration of push notifications and, for creative ideas, our Interactive Notifications Inspiration Guide provides examples and use cases for boosting push notification engagement from leading brands.
Subscribe for updates
If the form doesn't render correctly, kindly disable the ad blocker on your browser and refresh the page.
Related Posts
Categories