Forrester Report: Meaningful Moments Can Drive Massive Growth
Today, there are more ways to connect with your customers than ever before. From media buys to mobile apps, this vast landscape of customer engagement now requires its own technology to manage it. Marketing technology (martech) has become a critical component of many B2C marketing strategies, and Forrester's 2020 report, "Enable Moments-Based Marketing With Enterprise Martech," reveals the best ways to take advantage of this growing trend.
Read on for three of our top takeaways, and be sure to download the full report—available for a limited time only—here.
Get Obsessed with Your Customers
Sure, many businesses say they're customer-obsessed, but to truly make the most of marketing technology, you need to understand the full scope of your customer's interactions with your product at every touchpoint. Being able to trace a customer across channels creates opportunities to engage with them in the moment (more on that later) and gives you a wealth of actionable data upon which to build your martech strategy. This may sound intimidating, but tools like Airship Journeys can make this process easier than you think.
Replace Campaigns with Moment-based Engagement
If there's one thing this report makes clear, the successful B2C businesses are reducing their reliance on costly time-bound campaigns and investing instead in data and technology infrastructure—like Airship's Customer Engagement Platform—that lets them connect with customers wherever they are. Personalized, on-demand interactions are the key to outstanding customer experiences, and those customer experiences are the key to growing your B2C business.
Emphasize Customer Experience and Build Marketing to Match
One of the most common struggles for companies trying to establish their marketing technology is that it may not fit within the existing infrastructure of your company. Per the previous takeaway, many companies are built to run campaigns, and shifting gears to focus on ongoing, moment-to-moment engagement can seem like an impossible task. Making such a dramatic shift in marketing is never easy, but companies who do often start with a dramatic shift in mindset.
Thinking about the customer experience holistically, and building your marketing around how to engage every available opportunity makes investing in martech not just a good idea, it's a necessity to ensure you're fulfilling that goal. And with tools at hand like Airship's Channel Coordination, it's never been easier to keep an eye on every piece of the puzzle.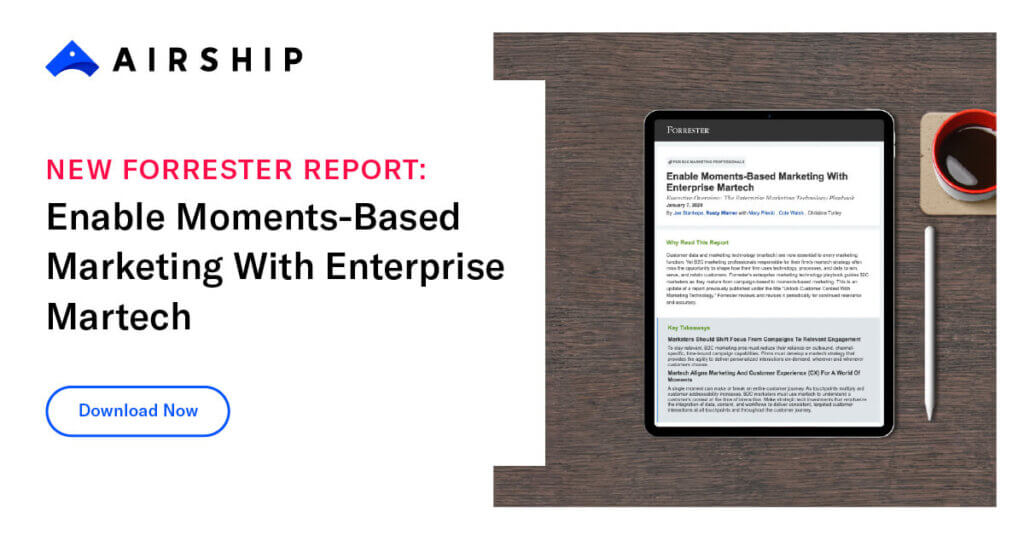 Get Your Complimentary Copy of the Report
All of these insights and more are available for a limited time in Forrester's new report, "Enable Moments-Based Marketing With Enterprise Martech." Download the full report and get your marketing technology started off on the right foot.
Subscribe for updates
If the form doesn't render correctly, kindly disable the ad blocker on your browser and refresh the page.
Related Posts
Categories