The Future of Digital Experiences: Emerging Technology and Experience Design
From mobile wallets to membership apps, technology is the single biggest driver of the customer experience today. That's why, for their recent report, "The Impact Of Emerging Technology On Digital Experiences," Forrester interviewed more than 150 companies across every industry to understand how technology will evolve the digital experience over the next five to 10 years. Our top takeaways are below, but don't miss the full report, available for a limited time here.
Emerging Technologies Can Improve Every Digital Experience
While this may sound like a no-brainer, Forrester's study reveals a surprising depth of benefits to be had from emerging technologies. Of course, emerging technologies will improve the speed and smoothness of digital experiences. Reduced load times, faster CPUs and GPUs, and the increasing efficiency of AI will allow for more streamlined customer experiences on any device available. But the advancement of interactivity will make these interactions more natural and seamless until they—from the customer's point of view—disappear entirely. Read [the full report] for a breakdown of other surprising ways technology will advance our digital experiences.
Contextual Data is Key
The future of digital experiences will be driven by the intersection of two things: data and context. Connected devices will leverage their massive data collection abilities, while the types and extent of data these devices can connect will grow rapidly. According to Forrester, "over the next 10 years, sensors will become smaller, less expensive to produce, and more energy-efficient. [. . .] They will appear in every piece of clothing, tablet, food packaging or device sold — not just premium products." With such a massive amount of actionable data available, future digital experiences will leverage context to provide customer experiences that are immediate, convenient, and built specifically for the recipient in that very moment. Just what can businesses do with all of that data? Read the report to find out.
Don't Guess, Use the Tools
With technology advancing by the day, and more technologies to keep up with than ever (Forrester's study references more than 50!), trying to keep up can seem overwhelming. Fortunately, the tools to manage digital experience technology are evolving right alongside those technologies themselves. First and foremost, your digital experience strategy should be guided by your customer experience strategy—how your product or service fulfills the needs of your customers, and how you can optimize improving those moments that drive the greatest customer and business benefits. As for the technology side of your strategy, Forrester is leading the way with its [Moments Index.] The Moments Index is based in mathematical models that help gauge how likely customers are to engage in what you build to support your strategy. It's highly interesting, so be sure to learn more about it here.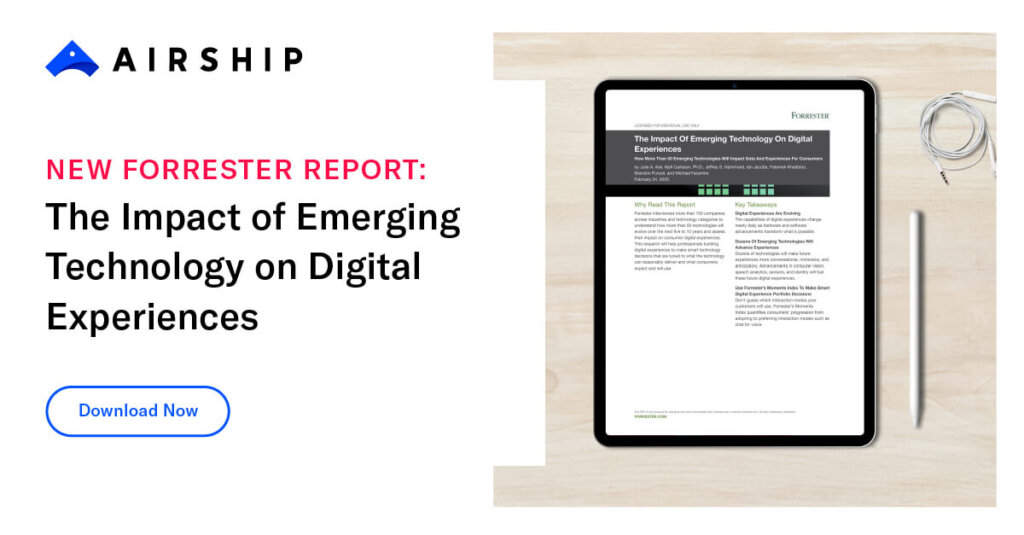 These are just a few of the insights we gained from Forrester's new report, "The Impact Of Emerging Technology On Digital Experiences." For much more information, including insights on medical devices, VR, AR and more, be sure to download the full report today.
Subscribe for updates
If the form doesn't render correctly, kindly disable the ad blocker on your browser and refresh the page.
Related Posts
Categories