Analyst Report
Forrester Report: The Impact of Emerging Technology on Digital Experiences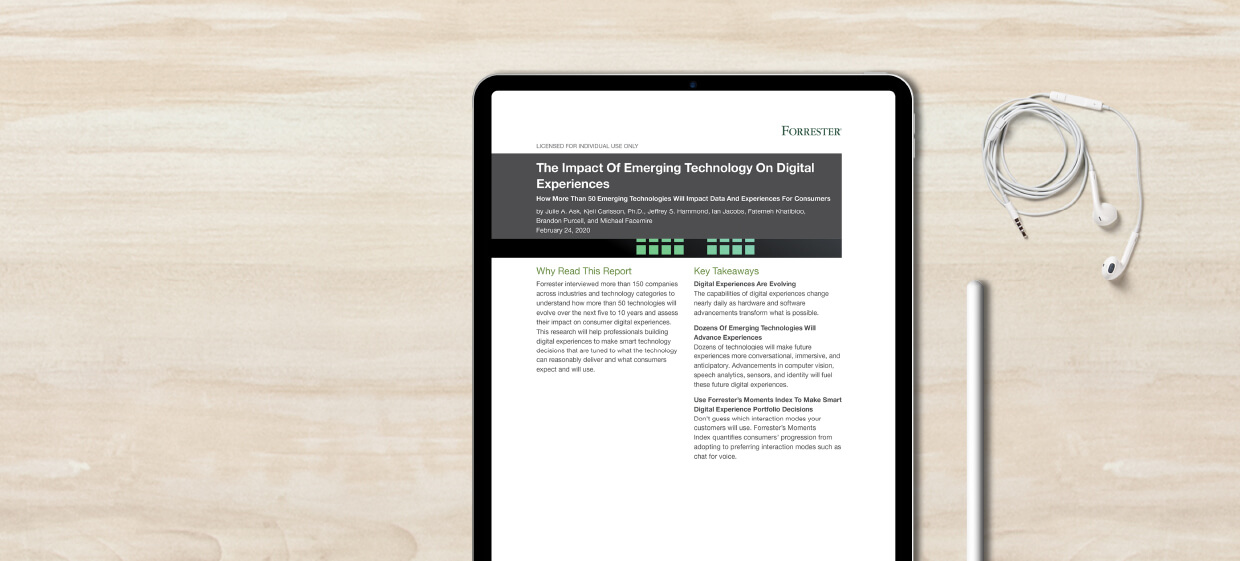 How More Than 50 Emerging Technologies Will Impact Data And Experiences For Consumers
Is your marketing team prepared for how emerging technologies will impact data and experiences for your consumers? Forrester interviewed more than 150 companies across industries to understand how different technologies will evolve over the next five to ten years. This report assesses their impact on consumer digital experiences and can help professionals building digital experiences make smarter decisions.
Download the Forrester Report, The Impact of Emerging Technology on Digital Experiences by Julie A. Ask, Kjell Carlsson, Ph.D., Jeffrey S. Hammond, Ian Jacobs, Fatemeh Khatibloo, Brandon Purcell, and Michael Facemire, published February 24, 2020, to learn how:
Digital experiences are evolving as hardware and software advancements transform what's possible
Dozens of emerging technologies will advance customer experiences
You can use Forrester's Moments Index to make smart digital experience portfolio decisions.
This report is available for a limited time. Download your complimentary copy today!