Explainer
Mass Text Messaging Explained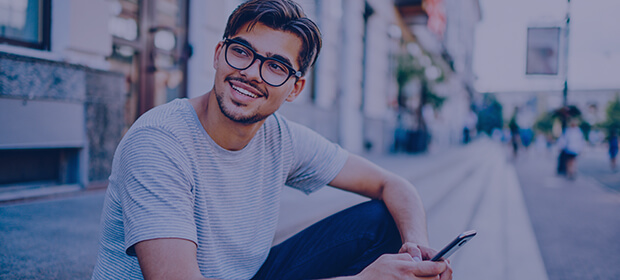 Text messaging (SMS) is a powerful channel for communicating valuable information to customers and other audiences on their mobile devices. Mass text messaging solutions make it possible to quickly send SMS (Short Message Service) or MMS (Multimedia Message Service) messages to large audiences and audience segments.
Mass text messaging is used for a variety of purposes, including as a marketing tactic, to keep customers informed, to broadcast important alerts and to communicate with employees. Plus, SMS offers unparalleled engagement and open rates, making it an attractive and impactful communication channel for marketers and organizations to engage with customers.
Why is SMS so effective? Simply put, because consumers don't let text messages go unread. They don't get buried in an inbox or blocked by spam filters, and they reach people quickly and conveniently on the devices at the center of their digital lives — their mobile phones. Plus, just about every phone in the world can receive text messages.
Benefits
Immediacy: Mass texting solutions allow organizations to send time-sensitive notifications quickly and easily to an audience's mobile device, without any app or development work.
Strategies & Use Cases
Transactional Messages: Delivering transactional details via SMS helps brands make those messages more useful and visible for customers. Examples include order confirmations or alerts about account activities, appointments, flight changes, reservations, shipping and payments due.
Promotions & Campaigns: SMS marketing helps spark action and results with personalized promotional messages such as sale alerts, upsell opportunities, partner promotions and more.
News and Weather Alerts: The immediacy and reach of SMS makes it an ideal channel for sending breaking news and weather alerts to opted in audiences.
Multimedia Messages: Adding a visual touch to text messages can make a big difference and SMS' media rich counterpart MMS allows brands to add images or animated GIFs, as well as longer text. Industry stats indicate an increased click-through rate of 15% when using an MMS message.
Multi-Channel Engagement Strategies: Coordinating SMS with email, push notifications, and mobile wallet passes can increase the reach and effectiveness of any campaign or promotion. Our revolutionary solution Airship Journeys make it easier than ever to orchestrate seamless customer journeys that drive deeper engagement — and exponential growth.
Transforming Brick-and-Mortar Visitors into Digital Customers: Leverage in store experiences to motivate customers to opt-in to SMS so you can create more opportunities to get to know them, spark loyalty and encourage additional sales — both digital and in-person.
About Airship's SMS Solution
SMS campaigns offer incredible potential to drive action, adoption and loyalty. Given its massive engagement and reach, it's no wonder so many leading brands leverage SMS to create deeper connections with customers.
Airship's customer engagement platform provides everything you need to connect with your audience via SMS. Orchestrate your text campaigns as part of a multi-channel engagement strategy, segment your audiences, manage opt-ins/outs, schedule personalized messages, monitor performance, and more—all in one convenient package.
To learn more about can Airship can help power your SMS strategy, get in touch! And be sure to check out some of these great SMS resources: