Urban Airship Study of Retailers' Apps Shows Mobile's Growing Influence on Holiday Shopping
Third consecutive holiday study highlights key year-over-year trends in mobile app engagement
PORTLAND, Ore., – November 30, 2015 – As holiday shopping results are tallied from the Thanksgiving to Cyber Monday time period, many are finding it was a banner year for mobile with more people shopping online than in stores and mobile traffic exceeding desktop traffic for the first time on Black Friday. To add depth to the details, Urban Airship, the leading mobile engagement platform, today released preliminary results of its third annual Cyber Week study using aggregate data from hundreds of retailers' apps. Analysis shows retailers promoted holiday deals earlier and more often than years prior, significantly ramping up activity two weeks in advance of the big holiday shopping weekend.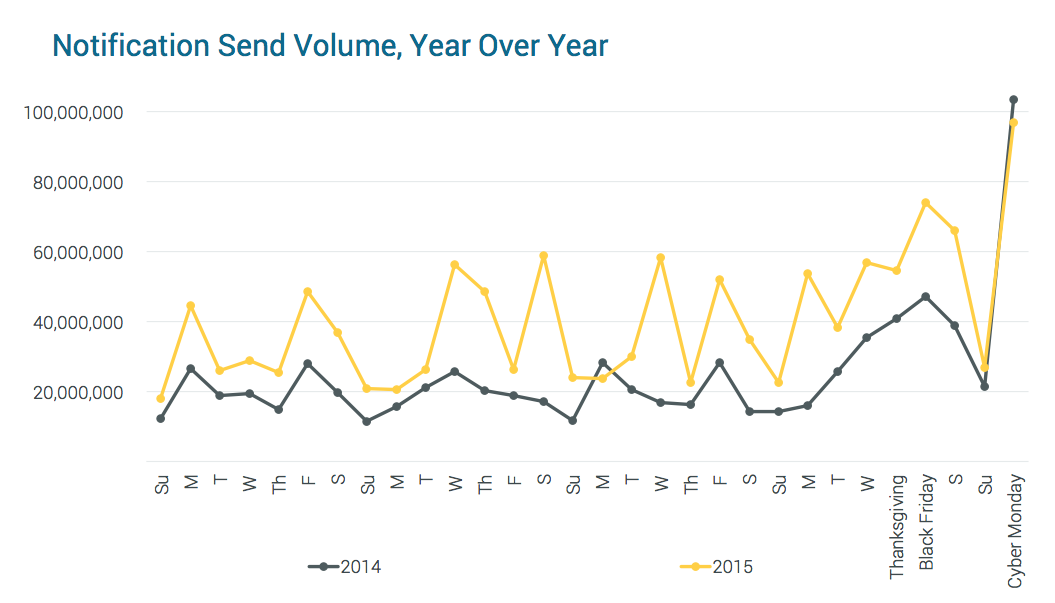 Retailers sent 63 percent more holiday notifications in 2015 than 2014, and 2014 was a 34 percent increase over 2013 volumes. Consumers responded to this increased volume, growing average notification engagement rates from 16 percent in 2014 to 18 percent in 2015. Days with the highest notification engagement rates were Nov. 1 and Nov. 3, when initial promotions were just beginning, as well as the Thursday before Thanksgiving and the Sunday before Cyber Monday – all of which highlight mobile's role in pre-shopping activities. In total, one-third of all app opens during the 2015 holidays came from a push notification.
Other core findings:
The gap between high- and low-performing apps is widening. 90th percentile apps grew average notification opt-in rates from 55 percent to 58 percent, while the 10th percentile went from 26 percent to 22 percent opted in year-over-year
Medium-performing retail apps (the 50th percentile) saw average notification opt-in rates improve slightly from 38 percent to 39 percent year-over-year
Retailers dramatically increased use of in-app message centers to reach all app users, opted-in or not, delivering 152 percent more in-app messages than in 2014
Daily app downloads increased 21 percent month-over-month after 11/7 likely due to app-exclusive deals, general marketing or in-store holiday promotions
"Whether it's the growing percent of online sales completed on mobile devices, or mobile's broader influence on all offline sales, which has doubled every year for the past three years, it's very clear that mobile is changing how retailers market and how consumers buy," said Erin Hintz, CMO, Urban Airship. "We're thrilled to see retailers adopting opportunities highlighted by last year's findings, and look forward to partnering with them on additional best practices coming out of this year's analysis."
Methodology
Urban Airship analyzed aggregate mobile app engagement data from more than 200 retailers throughout November 2015. Engagement trends were calculated using the same retailers year-to-year to provide a truly comparative view of mobile's growth. Analysis included retail apps that had at least 5,000 unique opens in the three months leading up to the study period to ensure a focus on active apps.
About Urban Airship
Urban Airship is leading the movement of mobile innovators, helping them build high-value relationships through mobile apps and mobile wallets. Its mobile engagement and insight products mobilize all aspects of a business, powering exceptional mobile and omnichannel customer experiences. Studies have found that Urban Airship's engagement solutions can drive an 878 percent return on investment for customers and overcome APPathy by increasing app user engagement 4X and doubling retention. Thousands of companies and some of the most demanding brands in retail, media & entertainment, sports and travel & hospitality, trust Urban Airship to deliver the mobile moments that matter to their customers and their business. For more information, visit www.urbanairship.com and follow us on Twitter @urbanairship.
Media Contact
Media Kit
Follow Us