Airship Journeys Powers Massive Conversion Gains for Brands Across the Globe
Marketers across social networks, retail and hospitality share insights on the business impact of optimizing cross-channel customer journeys
PORTLAND, Ore., — October 28, 2020 — Customer engagement company Airship today detailed the amazing success three brand marketers have achieved using Airship Journeys to more quickly and easily improve the business impact of cross-channel customer journeys. The customer journeys these marketers have optimized have driven double- and even triple-digit percentage performance improvements over baselines established by control groups.
Airship Journeys combines everything marketers need to create, evaluate, test and optimize cross-channel customer engagement journeys in a single, intuitive visual UI. Only Airship Journeys allows marketers to zoom in from glanceable, color-coded visualizations of journey performance against business goals and baselines, to view and optimize any underlying message with A/B testing.
As the largest professional social network and digital distribution platform for musicians and other creative types, Vampr has created numerous journeys since selecting Airship in August 2020. A recently launched reactivation journey targets app users who have been inactive for five days with a series of three push notifications and a final email within two weeks, and has been found to reactivate users at a 277 percent higher rate than those in the control group.
"My goal is to drive critical business KPIs by getting users to complete their profiles, connect with nearby creatives, add their original songs and videos, and much more — 90 percent of the time I'm using Airship Journeys to optimize these user experiences," said Jessy Trengove, head of insights, Vampr. "By being able to easily see journey performance against baseline metrics and control groups, I'm more easily able to achieve the goals that make a real difference to the business."
On Black Friday, J. C. Penney Company, Inc. used Airship Journeys to transform a one-message cart abandonment automation into a two-message journey and found significant lift in completed purchases. This cart abandonment journey now shows an all-time increase of 40 percent higher purchase completion rates over the control group baseline. JCP reactivation messages spread across three separate automations are now being combined into a single journey, enabling a goal-based view of business impact rather than trying to draw conclusions by comparing each message's engagement metrics.
"With Airship Journeys, we can see where each customer comes into and progresses through each phase and can more easily A/B test any message in the journey to optimize timing, triggers, copy and content," said Haley Welmon, owned media specialist, JCPenney. "Airship Journeys control groups and baselines help us make decisions and increase revenue more quickly, so we can maximize our success and ensure that what we think is the best experience for the customer, actually is."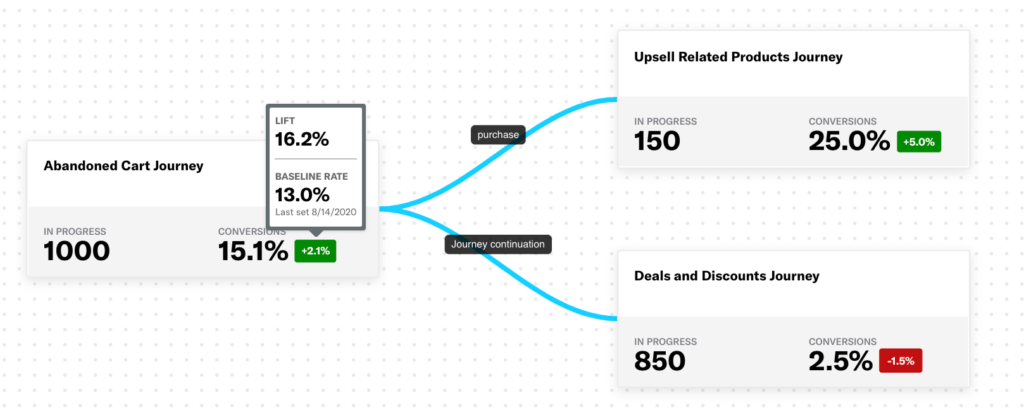 In hospitality, in their mobile app, Radisson Hotel Group has created a cart abandonment journey series spanning three messages over four days — the first of which guarantees the room's rate — driving an 11 percent lift in completed reservations over the control group.
Tune in to the webinar, "Creating Extraordinary Customer Journeys with a Culture of Experimentation," live Thursday, October 29 at 10am PDT / 1pm EDT / 5pm GMT / 6pm CET (recording available to registrants), and learn how to gain advantage by experimenting, testing and optimizing critical cross-channel customer journeys.
"It's so gratifying to see how quickly brands have realized substantial business gains due to the powerful way we've reinvented cross-channel journeys for the mobile era," said Brett Caine, CEO and president, Airship. "Engaging customers with in-the-moment relevancy across digital channels has never been more important, and small improvements can drive big results. Airship Journeys brings breakthrough simplicity to the entire process and speeds insights-to-optimization to accelerate revenue growth."
Recently, Airship was named a Leader in "The Forrester Wave™: Mobile Engagement Automation, Q3 2020," receiving the highest score in the Strategy category (tied) and the second highest score in the Current Offering category.
About Airship
Thousands of the world's leading brands rely on Airship to spark closer connections with their customers through highly contextual and relevant interactions. Only Airship's Customer Engagement Platform takes a mobile-first, data-led approach that enables brands to focus on individuals and their needs, not which marketing channels to use. Airship makes it much simpler and more effective to grow customer lifetime value in the omnichannel era.
With trillions of interactions intelligently orchestrated across mobile apps, mobile wallet, SMS, websites, and email, Airship optimizes the entire customer journey across all digital touchpoints at scale.
For more information, visit www.airship.com, read our blog or follow us on Twitter, LinkedIn and Facebook.
Media Contact
Media Kit
Follow Us