How to Write a Better App Store Update (and Boost App Store Optimization)
Updating your app regularly is a best practice. In fact, an analysis by Business Insider found that "no app earned above-average ratings with less than nine updates in the year," and "more frequent updates are associated with higher ratings."
Why? One reason is that updating your app with new features, bug fixes, performance improvements, etc. allows you to stay on an app user's radar, prompting better mobile engagement.
Every time you update your app, there are a number of things that happen automatically on your user's smartphone, including:
Apps installed via Google Play download app updates automatically. Users receive a push notification that an app has updated.

iOS prompts users to download updates through app store badging.
In both cases, an update calls attention to your app — often prompting users to ask themselves: "Is this app worth the update?"— or even "Do I even need this app anymore?"
So every app update is both an opportunity — and a risk. How can you to tip the scales in your favor — that users will update rather than uninstall your app when you have a new version?
One critical strategy is optimizing your app store update.
Optimizing Your App Store Update
If your app store update notes just read "bug fixes," you're missing out on one of your major opportunities to re-engage app users.
Related Blog Post: Addressing — and Winning Back — Dormant App Users
Here are four key messages you can incorporate into your app store update to earn more customer engagement and loyalty.
1) Showcase New Features —
and Why They Can't Live Without Them
Your app update description is a great way to highlight your mobile value proposition and the enhancements or fixes you've added.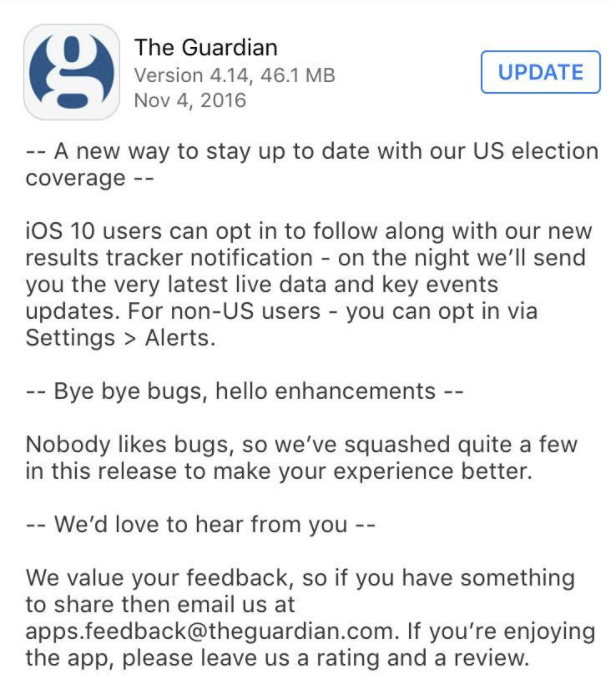 The Guardian updated their app for the US Elections.
2) Remind Them Why They Love You: Show Off Your Brand Voice
App store updates are often a missed opportunity for branding and customer engagement. Some great examples are below.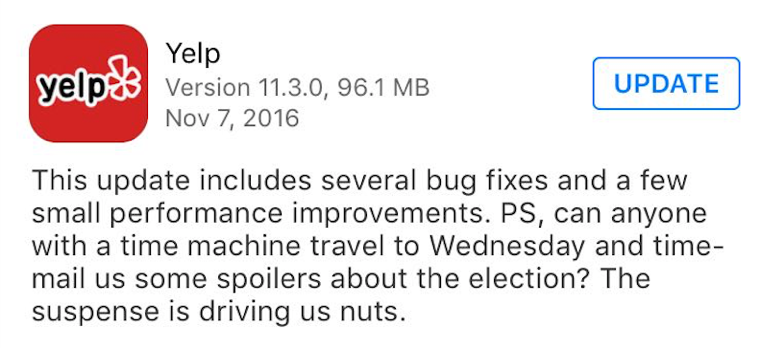 Yelp has frequent updates punctuated by real world news.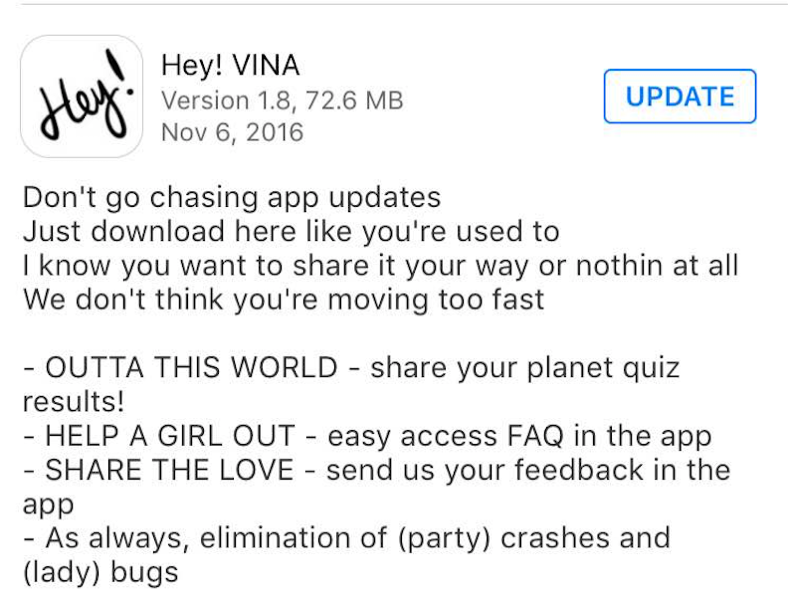 Hey! VINA appeals to their millennial audience by spoofing on the lyrics to TLC's "Don't Go Chasing Waterfalls."
3) Give Them Goodies — Promote Freebies & Giveaways
In late October 2016, Apple announced the ability to "give press and influencers early access to your app's in-app purchases with promo codes from iTunes Connect" and Google rolled out "introductory subscription pricing" for apps.These techniques allow brands to generate early buzz for apps, and an app store update is a fantastic place to promote them.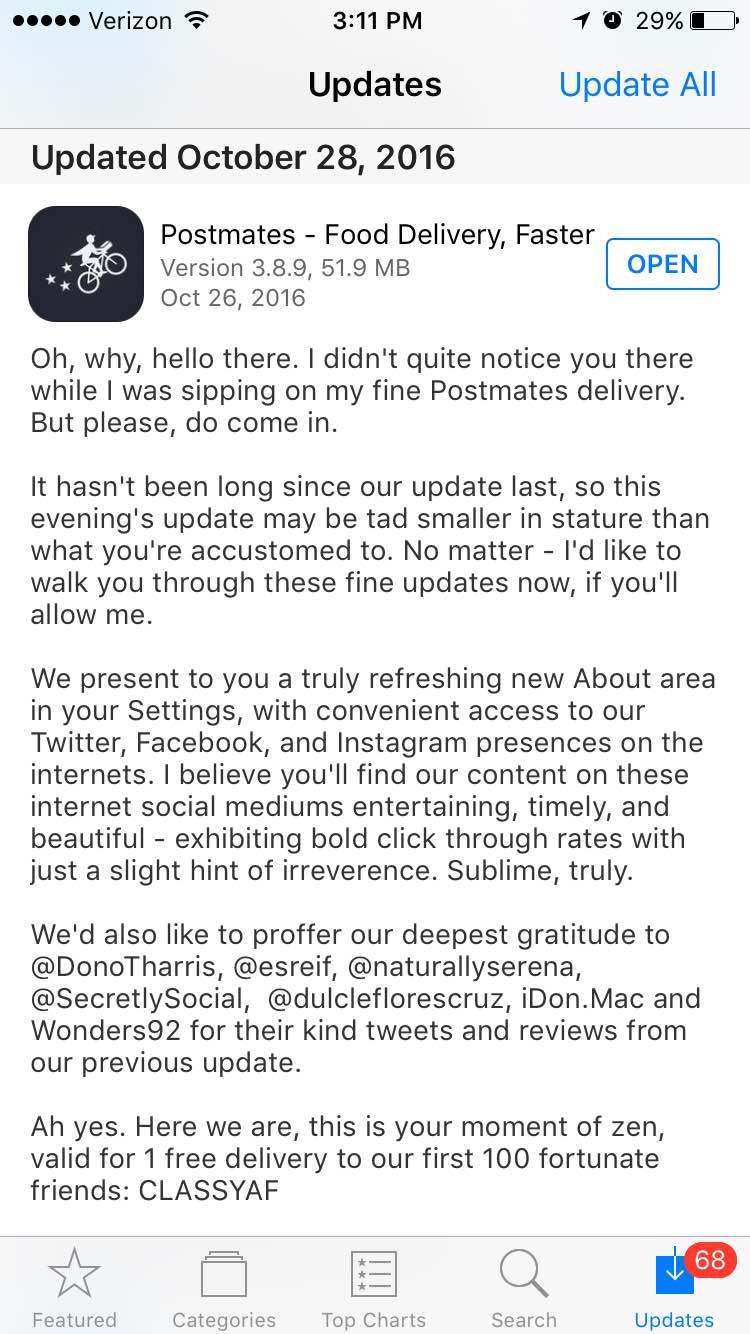 4) Encourage Feedback — and Show Them You're Listening
By responding directly to app store comments about bugs and addressing requested app features, brands can show that they value customer feedback and are committed to creating a good app experience.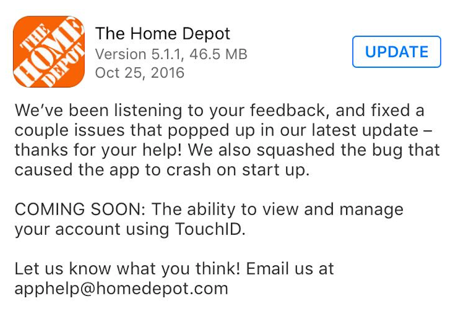 Leverage Multiple Mobile Messaging Channels to Alert Users About Updates
App update notes are a fantastic place to share all these kinds of key messages about the benefits of updating your app, and prompt users to update to the latest version.
But don't stop there. Consider combining your app store update messaging with additional mobile messaging through:
Push notifications: Push notifications can echo your app store update language, reinforcing your key messages, and prompting users to update to the newest version.

Take it one step further and personalize push notifications, segmenting your lists and using different messaging for lapsed app users than you use for loyal, frequent users. Urban Airship's SDK collects device property tags — including iOS and Android app versions. You can use these tags to message users who have not upgraded the app to encourage them to do so. (You can also consider the estimated audience number as a soft secondary metric on how your user base engages with the app.)


In-app messaging: Echo and/or complements your app store update content, again with the goal of getting users to update to the new version.

Message center: A message in your in-app message center helps alert your most loyal users to a new version of your app — and explains why they should update.
Bottom Line
Every touchpoint you have with your app users — including app store updates — is an opportunity to reinforce the value of your app. Make the most of it!
Our Strategic Services Team has worked with hundreds of brands to maximize their app investment with proven strategies that get results. Schedule a consultation today to get your team on the same page, and boost mobile growth.
Subscribe for updates
If the form doesn't render correctly, kindly disable the ad blocker on your browser and refresh the page.
Related Posts
Categories