How to Build Better Mobile-First Experiences for Retail
Retailers faced massive changes over the past few years as the COVID-19 pandemic transformed consumer needs and expectations. In fact, 83 percent of shoppers say the pandemic has changed the way they shop, and consumers' increasing reliance on mobile at the center of everything is one of the key ways that's playing out for retailers. As a result, brands must rapidly adapt to meet the growing demand for mobile-first experiences. 
How can retail brands meet this challenge and build better experiences that boost sales and retention? Our latest Airship ebook takes those questions head-on with insights and use cases specifically for retail. Read on for a preview. And to learn more, download the full ebook, Mobile Strategies that Boost Retail Sales & Retention!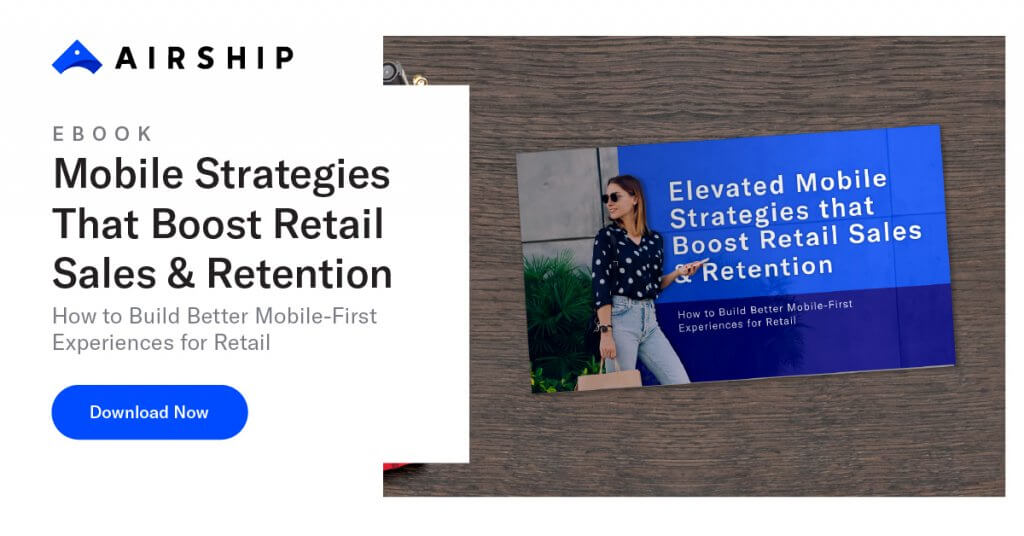 Using Customer Journeys for More Effective Retail Onboarding
To retain your customers, you need to show them value at every touchpoint. That starts with a great onboarding experience on the channels that matter most to each customer. And it continues through the retention and growth phases, where retailers can use intelligent customer journeys to offer real value that builds loyalty and retention. 
Creating Great BOPIS/Click & Collect Experiences
The demand for contactless, convenient mobile experiences is higher than ever, with 50% of shoppers saying they plan to continue using services like curbside pickup after COVID-19 restrictions are lifted. We look at several use cases showing how channels like Mobile Wallet and SMS can help retail brands respond to this key trend.
These are just a few examples of what you'll find in the new ebook. We hope this collection of insights and strategies will help you meet your retail brand's goals. Check it out by downloading the book here!
Subscribe for updates
If the form doesn't render correctly, kindly disable the ad blocker on your browser and refresh the page.
Related Posts
Categories