REI #OptOutside Campaign Highlights Mobile Messaging Best Practices
Leveraging multiple mobile messaging channels makes the REI #OptOutside campaign even more engaging. Learn how in this post.
---
While retailers like Toys R Us plan to open at 5:00 pm Thanksgiving Day and stay open 30 straight hours, REI is choosing a different path for Black Friday, the busiest shopping day of the year.
For the second year in a row, REI will close its doors and give employees the day off on Black Friday, encouraging people to #OptOutside — encouraging people to spend time outdoors instead of shopping. Online, REI's shoppers can put items in their cart, but no orders will be processed on Black Friday.
This year, REI has united more than 365 partners — non-profits, government and corporations — doubling the partner organizations participating last year, to build momentum and inspire millions of people to hit trails, parks, slopes and waterways on November 25. With the increase in partners and more than 1 million people signed up to join REI in choosing to #OptOutside on Black Friday, the business impact is sure to be even higher this year.
The #OptOutside Mobile Experience
REI is using many marketing channels to get their #OptOutside campaign messages out. They're also using multiple mobile messaging channels in really smart ways.
Let's take a look at the mobile engagement experience REI is creating this year with its #OptOutside campaign — from push notifications to rich landing pages to social media.
1) Push Notifications
It starts with a push notification announcing the campaign, together with an invitation to join in: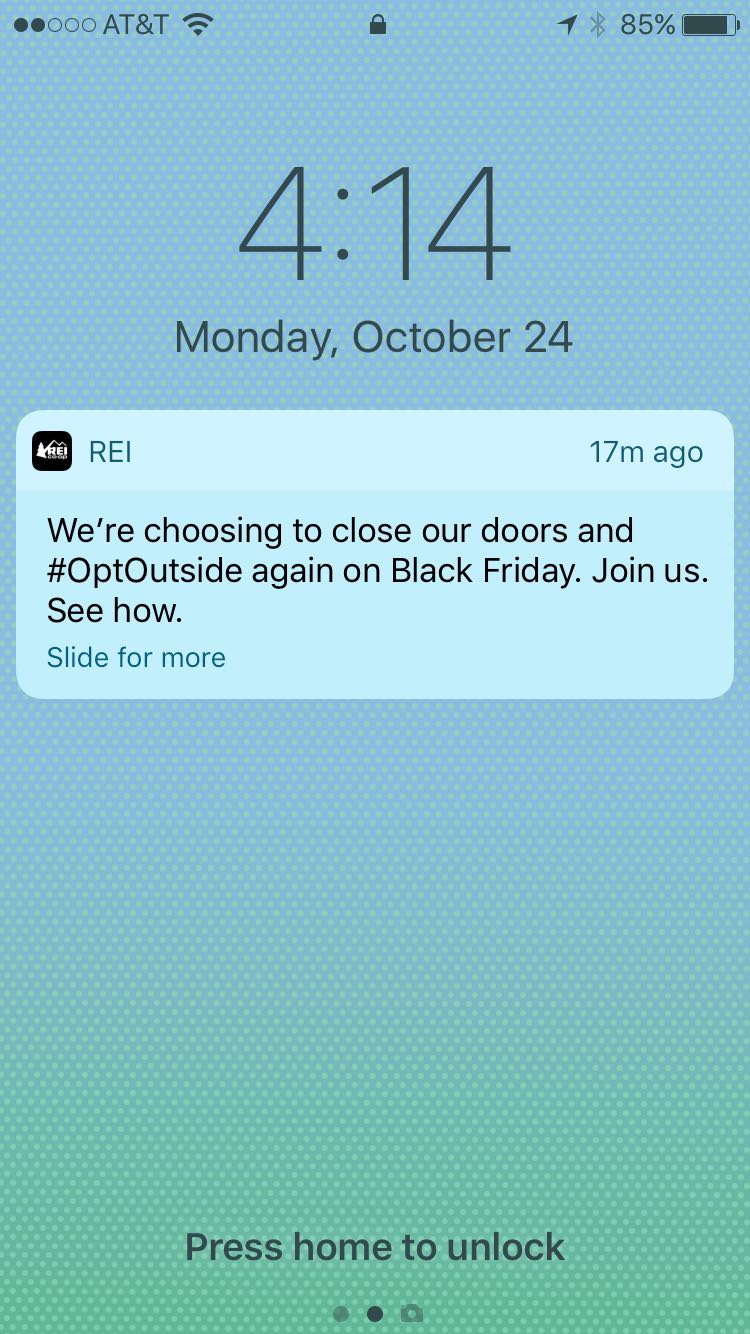 2) Rich In-App Landing Pages
Sliding the notification takes the user to a rich landing page within the app providing more information, including a video that takes the view from audio reports of Black Friday shopping madness to the loud, chaotic sounds of a shopping center…to the peaceful sounds of nature in the beautiful outdoors.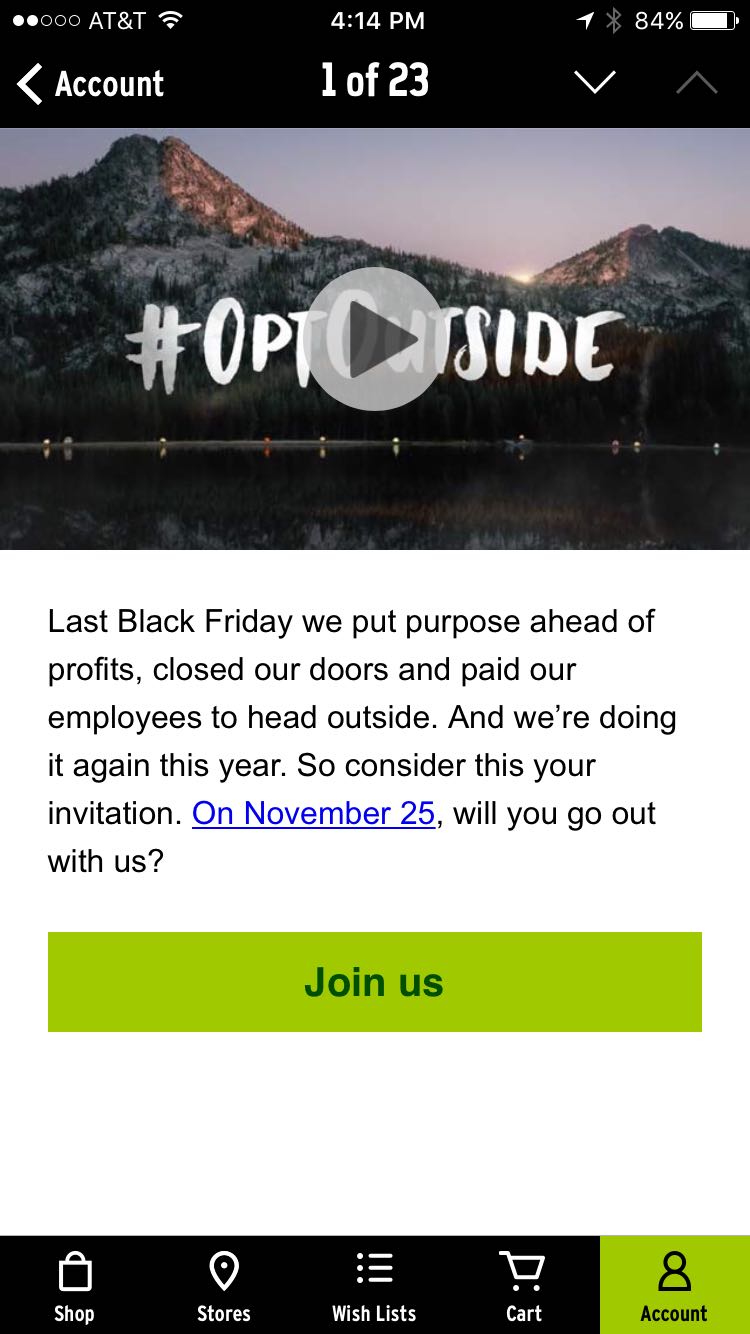 Hitting the "Join us" button takes the user to another page in the app with more information on the campaign, and the invitation to "#optoutside with us."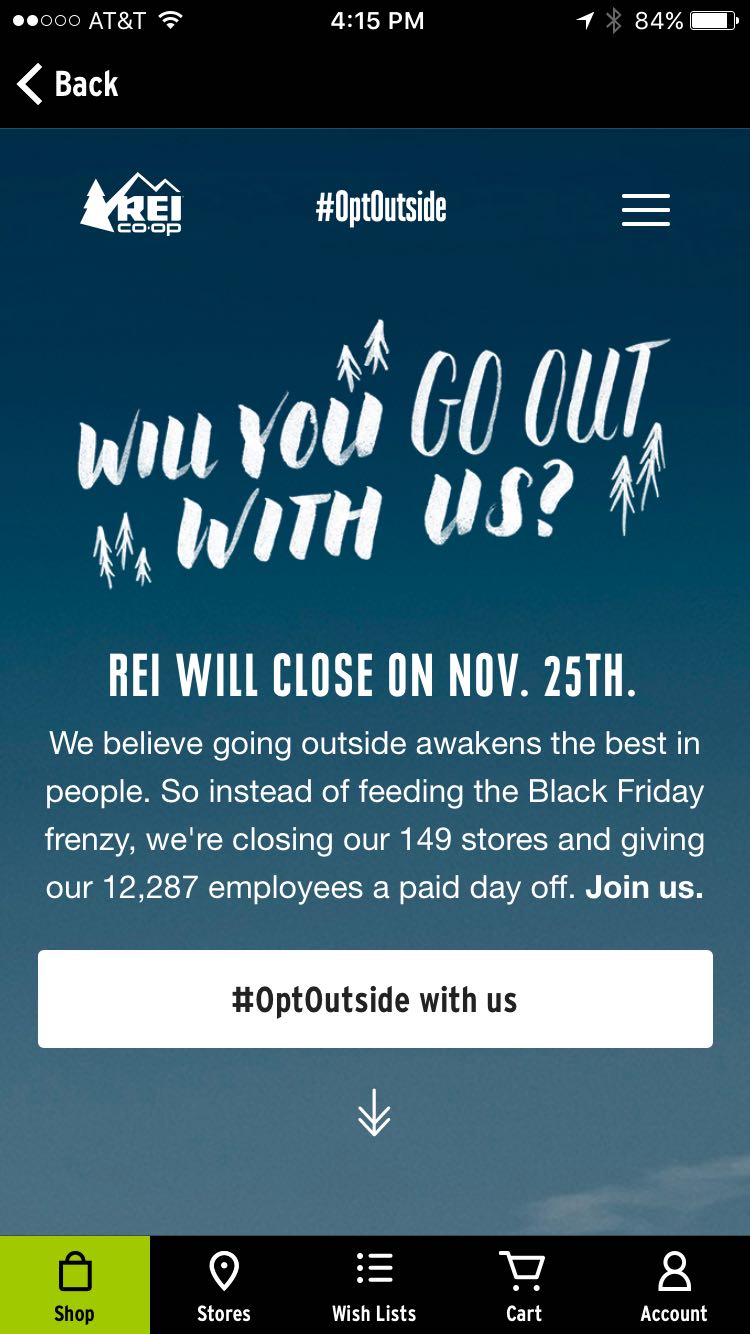 From there, the user sees more landing pages with visual examples of outdoor activity, and the ability to search by location or by activity to find ideas to participate in: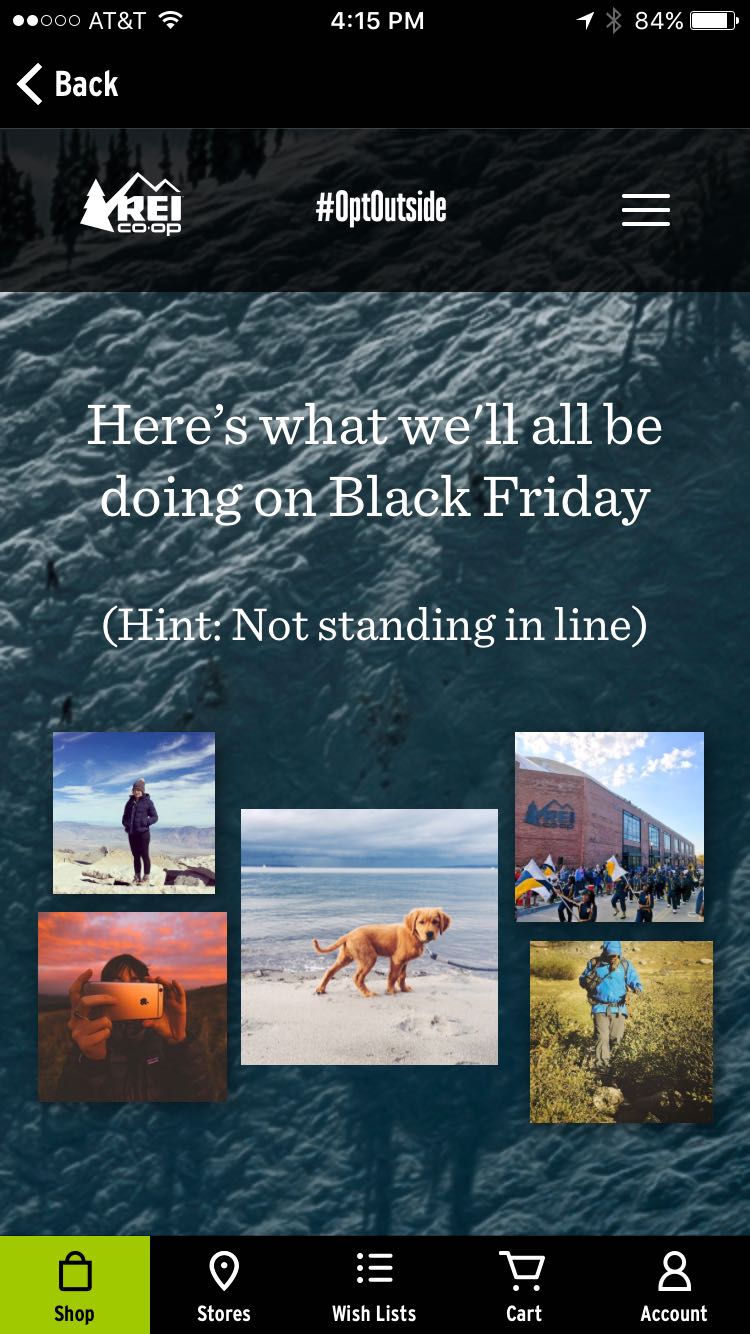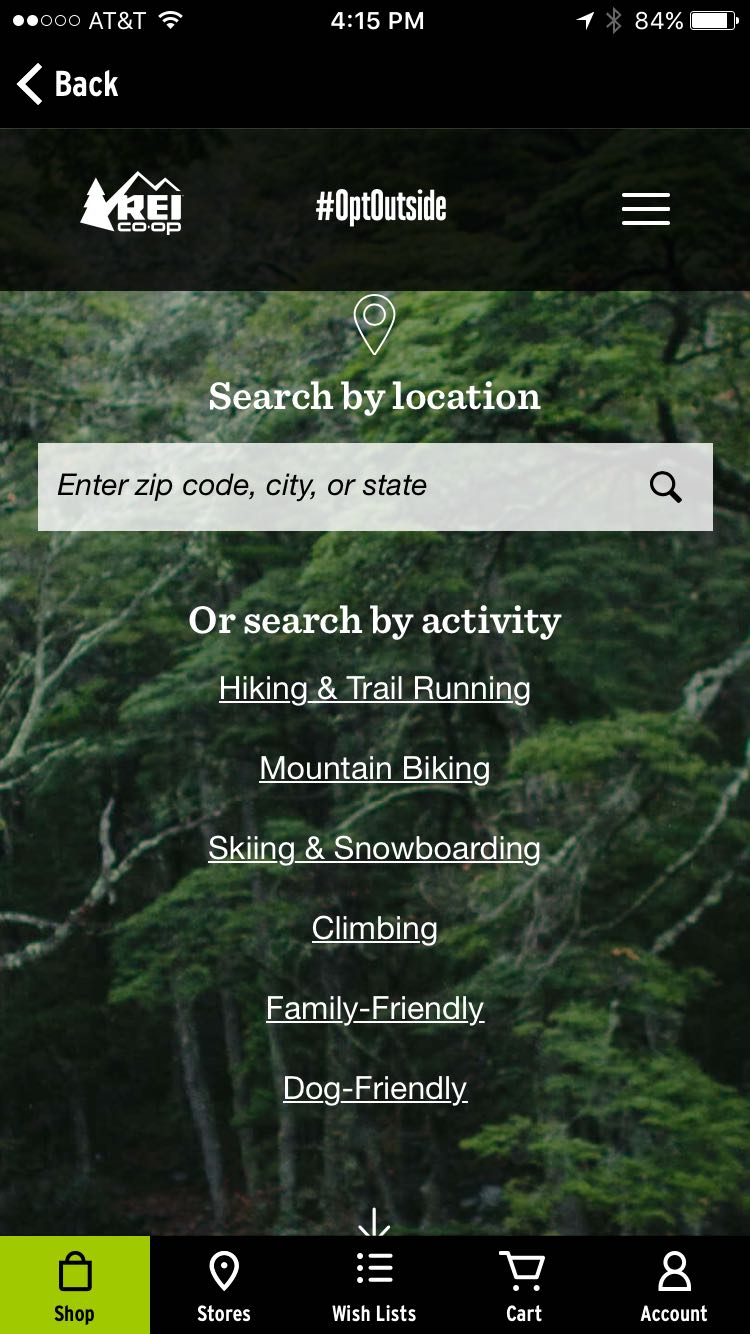 3) Linking Mobile & Email
The next page takes the user to a signup option within the app, where they can enter their email address to hear more about the campaign, together with more ideas for opting outside.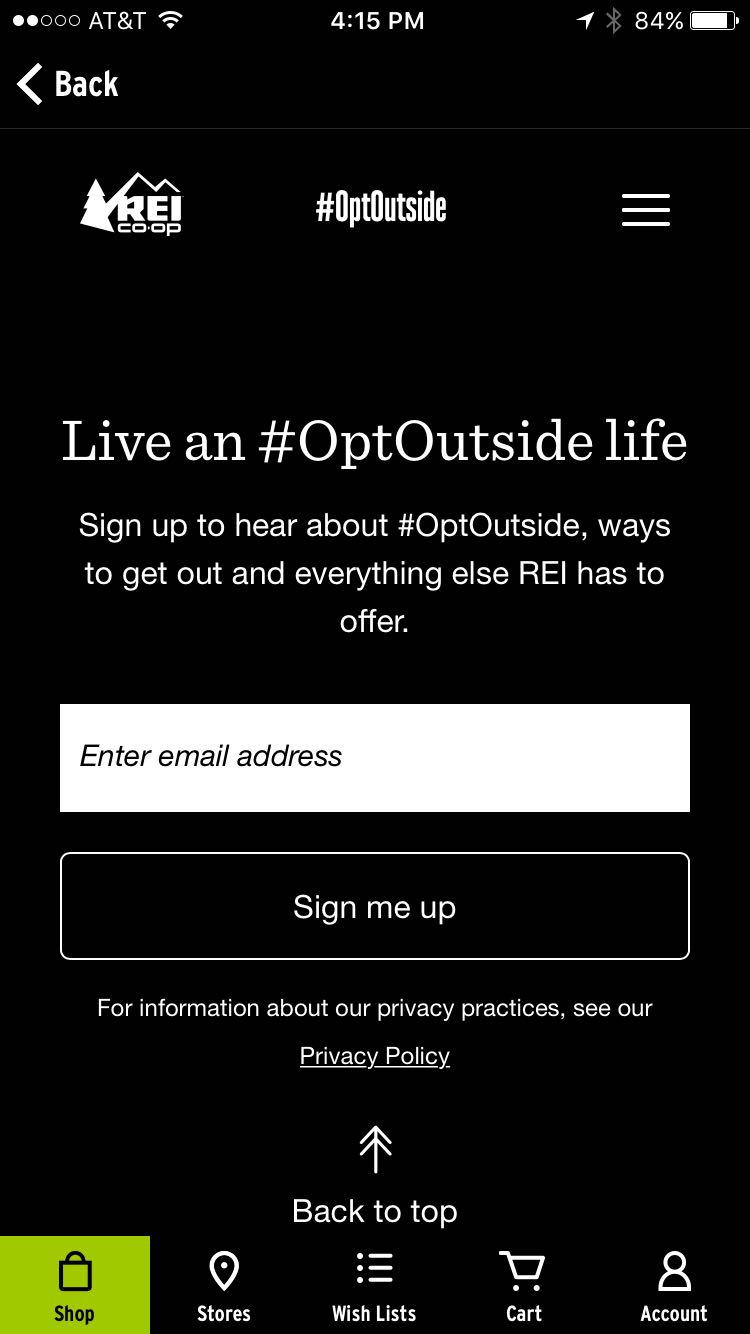 4) Linking Mobile & Social
And to take it one step further, REI invites the user to "tell the world" on social media that they have joined the movement, to inspire others to join in. In 2015, more than 1.4 million used the hashtag on social media; 96% of those posts were positive.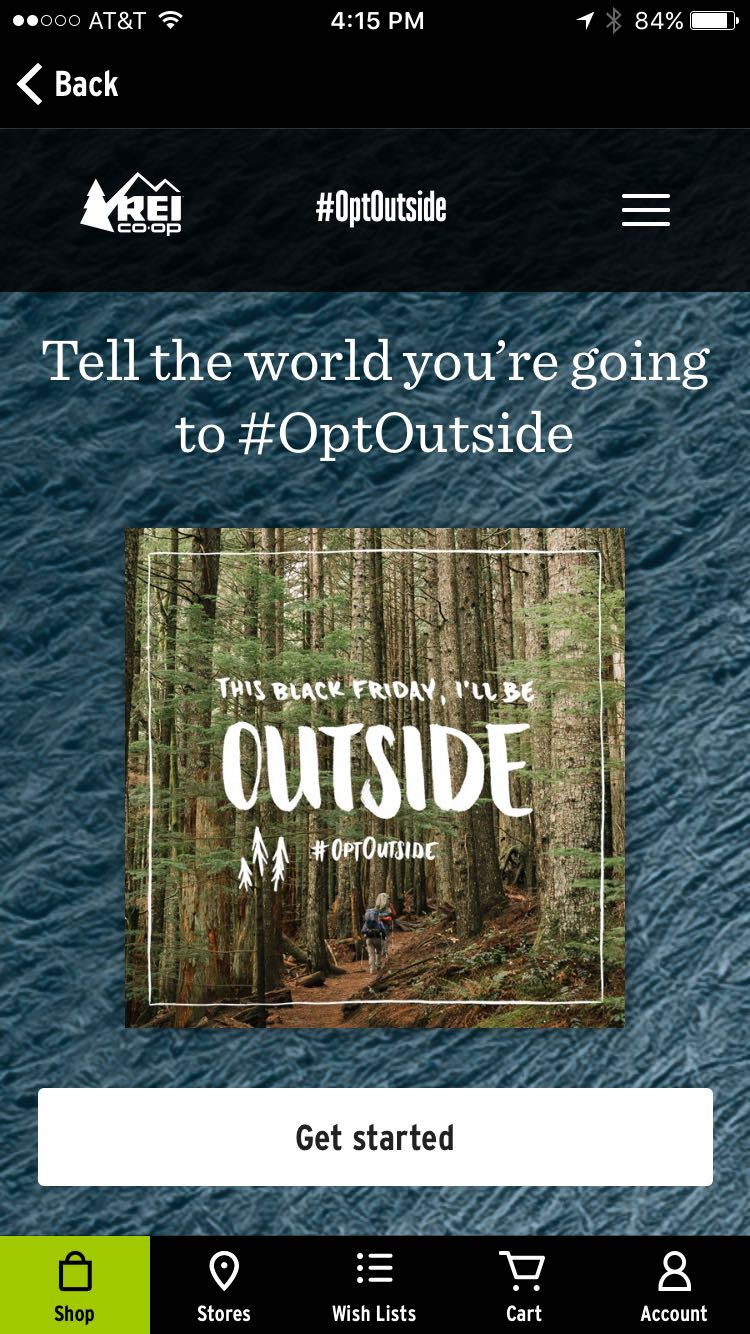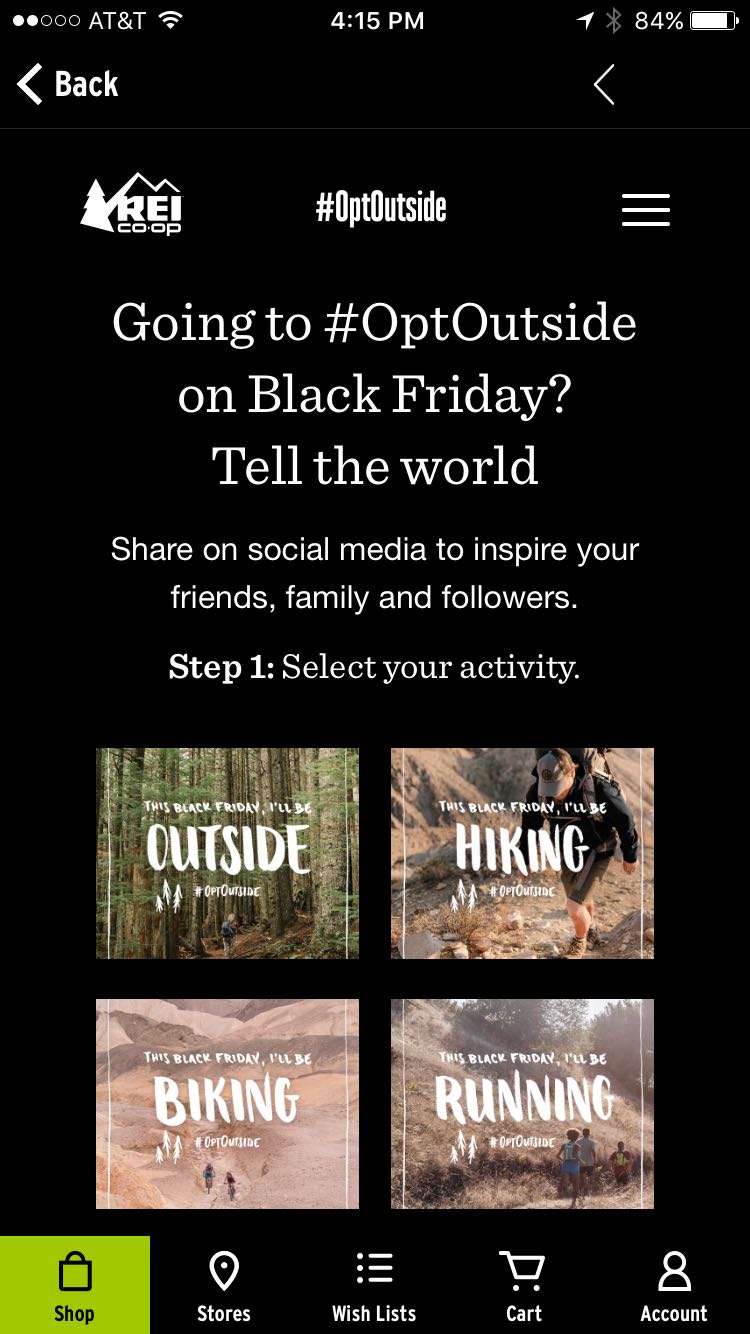 5) Leveraging App Update Page in the Apple Store for Campaign Messaging
REI even promotes the campaign as part of their app update, using that often-overlooked space as another touchpoint to share their message: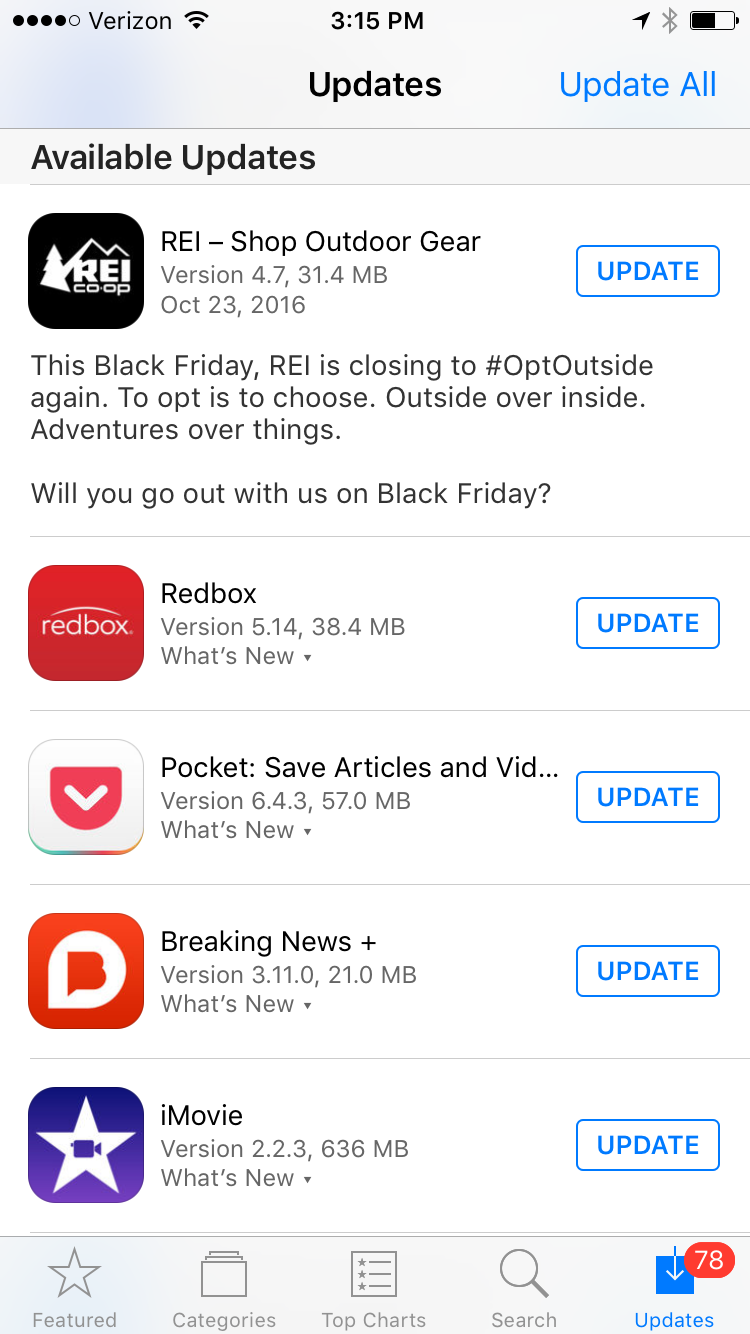 Authentic Customer & Employee Engagement
REI has hit the mark on many levels with this campaign, from brand awareness to PR to mobile engagement to business results. Why does this campaign work so well for REI?
It's true to their brand promise & values: The message of this campaign is authentic to REI's brand promise: helping customers enjoy all that nature and the outdoors have to offer. #OptOutside is becoming nothing short of a movement about a shift in priorities.
REI is creating a new holiday tradition, while also deepening its investment in its brand. #OptOutside is one facet of a year-round effort to encourage people to spend time outside. Other aspects of the campaign include REI's suite of apps, including the National Parks app, Hiking Project, MTB Project, and Trail Run Project apps.
Leveraging both customer & employee engagement: REI's President & CEO Jerry Stritzke told The Associated Press that last year, the company's #OptOutside campaign gained momentum on social media from various outdoor groups. He said he saw more than 20,000 social media posts from REI's 12,000 employees alone. This enthusiasm is certain to come through when they get back to work and interact with customers.
Bottom Line Results
Not only did last year's decision to close its stores on Black Friday generate significant amounts of positive press for REI, according to industry journal Retail TouchPoints, it also resulted in a 9.3% increase in revenues and a 7% increase in year-over-year store sales.
But perhaps the most intriguing result was a 23% uptick in digital sales.
Then again, perhaps we shouldn't be so surprised. After all, in 2015, for the very first time, the number of people shopping online surpassed the number venturing into traditional stores, according to the National Retail Federation's 2015 Thanksgiving weekend survey.
And of those Black Friday online shoppers, more than half — a whopping 57.2% — were shopping on mobile devices, a 174% rise from 2014, according to IBM.
Does Your Mobile Strategy Measure Up?
One more stat to leave you with: a recent survey from Adobe and Econsultancy found that 48% of organizations still do not have a mobile strategy in place. Don't be one of them. The business case is clear for your brand to follow in REI's hiking-boot-prints and think mobile first this holiday season and beyond.
Check back on this blog (subscribe now if you haven't already!) to get your copy of our upcoming 2016 mobile shopping holiday report. You'll see how mobile's role in holiday shopping continues to evolve — and learn new tactics and approaches that can help you build your mobile strategy, and increase mobile engagement. You can see our 2015 Holiday Shopping Report here.
---
If your brand needs to get up to speed on mobile — or elevate your current approach — our Strategic Services Team can help. We bring together all the key players on your team, from developers to IT to product managers and marketers, to help you create a cohesive strategy, value proposition and executable plan. Contact us today to set up a free consultation.
Subscribe for updates
If the form doesn't render correctly, kindly disable the ad blocker on your browser and refresh the page.
Related Posts
Categories