Permission Marketing Best Practices for Mobile Wallet
Mobile wallet passes offer the digital equivalent of all the everyday things included in a physical wallet like loyalty cards, coupons, tickets, boarding passes and more, right in the mobile wallet on your smartphone — no app download required.
One big advantage of digitizing and mobilizing these everyday items is that they become updateable. In our recent study of 2,000 mobile wallet users in the U.S. and U.K., 77% said they'd like to have expired coupons automatically update with new offers on their phone. And 73% of respondents said they're more likely to join loyalty programs if points and rewards are automatically updated and visible right away on mobile loyalty cards.
Mobile wallet passes can be updated — and they can let users know that those updates have happened, by sending notifications to users when content updates or changes.
Marketers can send push notifications from the mobile wallet pass, but the rules of permission marketing need to apply.
Two Ways to Make Sure Permission Marketing Best Practices are Part of Your Mobile Wallet Strategy
Like other channels such as app and web push notifications and email marketing, brands should follow the best practices of permission marketing to maintain customer trust and confidence, including the following:
1) Link To Your Terms of Service, and Privacy Policy
Use the back of your mobile wallet pass to link to a mobile webpage listing your Terms of Service, and Privacy Policy.
Users can access this content by clicking on the "i" button on the front of iOS wallet passes, and by scrolling towards the bottom of the pass on Android.
The back of the mobile wallet pass offers businesses a way to communicate relevant information — whether it's details about an offer, links to social, websites and more. This is a good place to add terms and conditions towards the bottom of the pass. That way, you can optimize placement of marketing messaging and help your customers understand how the pass will be used.
2) Tell Users How to Unsubscribe or Delete the Wallet Pass
Let pass users know how they can unsubscribe from notifications sent through mobile wallet passes.
This wallet pass from Starbucks (their Fall Fan Pass) shown here on iOS, clearly explains how to unsubscribe. Display how consumers can opt out via pass content.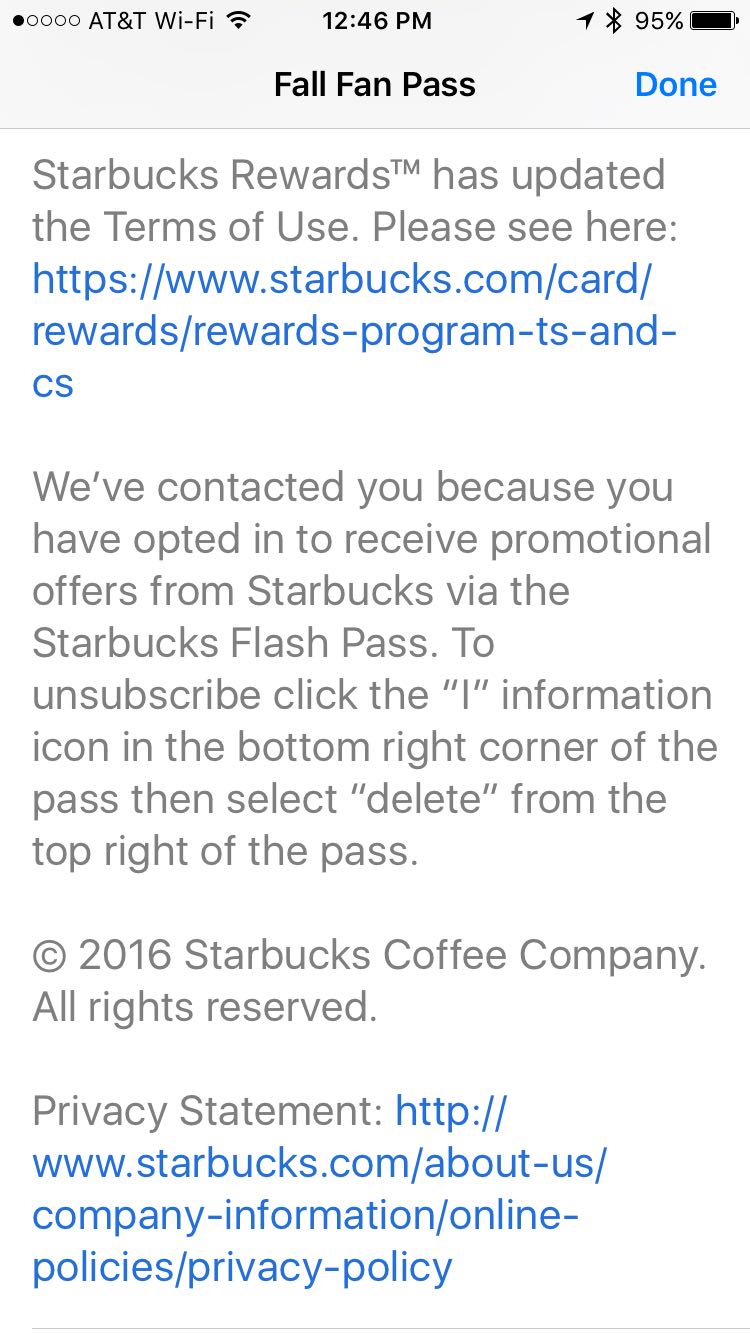 Example: Starbucks Fall Fan Pass (iOS)
By following these two permission marketing best practices, you're off to a great start in gaining consumer trust with mobile wallet passes — while earning and keeping your place on their mobile device.
Want to Learn More About Mobile Wallet?

– Visit our Mobile Wallet FAQs post
– Watch our webinar What Consumers Really Want from Mobile Wallet
– Get our survey report The State of Mobile Wallet Marketing
– Download our Mobile Wallet Inspiration Guide
– Start using Urban Airship Reach for free today!
Subscribe for updates
If the form doesn't render correctly, kindly disable the ad blocker on your browser and refresh the page.
Related Posts
Categories