Fix What's Broken in Your Customer Loyalty Program With These Mobile Tech Innovations
In the digital age where the only constant is change, keeping the customers you've got is critical for success. The payoff for customer retention is big: a 5% increase in retained customers yields 25-95% more profit, according to a Bain & Company study cited in the Harvard Business Review article, "The Value of Keeping the Right Customers."
To keep customers — and keep them happy and engaged — many brands turn to customer loyalty programs. In 2017, brands plan to allocate even more of their budgets to loyalty programs, with 57% of marketers surveyed saying they'll be boosting budgets "somewhat" or "significantly."
What marketers will do with those budgets remains to be seen, however, as cracking the loyalty code can be difficult.
Three Top Barriers to Customer Loyalty Program Success
Many executives we talk to are especially challenged when it comes to three long-standing challenges for loyalty programs: getting new members, bad data, and loyalty program engagement.
1) Getting new members. The extra time it takes, forms to fill out, and the possibility that they'll get spammed are all reasons customers might skip signing up for your program. And then there's the hassle factor. In a recent survey with 2,000 respondents, 82% of consumers said they were more likely to join a loyalty program on the spot if there are no forms to fill out.
2) Data integrity. How often have you entered an old phone number or email address when joining a loyalty program? Even when customers do sign up, there's a good chance they're going to give you bad data. Without correct data, you're not able to engage customers or give them an elevated customer experience that keeps them coming back. And, it's not only customers providing inaccurate data — when cashiers have to punch in an email address or phone number at the terminal, manual errors can occur as well.
3) Engagement. Loyalty programs that don't have clear and obvious value (point systems that are too complicated or take too long to accrue; "perks" that aren't easy to use or redeem, etc.) and not being able to see immediately how points are accruing are all reasons for customers to disengage.
Customers Want Loyalty Programs to Be Frictionless, High-Value Interactions
The bottom line: customers want high value, low (really really low) hassle loyalty programs. If signup takes more than a few moments; you'll probably lose them. If it's not easy for them to see the value of the program, they'll give you bad data just to get an initial reward or discount — and then they're at risk to churn out of the program entirely.
So how can brands combat these issues, and deliver an incredibly simple, zero friction, win-win loyalty experience? Innovations in mobile technology, put to work in service of better mobile loyalty programs, can be a big part of the answer.
For more stats on what customers want from loyalty programs, check out our State of Mobile Wallet Marketing report
Innovations in Mobile Technology are Game Changers for Customer Loyalty Programs
With mobile, brands have a massive opportunity to create a loyalty program that's not only easy and seamless — they have the opportunity to create a program that surprises and delights their customers.
Here are three innovations in mobile technology that solve each of the three biggest barriers to success:
Zero Hassle to Join: And the Data is Golden
Loyalty program cards can be created in seconds as a mobile wallet pass during checkout for Apple Pay transactions. Once an Apple Pay transaction has occurred, brands can serve up a message on customer's lock screen asking them to join their loyalty program.
A pre-populated form with customer information pulled from the iPhone is provided to the customer for sign up confirmation. Our mobile wallet platform, Reach, supports auto enrollment VAS protocols from Apple Pay, enabling a fast and seamless way for customers to sign up at the point of sale or anywhere a mobile device is in use.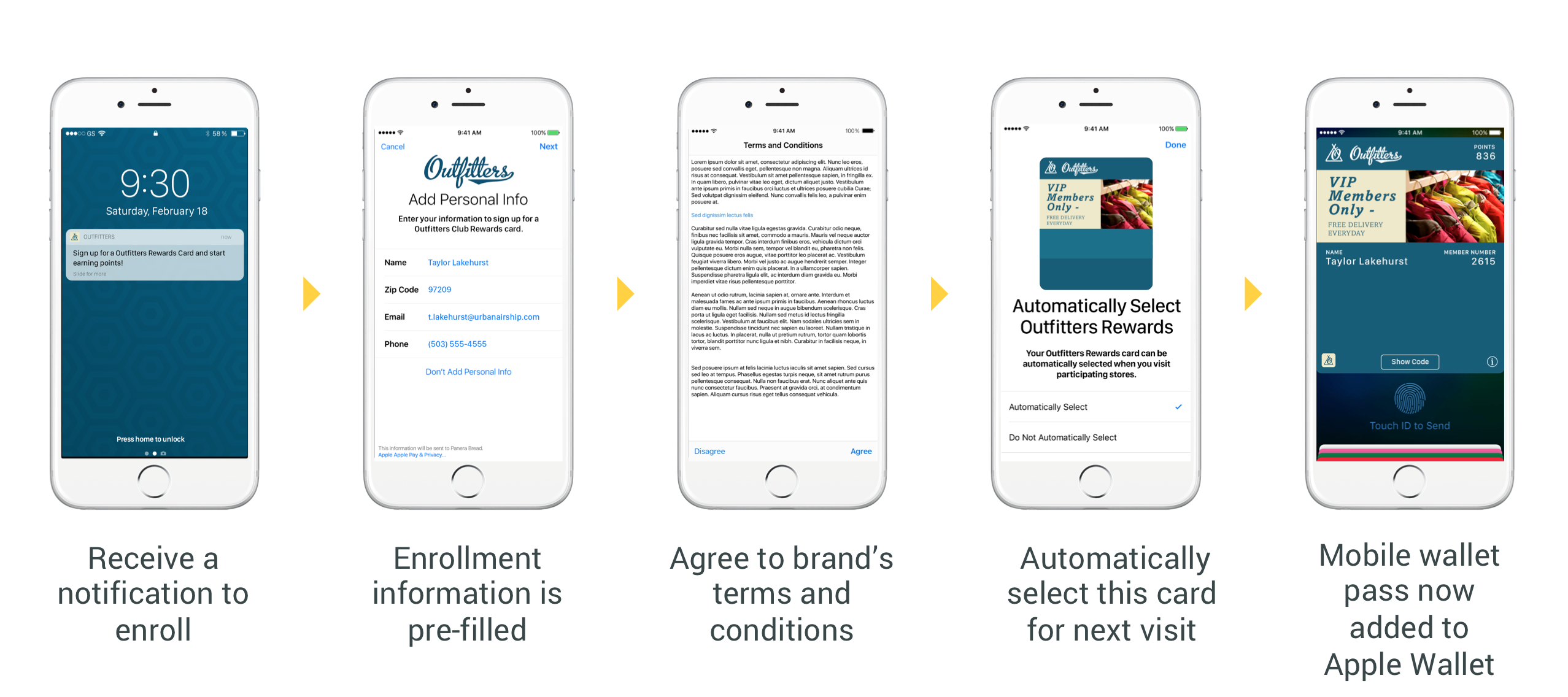 This is a major win-win for brands and their customers. Customers get a zero hassle experience in joining a mobile loyalty program, and brands get high-integrity data. (Is there any higher integrity data than the data an individual puts into their smartphone?)
Imagine, your customers can join your loyalty program without having to deal with pen and paper sign up. And, stepping in your customer's shoes, imagine the discomfort of standing in line to fill out these forms and feeling like they are holding up the line for other customers.
Zero Hassle to Use: Pay

and Get Loyalty Rewards in One Tap

Once customers have joined a loyalty program that includes a mobile wallet loyalty card, the loyalty card will automatically come up on their screen every time they pay with ApplePay. (For customers who aren't using Apple Pay, they can still easily tap to bring up their card and use it through a barcode scan or NFC.)

Gone are the days of pulling out your key fob to scan the barcode; digging through your wallet to find your card, or punching in your phone number.
Zero Hassle to Understand: Real Time Updates on Your Digital Loyalty Program Card
Mobile wallet passes are living, breathing loyalty cards. They're infinitely updateable, and they can send push notifications (even to a user's lockscreen) triggered by location, purchase, point accrual, rewards or other events — in real time.
Users can also easily see and keep track of their points and other pertinent reward program information right in the card.
Fox example, imagine, delighting your customers not only by sending them a congratulatory notification when they reach gold card status, but turning their mobile wallet loyalty card into a gold one. What are the odds they'd show and tell their friends – and even their social networks? Pretty good, we'd say.
>> See how GameStop uses mobile wallet loyalty cards.
At the End of the Day, It's All About the Customer Experience
At their core, loyalty programs are about creating customer experiences that build trust. Innovations that allow a faster, better, more "magical" customer experience go a long way to building that trust — and showing that you value your customers' time and business.
Ready to get started with mobile wallet? Request a demo today to see mobile wallet loyalty in action.
Subscribe for updates
If the form doesn't render correctly, kindly disable the ad blocker on your browser and refresh the page.
Related Posts
Categories