Our Cyber Week Data Analysis Reveals 3 Mobile Growth Trends for Retail Apps
Our Cyber Week data analysis reveals that mobile is changing how retailers market — and how consumers buy. See how your brand can stay on top of the latest mobile growth trends for retail brands.
---
Cyber Monday has ended, closing out the biggest shopping week of the year. The final numbers are still being tallied, but already it looks like 2016 is another record-breaking year for mobile.
While retailers are taking a quick pause before December and January sales, we have been busy studying this year's results and trends by looking at mobile app engagement data from more than 200 retailers who use our Engage platform throughout November 2016.
More data from our analysis is in our press release, "Urban Airship Study of Retailers' Apps Highlights Holiday Mobile Growth." You can expect to see even more data and anlysis in our full cyber week report (coming out as soon as our fingers can type it up — follow us on Twitter, Facebook or LinkedIn to get it when it's done) but for now here's a sneak peek of three key trends we saw during Cyber Week this year:
1) More and More Push Notifications —
Earlier and Earlier
Similar to last year's report, our analysis shows that retailers began promoting deals through push notifications earlier than in years prior.
The first one the Urban Airship team captured came through on October 18th when most of us were probably still deciding what to wear for Halloween.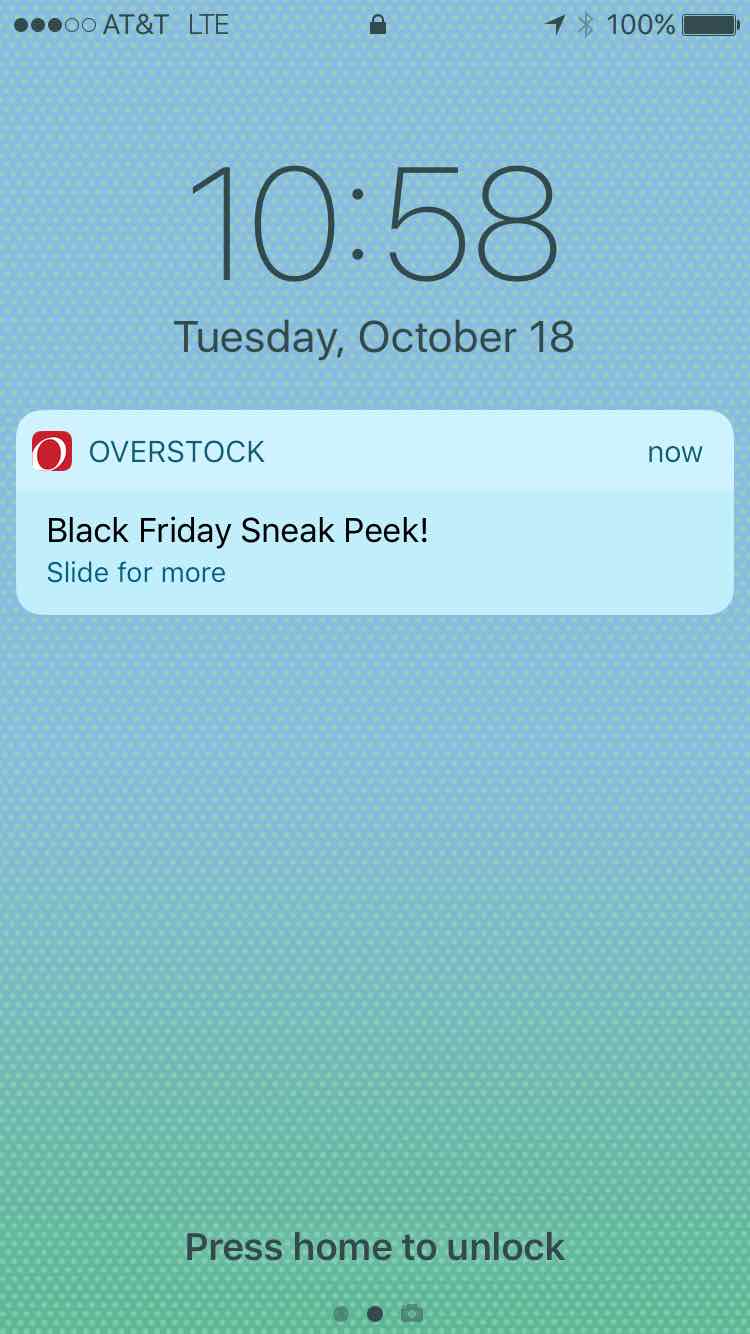 Retailers also sent 56% more holiday notifications than last year — and we saw a significant increase in scale during the two weeks before Black Friday.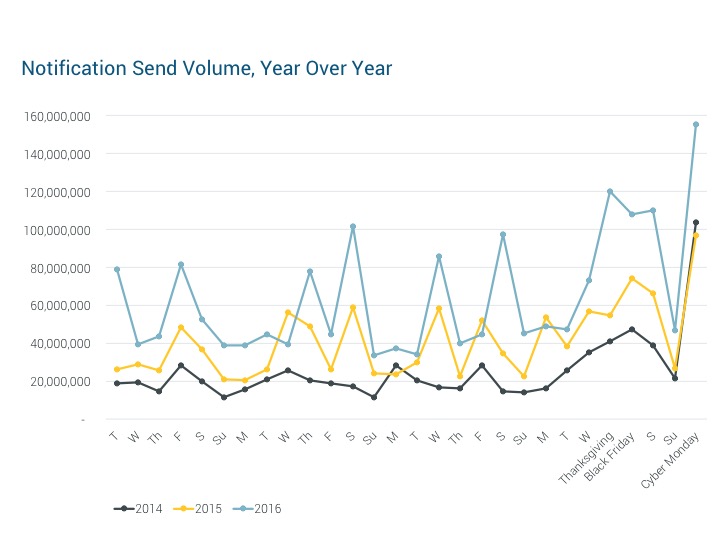 Even brands that decided to skip Black Friday altogether began sending messages early. REI launched its brilliant #OptOutside campaign in early November. (See what mobile marketers can learn from that campaign here.)
2) Targeted Notifications Saw 3x Better Engagement Than Broadcast Messages
With more push notifications being sent than ever, the key for brands is taking a targeted approach to avoid annoying consumers.
Our preliminary Android analysis found that 88 percent of notifications were highly targeted based on location, preferences and behaviors while only 12 percent were broadcast to everyone.
Brands using this approach were the winners by far with targeted notifications seeing 3x better engagement rates than the broadcast messages.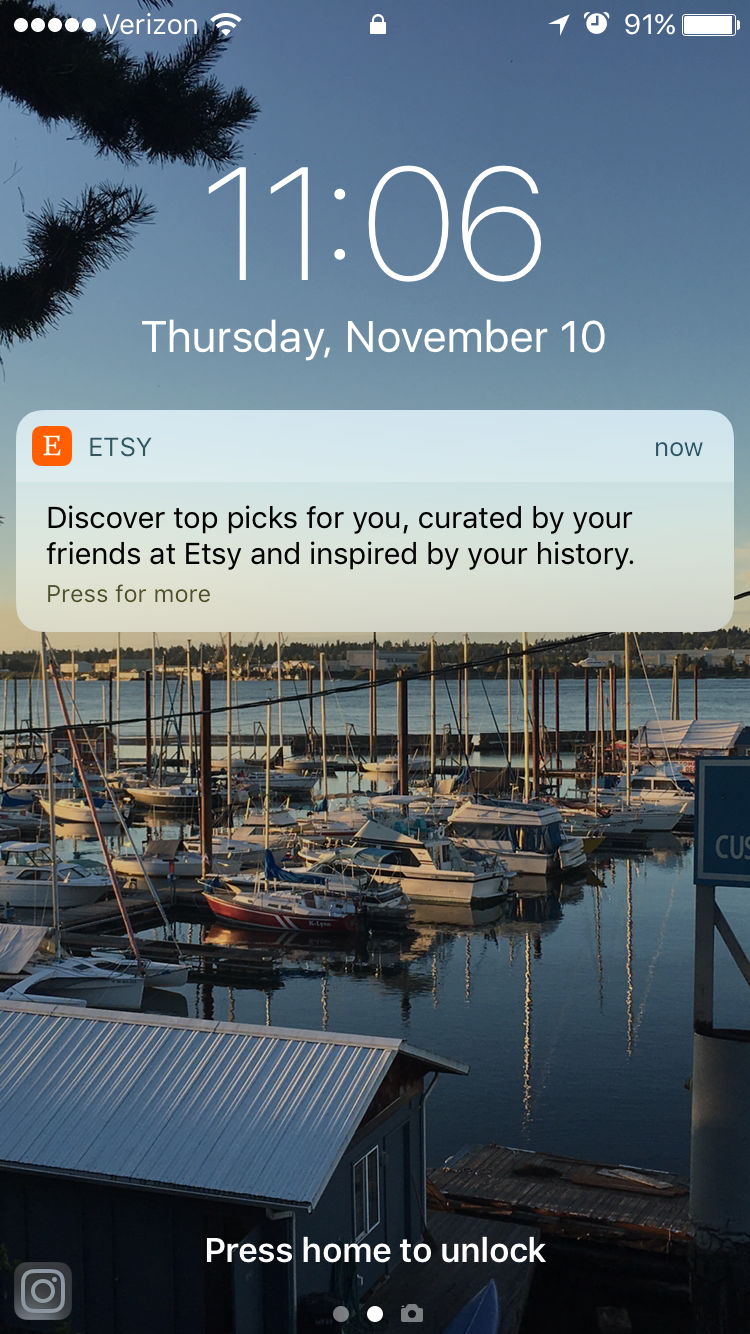 3) Pre-Shopping Research on Mobile Makes A Noticeable Impact on Engagement
With more notifications hitting consumers devices than ever before it's great to see that engagement and opt-in rates are improving year over year. Average notification engagement rates in 2016 rose to 19 percent which is up from 18 percent in 2015 and 16 percent in 2014.
Additionally, we found that average opt-in rates on iOS were at 41 percent this year, an increase from 39 percent in 2015 and 38 percent in 2014.
It is widely known that shoppers are performing digital research online and on mobile before they hit the sidewalks at 4am for those doorbusters. Consumers were most engaged with notifications in the weeks leading up to Black Friday and for the second year in a row we saw engagement levels decline sharply on Thanksgiving and Black Friday. Several retailers did a great job capitalising on these trends by offering "Sneak Peeks" and "Preview" sales earlier in the month.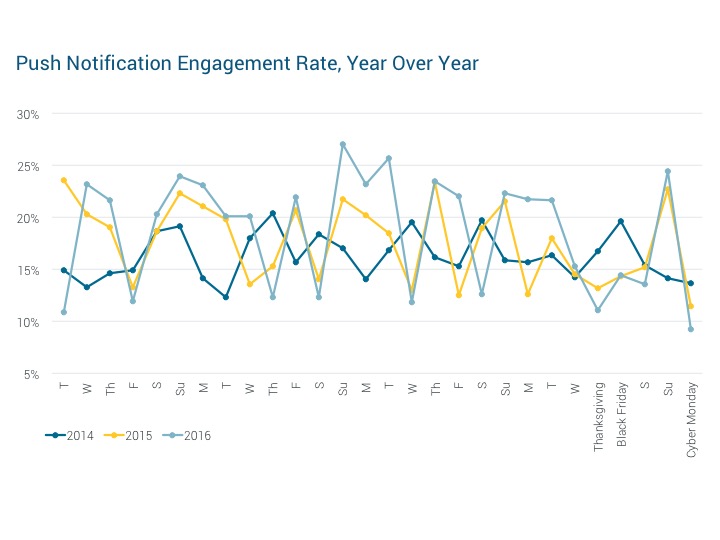 Want More Information?
Check out our press release on our fourth consecutive Cyber Week study and stay tuned for the full report coming out in the next couple weeks. Questions? Get in touch anytime.
Subscribe for updates
If the form doesn't render correctly, kindly disable the ad blocker on your browser and refresh the page.
Related Posts
Categories