How to Leverage Mobile Business Intelligence to Power Mobile Growth
Our latest eBook, 15 Essentials for Mobile Growth, is now available for download. In the next few posts, we'll be sharing highlights.
---
In the first post in our mobile growth series, What is Mobile Growth?, we sketched out a definition of mobile growth. In the second post, Getting Into the Mobile Growth Mindset, we highlighted the essentials for continuing the shift to a mobile-first perspective. In the third post, How to Set (and Reach!) Your Mobile Growth Goals, we covered key elements of a successful approach to meeting and beating your mobile growth goals.
In this, the fourth post in the series, we're talking about using mobile business intelligence to power mobile growth. You'll find even more insights in our eBook 15 Essentials for Mobile Growth, which you can download any time.
Here are three things to consider when determining how to use mobile analytics and business intelligence to grow your business:
Your app is the best, most reliable source of user-level data to power growth.
In the past, marketers have done some crazy things in the name of understanding their customers. Focus groups, mall intercepts, survey hotlines printed on receipts — you name it, marketers have tried it.
But a lot of the data we've collected has been limited or even useless. The new — and exponentially more unbiased — way to learn what your customers really want is through your app.
In fact, mobile apps offer 5-10x the volume of behavioral data as websites, according to Forrester Research, Inc.
Questions to Ask:
Is our app set up to collect the data that would be most useful in helping us understand what our users want and leverage what's working (and stop doing what's not working) for growth?

Is our mobile messaging designed to capture and greatly amplify the user-level data we get from app sessions?

Do we have the internal expertise to take real-time action on user-level data — and use that data beyond the app in our other product and marketing initiatives?
Related Resources:
---
Mobile analytics can reveal the tactics and channels that will help you move the needle on mobile growth.
Different tactics, channels, and platforms can make a significant impact on mobile growth efforts. For example:
Questions to Ask:
What are the barriers to adding additional mobile channels and platforms to our mix?

What data do we have on our current channels that might indicate the best additional channels and tactics to explore?

How will we make sure that the new tactics we explore are tied back to our core growth goals?
Related Resources:
---
Create in-the-moment messaging that sparks engagement, action — and growth — with mobile messaging analytics.
"How do we reach people wherever they are without just throwing stuff at them? Our approach has got to be to serve, not spam," says Mike Herrick, SVP of Product & Engineering for Urban Airship.
The more individualized, responsive and real-time your interactions with your mobile users are, the more engagement, trust and growth you'll be able to achieve. The experiences you create need to be win-win for you and your users.
Questions to Ask:
Are our mobile interactions with our customers as individualized as they could be?

Can we consistently and reliably deliver real-time, customized messages that deliver what our users want exactly when they want it?

Is there a reason to consider building a different type of mobile experience — a separate lightweight, app, chatbot, mobile wallet campaign or something similar — to go deeper into one or more valuable (or promising) user segments?
Related Resources:
---
In the next blog post in this series, we'll be talking about ways to stay on top of new mobile growth opportunities and strategies. Download the complete eBook at any time to get all of our ideas, insights and self-assessment questions right away.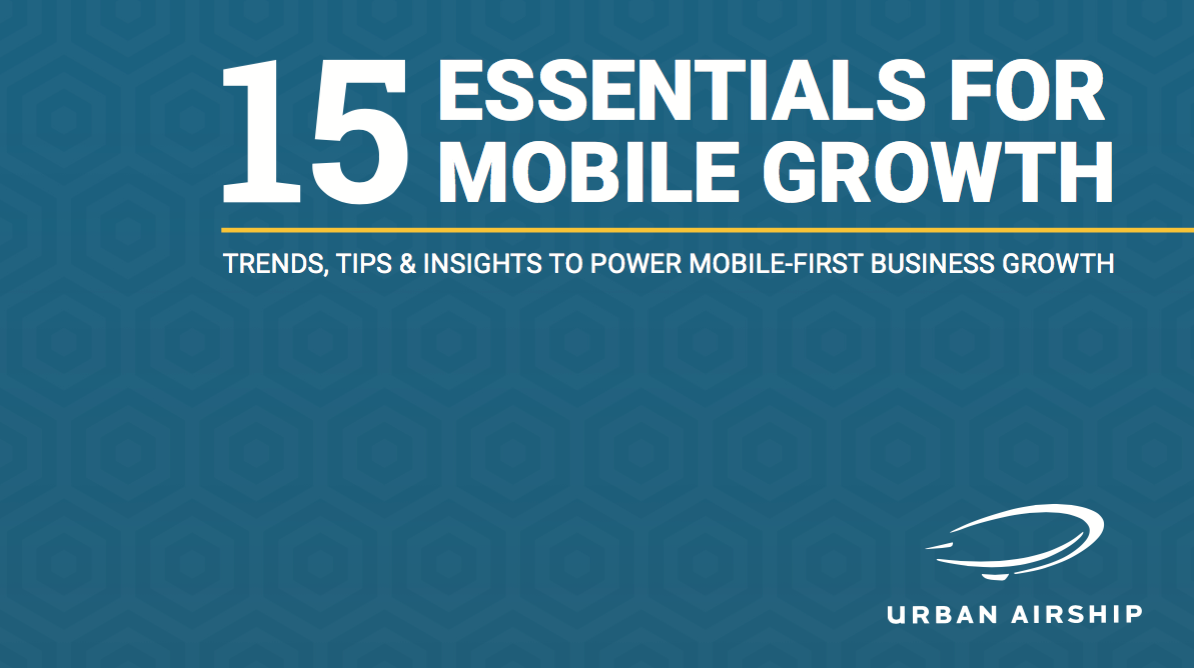 Subscribe for updates
If the form doesn't render correctly, kindly disable the ad blocker on your browser and refresh the page.
Related Posts
Categories