How to Set (and Reach!) Your Mobile Growth Goals
Our latest eBook, 15 Essentials for Mobile Growth, is now available for download. In the next few posts, we'll be sharing highlights.
---
In the first post in our mobile growth series, What is Mobile Growth?, we sketched out a definition of mobile growth. In the second post, Getting Into the Mobile Growth Mindset, we highlighted the essentials for continuing the shift to a mobile-first perspective.
In this, the third post in the series, we're covering key elements of a successful approach to reaching (and exceeding!) your mobile growth goals.
Our eBook 15 Essentials for Mobile Growth has even more insights and self-assessment questions to help you in your mobile growth initiatives, including:
How to set goals that help you and your team achieve exponential, not just incremental growth

Why it's important to build a system to create and sustain mobile growth — and the five critical questions and data points the system needs to address

How to build a cross-functional mobile growth team — and options for structuring the team
Download the full eBook anytime to access these insights and more.
How can you be sure you're setting and pursuing mobile growth goals that will motivate your team and get results? Here are three things to consider:
Get specific about your mobile growth goals: what are you trying to do, and how are you going to do it?
It may sound obvious, but your specific mobile growth goals will determine how you measure progress, determine what's working and make course corrections.
For example, companies like Facebook rely on daily user interactions to meet their goals will track daily active user (DAU) stats as part of their mobile growth model — whereas a company like Expensify would be more likely to look at weekly or monthly stats because that is a better fit for their user interactions and business model.
Growth expert Brian Balfour refers to these goals as "key outputs" of your mobile growth system. These goals must take into account the entire lifecycle of growth — including retention and lifetime value of your customer.
Questions to Ask:
How will we know when we're moving in the right direction with our mobile growth goals?

Do our growth goals match up with the core value proposition of our product?

What are the key experiences that will keep our users coming back again and again?
Related Resources:
---
Prioritization is essential for successful mobile growth. Always ask, "What is the highest impact thing we can be working on right now?"
Rigorous prioritization is critical to the success of mobile growth initiatives. "We're always going to be limited by resources, whether it's money, time or people. You have to prioritize. Asking: what is the highest impact initiative we can work on right now? That's the key component of highly successful growth teams," says Balfour.
Questions to Ask:
Are we following where the data leads, rather than defaulting to working on the things that excite us the most?

Do we need to revisit prioritization criteria based on short and long-term mobile growth goals?

How often do we need to revisit our core business goals?
Related Resources:
---
Be disciplined and systematic about your mobile growth efforts — and document your initiatives and experiments.
Your mobile growth strategy — and all of the ideas, tactics, experiments and analytics around it — should be the centerpiece of your growth team's roadmap and decisionmaking.
Documenting your experiments (a simple shared spreadsheet works well) helps make the team accountable for specific results; improves your intuition over time and functions as a knowledge base for future initiatives. It also reduces team friction and helps you stay focused on making data-based decisions.
Here is an example of the kinds of data you might want to capture in your own mobile growth marketing experiments template (click to zoom):

Questions to Ask:
What kinds of team interactions will help us stay focused on our top priorities?

What systems can we borrow from other business functions (kanban, ticketing, etc.) to help?

What is the best approach to making our experiments and initiatives open to the whole team?
Related Resources:
---
In the next blog post in this series, we'll share tips for using mobile business intelligence and mobile analytics to power mobile growth. Download the complete eBook at any time to get all of our ideas, insights and self-assessment questions right away.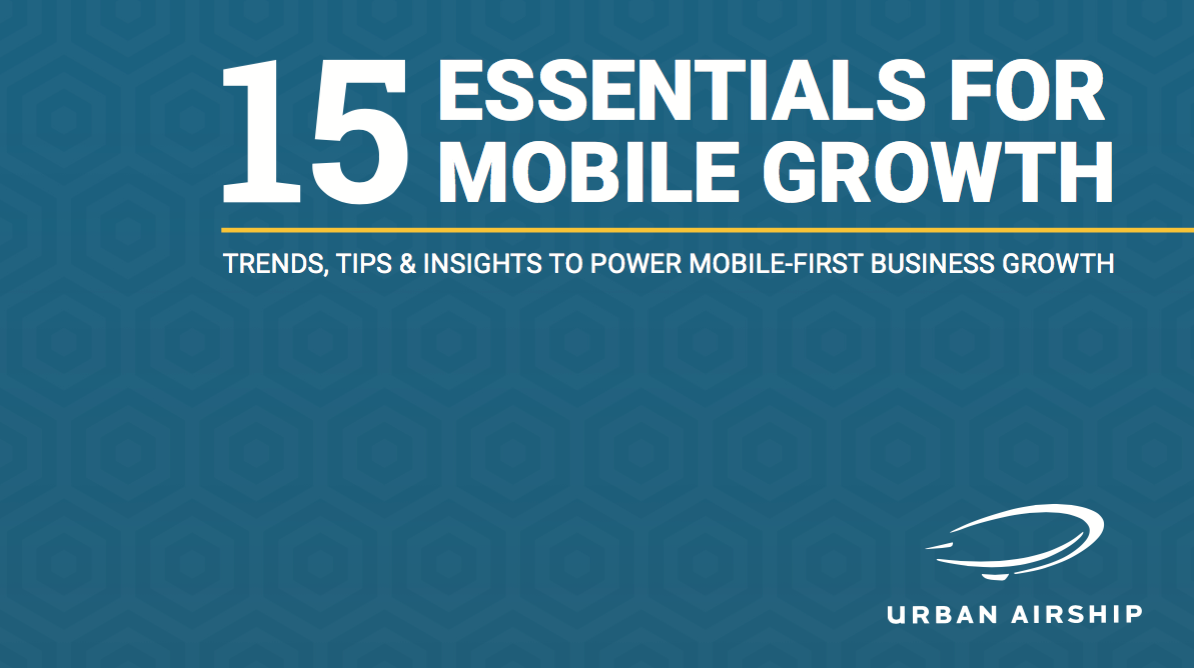 Subscribe for updates
If the form doesn't render correctly, kindly disable the ad blocker on your browser and refresh the page.
Related Posts
Categories