Getting Into the Mobile Growth Mindset
Our latest eBook, 15 Essentials for Mobile Growth, is now available for download. In the next few posts, we'll be sharing highlights.
---
To take advantage of the explosion of mobile devices and interfaces to grow your business (as covered in our first post in our mobile growth series, What is Mobile Growth?") a deeper change in perspective may be required.
In this second post in the series, we're highlighting a few ways digital marketers can get into a mobile growth mindset — along with strategic questions to ask to assess where your business is on the mobile growth continuum.
Mobile is a mindset, not a channel.
According to Gartner, marketing leaders still view their mobile marketing as the least mature of their disciplines. That needs to change. In fact, a "set it and forget it" approach to mobile is a very easy way for a CMO to find themselves out of a job, said Mike McGuire, VP Research, Gartner for Marketing Leaders said at our recent customer growth event. McGuire also said, in a recent blog post, "Complacency about a mobile optimized site or mobile engagement is career suicide."
Consider what your brand could look like through a mobile-first lens, then consider what steps, investments and internal alignments you need to get there. If you don't get there first, a disruptor may beat you to it. (Consider Uber, Airbnb, GrubHub, etc.)
Questions to Ask:
Are we thinking big enough about how we can capitalize on mobile's ability to deliver real-time, personalized experiences to our customers?

Are our competitors already taking a mobile-centric approach? How might that impact our growth opportunities in the future?

Are we asking and listening to what our users want, need and expect from us on mobile?
Related Resources:
---
Your approach to mobile can't continue to be a collection of interesting tactics: you must have a strategy.
You have to know why you're doing mobile, and what you expect out of it. Too many companies have an app because someone on their executive team said they needed one, not because they had a cohesive mobile strategy.
Questions to Ask:
Is our app's value proposition strong enough to get users to download it — and keep it?

How can we engage more customers with mobile experiences they'll value — whether or not they have our app?

Are we clear on our mobile strategy, and is it aligned to what our customers want? How do we know?
Related Resources:
---
Understand how your customers are interacting with you — across different channels, platforms and stages in their customer journey.
By bringing data from mobile, web, and "offline" (in-person) experiences together, you can get a more cohesive picture of how your customer is interacting with your brand.
Some call this the holy grail. We call it overdue. Your customer doesn't think of their experiences with your brand in silos, and neither should you.
Questions to Ask:
Related Resources:
---
Smartphones can and should connect online and offline experiences.
"Our fans can use their smartphones as the remote control to our stadium" says Kyle Eichman, Senior Director, Technology Solutions, Sacramento Kings.
(Read more in this article "Sacramento Kings Redefining Fan Experience At Golden 1 Center With New 'Remote Control' App" from SportTechie.)
From the moment Sacramento Kings fans set foot in the Golden 1 Stadium, they can use their smartphones to personalize their experience: watch replays from any angle, post to social media in a flash (thanks to blazing fast wifi), even order food to their seat and pay for it — all on their phones.
Related Video: See how Urban Airship's Open Profiles & Open Channels enable one Sacramento Kings fan to learn about ticket discounts, VIP access, and the game day lineup through notifications across multiple channels web notifications, Facebook messenger and on their mobile phone in our video A Customer Journey Powered By Our New Mobile Growth Platform.
Questions to Ask:
How can I use mobile to help personalize and customize "offline" experiences with my brand?

"What physical brand experiences can be made more exciting and engaging with mobile?"

How can I leverage location, proximity and automation to grow with mobile?
Related Resources:
---
In the next blog post in this series, we'll share how to leverage your mobile analytics and mobile data to accelerate mobile growth. Want to get all the mobile growth tips we've got? Download 15 Essentials for Mobile Growth: Trends, Tips & Insights to Power Mobile-First Business Growth today!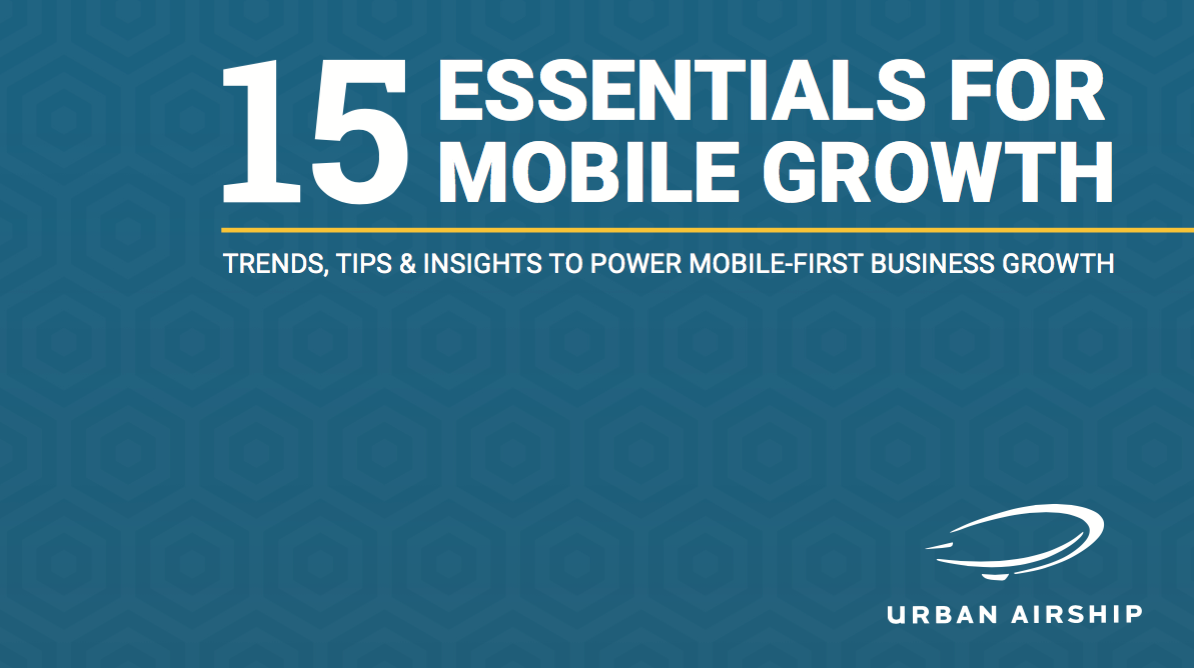 Subscribe for updates
If the form doesn't render correctly, kindly disable the ad blocker on your browser and refresh the page.
Related Posts
Categories