Learn How to Integrate SMS into Your Customer Engagement Strategy with SMS Demo Webinar
Join our live webinar on December 4 and see for yourself how easy it is to integrate SMS into your multi-channel customer engagement strategy. Register today!
---
SMS is a valuable marketing channel with the highest open and response rates of any mobile channel — but not enough brands are taking advantage of this opportunity to engage with customers.
Luckily for those ready to make the most of text message marketing, Urban Airship will be hosting a live webinar demonstrating how SMS can be used as a powerful marketing channel. In this demo, I will be showing you five ways to use Urban Airship's Digital Growth Platform to make your SMS strategy more integrated, coordinated and intelligent.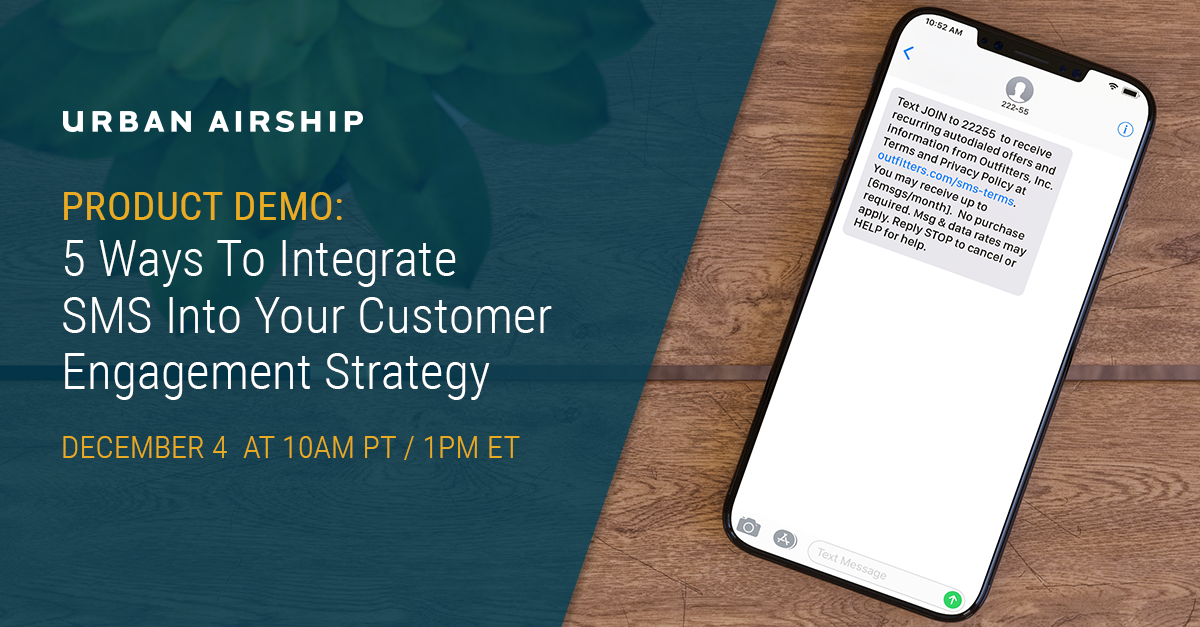 Join the Webinar and You Will Learn:
When and how to set SMS as a priority engagement channel

How to set up SMS as a fallback engagement channel when you're not able to engage users on other channels

The role of SMS in a "fan out" multichannel engagement strategy

How to deliver a "no-app-required" CX for sending personalized coupons & offers

How to use SMS to seamlessly deliver tickets and boarding passes in mobile wallet

Ask Questions & Get Answers:
If SMS is a new channel you're exploring, you're bound to have some questions. We're leaving time to ask us anything about how to make the most of SMS as a marketing channel.
Sign Up Today!
Don't miss out – reserve your spot today!
CTA: Want to learn more about SMS? Check out our Top Ten FAQs (And Answers) for SMS and our previous SMS Webinar: "Getting More ROI Out of SMS."
Subscribe for updates
If the form doesn't render correctly, kindly disable the ad blocker on your browser and refresh the page.
Related Posts
Categories