Get More From Your Mobile Analytics: 5 New Features You'll Love in Insight & Connect
We're always looking for ways to make your life easier — and we think the new features and functions in our mobile analytics solution, Insight, and our mobile data integration solution, Connect, will definitely help.
The unique benefit of both Insight and Connect is that you can always drill down to get data about unique, individual users. There are many benefits to that. One big one is that, with data that granular, you can create much more targeted — and much more effective — customer segmentation and personalization.
Take a look at our latest updates, and let me know if you have any questions about how we can help you put them to work for your brand. We're always happy to share use cases and ideas. Get in touch anytime.
Automated Message Performance Report in Insight
Automated messages — like first open welcome messages or other messages sent automatically based on user actions or attributes — now appear on Insight's Message Dashboard.
Bottom Line Benefits:
Benchmark the performance of your automated messages — and adjust to make improvements more quickly.

Segment lists of users for more precise targeting and personalization. Send relevant in-app messages or push notifications through Engage — or download lists and re-target users through channels like Facebook or email.
>> Learn more about the Automated Message Performance report in our Docs, or get in touch to talk through use cases.

Sign up to try Insight free for 30 days – and see the difference data makes for yourself.
App User Session Duration Report in Insight
Session duration now appears on the Lifecycle dashboard in Insight. This metric helps you understand which users spend the most time in your app.
Bottom Line Benefits:
Learn more about the cohort that spends the most time (or the least) in your app.

Export a list of the highly engaged users who spend the most time in your app, then use a Facebook lookalike campaign to find more users like them.
>> Learn more about App User Session Duration in our Docs, or get in touch to talk through ways to put this data to work for you.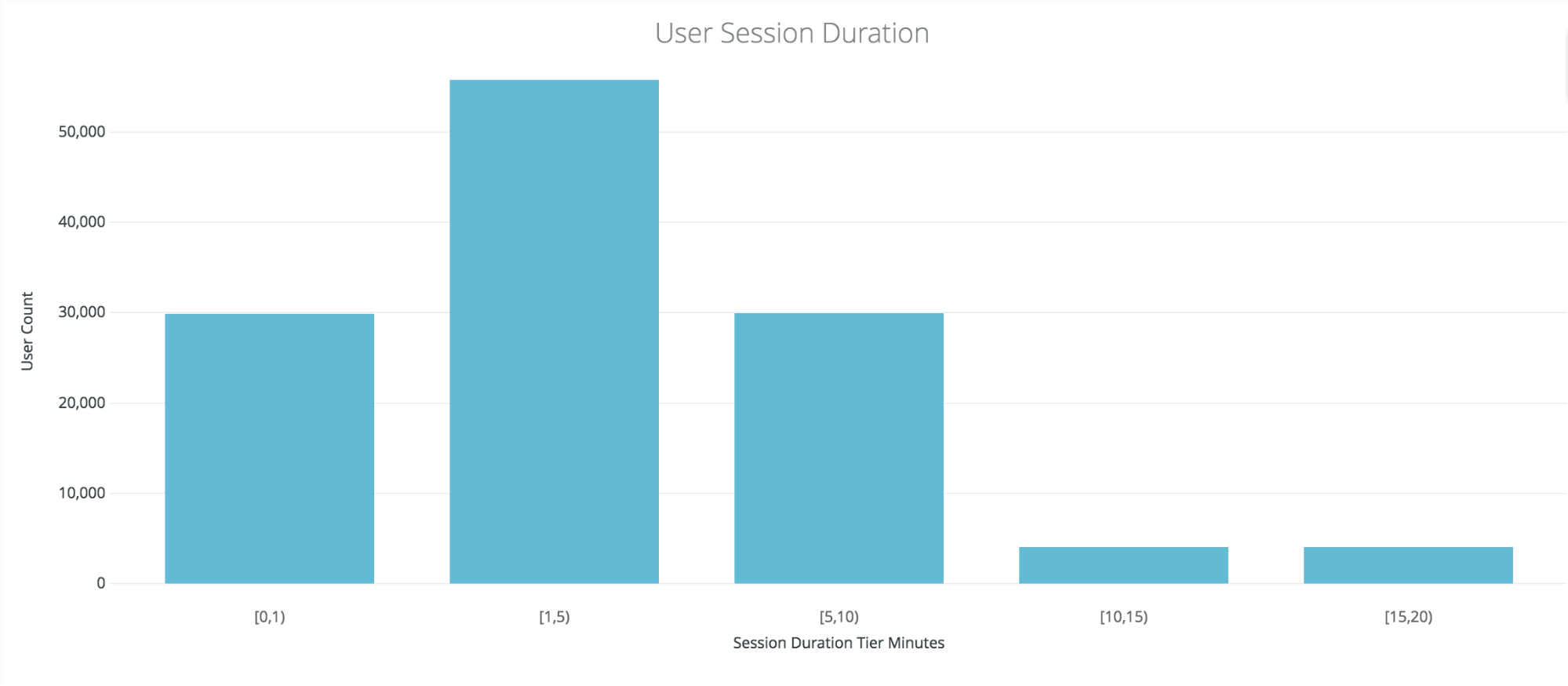 More Detailed Reports on Beacons in Insight
As we add more partnerships to support beacons, more customers have asked about our reporting on beacons and geofences.
We've added multiple metrics related to beacons and geofences to the Insight Location Dashboard.
Unlike the metrics available from beacon vendor analytics, our data shows the effect messaging has on a user going into a specific location, like a venue, store or event.
Bottom Line Benefit:
See which messages work best to drive people to certain locations.
>> Learn more about Beacon Reports in our Docs, or get in touch to talk about how you're using beacons — or could be — and what data would be the most helpful for you to track results.

More Detailed Custom Events Metrics
With our new custom event properties metrics, customers can now capture more (and more granular) details about custom events. (Want to learn more about what custom events can do for you? Check out our custom events FAQ and use case roundup here.)
Below you can see our Google Analytics Tracker in action for a screen view and the breakdown of the different screens that were viewed. Another example would be to break down a purchase by properties such as brand, category, or the product id.
Bottom Line Benefit:
Knowledge is power. When you know what's working, you can do more of it. Our custom events reports will help you make better, data-driven decisions.

Understand which product purchases create the most revenue.
>> Learn more about custom event properties and the new report in our Docs.

Webhooks Available for Connect APIs!
What is a webhook? Put simply, it's a real-time data connection between apps. (Our SVP of Product & Engineering Mike Herrick likes to say, "Webhooks are the Swiss Army knife of the internet.")
Using the new webhook integration in Connect, our mobile data integration solution, you can easily post real-time user-level events from your mobile audience to your backend systems — like your data warehouse or CRM, or enable use cases such as a unified inbox where all your messages can be easily accessed on the web or through a device.
Bottom Line Benefits:
Send messages — or create automation workflows for multiple messages with services like Zapier — based on real-time user behavior.

Break down data silos: get real-time, user level data into any system to understand your customers across your entire business.
>> Learn more about webhooks in our Docs.
Want to learn more about Insight and Connect — or how you can leverage the updates we've covered in this post or your brand? We're happy to show you a demo, talk use cases — and share what's working for clients using these tools today. Contact us anytime – or sign up to start your free 30-day Insight trial.
Subscribe for updates
If the form doesn't render correctly, kindly disable the ad blocker on your browser and refresh the page.
Related Posts
Categories