Forrester's 2019 Report: Personalization and Omnichannel Engagement May Prevent the Retail Apocalypse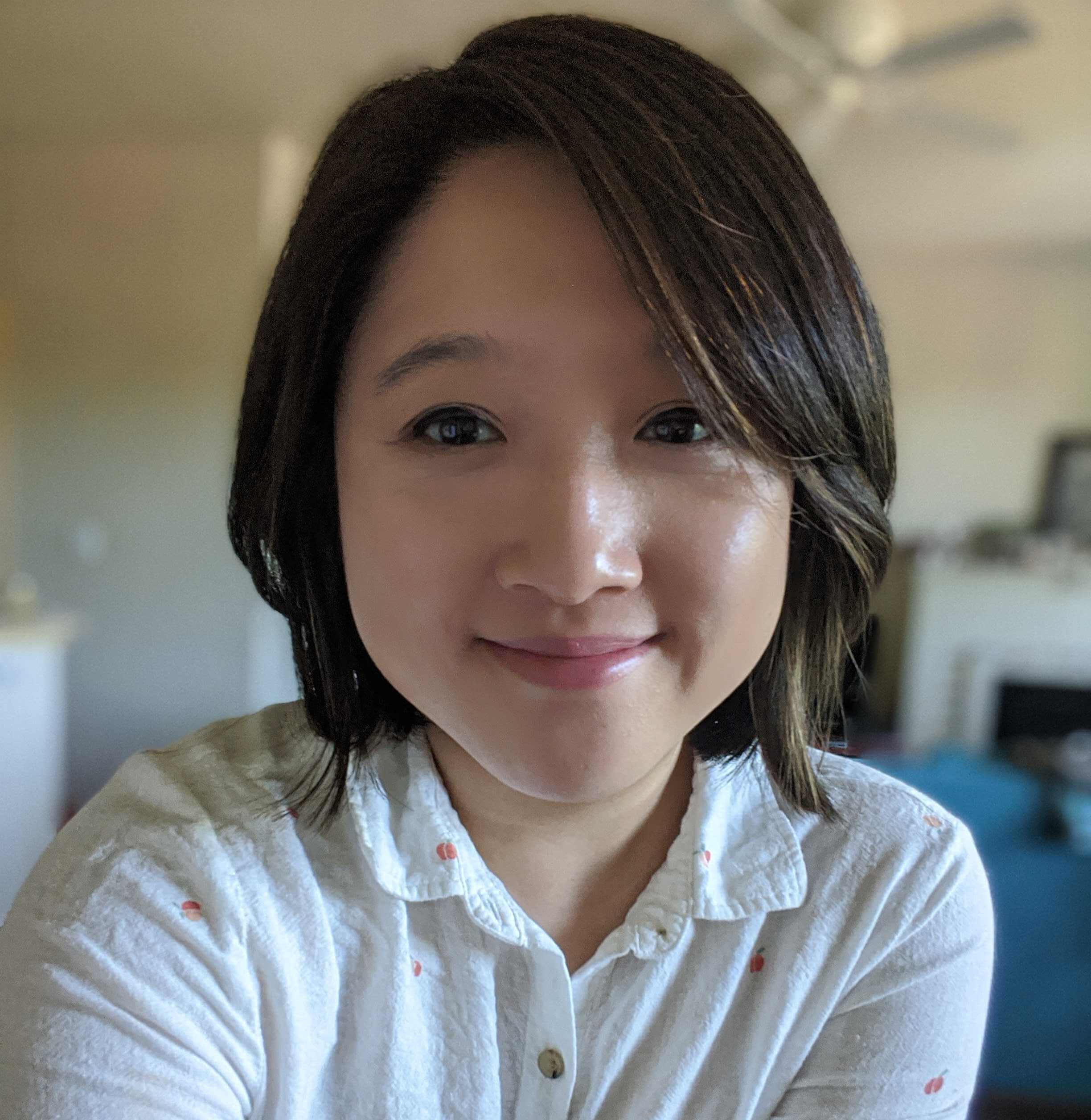 AJ Park Sr. Content Marketing Manager
Rumors of an impending "retail apocalypse" have been greatly exaggerated, and Forrester's 2019 "State of Retailing Online" annual survey has the numbers to prove it. We've pulled our favorite figures in this post, but for the full experience, download your copy of "The State Of Retailing Online 2019" (available for a limited time).
Top Takeaways
Overall, the report indicates that retail businesses are continuing to grow and benefit in both brick-and-mortar and eCommerce spaces, despite the rising cost of marketing and customer acquisition.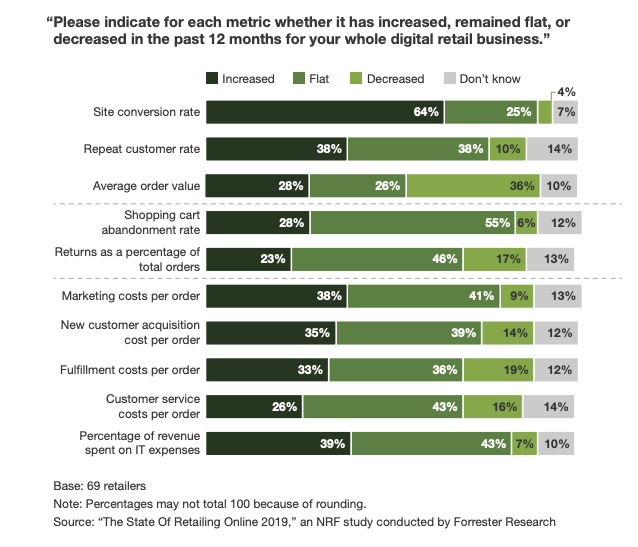 However, a number of challenges are slowing the adoption of tools and technologies that could further support this growth. Senior executives aren't prioritizing digital channels, eCommerce and digital upkeep are getting more expensive by the year, and companies are struggling to consistently connect with their customers.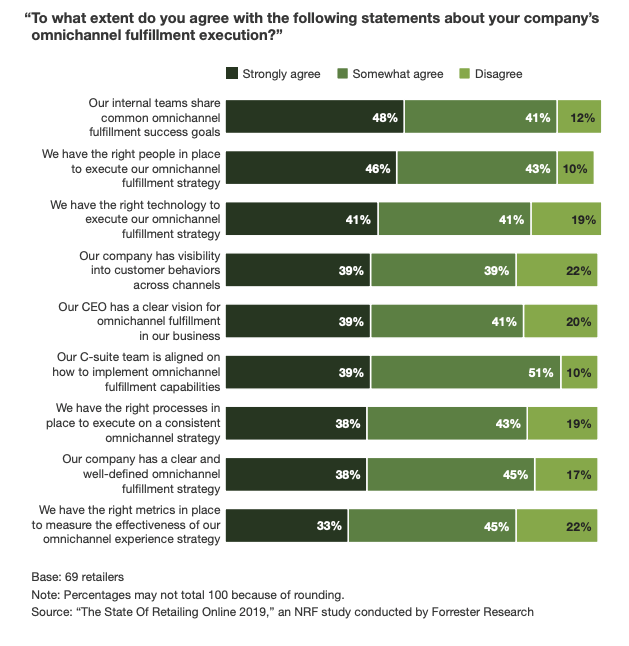 So how do you sway leadership to look closer at omnichannel execution? How do you maximize the ROI of your digital tools? And how do you continue to stave off the retail apocalypse?
By getting personal.
Go Beyond Web Personalization
Most retailers are currently focusing their personalization efforts on their website shopping experience and segmented email marketing. And these are a great start! But, it's just the tip of the iceberg.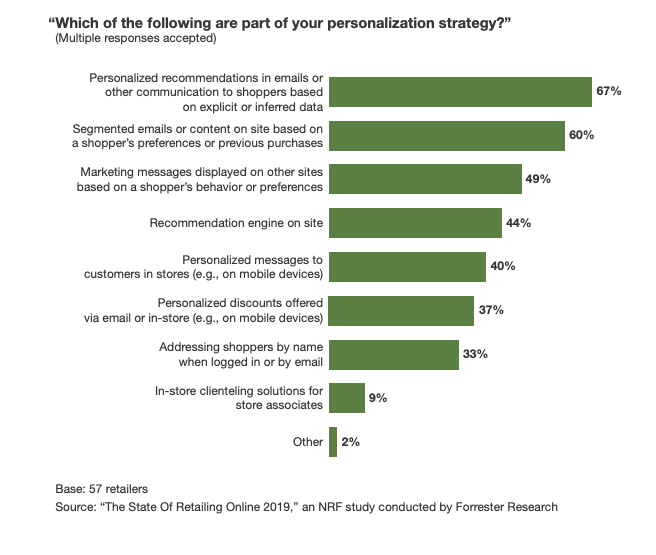 The data suggests that businesses are starting to increase their mobile and smartphone marketing budgets, and this will be key to harnessing the true power of personalization.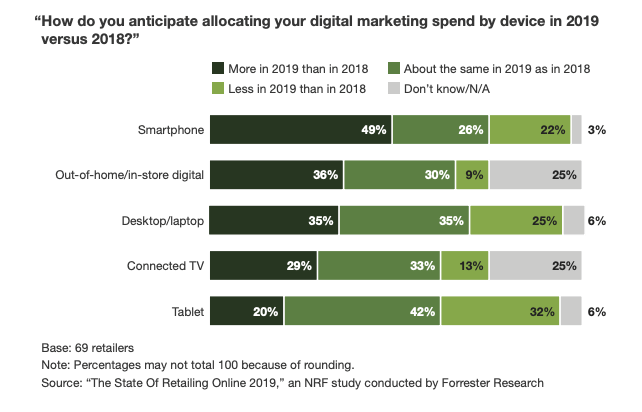 According to Forrester, "very few retailers are able to personalize content in other ways, such as on an app used in a store or by leveraging customer-specific clienteling, which is often high-touch and difficult to scale even in luxury environments."
Which is a shame because brands are missing out on opportunities to engage with their customers and grow their revenue through personalization. By harnessing multiple channels and customized strategies, you can create a scalable experience that will drive retention, loyalty and sales. More on that below.
Expand Your Metrics for Success
Currently, Forrester reports, "the most frequent metric to measure personalization is site conversion, and the second most frequent is click-through rate." Given that most retail personalization is focused on websites and email campaigns, this makes sense. But as we go beyond the essentials of customer personalization, our metrics for success—and the valuable, actionable information we get from these channels—expand.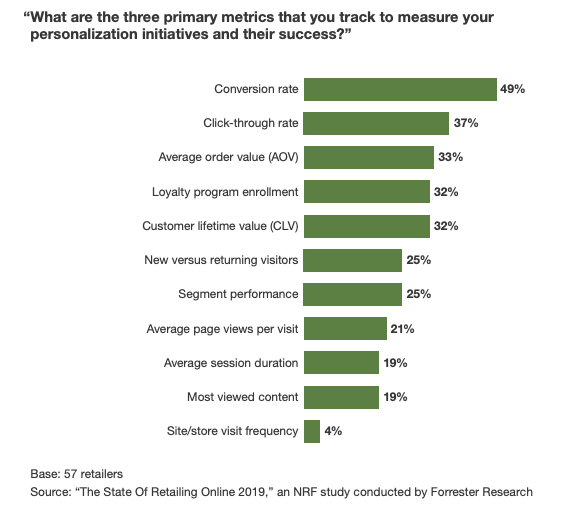 For example, a Mobile Wallet solution opens up new opportunities to engage shoppers on their mobile devices. You can deliver personalized digital coupons, spread the word about in-store events, and use a digital loyalty card to give members a simpler, more convenient shopping experience.
As a bonus, you'll gain a wealth of data about their shopping and engagement habits, which will help you craft future promotions, campaigns and strategies.
Boost Your ROI with Deeper Customer Data
"But how do I get buy-in for a multi-channel strategy?" you might ask. Establishing the ROI of any digital investment is essential.
"Many companies continue to struggle with identifying big ROI from personalization programs," says the Forrester report. And with the limited data points of conversions and click-throughs, it's no wonder.
The true ROI of customer experience personalization is in the data. User retention, repeat visits, location data and shopping activity can offer you a rich well of customer intelligence on which to build your strategies, drive ROI and sway executives who may be on the fence.
After all, the more you know about your customers, the better you can connect with them, meet them where they are, and deliver the perfect product at the perfect time.
What's Next?
Personalization isn't a panacea for retail's digital woes, but it can go a long way toward smoothing out the rougher edges of today's retail marketplace.
At its best, personalization is a self-sustaining investment—as you build stronger relationships with your customers, you gain more data about their behaviors that allow you to target and connect with other like-minded prospects.
If you're curious about how you can harness personalization to connect with your customers, our Airship for Retailers datasheet is a great place to start. And don't forget to download your copy of the full Forrester report, "The State Of Retailing Online 2019" (available for a limited time).

Have questions on how retailers can engage with their customers?
We're here to help you connect with your customers by sending the right message at the right time. Click the button below to connect with us.
Subscribe for updates
If the form doesn't render correctly, kindly disable the ad blocker on your browser and refresh the page.
Related Posts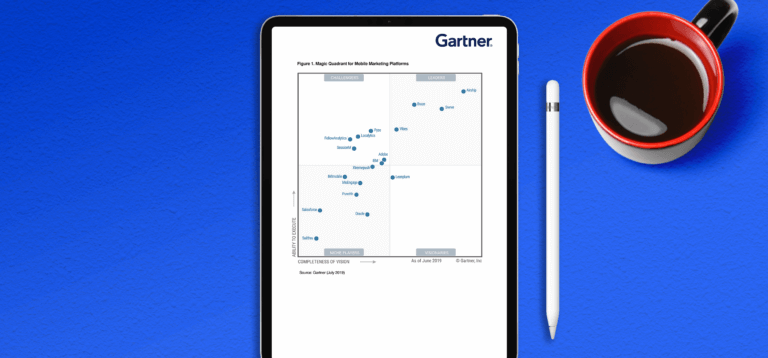 Airship Achieves Highest and Furthest Overall Position for Ability to Execute and Completeness of Vision in Gartner Magic Quadrant
Categories