Apple's App Store Review Times Spike in December – Here's How to Plan Ahead
App store review time can spike during the holidays. Here's how to plan ahead and make sure you stay on track to meet your end-of-year goals.
---
Halloween is now past us: the jack-o-lanterns are on their way out, and we'll soon have to say goodbye to Pumpkin Spice Lattes as well. Just around the corner is the week of Thanksgiving and, as we all know, it gets increasingly difficult to get things done starting the following Monday. Then boom, we're right into the thick of the holiday season.
For those of you who manage apps, this season can be crunch time — particularly if you're launching a new app, or trying to update your app (and make your year-end goals) before January 1. To add a bit of a wild card, each year Apple usually has a few days in December where they don't accept app submissions.
No need to panic! Let us help you stay on track to meet your deadlines.
Plan Ahead for the Apple App Store Blackout
Here's what you need to know.
According to the data on the crowdsourced website appreviewtimes.com, the average iOS app store review times tend to hover between one and two days. But in, the last two weeks, the data shows that review time has been as high as 10 days.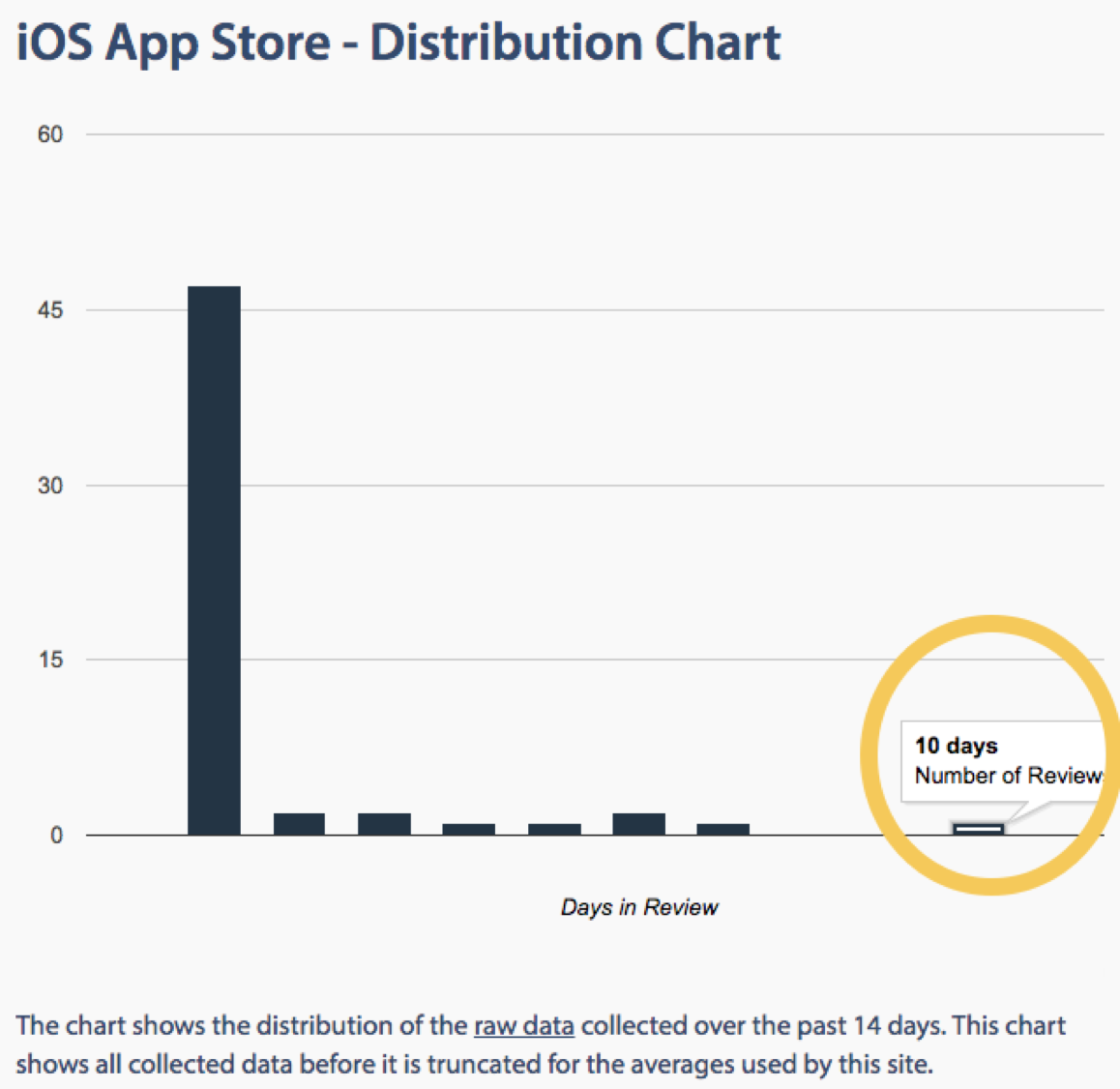 In the last two weeks, data from appreviewtimes.com shows ios app approval time has been as high as 10 days.
Add to that potential lag time caused by the major influx of developers around the world are trying to get their end of the year releases into the app store.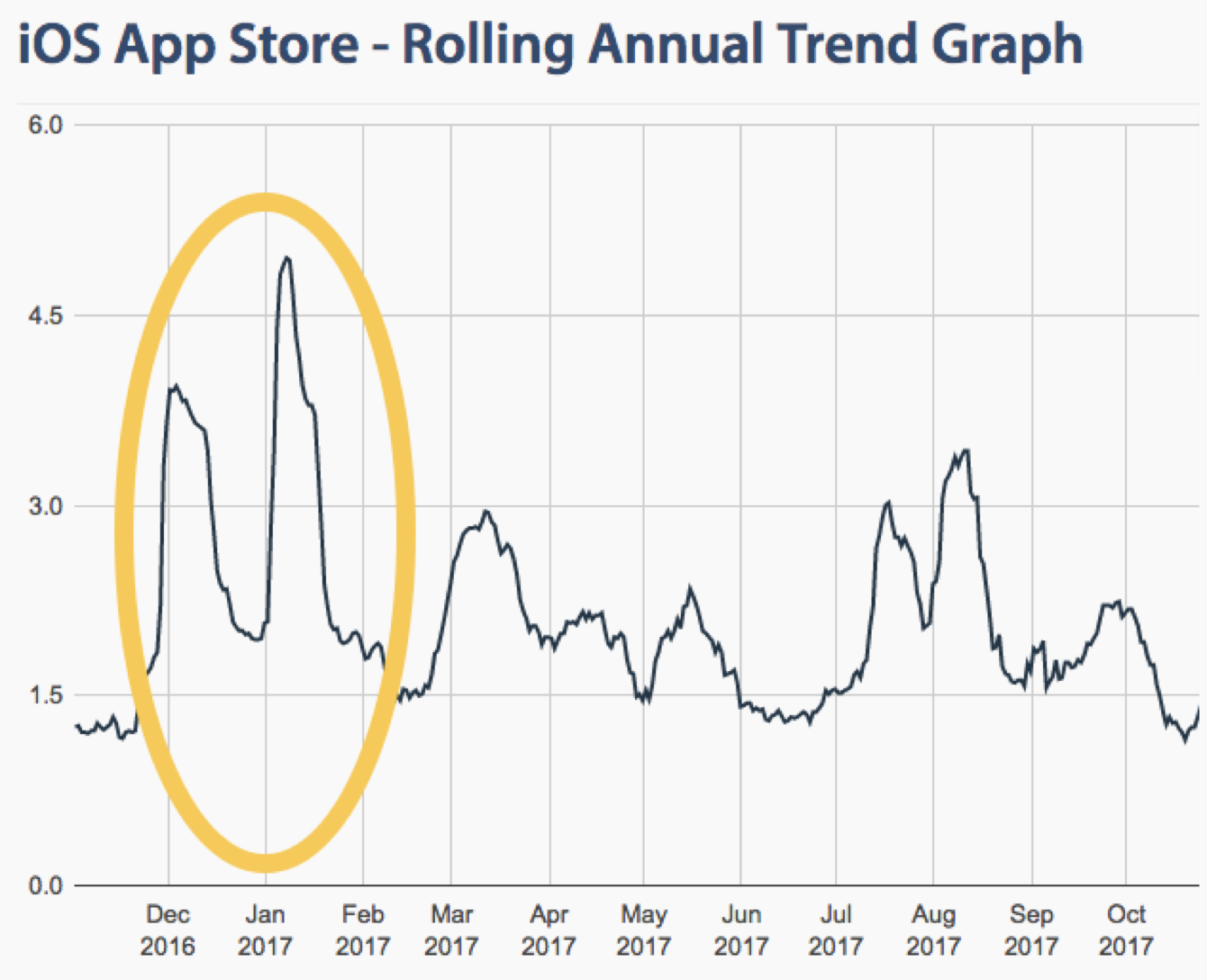 Apple review times tend to spike in December and January, according to the crowdsourced data from appreviewtimes.com.
So, using an an 8-day approval window as our guide, here's a breakdown to help you make sure your app gets through the approval process in time.
Dec 1-15: This is the last window to submit apps. If you're working off the probable 8 day approval window, December 15th is going to be the absolute last day to get your submission in and see it approved before January 1. Any day before that will give you more buffer time.
Dec 23-27: No new app submissions accepted. These were the dates of the blackout window from last year 2016. Apple has yet to announce the dates for this year but we anticipate there may be expect a similar window this yea
Dec 27-31: App submissions after the 27th have a high probability of not being accepted before the new year. That's taking into account both the influx of submissions — as well as if the window starts to slip beyond the one-to-two day average.
It's Not Too Late to Add Some Key Functionality To Boost App Engagement…
All that said, it's not too late to add some key functionality to your app to take advantage of the holiday spike in downloads and user engagement. Two proven features to consider? Message center and in-app messaging.
An in app message center — essentially an inbox for your app — can generate up to 8x the read rates as push notifications alone. And in app messaging gives you a direct line to your most loyal customers — regardless of whether they've opted in to receive push notifications.
We hope this friendly reminder helps make the next couple of months a bit less hectic for you. And if there's any way we can help your team meet your end of year goals, get in touch — we'd love to pitch in!
Subscribe for updates
If the form doesn't render correctly, kindly disable the ad blocker on your browser and refresh the page.
Related Posts
Categories