3 Customer Engagement Opportunities Banks Can't Afford to Ignore
79% of consumers define their relationship with their bank as transactional. To deepen loyalty and provide more value, banks need to think about meeting rising customer expectations with a real-time engagement strategy that drives value for customers and banks. Read on to learn more.
---
People's relationship with their banks are changing drastically — and expectations today are vastly different than they used to be. Accenture reports that most consumers (79%) define their banking relationship as transactional.
At the same time, financial technology disruptors — many with mobile-first customer engagement models — are entering the market in droves, creating experiences that commoditize banking services. This new competitive pressure spans areas including payments, lending, investing, core banking services, and more.
All of this creates both opportunities and challenges.
If you were looking for a silver bullet here…sorry. But we do have some thoughts on a big part of the answer for banks: delivering more value, growing revenue, and reducing customer churn by building smarter customer engagement strategies.
We work with some of the world's largest banks and financial institutions to improve engagement and drive better results every day. Here are three of the imperatives we believe are essential for success.
1) Deepen Understanding of Your Customers
As more interactions move to digital financial institutions need better ways to capture and unlock user-level data from all channels to learn — and proactively serve — customers.
In other words you need to make sure you can maintain — and even more importantly act on — an accurate, 360 degree customer view.
Understanding how to bake in customer feedback loops that generate customer intelligence (including using all mobile phone inputs like triggers and geofencing) while also creating more intuitive customer experiences, requires a new way of looking at engagement channels and data.
Banks can also take what they can learn from mobile signals — interests, preferences, and intentions — and stream them into the back end of other systems to create new dimensions of customer understanding.
For example, if I'm sending signals that I might be looking for a loan or mortgage, banks should be able to "hear" those signals and proactively offer products and solutions on any and all channels that make sense — at a minimum, in-app notifications, push notifications and email.
2) Offer Reliable, Real-Time Transactional Notifications

To Improve Customer Service While Reducing Costs

Reliability leads to customer satisfaction, which leads to customer retention. Simple as that. Your notifications need to help instill the kind of trust that leads to satisfaction and retention.

There are many ways to do that, but one is to anticipate the moments that matter most to customers, and deliver them. Every time.

Implementing more useful notifications will not only help customers, it will also help banks avoid more costly forms of customer service like call center or teller interactions. Just doing simple math: if your high-utility, personalized notifications reduced your call center or teller interactions by 5-10% a year, what would that mean to your business? With an average call center cost of $16, that's going to add up.

For example, every bank should consider sending notifications (to customers' preferred channels) — notifications like:
Low balance alerts

Potential fraud alerts

Payment due reminders

Payment successful deposit confirmations

Credit limit exceeded alerts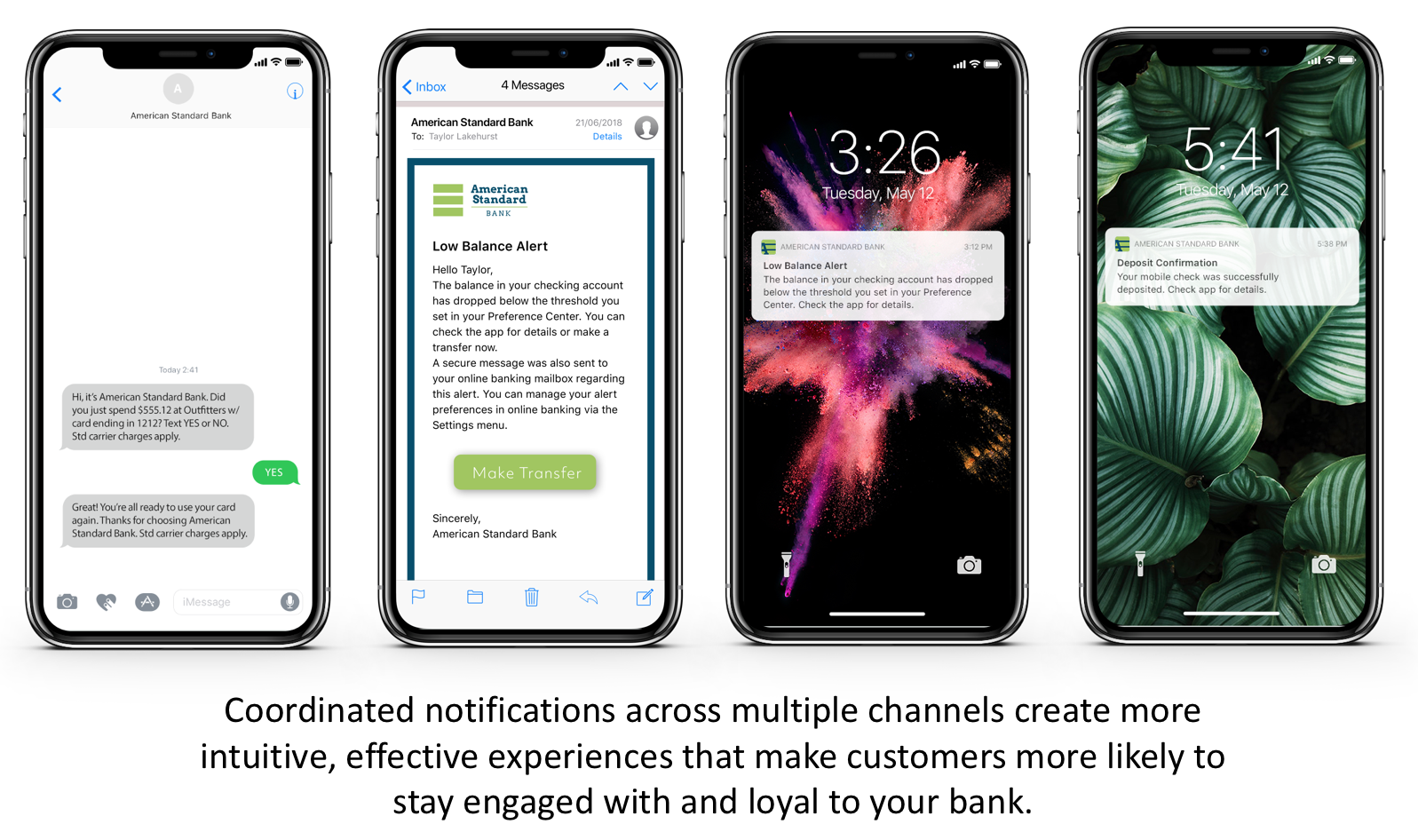 3) When It Comes to Mobile Apps, Banks Can Give More to Get More
In addition to transactional notifications, banks have an opportunity create upsell and cross-sell opportunities with notifications.
Banks need to increase the number of customers using their mobile app — and increase the value of every app visit. Not only does using the app help reroute customers away from more expensive channels (branch, call center), it deepens loyalty and engagement.
In fact, in a benchmark report just released by Mixpanel, mobile apps are far outpacing other channels for customer "stickiness" — mobile app stickiness is double that of desktop web and mobile web users, registering three visits per user over the course of a month on average.
Mobile apps also come out on top for customer retention according to the Mixpanel report, with 43% of users still active over a month — beating out both mobile web and desktop.
Banks should also consider building multi-channel lifecycle campaigns that increase cross-sell opportunities — including product education and adoption — and increase customer lifetime value, including:
Loyalty programs and related promotions

Customer surveys

Invitations to add cardholders

Balance transfer offers

Helpful hints (improve credit rating, etc.)

Financial management services

Product cross-sell and upsell for services like Investments, mortgages, insurance, etc.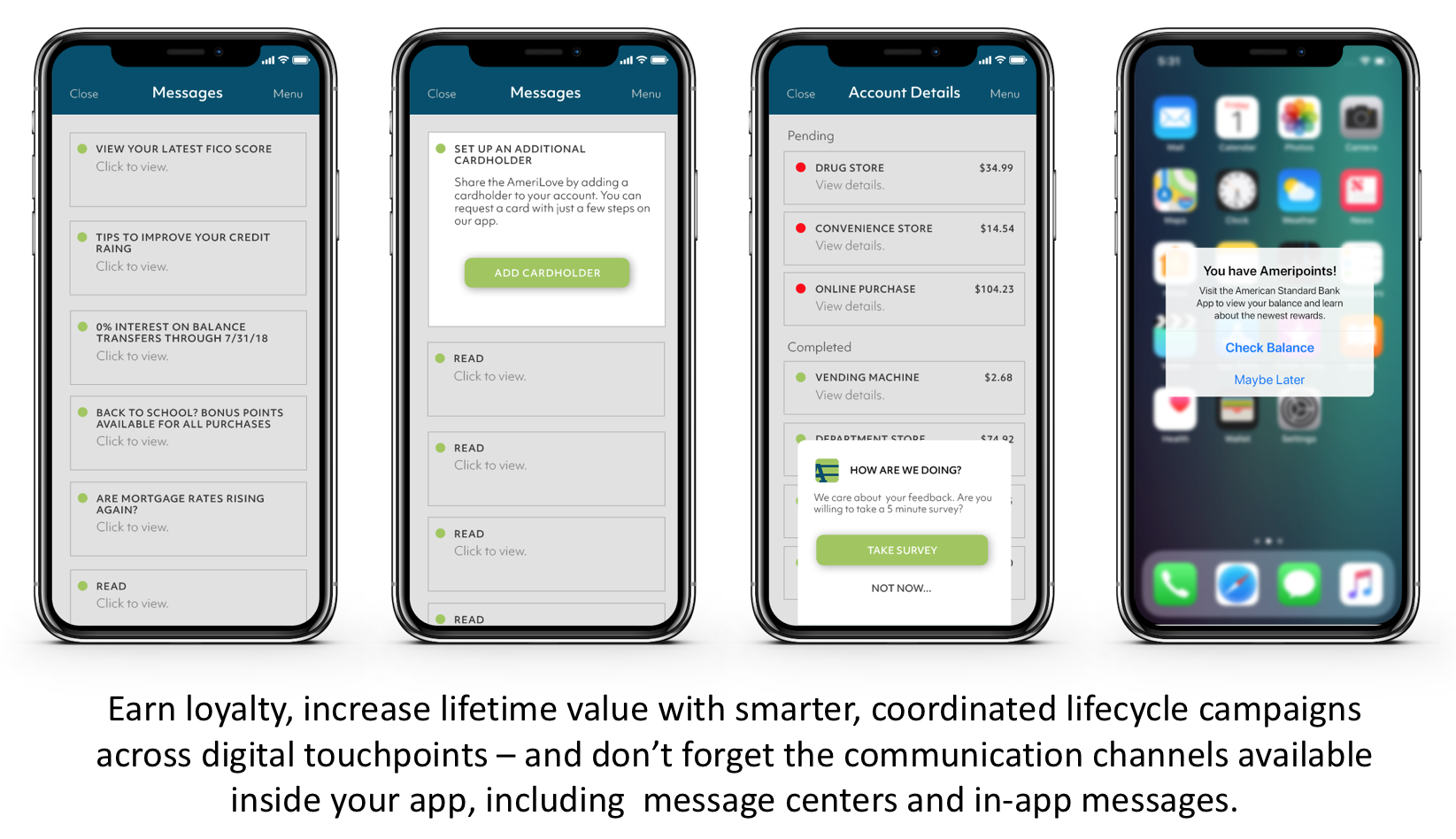 Bottom Line: Structure to Accelerate Change
Banks need to accelerate their move away from archaic systems that cost millions, and embrace digital tools that streamline services and save money while growing their customer base, increasing customer satisfaction — and ultimately making each customer more valuable.
From taking a future-proofing approach to your customer relationships, and structuring your internal teams around the customer to getting the right technology partners on board to win, today's banks you can create deeper, more valuable connections with customers — and keep up with customers' growing expectations.
Ready To Get Going?
If you'd like to have a conversation about how to help your bank get more connected with customers across all your communication channels, we'd love to talk. We're worked with leading brands in the financial services ecosystem to grow their business.
Get in touch anytime to learn more about how we can help you achieve your customer engagement goals, set up a strategy session to create a roadmap for great customer engagement or to see a demo. We're here to help and would love to connect!
Subscribe for updates
If the form doesn't render correctly, kindly disable the ad blocker on your browser and refresh the page.
Related Posts
Categories