The Perfect Pair: Modern Love Podcast Meets Mobile Wallet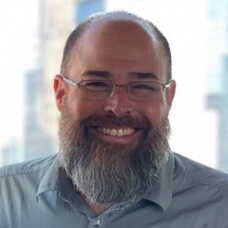 Valentine's Day may have come and gone, but it's still fair to say "love is in the air" now that The New York Times' popular Modern Love column has added a new audio experience with Modern Love: The Podcast. For those unfamiliar, the Modern Love column has published weekly reader-submitted essays that explore the joys and tribulations of love for 11 years and running. The podcast, produced in collaboration with WBUR (Boston's NPR News station), carries this sentiment over.
Modern Love: The Podcast builds on this rich heritage by delivering a new audio experience with an exciting twist — readers' stories are read aloud by notable personalities, such as Judd Apatow and Dakota Fanning, followed by updates from the essayists themselves.
"To promote the new podcast series, we wanted to find an easy and interesting way to share information about upcoming podcasts," said Kristen Holgerson, director of marketing and promotion at WBUR. "We're an audio-first company and have great assets to use including engaging voicemail recordings from our celebrity readers. We simply lacked an easy way to proactively get this content to people each week."
WBUR first considered sending links to these voicemail recordings through SMS but didn't have the tools in-house to easily make that happen. The team had already been talking with Urban Airship about mobile apps and decided to give its strategy consulting team a call to discuss various options.
"Urban Airship's recommendation to use mobile wallet made perfect sense. It links back to iTunes, which is the primary way our users hear the podcast, and unlike SMS we can use the back of the wallet pass to provide links to our guest reader's voicemail and other ways to hear the podcast without overwhelming fans. Tuning in involves a couple of taps to the wallet pass — an asset that can't get lost among a myriad of emails or text strings."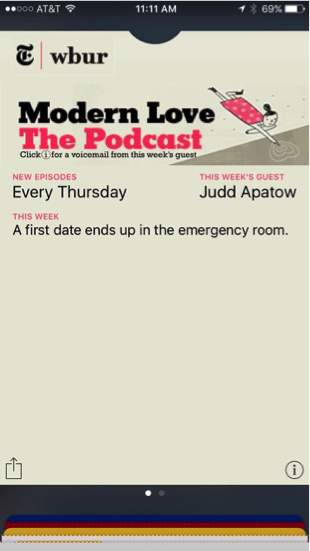 To set this up, the Modern Love: The Podcast team emailed fans who had opted in to receive more information about the new podcast series, sending a simple link to download the pass to their mobile wallet. This first promotional effort netted conversion rates twice the industry average, based on the number of recipients that downloaded the Modern Love wallet item. Once the pass is installed, the WBUR podcast team can send scheduled reminders to highly visible device home screens, sharing the week's special guest and accompanying links. Users swiping this reminder are immediately taken to the pass itself.

For listeners, mobile wallet offers a streamlined experience with easy access to the podcast anywhere. They only have to download the pass once and it is automatically updated weekly. Initial data shows that those who have downloaded the pass keep it (a 96% retention rate), offering the Modern Love podcast team an ongoing channel to continuously engage listeners.
"Using Urban Airship Reach is great because we don't have to have an app and we avoid the expense and possible annoyance associated with ongoing use of other channels like SMS," said Holgerson. "We also don't have to spend a ton of energy convincing people to download another app to their phone, and Reach made it super easy to execute this promotional idea — from concept to execution, it only took about two weeks. That speed and ease is critically important for small teams like ours who need to maintain focus on our core mission of delivering engaging, thoughtful and high-quality content."
Modern Love: The Podcast is hosted by Meghna Chakrabarti (WBUR) and Modern Love editor Daniel Jones (The New York Times). Check out the latest podcast, available every Thursday at WBUR.org, NY Times, iTunes, Stitcher or your favorite podcast app. Even better, download the wallet pass here to get the latest updates!
Learn more about what your business can accomplish using Urban Airship Reach, or download a Mobile Wallet Inspiration Guide full of innovative wallet use cases across a variety of verticals.
Subscribe for updates
If the form doesn't render correctly, kindly disable the ad blocker on your browser and refresh the page.
Related Posts
Categories