The Next Big Thing is Already Here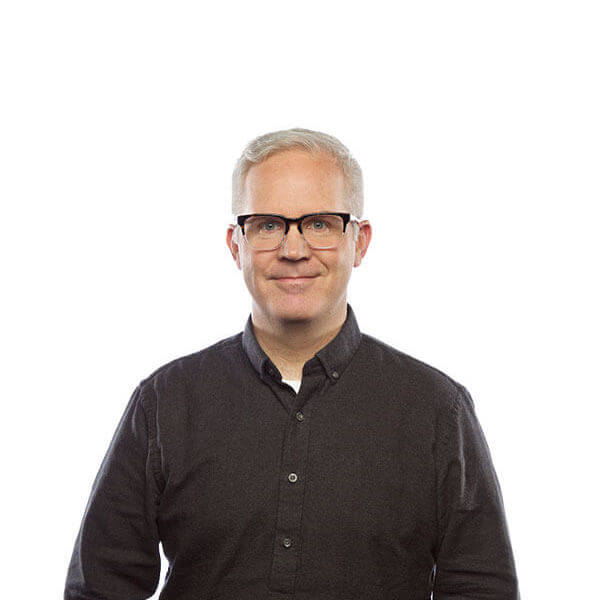 Our team just returned from SXSW where we hosted our fourth annual Mobile Saturday, bringing together customers, experts and partners to focus on key mobile topics. I'm constantly amazed at the quality of discussion and practical advice that's shared, but it's always the one-liners that incredibly and memorably sum up the status quo.
This year's one-liner winner, was from partner Eventbase's @benjwest who commented on the current state of VR hardware, saying "…it's like a toaster trying to mate with your forehead."
Pretty funny, and he's right. VR's awkward yet rich immersion is just a glimpse of things to come. Scenes from Ready Player One in real life are a ways off, but VR was one of a few technologies capturing the lionshare of attention at SXSW this year.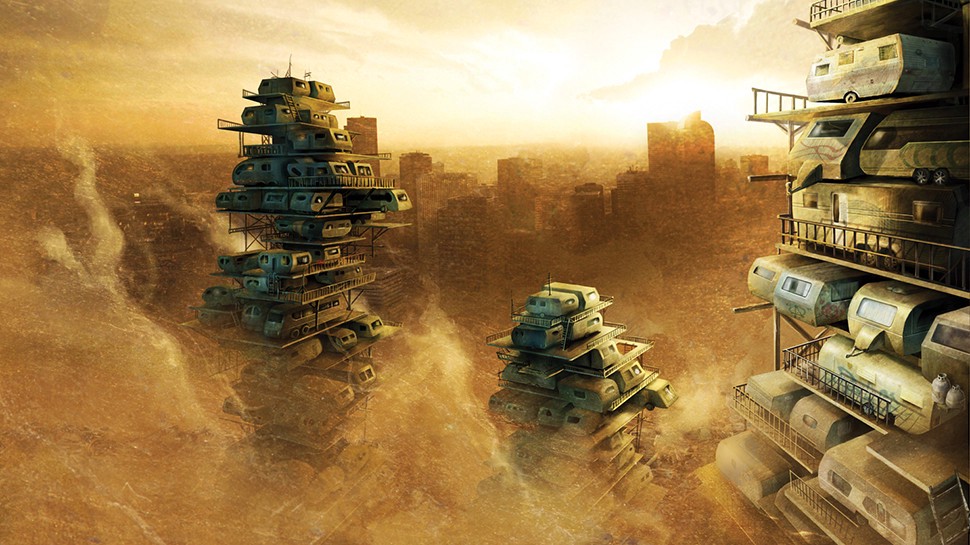 Technology inspires a culture of innovation — a bright and shiny, constant reimagining of the future. If technology's steady beat of evolutionary steps forward is the "yang," then the noisy, hype-filled way new ideas take root is the "yin." I'm guessing you've also read about AI, bots and IoT; if not, you're missing out on truly exciting discussions shaping the future of things to come. We're even dipping our toes in with our new Slack bot Deliverator for Urban Airship Connect & Urban Airship Engage.
Yin and yang are interdependent. They cannot exist, or at least not as effectively, without one another. But technology is why industry analysts created Hype Cycles that start with a buzzworthy breakthrough with unproven commercial viability and proceed, in Gartner's case, through colorfully named and chronologically ordered stages: the Peak of Inflated Expectations, the Trough of Disillusionment, the Slope of Enlightenment and the Plateau of Productivity.
We need tools and lexicon like this to help keep us in check. Too often, a singular devotion to innovation means the next big thing quickly dominates conversation, and attention for the former big thing dissipates even while the fast and steady work of optimizing it for sustainable growth and peak commercial success takes place.
When You Always Ask What's Next, You Focus Less on What's Now
I feel like this is happening today with apps. The preponderance of posts on Medium with provocative titles ranging from "Why you shouldn't bother creating a mobile app" to my own "They don't want your app," sum up to varying degrees both the real and perceived challenges with the app economy, as well as the hard work left to do in this space as we each climb towards our slope and plateau.
To be sure, app discoverability is a huge issue that app indexing and deep linking are working to help fix. But likely, the even bigger issue is really thinking through why someone would want your app in the first place. To give up space on their phones, consumers need great reasons. Consider Walmart, who grew its app audience from 4 million to 14 million after introducing Savings Catcher to streamline its lowest price guarantees. Or take a page from Playbill, the iconic 130-year old brand now bringing personalized and contextual mobile engagement to all Broadway theatres serviced by the classic Playbill magazine. Theatregoers get content personalized to their interests and the show they are seeing, and can plan their entire evening with nearby entertainment offers and the ability to make restaurant reservations within the Playbill Passport app.
Getting the Download is Just the Beginning
Companies must quickly shift focus to turn downloads into users, and users into loyal customers, which is something that Urban Airship and others in the mobile engagement automation space are focused on solving. Last year, VentureBeat pegged market penetration of mobile marketing automation (a subset of what we do) at about 1.5%, noting it is probably closer to 3% for larger successful apps. And by looking at our own growth numbers we'd guess that has more than doubled, so let's optimistically call it 6%.
While we've been helping apps quadruple user engagement and double retention for nearly seven years, just last year we welcomed many leading brands to our mobile engagement platform, such as Adidas, Grubhub, Zillow, Lonely Planet, Time Inc., GS Home Shopping, Shop Direct, Finish Line, the Sacramento Kings, the Cleveland Cavaliers, Jet Airways and Virgin Atlantic. While a few moved from competing solutions to Urban Airship, for many this was their first investment in sophisticated capabilities to drive personalized engagement with their app users. Around the world, our new free Starter Edition has seen massive uptake since soft-launching on November 23 with close to 4,000 accounts in 116 countries adopting it — that's 60% of all countries in the world.
Of course having engagement capabilities and using them are two different things, and we're not just talking about push notifications, which every app seems to now standardly leverage. In fact, on Super Tuesday we had our first 1B notifications delivered day with media apps abuzz with election results and astronaut Scott Kelly's return to Earth. We cleared it again this week with "Super Tuesday 2." 1B per day will soon be our new normal. All of this engagement generates a lot of incoming HTTPS traffic as well. In February, we processed around 100B HTTPS requests. We're preparing for even bigger days in the future and investing in scaling out our infrastructure & architecture, as we've done with multiple generations of our platform.
Urban Airship Push Notification Sends Per Day (Millions)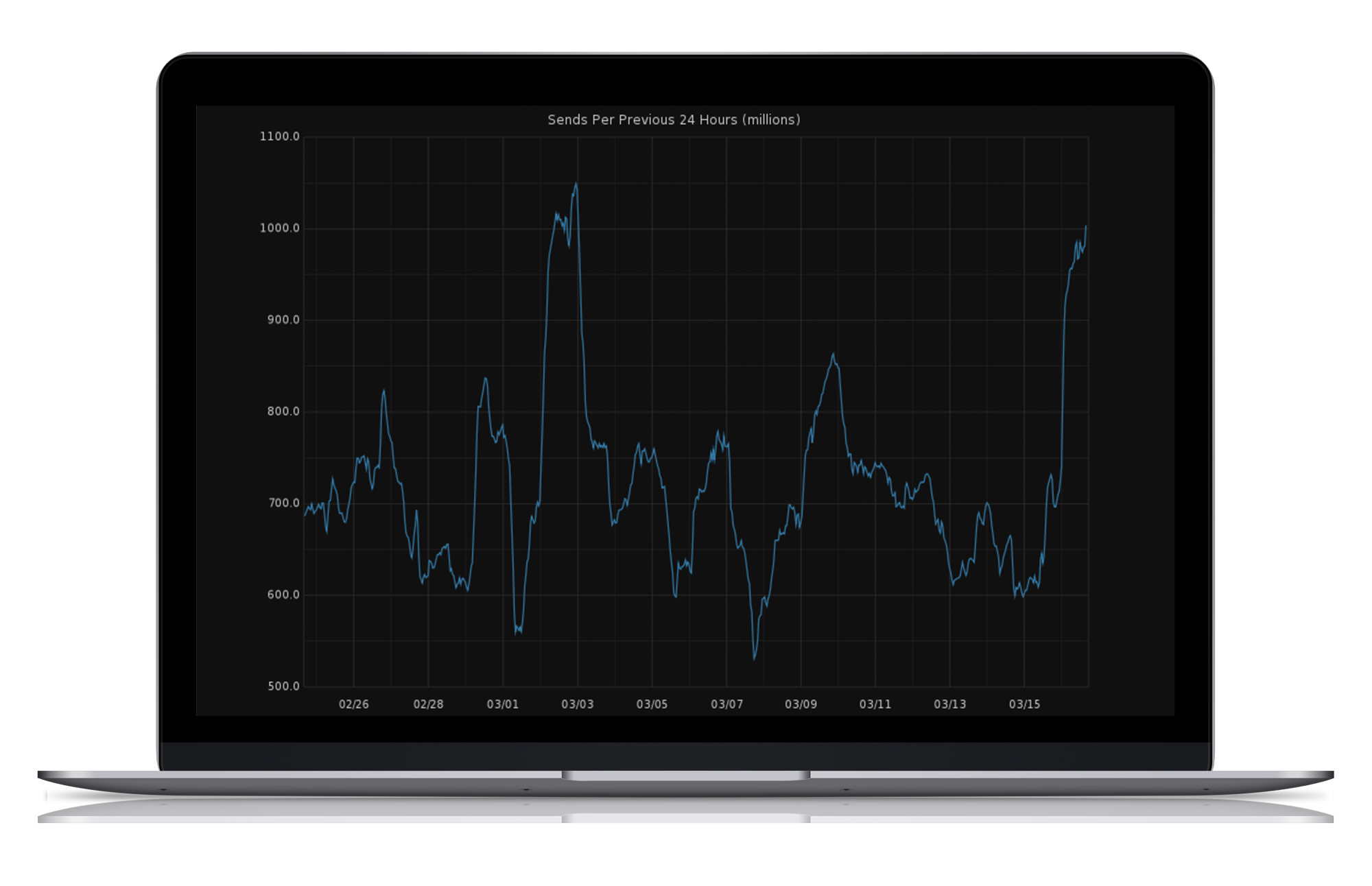 Above: A day's push notification send volume on Urban Airship's mobile engagement platform

People clearly want to be kept in the know, and there's no more immediate way to inform someone of what's happening in the world, or right near them, than messages sent to their device lock screen. While the message itself can provide value to the user and keep a brand top-of-mind, many of these apps depend on in-app activity to support ad-driven monetization or commerce models, so deep linking notifications to in-app content is critical. And that's where in-app message centers can support a very broad role.
The beauty of an in-app message center is its reach to all app users — not just those opted in to notifications — and its richness, including anything you can put on an HTML page: videos, images, surveys and forms. Users gain a designated area within apps to consume content at their convenience, rather than more interruptive and temporal forms of in-app messaging and notifications. Businesses gain a destination where they can interject rich and targeted content — no app update required.
While we've offered the ability to deliver rich message center content for years, it was only this past holiday season where retailers grew their adoption 4X and, on average, saw nearly a quarter of all messages sent opened and read. A more recent and deeper data study effort found that on average in-app message centers generate 8X more direct response than notifications, and high-performing apps (the 90th percentile) see 44% of all messages sent opened and read (that jumps to 49% for retailers).
Further, when a notification is combined with a message center message, read rates double. And when used in combination with lifecycle triggers like new app install, brands can achieve amazing results and turn downloads into customers. For Redbox's welcome message campaign leveraging everything above, it sees redemption rates 300% greater than its typical free promotion. Perhaps most importantly, Redbox gets new users to register, which streamlines future conversion events and offers a better cross-channel understanding of their behavior. We've invested heavily in our message center technology to make it even easier to adopt and have reduced the implementation time by orders of magnitude, from 4-6 weeks to 4-6 hours.
Whether its lifecycle or proximity triggers, sophisticated automation, or using real-time data streams and algorithms for extremely precise targeting, apps with mobile engagement automation solutions are just beginning to deploy more sophisticated capabilities that have proven ability to deliver massive results.
In short, it's early days for apps. App Annie projects that this year the mobile app market is projected to expand 24% to reach $51 billion in gross revenue across all app stores, growing to $101 billion globally by 2020.
Look Beyond Apps to Borrow Mobile Moments
That doesn't mean you shouldn't consider the wider universe of the next big things in development, many of which will be important extensions and supplements to a brand-owned app experience. You need to embrace both yin and yang to achieve harmonious balance.
Forrester Research, Inc. urges companies to borrow mobile moments by going where your customers already are: social networks like Facebook and Snapchat, messaging apps like WeChat and Line, and newer AI assistants like Siri, Cortana and Google Now. That latter group gives brands the option to be the answer to consumers' natural voice queries by enabling API linkages to their apps. For the others, it's a little more wait-and-see and "how much" to determine if they'll catch fire globally or effectively move past advertising to power true engagement.
But today, most "borrowing" discussions skip over the most clear and present opportunity to drive brand-owned engagement through mobile wallets now native to most smartphones. As mobile giants invest millions to build out payment ecosystems, the top things consumers want in their mobile wallets are loyalty points/rewards and coupons/offers with mobile payment credentials actually coming in last. Companies like REI have shown just how powerful this can be with mobile wallet coupons updating to the next offer as old ones expire, and perhaps best of all people get notified of those changes on their lock screen — no app required.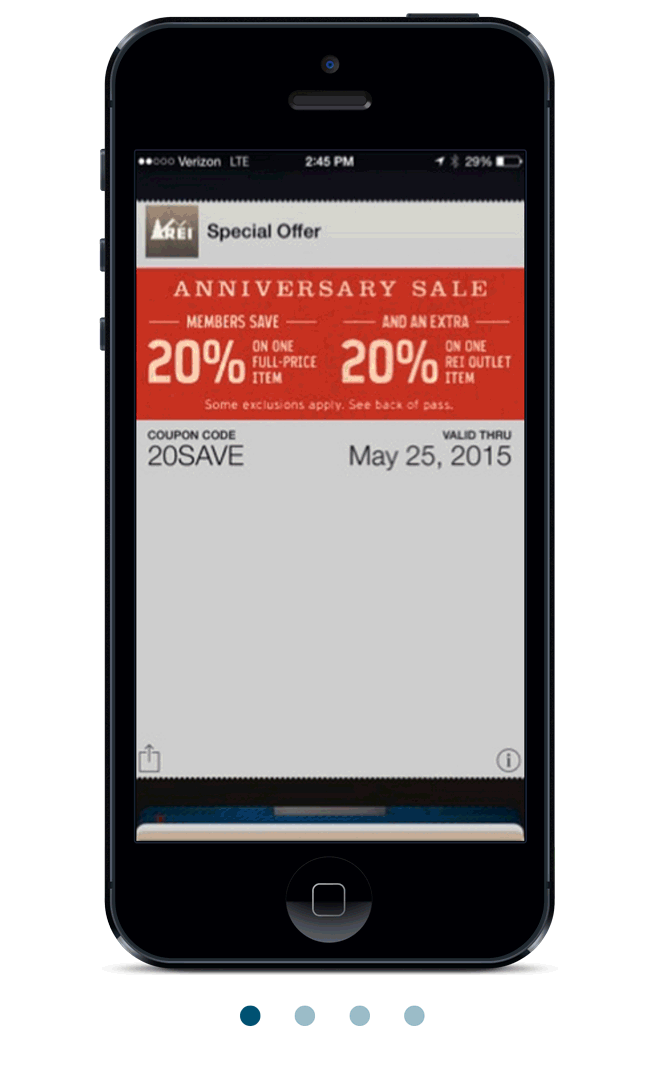 Above: REI's mobile wallet coupon efforts show the dynamic engagement opportunity they offer.
In 2015, we saw customer adoption of mobile wallet solutions grow 5X, but unique uses are just now beginning to demonstrate the broad potential brands have to quickly gain a sustained presence on customers' devices for a tiny fraction of the time and cost of deploying an app. Case in point: WBUR's collaboration with The New York Times to offer its popular Modern Love column as a podcast. The ability to include multiple links on the back of its mobile wallet pass and send new weekly reminders to lock screens gives listeners an easy way to stay abreast of the latest weekly topic and celebrity guest reader, as well as easily tune in. Try it for yourself by getting Modern Love: The Podcast's mobile wallet card.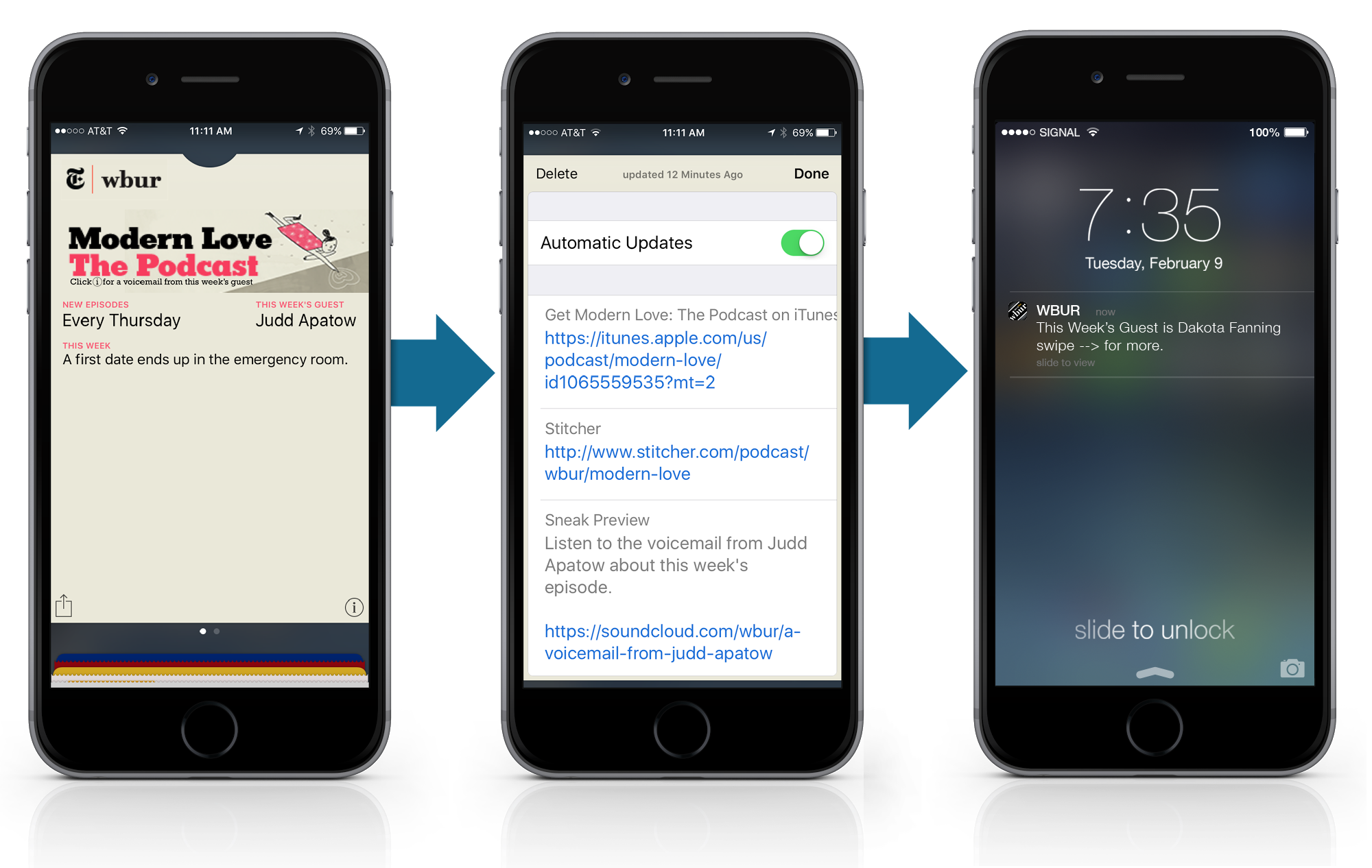 Above: WBUR's mobile wallet card updates each week with the new Modern Love podcast topic and celebrity guest reader.
Even if you have an app, mobile wallets offer low barriers to adoption that overcome the key challenge of only your most loyal customers having it. Mobile wallets are perfect for those who like your brand, but are not ready for an app download. Additionally, for businesses that have no reason or ability to build, maintain and promote an app, mobile wallets open the door to advanced app-like engagement with things like notifications, location-aware reminders and even beacon-triggered wallet passes.
Remember, There's a Reason They Call it the Bleeding Edge
As you evaluate different platforms where you can borrow mobile moments it's important to realize that these are nascent opportunities. Companies get acquired, monetization and business strategies shift, and a multitude of factors may necessitate you quickly revisit and revise your plans and development efforts. Cross-platform capabilities supported by the major mobile platforms like mobile wallet have always been a relatively safe bet, whereas even the largest vendors like Facebook recently left thousands wondering what they'll do next to support their mobile-critical operations with Parse's mBaaS platform sun-setting. We were there to help Parse developers with at least one of the key decisions they now need to make — how to continue to communicate with app users.
Urban Airship remains committed to providing the broadest and richest native mobile engagement capabilities that get noticed and drive action. We're also dedicated to an open omnichannel approach that doesn't ask you to rip-and-replace systems but instead enables user-level data to flow freely between your systems to instantly personalize customer interactions wherever they may take place.
If you'd like to give our platform a whirl it has never been easier to get started with app engagement, mobile wallet or data products.
Originally published on the Mobile Engagement channel at Medium on March 17, 2016.
Subscribe for updates
If the form doesn't render correctly, kindly disable the ad blocker on your browser and refresh the page.
Categories