The Key to Mobile Payments Lies Beyond the Transaction
Mobile payments are the long-heralded opportunity people love to criticize. Options continue to proliferate, and intricacies abound. At stake are not just gigantic incumbents and innovators grasping at interchange fees, but successfully changing one of the most fundamental consumer behaviors — how we pay for things.
Anything new takes time to catch on. And that's where the pokes and jabs come in for mobile payments. It hasn't been quick. Pulling out your phone to pay for things is fundamentally no easier than swiping a card. Maybe chip-and-pin hassles will start to change that in the U.S., but I have doubts that speed without additional utility and value will be enough.
Urban Airship recently conducted a survey of 1,000 U.S. and 1,000 U.K. smartphone users, and the results show that mobile payments adoption has much more to do with what else is in your wallet.
While 54 percent of consumers have used mobile wallets, only 23 percent of them have used debit or credit cards in their mobile wallets. Further, the number of consumers likely to use mobile payments sits in the middle of the pack of desired mobile wallet items (see chart below), which is actually quite an improvement from Forrester Research, Inc.'s February 2015 report, "The Future of Mobile Wallets Lies Beyond Payments," where mobile payment credentials rounded out the bottom of the list of things consumers wanted in their wallets.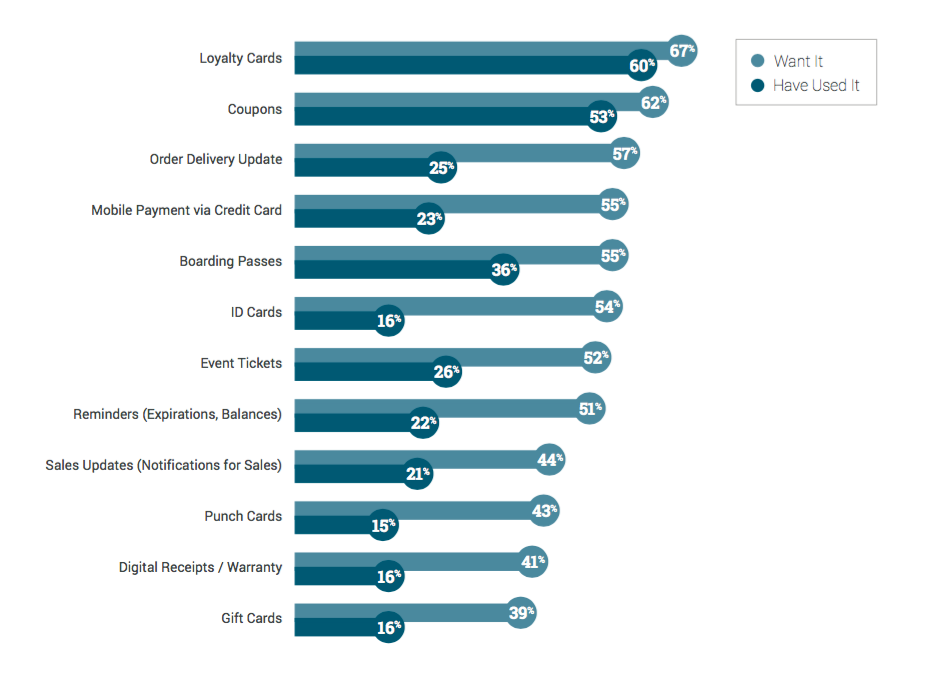 There are large gaps in what consumers want vs. have in their mobile wallets (Urban Airship, The State of Mobile Wallet Marketing, July 27, 2016
The Fastest Way to Someone's Wallet
As it turns out there's tremendous interest in a wide variety of wallet functionality that doesn't necessarily have to do with payments. Many of these opportunities represent long-standing inefficiencies begging to be disrupted, like the 48 percent of consumers that "always" or "often" let coupons for products they are interested in expire or go unused. Or the top two reasons for not "always" using loyalty cards: didn't bring the card (43 percent) and forgot they were part of the loyalty program (40 percent).
Mobile wallets offer brands the ability to reach out and remind someone of an upcoming expiration date or their current loyalty balances awaiting rewards. 64 percent of survey respondents said they'd be more likely to use a coupon upon receiving a mobile wallet expiration reminder. In fact, 77 percent want expired coupons to automatically update to new offers, driving even greater acquisition efficiencies. Surprisingly, while the vast majority of consumers feel positively about brands that offer mobile wallet loyalty cards, nearly half (46 percent) feel that these benefits (such as birthday messages, double/triple point days) are expected. Businesses have some catching up to do in order to meet consumer expectations.
While a slight majority of consumers (55 percent) are already interested in using mobile payments, nearly one-third more people will use mobile payments if loyalty discounts and offers are automatically applied.
Get started with mobile wallet today – your first 100 mobile wallet passes are free with a trial of Urban Airship Reach
The Yellow Brick Road is Paved
In 2015, $8.71 billion in mobile payments were made in the U.S., according to an October 2015 report from eMarketer. The total for 2016 is expected to surpass $27 billion. To take advantage of this huge growth and meet changing consumer expectations, businesses need to adopt a customer-centric approach, not a transaction-focused one.
The tools you and your customers need are already preinstalled on the vast majority of new devices with Apple Wallet and Android Pay. No app download required. No coding needed on your part. You can drive wallet pass installs from any existing digital channel, or even in-store signage, in addition to pulling in data from other systems to start large-scale transitions from traditional paper and plastic programs to mobile ones.
Mobile wallet items allow more businesses to take advantage of app-like engagement capabilities without the expense of building, maintaining and promoting an app. Passes can update in real-time, are location-aware, and allow brands to message customers on their smartphone lockscreens.
In fact, it has never been easier to gain a persistent, personalized and proactive mobile connection to customers. We regularly see that only 10 to 20 percent of wallet passes are deleted even after promotions end, so the opportunity goes far beyond more effective and efficient campaigns to creating a new ongoing messaging channel.
Recently, as part of its 2016 Copa América Centenario sponsorship, Sprint conducted a sweepstakes giving entrants the option to download a personalized wallet pass which tracked the number of goals their favorite team scored (earning extra entries), sent game time notification reminders and contained links to Sprint's dedicated Copa website and its social channels. More sweepstakes entrants chose to download the wallet pass than opt-in to other communication channels, and Sprint saw a pass uninstall rate of less than 1 percent, showing how receptive passholders were to its functionality and messaging.
When paying with your phone means never forgetting a coupon, fumbling at the register or keying in your loyalty membership number because you forgot your physical card, it provides consumers with a compelling reason to go all-in on mobile payments. Businesses have a wealth of untapped opportunity to engage customers in a timely, personalized way on the one screen they are never without — and do it in a way that's much easier than apps, and more direct and sustainable than mobile websites.
This article originally appeared in MarTech Advisor
Want to learn more about mobile wallet? Visit our Mobile Wallet Explained page, or download our Mobile Wallet Inspiration Guide today!
Subscribe for updates
If the form doesn't render correctly, kindly disable the ad blocker on your browser and refresh the page.
Related Posts
Categories