Rich Notifications: Use the Power of Pictures to Further Mobile Engagement
Our data science team analyzed the results of nearly 5 million messages over a recent two week period and found that push notifications with an embedded image can generate as much as a 56% higher direct open rate on average than notifications without images. Read on for more details.
---
At Urban Airship, we pride ourselves on staying ahead of the technology curve to provide our customers with the tools to engage their mobile audience and build strong brand relationships with target consumers.
Today, we've released data that shows how powerful media can be when used to engage app users in the mobile moments that matter. Rich Notifications add a new dimension to push notifications through images, video and animated GIFs allowing marketers to take storytelling to a new level and evoke emotional states in their customers that plain text cannot.
Combined with interactive buttons, Rich Notifications capture mobile users' attention and offer multiple ways to respond to push notifications, providing more data for personalization and creating brand new experiences for users.
A 50+% Increase in Direct Opens
Our industry-first support for Rich Notifications across both iOS and Android platforms means marketers can gain greater response and engagement using rich media, while taking advantage of an even bigger opportunity to create powerful, streamlined customer experiences with more app interactions and content delivered to the lockscreen.
Related: How To Create Rich Push Notifications in 7 Easy Steps
But don't just take our word for it. A recent look at performance data shows the impact of rich media on engagement levels.
Our data science team analyzed the results of nearly 5 million messages over a recent two week period and found that notifications with an embedded image — big picture style on Android platforms — can generate as much as a 56% higher direct open rate on average than notifications without images.
Fifty-six percent increase. That's huge (find out more).
Use the Power of Pictures to Tell a Story
We are in a new age in customer communications, where the always-on nature of mobile allows marketers to engage their users in their time of need. Push notifications have been a cornerstone technology enabling marketers to send messages with incredibly high utility.
Related: Rich Notifications Inspiration Guide: Get ideas and tips for using rich media to connect with your customers – and improve the ROI of each push notification you send.
Now, with Urban Airship's cross-platform support for sending interactive Rich Notifications, mobile app engagement takes on a whole new meaning. It's now possible to tell a story with images, video, sound or animation, to grab the attention of a curious mobile consumer, meeting them in their mobile moment with valuable information to strengthen the brand relationship.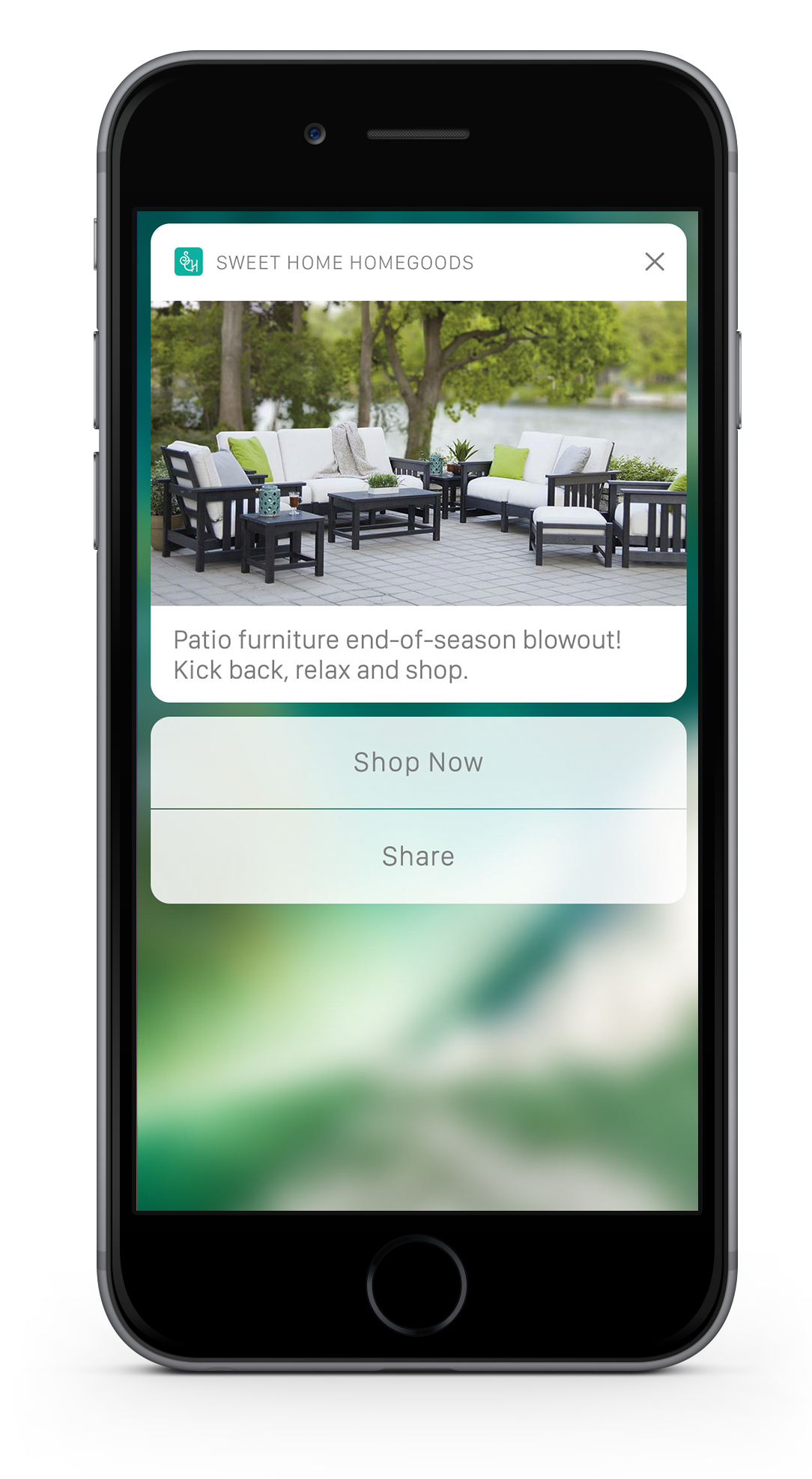 Move customers from consideration to conversion with rich images, GIFs and how-to videos.
Meet Consumers in their Mobile Moment
The shift to mobile has impacted the things we care about and expect to control through a mobile device. We can now access photos, videos, data files and news, all with a click.
What are these mobile moments and how can we, as marketers, take advantage of the power of rich media in a moment to grab a user's attention?
The answer lies in understanding where your user in terms of their relationship with your brand, and what they have already indicated about their interests, through interactions both within and outside the app.
In other words, what would you like to communicate with your customers, and how could pictures, videos, or other rich media help?
Here are some ideas (get lots more in our Rich Notifications Inspiration Guide):
– Send a push notification to a customer who is exploring your product with a video snippet of exactly how the product works
– After they order a product, send a push notification showing them a map of where their product is on its journey to them
– For customers who've requested to be alerted about their favorite sports team – or breaking news – send a video replay or news coverage they can play right from a push notification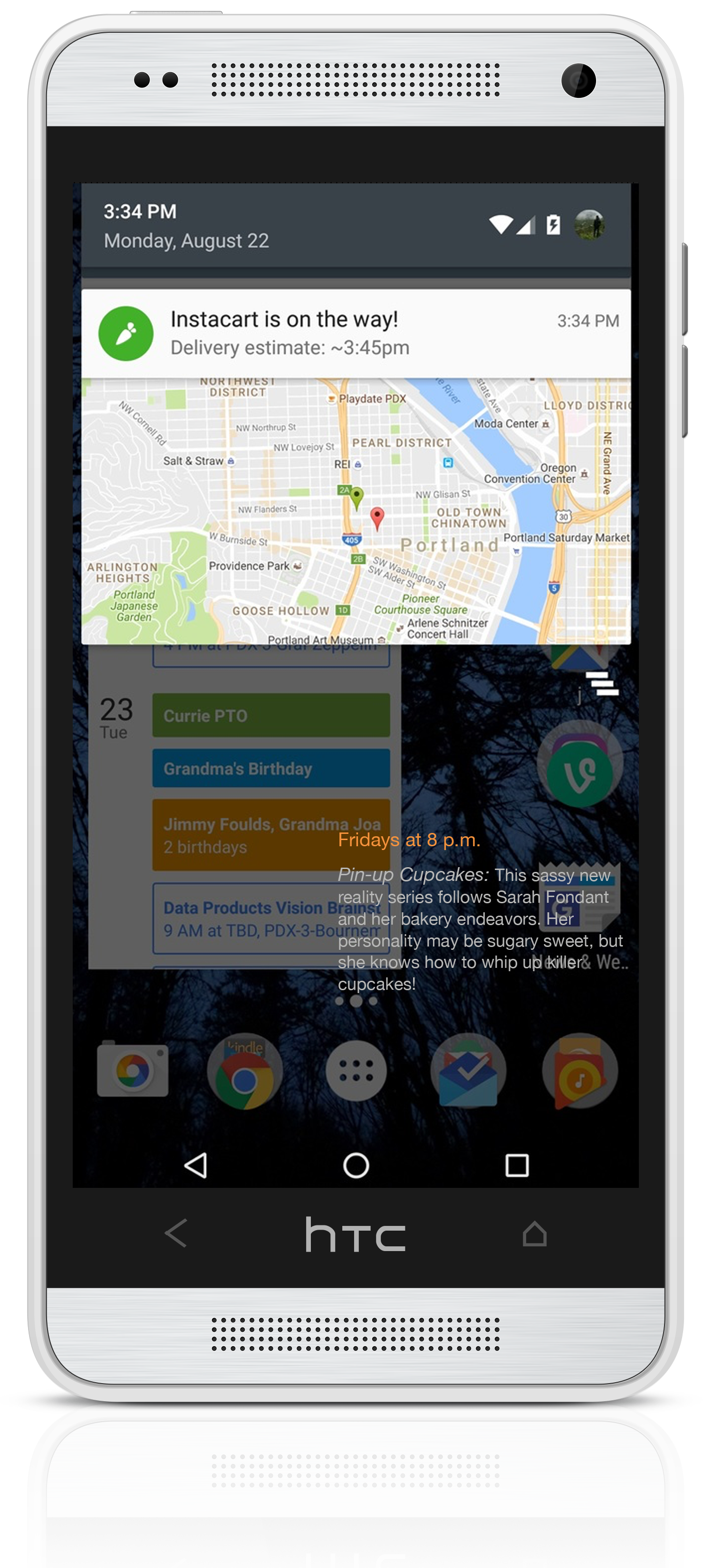 Instacart's big picture Android notification personalizes order delivery updates with a real-time map of the delivery driver's location.
Gather Insight with New Consumer Interactions
Every user action, such as taps on interactive buttons or the media itself, will enrich your user profiles in real time and can trigger conditional follow-on automation.
For example, a hotel could send a receipt image with simple thumbs up / thumbs down emoji buttons to rate their stay. They could then ask satisfied guests to share their experience with friends via social, while unsatisfied guests could be directed to an in-app survey where they can provide additional details on what the hotel could do better.
Here are some other options for using our 25+ OOTB interactive buttons to level up your mobile strategy:
An event could send attendees a picture of their mobile ticket with "Add" and "Remind Me Later" buttons.

News organizations might find audio or video culled from social media drives more interest in unfolding events than a standard wire photo, and adding "Follow" and "Share" buttons to amplify engagement and reach.

A retailer might send a product category image (furniture, for instance) with an offer to receive notification about deals in that category via "Opt-in" and "Share" buttons.
And, with a bit of custom work, brands can even add custom button pairs.
For instance, a retailer might determine an offer and product image with "View Details" and "Add to Wish List" buttons perform best for products customers recently browsed, whereas users showing deeper levels of product engagment get a demo video and "Add to Cart" button.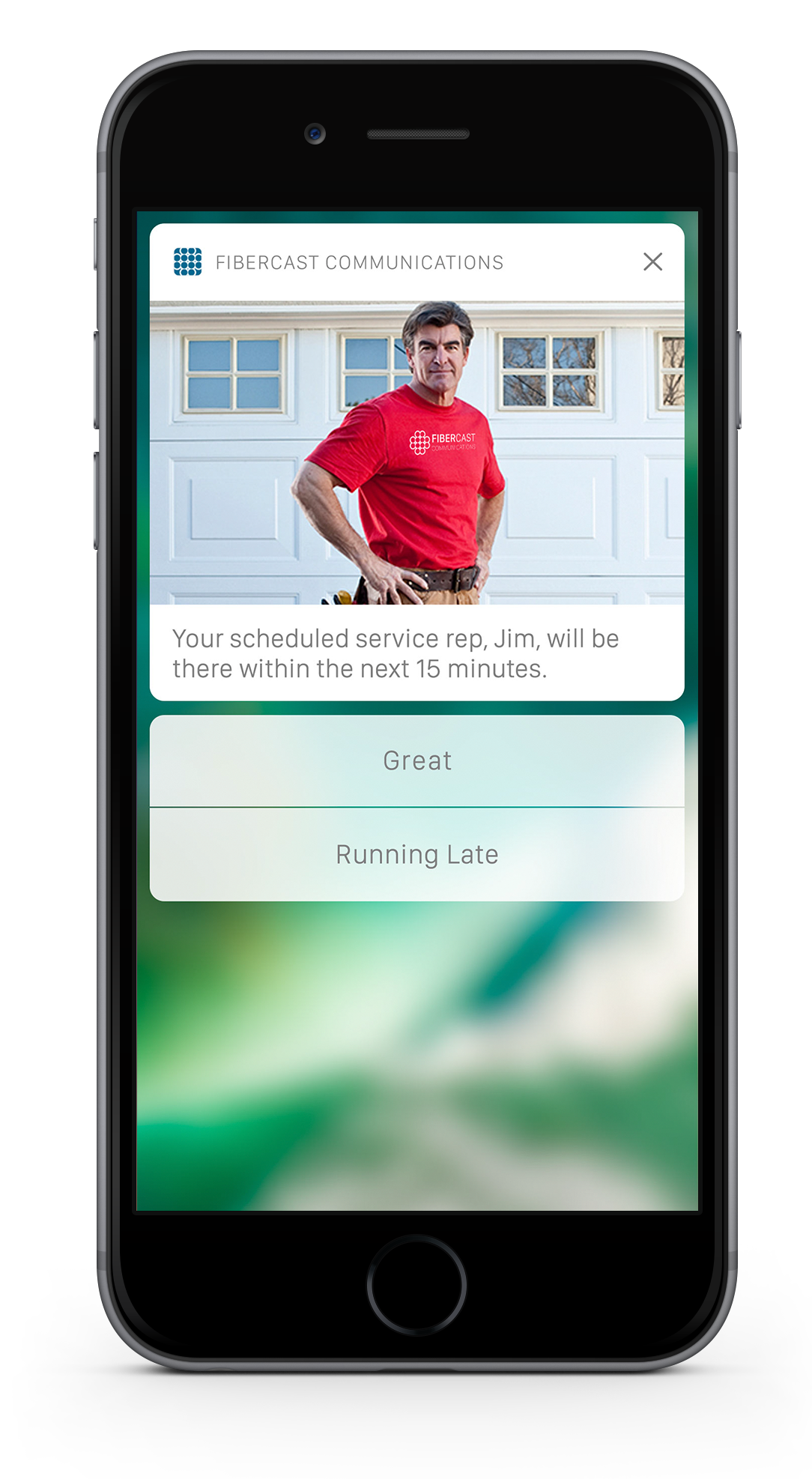 Streamline field operations while giving customers personalized, secure white-glove service.
Evoke Emotional Response to Messages through Media
When iOS 10 is released to the public next week, Urban Airship will be ready with full support for sending Rich Notifications to both Android and iOS devices — the first to provide that functionality to customers. When combined with the new user interface for the Engage Message Composer, creating and sending all messages — push notifications, in-app messages and message center — is now easier than ever.
But the real story today is in the potential for visual imagery and audio to tap into consumer's natural curiosity, giving marketers the ability to answer burning questions — even before a consumer has to ask.
Get Started With Rich Notifications
Ready to learn more?
Subscribe for updates
If the form doesn't render correctly, kindly disable the ad blocker on your browser and refresh the page.
Related Posts
Categories