Announcing New Predictive Lifecycle Marketing Analytics for Digital Marketers
No matter where you're at with your customer data, our latest solutions will help you make better use of it. Learn more about how we're helping give marketers the keys to their customer data, reveal more and better insights about key stages in the customer journey and using machine learning to help marketers predict and influence target actions and behaviors.
To learn even more, join our webinar Tuesday, December 5, where our experts will give you a tour of our expanded solutions — or download our eBook today.
---
As you're trying to put customer data to work to drive growth for your brand, are any of these items on your wishlist?
"I wish I could identify the traffic sources that brought users that are more likely to stay active in my app or website."

"My customer data is always backward-looking: I wish I could somehow predict which campaigns and experiences would drive engagement up and customer churn down."

"I wish I could get access to user-level data, but all I have are aggregate statistics and metrics, which aren't actionable."

"It's so difficult to know what I need to focus on. I wish I could see if there were certain activities in my app or website that increased the likelihood of more engagement in the future." "

"I need to show the impact of mobile messaging on in-store footfall traffic. I wish there was an easy way to do that."
If you're like most digital marketers, at least one of these must sound familiar.
The fact is, in our experience working with hundreds of enterprise clients, marketers often struggle with analytics solutions that are siloed, not customizable, and disconnected to an action system.
Giving Marketers the Keys to Their Customer Data
The focus of our data solutions has always been to give marketers the keys to their behavioral customer data to use in any part of their marketing stack. Because the martech stack is rapidly expanding (over 5,000 different solutions at last count), we built our platform to be open and accessible to easily enrich your data warehouse and other important business systems with a real-time data streaming API.
We also realized that every business is unique, and while there are common reports that everyone needs, every business needs to have control over how they want to view their data. So we created powerful drag and drop custom reporting on the data we collect.
Moreover, reports shouldn't just be a bunch of statistics, they should provide insights into the behaviors, preferences and activities of your customers. So we made reports immediately actionable by allowing you to drill into the customers behind the data and create lists that can be used in your app, web and email engagement channels.
We also launched a landmark addition to our data solutions: Predictive Churn. Driven by machine learning, this solution gave marketers the ability to see and adjust their strategy, tactics and spend based on which users had a low, medium and high likelihood to churn.
All of these solutions — combined with our commitment to helping marketers connect with customers on any channel using any martech in their stack — led Forrester, in their recent Forrester Wave (TM): Mobile Engagement Automation, Q3 2017 to give our analytics capabilities a 5 out of 5 — the highest among all vendors.
But of course we're not stopping there.
Expanding Our Data Solutions to Help Power Growth
We're continuing to grow our best-in-class customer intelligence solutions in ways that make life easier for marketers, and help brands achieve exponential growth.
Today, we're excited to announce a major expansion of our data solutions, giving you four new ways to create insights that help you create deeper connections with customers and grow faster. Here's what we've launched:
1) Look Forward, Not Backward With Machine Learning-Driven Predictive Analytics
Marketers can now add predictive churn state — whether a user has a low, medium or high potential for churn — as a metric to many lifecycle marketing reports to identify the campaigns, experiences and programs that are promoting or discouraging user engagement and retention. With this addition, you can get ahead of your historical trends and see the activities that will promote engagement. (Learn more about our Predictive Churn solution, which is based on a proprietary machine-learning model trained with more than 10 billion data points.)
2) Add User-Level Data from Any Channel In Your Marketing Stack
We've made it even easier to pull in user-level data — not only from mobile apps, but from other channels in your stack, like websites email, SMS and Apple TV.
That means creating a more complete view of customers' online brand interactions — and more opportunities to create personalized, 1:1 customer interactions on any channel.
3) Get Granular More Easily With 10 Levels of Campaign Data
Remember those wishlist questions at the beginning of this post? We've made it unbelievably easy to answer those questions and more, by allowing marketers to define up to 10 levels of campaign data for for detailed understanding of what's driving performance. This means you'll be able to see specific results for data sets you care about most — like campaigns or campaign types, products, offers and much more.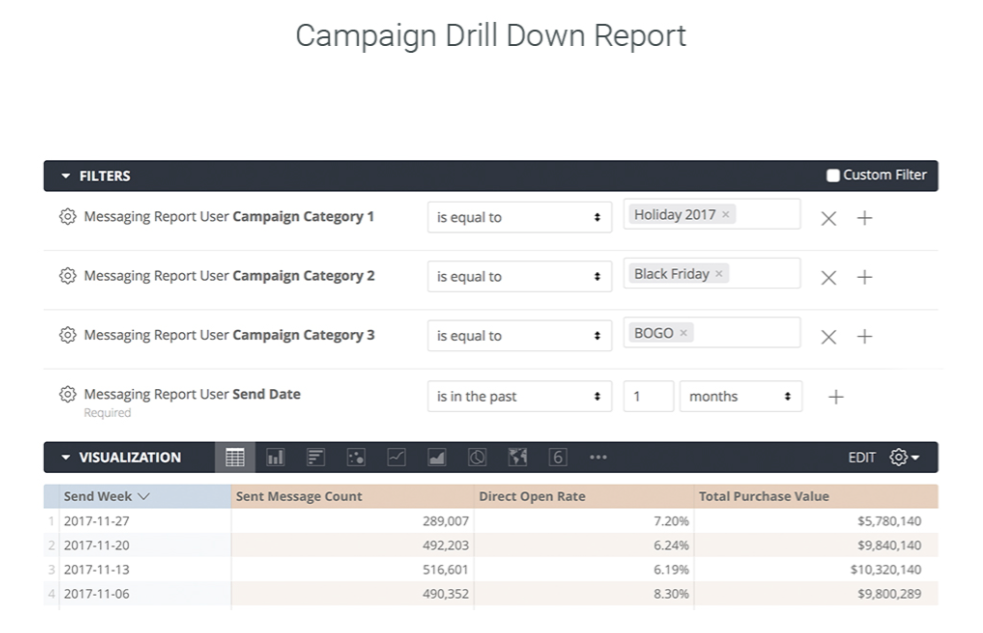 The campaign drill down report gives you a telescopic view into campaign performance for more precise reporting. Most campaign reporting solutions provide one or two dimensions of detail: ours allows you to define up to 10, like campaign type, channel type, content type and more that are most critical to your business. Learn more in our eBook.
Getting to this level of specificity allows marketers to zero in on the audiences, campaigns and channels most likely to drive their next phase of growth.
4) Get Smarter Faster With Data Scientist-Designed Predictive Lifecycle Marketing Reports
We've now made it even easier for marketers to put their customer data to work with data-scientist designed reports that answer questions critical for driving growth in each customer lifecycle stage: acquisition, onboarding, activation, conversion, retention and re-engagement.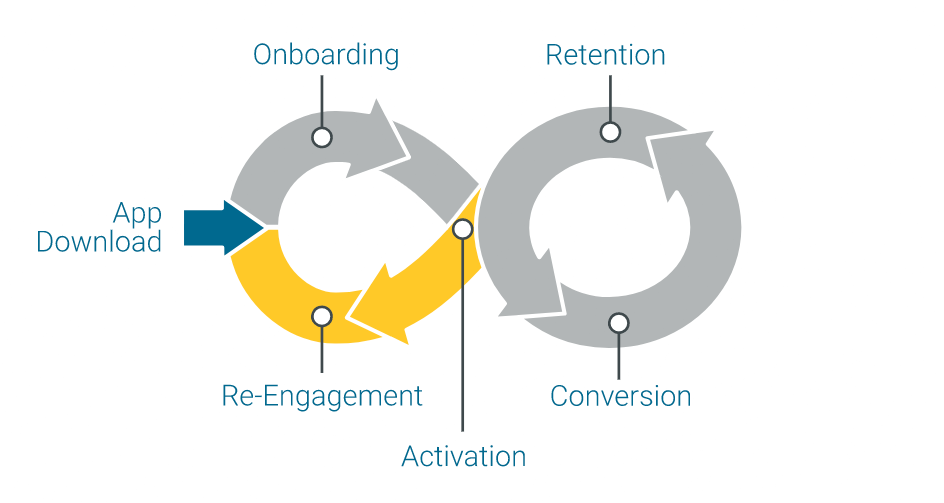 Our latest eBook, 11 Must-Have Predictive Lifecycle Marketing Reports dives into reports for each key lifecycle stage to show how they help digital marketers make smarter decisions more quickly, and better understand and connect with customers at each stage of the customer journey. Download your copy any time.
The reports include the items on most digital marketers wishlists, including:
How to identify traffic sources that lead to new customers more likely to engage with your brand

Techniques to find high-intent customers likely to take an action

Reports that identify user cohorts that are likely to churn so you can take action before they leave forever
Take the Next Step
Now marketers can better understand and optimize cross-channel campaign performance and its long-term impact on customer value and growth, as well as have a flexible, data-driven way to power personalized 1:1 customer interactions across more of their business systems and marketing channels.
Get started today! You can:
Schedule a demo, and let our experts walk you through a personalized tour of what's possible with your brand's data

Hear our experts take a deeper dive into how marketers can use data to get closer to customers

Download our eBook 11 Must-Have Predictive Lifecycle Marketing Reports to learn more about the reports our data scientists designed, and the key questions the reports answer
Download our eBook 11 Must-Have Predictive Lifecycle Marketing Reports today to:
– See which channels deeply engage users
– Find high-intent customers who are ready to buy
– Reveal the activation events that predict future engagement
Subscribe for updates
If the form doesn't render correctly, kindly disable the ad blocker on your browser and refresh the page.
Related Posts
Categories