Motherhood & Mobile App Retention: True Personalization Wins
As we approach Mother's Day here in the U.S., I've been thinking about all of the tools I use as I prepare to become a momma. Not surprisingly, I downloaded several pregnancy and baby apps on my journey, and would love to share a few takeaways that could be applied to any app.
Utility Must Be Clear
Pregnancy and baby apps strive to provide utility, as should every app. The core utilities I came across nearly every app were:
Personalized, on-the-go reference guides

Reminders

Data logs (bump size, feeding times, etc.)

Community portals for real-life parents

Inspiring content, including videos
Mass Personalization of Content
I want to touch on personalization in more detail, as I think this is one of the most important features of these apps. The amount of information out there regarding pregnancy and the early stages of child rearing is astounding. It is hard to know what to read up on — and when.
These apps help by providing a newsfeed format, displaying only what you what you need to know, when you need to know it, based on your pregnancy or child's developmental stage. While extremely valuable, I call this mass-personalization, because the content can come off as canned and not dynamic (based on me as an individual user).
Did I show interest in learning more about the ins and outs of breastfeeding? Then point me in the direction of your most valuable breastfeeding content. Push and in-app notifications could help surface hidden content that could be uber-relevant to only me at a specific point in my life cycle.
Mobile Messaging Must Provide Value
In order to keep the user engaged with the app's content and utilities, mobile messaging is key. Get the user to opt in to your notifications early on, and be clear about what you'll offer them. I love how WhatToExpect Pregnancy puts the push notification ask into clear context: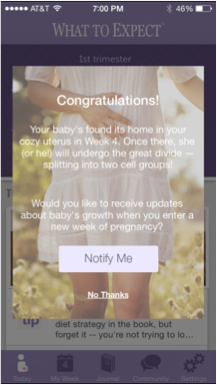 And here's a sampling of weekly pregnancy notifications that I've received: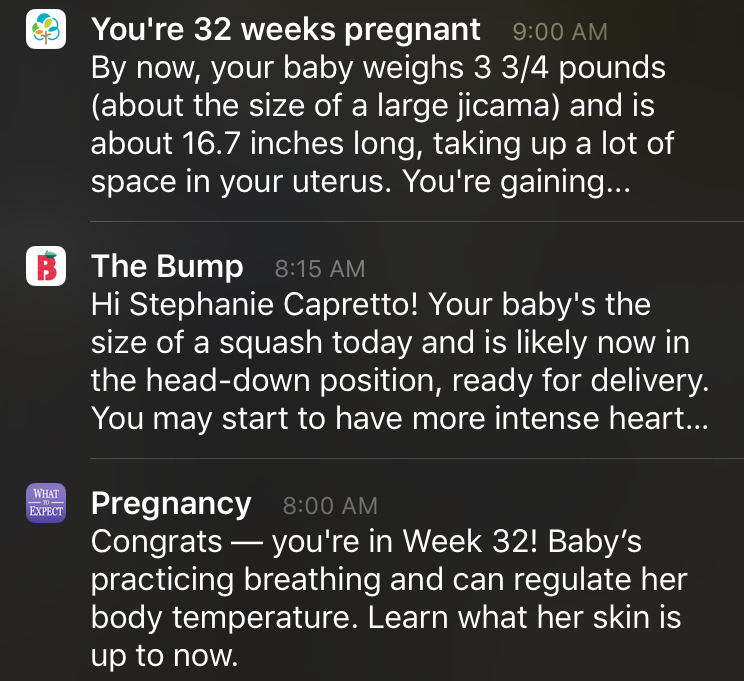 BabyCenter uses the notification title to display the current week. It also seems like they are trying to fit the entire weekly update in the notification itself, which may not be the best approach, as there just isn't enough space.
The Bump uses first- and last-name personalization. They are also trying to fit a ton of content into a small area, so the name personalization seems like a waste of valuable space.
WhatToExpect Pregnancy takes a teaser approach and includes a clear call to action. This type of notification is the most likely to drive me into the app to learn more about this particular developmental stage.
Some apps allow you to customize notifications down to personal reminders, like doctor appointments and taking that always-forgettable prenatal vitamin.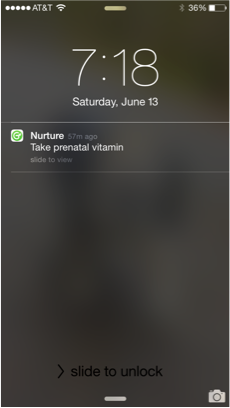 A couple of apps used notifications for their own purposes without providing a clear value to me. The Nurture app apparently missed me after I hadn't used the app for a mere 3 days! There was no way to turn off these retention notifications while still keeping the other notifications that actually provided utility, like my vitamin reminders.
If you're going to bombard app users with lifecycle messages, be sure to give them control over notifications by offering a well-designed preferences center. Most of the apps I downloaded offered a main "on/off" switch or only the most basic notification types.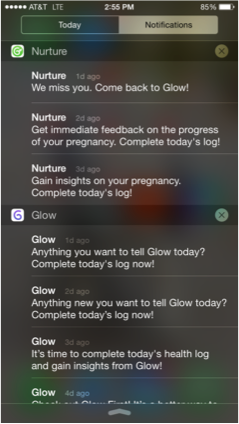 Ushering Users Into the Next Phase
After the baby arrives, what can pregnancy apps do to keep me engaged as a new mom? Some apps are dynamic and will automatically switch to child rearing content. If not, they should consider educating me as I approach the end of my pregnancy lifecycle to check out other recommended apps.
Reaching out and asking if the baby has arrived and sharing a simple congratulatory message at the end of pregnancy will also go a long way to ensure that I recommend the app to friends in the future.
---
Stephanie Capretto is part of Urban Airship's Strategic Services team and while she'll shortly be out on maternity leave, our other consultants would love to help you better understand shifts in mobile marketing that can impact your initiatives. Contact our strategic services experts today.
Subscribe for updates
If the form doesn't render correctly, kindly disable the ad blocker on your browser and refresh the page.
Related Posts
Categories