Mobile Wallet Marketing in the U.K.: 3 Stats Every Mobile Marketer Needs to Know
Our recent survey report The State of Mobile Wallet Marketing provides a treasure trove of data to help mobile marketers identify opportunities and make decisions about their approach to mobile wallet marketing.
Of the 2,000 respondents to our survey, half were from the U.S., and half were from the U.K. While most of the responses between the two locations were similar, there were a few standout areas where the U.K. differed more broadly from the median.
In this post, we're highlighting three of those differences to help mobile marketers exploring mobile wallet marketing opportunities with U.K. consumers make data-driven decisions about next steps.
But First…A Word on Payment vs. Non-Payment Wallet Passes
While some studies have shown that, in the U.K., consumers are reluctant to use mobile wallets to make payments, non-payment wallet passes like loyalty cards, coupons, boarding passes, reminders and punch cards don't carry the same set of concerns.
And in fact, because they are far more convenient to use than their paper or plastic counterparts, U.S. and U.K. consumers alike are asking for more companies to provide these kinds of wallet items.
1. U.K. Mobile Wallet Users Not Far Behind U.S.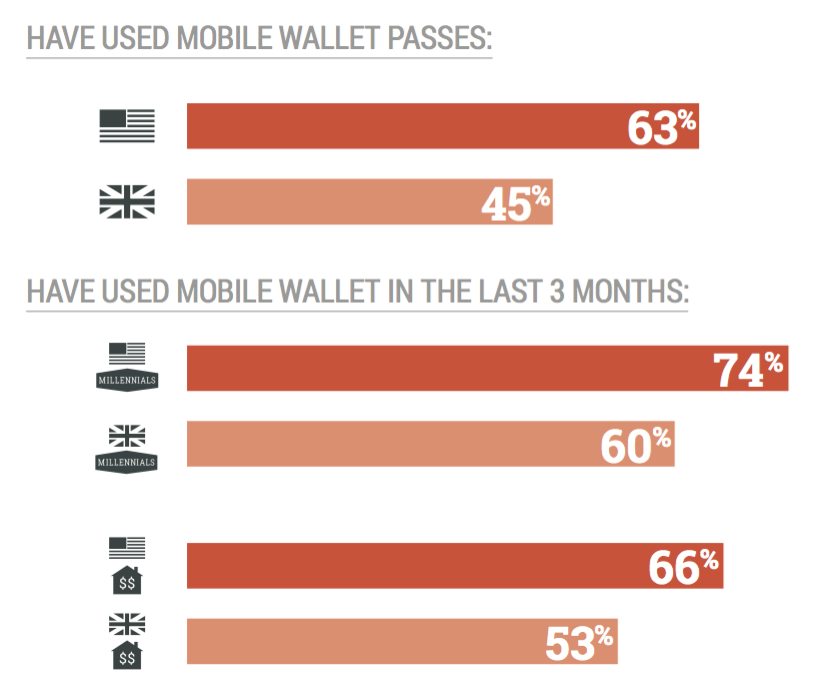 Source: The State of Mobile Wallet Marketing Report
Apple Pay and Android Pay mobile wallet platforms launched in the U.K. later than the U.S. (Apple Pay UK launched in July 2015 vs. September 2014 in the U.S.; Android Pay UK launched in March 2016 vs. May 2015 in the U.S.)
2. U.K. Consumers Show More Regular Loyalty Card Usage — and Carry More Loyalty Cards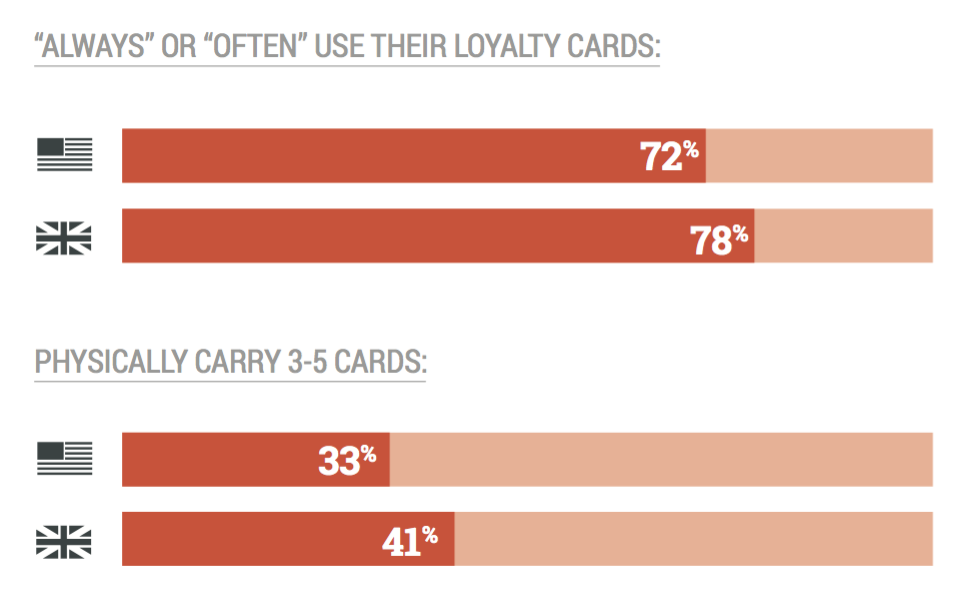 Source: The State of Mobile Wallet Marketing Report
Mobile marketers can digitize mobile loyalty cards using mobile wallet. These card can be updated in real-time (e.g., with new points balances), are location-aware and can message customers on their smartphone lock screens.
The fact that U.K. consumers are already more invested in loyalty programs is promising — they're that much more likely to appreciate the convenience of a mobile loyalty card they'll always have with them.
3. Millennials in the U.K. Want to Receive Sale & Coupon Information in Mobile Wallet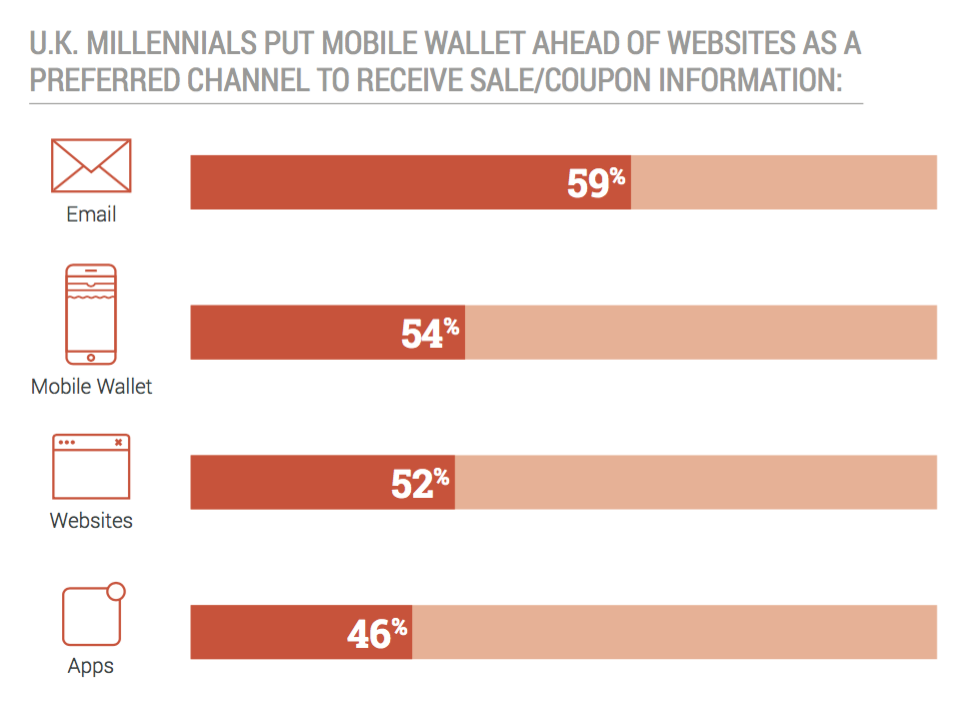 Source: The State of Mobile Wallet Marketing Report
Mobile wallet is now in the top four preferred communications channels for sales, offers and coupons in both the U.S. and the U.K. But in the U.S., mobile wallet came in as the fourth preferred channel after email, websites and text messages, whereas in the U.K., mobile wallet came in second.
Considering that coupons/promotions are a key strategy to help bring in sales and foot traffic, mobile wallets provide another channel to reach consumers with details and are much less likely to be left at home.
Conclusion
Mobile wallet use is on the rise in the U.K. — and U.K. consumers want to use it for a variety of applications. Don't miss the chance to get ahead of the opportunity!
Get started with mobile wallet marketing today. Your first 100 mobile wallet passes are free with a trial of Urban Airship's Reach. Questions? Get in touch anytime.
Subscribe for updates
If the form doesn't render correctly, kindly disable the ad blocker on your browser and refresh the page.
Related Posts
Categories